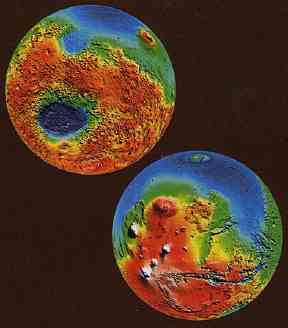 March 18, 2001 Houston, Texas – This past week I was in Houston at the Johnson Space Center to attend the 32nd Lunar and Planetary Space Institute meeting held since the first Apollo days. This was the largest conference so far. More than a thousand planetary scientists from around the world presented their latest research data on Mercury, Venus, Earth's Moon, the Asteroid Eros, Jupiter's moons, Europa, Callisto and Io. But probably the most exciting sessions were about Mars. There were more than a hundred papers presented about the red planet. Hundreds of high resolution photographs from the Mars Global Surveyor showed valleys and rippled features that on Earth would mean only one thing: water.
But the biggest controversy is whether or not Mars has any liquid water. It's pretty certain that the North Polar cap has some frozen water ice mixed with frozen carbon dioxide. Probably the smaller southern ice cap does, too. But the rest of the planet seems pretty dry and even the large patch of volcanoes known as the Tharsis region are considered to be dead, extinct, no more lava flows that might once have added water to the planet's surface.
There are also mysterious dark stains that some think indicate oozing liquid. But at the conference, the predominant theory was that the dark stains are dry volcanic basalt eroding through the oxidized red surface sands on Mars. Also, there are flowing features on Mars that resemble glaciers, but are probably slowly moving permafrost that could be CO2 instead of water ice. No one yet knows.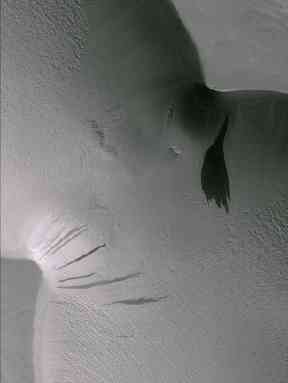 Mars could have many layers starting with the surface red dust and sand on top of a dark volcanic lava crust that could be porous enough – maybe even punctured by eroded caverns and caves – that whatever surface water there once was could now be 100 to 200 meters down in liquid aquifers. But the argument against water on present day Mars is this: the Martian atmosphere is 95% carbon dioxide. That gas mixed with water should produce limestone. But so far after putting the two 1976 Viking Landers and the 1997 Mars Pathfinder down on the surface, there is no indication of limestone on Mars.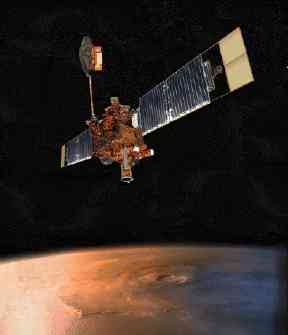 Future Mars Missions:
A manned mission could perhaps settle the water debate once and for all, but there won't be any manned missions to Mars for the foreseeable future. There will be more camera orbiters and remote-controlled land rovers.
Beginning in April with the launch of Mars Odyssey that will carry a camera known as "Themis." The Themis camera will be able to photograph in thirty different frequencies, including infrared.
Two years later in 2003, two land rovers will be sent to Mars that will be able to move at least 1000 meters from the landing site. That mission will arrive in fall 2001 with a camera able to photograph in color and carrying a thermal channel so scientists will be able to derive properties of the surface from rocks that are too small to be seen in areas covered by dust and sand. The 2001 mission will also have instruments that can measure the chemical composition of the Martian surface.
Another mission in 2004, the Mars Reconnaissance Orbiter, will search for water. In fact, NASA's theme for that mission is, "Follow the Water."
Two years after that in 2007, a mission will launch to put aerial scout balloons in the Martian atmosphere that will fly low and take photographs while an intelligently programmed Lander and Rover will dig around in whatever site was selected from the previous mission as possibly having water. Those machines will have the ability to drill down at least a meter or so and examine rock cores.
By 2011, the goal is to put a smart Lander and Rover down that can dig and drill in the most promising site for water and microbes and return the soil for the first time back to Earth. If there is no evidence of water, some scientists say humans won't be able to put any base colony on the red planet. If water is definitely found, then a future manned mission might head for Mars in about 25 years from now.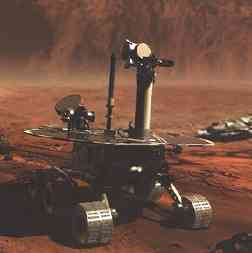 Plants and Bacteria?

One of the big concerns is sterilizing whatever equipment we put on Mars so we don't end up finding our own Earth microbes there, or hurting any possible living Martian microbes. And if a human colony could eventually be placed on Mars, would food production in a greenhouse be possible?Both of those problems are now being studied by Andrew Schuerger, Ph.D., Project Manager of Plant Pathology for the DynaMac Corporation at the NASA Kennedy Space Center in Florida. Dr. Schuerger begins on March 19th his first efforts to grow an earth plant inside a special chamber that has the identical atmosphere, temperature, pressure, light and ultraviolet radiation on Mars. I talked with him in Houston about what he knows so far.
---
Interview:
Andrew Schuerger, Ph.D., Project Manager of Plant Pathology for the DynaMac Corporation at the NASA Kennedy Space Center in Florida: "To begin with, the Martian atmosphere is less than 1% of the pressure as it is here on earth. So, if we were to use one particular unit of measurement called a millibar, sea level pressure on earth is approximately 1000 millibars. The average pressure on Mars is around 8 millibars. That's literally about 8/10ths of one percent of earth's sea level pressure.
So, the question really on how things survive on Mars, whether it's bacteria surviving on spacecraft that might be carried there, or whether we would ever like to try to grow plants out on the surface, or would we ever be able to get the atmosphere capable of supporting human life, either in colonies or in facilities like enclosed domes or structures. Or actually out on the surface. We have to discuss: can we grow plants at low pressure? We have to investigate whether or not things like bacteria or fungi that we don't want to contaminate Mars with will be able to survive under that extremely low pressure?
Another thing about the Martian atmosphere is that the composition is very different from earth. Earth atmosphere is made up of 78% nitrogen and 21% oxygen and trace amounts of a half dozen other compounds, other gases. On Mars, it is 95% CO2, carbon dioxide, and about 1 to 1.5% argon and about 1.5 to 2% nitrogen and then trace amounts of all the other chemicals.
Because the atmospheric pressure on Mars is so much lower than on Earth, the ability of that atmosphere to retain heat that falls upon the surface is much reduced. Therefore, the temperature extremes on the surface of Mars are much more, much greater than on Earth. For example, in the hottest time of a Martian year near the equator, for example, and during a very high angle of the sun – say during a period of time when it would be the warmest – at most the temperature might get up to a few degrees above freezing of water. In Fahrenheit, that might be somewhere in 40 degrees to 50 degrees F. would be the highest temperature achieved. But almost in all cases, the temperature would drop to many tens of degrees below freezing every night. The atmosphere is so thin it just won't hold the heat in as it does here on earth.
HERE WE WOULD PUT SOME KIND OF GLASS STRUCTURE WITH SOME HEAT AND WOULD CALL IT A GREENHOUSE. WITH THAT KIND OF TEMPERATURE EXTREME YOU HAVE JUST DESCRIBED, COULD YOU HAVE A CLASSIC GREENHOUSE ON MARS AND MAKE IT VIABLE?
That's a very good question and an interesting area of research for a lot of people. It is possible if we can reduce the pressure that plants have, that plants require to grow in, we can reduce that pressure – then we can have a transparent material. If we were just to go to Mars on the surface and inflate, say an inflatable greenhouse structure that is not rigid glass panes but kind of an inflatable transparent structure, which a lot of greenhouses are made this way now on Earth – that structure if we inflated it to Earth's normal pressure would literally just pop.
In order to get a very thin material to allow light to come through, it would have to be so thin that you couldn't have the internal pressure very high. And for example, there have been some studies that if we could learn how to grow plants below 7 or 8 % of the normal pressure that they see here on Earth – this would be down somewhere around 70 to 80 millibars – if we could learn how to grow plants at that pressure, then there would be transparent materials that are commercially available that we could use for inflatable "greenhouse" structures on Mars.
But the key is: will plants grow at less than 10% of normal Earth pressure? And that is one of the projects I am involved with right now. We are looking at what is the lowest pressure possible that we can grow plants in and then at those low pressures, what are the problems the plants are encountering? Are they able to survive? We can answer that yes now. Plants can survive down to almost 2.5 to 3% of the normal pressure of Earth for short periods of time, meaning from several hours to 24 hours.
DO WE KNOW YET FROM ANY MARTIAN SOIL THAT HAS BEEN ANALYZED WHETHER THESE OTHER INGREDIENTS ARE THERE TO GROW CROPS IF WE COULD SOLVE THE WATER ISSUE AND HEAT?
Looking at analyses from the two Viking missions and the Pathfinder Mission in 1997, the answer to that question is yes. It looks like most of the elements that would be required for plant growth are present in the soil. The biggest limiting factor from a nutrient, elemental standpoint, would be the presence of usable forms of nitrogen because plants can't use just gaseous forms of nitrogen. They need a certain kind of nitrogen, either in a nitrate form which is NO3 or Ammonium form. And that is a more complex molecule to make. The other two elements required that are probably fairly low in Martian soil are sulfates and phosphates. And if we can provide those three by synthetically making them on Earth and bringing them with us to Mars. Or figuring out a way to make them in situ on Mars in some sort of a Mars colony, then most of the other elements should be there.
COULD YOU TALK ABOUT THE WHOLE ISSUE OF PROTECTING OURSELVES AND OTHER PLANETS FROM AN EXCHANGE OF MICROBES.
There is a lot of literature and available information about how bacteria survive under UV radiation that strongly suggests that if the bacteria are exposed directly to the UV radiation, they should be killed within hours of exposure. And then, it's just a matter of how fast the bacteria can be protected from the UV light by the amount of dust that might settle during the descent and landing phase? Or with wind blowing? For example, if a spacecraft landed in the middle of a dust storm, they might get protected, these bacteria, might get protected faster than if the spacecraft did not land in the middle of a dust storm. So, those are some of the questions we hope by this fall to answer.
My work is to really access when spacecraft are sent to Mars, whether or not any microbes that might have made the trip from earth to Mars on the spacecraft – how long might those microorganisms survive on the surface of Mars exposed to the ultraviolet irradiation on Mars. Mars's atmosphere is so much thinner than Earth's. But more importantly because there is no oxygen, or only a trace amount in Mars's atmosphere, there is no ozone in the atmosphere, or very little. And ozone is the primary gas in Earth's atmosphere that filters out the UV ultraviolet radiation that would be bathing in our planet and sterilizing the surface of our planet had we not had this ozone layer.
So, on Mars even though it is much further away from the sun than Earth is, because of the lack of ozone there is a great deal more ultraviolet radiation that is striking the surface of Mars. And my research is to see under those conditions of low pressure on Mars, low temperature, very unusual gas composition that's very different from Earth, and with the presence of very high levels of UV radiation, how do bacteria survive when they are exposed to this environment. And there is a very large – it's about a cubic meter research chamber at the Kennedy Space Center where I work in which we are looking at how – we've created a Mars-like atmosphere, a Mars-like temperature environment and Mars-like light environment – in this chamber and I will be placing bacteria on various spacecraft material, like aluminum, stainless steel, titanium, some of the glass materials used to coat photovoltaic cells. I will be placing bacteria on these various spacecraft components, putting them in a Mars-like environment and seeing how well certain bacteria survive. What we are expecting to find is that bacteria and fungal spores will be inactivated within a few days of being exposed to the Mars-like environment if they are exposed directly to the ultraviolet irradiation.
IN OTHER WORDS, THEY WOULD BE EXPOSED TO STRAIGHT OUT UV LIGHT, BUT IF THEY CAN GO UNDERGROUND, THEY MIGHT SURVIVE?
Not necessarily underground. Let's think of a spacecraft that might make a soft landing on Mars like the Viking spacecraft did in the 1970s, mid 1970s. When those spacecraft landed, they didn't insert equipment, they didn't drill down into the regolith (layer of loose rock resting on bedrock that constitutes the surface of most land). What happened is that they had some bacteria, small amounts, but present on the outside surface of those spacecraft. How quickly those bacteria are killed is an open question. If they are killed within a few hours to a day or two, then we are going to benefit from the UV radiation on Mars that will help to sterilize these spacecraft. But the other side of the coin is that as those spacecraft landed on Mars, they had exhaust plumes that kicked up dust and some of that dust could have settled back onto the spacecraft. Also, there is a lot of wind on Mars that moves very fine particles of dust around the planet and that dust can land on spacecraft for a few days. So the question is: not only are they exposed, but eventually how much dust is required – how thick would a dust layer have to be to cover bacteria before the bacteria are then protected from the UV radiation? Those are the kinds of questions I'm trying to ask.
IF YOU WERE GIVING AN EDUCATED GUESS ABOUT WHEN YOU'LL HAVE THE FIRST ANSWERS TO SOME OF THESE QUESTIONS, WHEN WOULD IT BE?
The Mars chamber is kind of an asset at Kennedy Space Center that's used by a number of individuals that are looking at various processes under Mars-like conditions. Our research agenda calls for getting a few of these basic questions answered before June 1st. Then we will be doing other research through the summer. And then we get back into the Mars chamber in August and will continue our research through the fall."
---
Websites:
http://www.jpl.nasa.gov/pictures/mars
http://science.nasa.gov/headlines/y2000/ast10aug%5F1.htm




© 1998 - 2019 by Linda Moulton Howe.
All Rights Reserved.