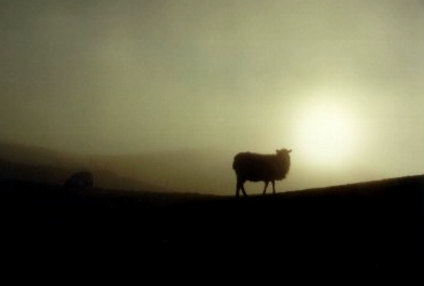 March 21, 2001  Greensboro, Vermont – After months of legal battles, the U. S. Department of Agriculture acted today and took 233 sheep from Vermont farmers, Houghton Freeman and Linda and Larry Faillace. It started back in July 2000 when four sheep on their Greensboro, Vermont farm tested positive for antibodies to Transmissible Spongiform Encephalopathy, or TSE, – a family of diseases caused by misshapen proteins called prions – the most famous being BSE, bovine spongiform encephalopathy, or Mad Cow disease. The destructive proteins attack the spinal cord and brain, literally eating holes in tissues which deteriorate to resemble a sponge, always ending in death.
The BSE form of prions causes Mad Cow symptoms and death in both European cattle and humans. A different prion attacks deer and elk in the American "chronic wasting disease." A third kind of prion causes "scrapie" in sheep. Other different prions are responsible for the fatal Creutzfeldt-Jakob and Kuru diseases in humans.
Since the 1996 epidemic of mad cow cases in England, all kinds of bans were placed on British meat products and animals. But that same year, the Vermont farmers joined together to import the prodigious milk producers from Belgium and the Netherlands to produce gourmet cheeses. By 1998, the USDA had quarantined the flock after all the mad cow cases in Great Britain, worried that the imported sheep might have eaten feed in Europe contaminated by mad cow disease.
Then last July, four sheep culled from the Vermont flocks tested positive for antibodies to some kind of transmissible spongiform encephalopathy. No one knows if it is BSE Mad Cow, scrapie, chronic wasting disease or what. That's when the USDA issued a declaration of extraordinary emergency to destroy the sheep, but the owners went to court and contested. Until today.
This afternoon at a press conference in Montpelier, USDA Senior Staff Veterinarian Linda Detwiler of the Animal and Plant Inspection Service, told reporters that the Federal District Court had ruled in favor of the USDA and ordered the owners to comply. The owners will be compensated for the fair market value of their sheep. Today, the USDA entered the Greensboro farm and started trucking all 233 imported sheep to the National Veterinary Services Laboratories in Ames, Iowa where they will be killed and examined for spongy tissue found in prion diseases. It will take two to three years before medical researchers know which kind of prion disease the Vermont sheep have.
---
Interview:
Linda Detwiler, D.V.M., Senior Staff Veterinarian, U. S. Department of Agriculture, Animal and Plant Inspection Service, Robinsville, New Jersey: "Based on the findings and all the information we provided, the science and the test results, the Court supported the decision by the USDA to remove the sheep. Samples will be taken for diagnostic testing and then the carcasses will be safely disposed of. The brain material of ones that test positive would be injected into these five different panels of mice and then we would wait about two to three years for the mice to come down with the disease. And then there is a scheme or procedure about how they characterize the disease in the mice to find what strain it is.
IN MARCH OF 2001 WITH THESE ANIMALS THAT HAVE GONE TO AMES, IOWA TODAY, WILL THEY SOON BE ABLE TO IDENTIFY THE PRIONS IN THE BRAINS OF THE ANIMALS THEY KILL?
What they are going to do, the diagnostic test that is available to everybody in the world that would give you if they have a TSE or not.
BUT WHAT YOU ARE SAYING IS THAT WE WOULDN'T KNOW FOR TWO OR THREE MORE YEARS IF IT WERE ACTUALLY THE SAME PRION THAT HAS BEEN RESPONSIBLE FOR THE BSE SYNDROME IN EUROPE?
Yes, that's correct.
DOES THAT APPLY TO THE SCRAPIE PRION AS WELL?
Yes, it does, it applies to all the agents that are in the family TSE.
FROM A VETERINARIAN'S PERSPECTIVE, WHAT HAVE BEEN THE SYMPTOMS IN THE FOUR SHEEP THAT HAD THE POSITIVE ANTIBODIES?
It's been kind of vague in the flock. We've just had kind of wasting conditions in the flock which you can see with the TSEs."
Prion-Contaminated Sheep Were Bred and Produced 27 More Sheep
A VERMONT NEWSPAPER REPORTER WHO HAS BEEN COVERING THIS STORY SINCE 1999 IS JOHN DILLON WITH THE RUTLAND HERALD AND ARGUS TIMES IN MONTPELIER. HE WAS AT THE PRESS CONFERENCE AND SAID DR. DETWILER EXPRESSED USDA CONCERN THAT THE FARMERS HAD ALLOWED THE QUARANTINED SHEEP TO BREED.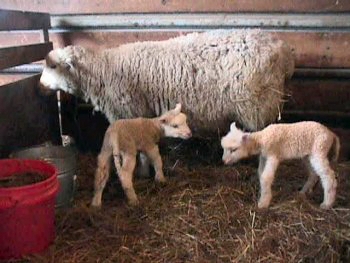 John Dillon, Reporter, Rutland Herald and Times Argus, Montpelier, Vermont: "And the second thing she said was that the Faillace's animals have bred and produced 27 more sheep, which alarmed the USDA because they've hoped they wouldn't have more sheep to kill and that they are concerned about the potential spread off the farm if the animals keep breeding. So they thought it was time to move them.
She also said that other farmers in Vermont and around the country were pressing the USDA to do something, to just get rid of it.
MEANING BECAUSE THESE SHEEP WERE THERE AS A BIG QUESTION MARK AS HAVING THIS STRANGE PRION DISEASE THAT NO ONE KNOWS EXACTLY HOW IT SPREADS OR WHAT IT COULD DO?
Yeah. There are other dairy sheep farmers in Vermont whose cheese and milk sales have suffered because when people go to the supermarket they just think of Vermont and sheep cheese and they say, "I've heard about that. I don't want to buy that." So, they want these sheep gone, the people who make goat milk cheese want these sheep gone. The Vermont Congressional delegation want these sheep gone because they don't want a black eye on Vermont agriculture.
The Faillaces and Houghton Freemen have their supporters, but there are many people who say: 'These are just sheep and this is too serious a disease.'"
---
Websites:

© 1998 - 2019 by Linda Moulton Howe.
All Rights Reserved.