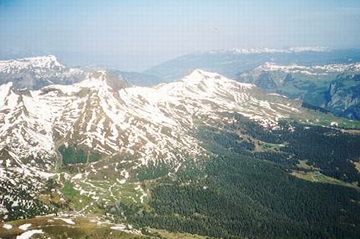 March 24, 2001  Swiss Alps – The United Nations Intergovernmental Panel on Climate Change (IPCC) reported this week that the Alps are warming up faster than the rest of he world. Prof. Martin Beniston, head of the Geosciences Department of the University of Fribourg, predicted that global warming could push the snow line up from 1200 to 1800 meters (3,816-5,724 feet).
Already some Swiss ski resorts are suffering early snow melt. St. Moritz, Klosters and Davos could lose their lower slopes entirely to melt. Most resorts now rely on snow machines to create snow at lower elevations.
As the snow melts, so does the permafrost. The Royal Geographical Society and Institute of British Geographers warn that the permafrost in Europe's highest mountain ranges is melting. Dr. Charles Harris of Cardiff University has organized a monitoring system of bore holes in the Alps, Spain, Norway, Sweden, Spitzergen and the Pyrenees.It's part of a research project entitled "Pace, Permafrost and Climate in Europe." Dr. Harris reported at a January conference in Plymouth, England that the Swiss Alps alone have warmed nearly 1 degree Centigrade in the last fifteen years. "If the temperature there is only minus 2C or minus 3C, it does not take much warming to get that above freezing. The likely consequences of degrading permafrost would be an increase of slope failures." The hottest alpine months are August through October.
Where the permafrost begins to melt comes the danger of mud slides which could have disastrous consequences in steep alpine valleys. Permafrost exists above 2500 meters in the Alps and 3,000 meters in the Pyrenees. In the far and colder north on the island of Spitzbergen, the ground level is permafrost. With global warming predictions for the 21st Century between 3 and 10.5 F, increasing permafrost melt could destroy buildings, mine shafts and other structures.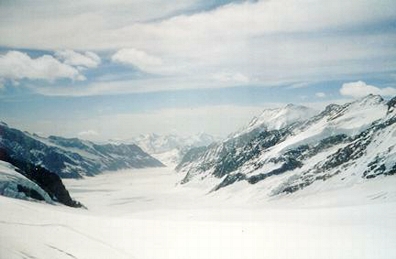 © 1998 - 2019 by Linda Moulton Howe.
All Rights Reserved.