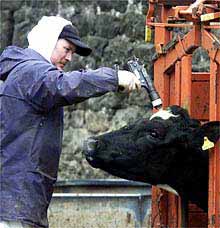 March 26, 2001 –
Foot and Mouth Disease Spreading Internationally
The Dutch Agriculture Minister confirmed last week that four cows and hundreds of goats in Holland are infected and the herd and flocks must be destroyed and incinerated. The European Union quickly imposed a ban on livestock exports from the Netherlands and on exports of meat, dairy and animal products from four Dutch provinces. About 17,000 animals within a 1000 yard radius of the three infected farms will be killed.
Similarly, a small region in France is battling the disease. Ireland tried hard to keep the British hoof and mouth epidemic from spreading into its herds – even canceling St. Patrick's Day celebrations. But now there are three groups of infected sheep and on Friday, Ireland began slaughtering thousands of livestock.
Saudi Arabia and the United Arab Emirates have also confirmed the first known cases of the highly contagious virus in the Middle East. Those governments have banned imports of all animals and birds without prior permission.
Great Britain is where the epidemic began and by this weekend, more than half a million animals have been killed in the past month trying to stop the disease spread. But computer models at the Imperial College in London predict that the epidemic will continue beyond June to infect perhaps 5000 more animals, making this the worst English hoof and mouth epidemic on record, doubling the severity of the last one in 1967. It's so bad that Prime Minister Tony Blair says he might postpone the May 3 general election.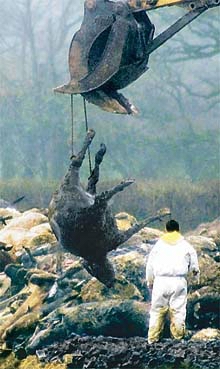 The disease has been around for centuries and is not very fatal, killing only about 5% of its victims. But like a bad flu in humans, the animals become so sick they stop eating and lose weight, stop producing milk and often abort unborn calves. Vaccines against the seven known types of the virus have been made, but the foot and mouth viruses can mutate. There are recorded instances in which a virulent strain broke through the protection of a vaccine.
That's one of the reasons since the last American outbreak in 1929 that the U. S. policy has been to kill and incinerate all cases of foot and mouth. But ranchers in the United States are now very worried that international travelers could bring the virus in on shoes, clothing, suitcases or other gear. The foot and mouth virus is resistant to destruction and has been known to remain active in hay for 30 days.
Mad Cow (BSE) Disease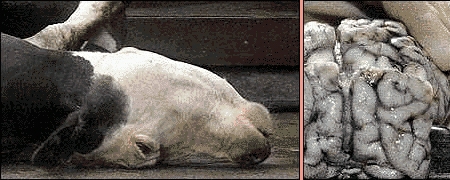 The foot and mouth virus has been an especially hard blow to Great Britain which is still reeling from the impact of another very different disease: BSE, bovine spongiform encephalopathy, also known as Mad Cow Disease. That is not a virus. BSE Mad Cow is caused by a natural part of every living mammal that suddenly goes haywire. And that is a protein called a prion. What has made the British Mad Cow Disease so dangerous is that 90 people also contracted the same exact misshapen prion proteins and died of what is now called New Variant CJD disease. The destructive prions are concentrated in the brain and spinal cord.
The theory is that the British Mad Cow proteins are passed on to humans and other animals through meat products that contain destructive prions. Great Britain used to grind up all parts of dead cattle, including brains and spinal cords, for livestock feed, sausages, hotdogs and other products.
The first evidence of BSE in the U. S. was confirmed this week. In Vermont, two flocks of imported Belgium and Holland sheep were taken by the U. S. Dept. of Agriculture because several tested positive for antibodies to BSE. Now the four hundred sheep originally purchased for a gourmet cheese business will be killed and their brain tissue analyzed at the National Veterinary Services Lab in Ames, Iowa. The lag time in prion disease emergence means that scientists won't know which specific prion infected the European sheep for at least two to three years.
Making things worse in Britain, some butchers used to split the skulls of whole animals and remove the brains with knives and their bare hands. That means the knives, butcher blocks, counters and towels in their shops could become contaminated by destructive prions which are almost impossible to destroy. Such butcher techniques were used in a Northern England village where five people all died of new variant CJD linked to meat ingestion. All five lived in the village between 1980 and 1991 and all five died between 1998 and 2000. That's a lag time of 10 to 20 years. Scientists predict that if prion incubation turns out to average 20 years, the worst outbreaks could yet come.
Then in Denver, Colorado on Friday evening, March 23rd, there was a press conference at St. Joseph's Hospital to quell rumors that two people had died of Mad Cow Disease. What the two people did die from in December and January was the standard form of Creutzfeldt-Jakob disease. But a third CJD victim in Boulder, also in January, adds up to a lot of cases for a prion disease that is supposed to be so rare that it affects only one in a million people.
The three Denver/Boulder victims were between 50 and 70 years of age, which is typical for Creutzfeldt-Jakob, a prion disease that was first discovered in Germany in 1920. The symptoms are very similar to what happens to cattle in Mad Cow disease: a rapid deterioration of muscle coordination and mental ability, not being able to walk or talk, and always ending in death. And in autopsies after death, both Mad Cow and CJD show sponge-like holes throughout the brain and spinal tissue. But the new variant CJD Mad Cow Disease in Britain and Europe seemed to affect people largely 30 years or younger and is traced to ingesting BSE-infected meat products. No one knows for certain where the original CJD prions came from, but they have not yet been linked to ingestion. The bottom line: all are prion diseases. Prions are not easily killed and can be passed from one surgical instrument to another. In fact, CJD contamination from surgical instruments used in a CJD biopsy is now an issue at St. Joseph's. Friday night after the hospital's press conference, I talked with Pat Barker of the hospital's media affairs office.
---
Interview:
Pat Barker, Media Affairs Officer, St. Joseph's Hospital, Denver, Colorado: "We had two patients who had traditional CJD, not related to BSE or new variant CJD.
WHEN WERE THERE SYMPTOMS CLEARLY CJD?
Both patients were determined to have CJD by brain biopsy.
HOW LONG AGO?
One was in December and one was in January.
DECEMBER 2000 AND JANUARY 2001.
Yes.
THE BRAIN BIOPSIES WERE DONE AFTER THEIR DEATHS?
No. They were both done prior.
CJD WAS CONFIRMED. WHAT WERE THEIR AGES?
I don't have that information.
ONE OF THE TELEVISION REPORTS SAID THAT ONE WAS A TEENAGER.
No. No. I can tell you they were between 50 and 70 in the traditional age range where traditional CJD usually occurs. I don't know the specific ages.
THE REASON THAT YOU HELD THE PRESS CONFERENCE?
We were getting calls from people saying that they heard we had Mad Cow Disease at St. Joseph's Hospital which was not true. So one reason we held the press conference was to be sure that people understood that there was not Mad Cow disease, but Creutzfeldt-Jakob disease – every indication being that it was the traditional disease that occurs in about one in a million throughout the population.
THERE HAVE BEEN THREE CREUTZFELDT-JAKOB DISEASE DEATHS NOW IN COLORADO THAT I'M AWARE OF – ONE IN BOULDER IN JANUARY. IT WAS IN THE PAPER THERE. AND NOW YOU HAVE THESE TWO. THAT'S THREE REPORTS OF CJD IN A THREE TO FOUR MONTH PERIOD IN THE SAME STATE IN THE SAME AREA.
I'm not a clinician so I can't talk about that. It's my understanding that it's not unusual in a rare disease to see sometimes a disease happen like that.
ONE OF THE REASONS THAT PEOPLE ARE CONCERNED IS THAT THE PRION PROTEIN IS AT THE ROOT OF ALL THESE DISEASES. THE BSE IN COWS AND HUMANS IN EUROPE, CREUTZFELDT-JAKOB WHEREVER IT IS IN THE WORLD, THE CHRONIC WASTING DISEASE IN DEER AND ELK IN NORTH AMERICA, THE KURU DISEASE IN THE PACIFIC. THEY ARE ALL PRION PROTEINS. SO THAT IS THE COMMON DENOMINATOR. NO ONE REALLY UNDERSTANDS THE TRANSMISSION. AND IF I UNDERSTAND FURTHER, THE SAME SURGICAL INSTRUMENTS WERE USED IN DECEMBER AND JANUARY ON THE BRAINS OF YOUR TWO PATIENTS.
That's not the case. Those two patients, their disease was in no related. The first case, the CJD was not suspected at the time of the biopsy. So, those instruments were sterilized and re-used.
IN AUTOCLAVES?
No, I cannot tell you because I am not a clinician. I cannot go into the detail about the sterilization. I can tell you the sterilization procedures are state of the art and that they are very stringent sterilization procedures. So we are not talking about minimal sterilization.
THE PHONE CALL I GOT WAS THAT SIX OTHER PEOPLE WERE OPERATED ON WITH THE SAME SCALPELS?
That is what we said.
WHAT DID YOU SAY AT THE PRESS CONFERENCE?
We said that we had told six other people that we don't know positively that they were exposed. We think there may be a very slight possibility of exposure.
BECAUSE THE SAME INSTRUMENTS FROM BIOPSIES WERE USED FROM ONE PATIENT TO ANOTHER?
Yes. But the second patient who had CJD was not related to that issue at all.
WHY? WHAT WAS DIFFERENT WITH THE SECOND PATIENT?
The patient was admitted with suspected CJD that was confirmed by biopsy, but that patient had no relationship to those other incidents. That patient was admitted after those instruments had been taken out of use.
IS ST. JOSEPH'S USING WHAT EUROPE HAS BEEN USING THAT ANY INSTRUMENTS THAT ARE USED IN A PATIENT WITH PRION DISEASE ARE LITERALLY DISCARDED AND THROWN AWAY?
They are destroyed."
---
More Information:
The McDonald's fast food corporation which has more than 28,000 restaurants worldwide warns that its 2001 first-quarter earnings have fallen because of the Mad Cow disease scare in Europe. British restaurants and markets report that consumers are turning away from meat toward vegetarian meals.
---
Websites:

© 1998 - 2019 by Linda Moulton Howe.
All Rights Reserved.