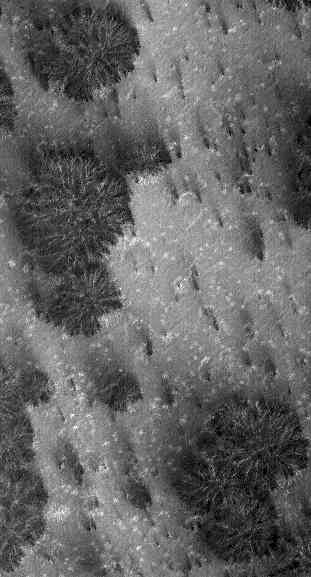 April 8, 2001  Washington, D. C. – NASA successfully launched its Odyssey probe to Mars on Saturday, April 7. The spacecraft is expected to reach the red planet on October 24th after a 286 million mile trip. After aerobraking to get into a lower orbit, instruments aboard will be able to analyze surface rock chemistry and take images in both color and infra red. One place that would be very interesting to visit again is the South Pole where the Mars Orbital Camera (MOC) took the 1999 photograph above that provoked writer Arthur C. Clarke (2001 and 2010) to question if the images were biological and not geological.
I asked Dr. James Zimbelman, Planetary Geologist and Mars specialist at the National Air and Space Museum, Smithsosonian, Washington, D. C, to look at MOC image 08-04688 on the internet and talk with me about it by phone.
---
Interview:
DR. ZIMBELMAN, DO YOU HAVE THE MO8-04688 UP ON YOUR COMPUTER?
I do, and it's unlike anything I've seen on any of the other MOC images.
WHAT ARTHUR C. CLARKE ALSO SAID AND THE QUESTION IS: WHAT IS IT?
I can guess because it's such a high polar latitude and around the funny dark splotches with the little light lines in them are some smaller dark streaks pointing in a particular direction. To me, this looks like it's defrosting. The light areas have a frost covering and the funny black splotches are where that frost is going away. That's my best guess.
THIS IS LIKE A FRACTAL PATTERN THAT WE WOULD ASSOCIATE WITH – WELL, IT'S A LITTLE LIKE LOOKING DOWN ON PALM TREES.
On something very bizarre, yes. Fractal is probably the right way to describe it, but my guess is just from the fact that they are different sizes that it's an area of growing defrosting. More and more of the surrounding brighter surface is losing its frost and turning into this funny appearance.
IS THERE ANY POSSIBILITY SINCE THIS COMES UP A LOT THAT THERE COULD BE ANYTHING OF A FUNGUS NATURE THAT WE MIGHT NOT KNOW ABOUT THAT COULD BE GROWING ON MARS AND COULD PRODUCE PATTERNS LIKE THIS?
I seriously doubt it at this scale. The whole image is almost 3 kilometers wide and fungus just don't make patches like that. Even if they might look like that sort of a hand specimen size, you don't get patches of fungi hundreds of meters to kilometers across.
THAT'S HOW BIG EACH OF THESE CLUSTERS WOULD BE?
Yeah. I looked up some of the information about the picture. If you kept enlarging this to the place that you would see the individual picture elements and each of these funny fractal spots, whatever they are, are hundreds of these pixels. Then each of those spots is 5.5 meters on the surface of Mars.
THE PIXEL?
Each pixel is 5.5 meters, yes. So one of those funny spots is many hundreds of meters across.
THESE ARE VERY LARGE AND THEY DO SEEM TO HAVE A 3-DIMENSIONAL QUALITY TO THEM. WOULD YOU AGREE?
The appearance of it. I suspect that they don't have all that much relief, but the lights and darks you are seeing give the appearance of topography and that's just a brightness difference. If I'm right about this being defrosting, the ground underneath is just a lot different brightness than the frost. In the processed picture, it just turns out that way in the funny pattern.
DOES THIS MEAN THAT THERE IS SOME KIND OF FOCUSED HEAT COMING UP FROM UNDERGROUND?
No. There have been other places in the MOC images and in Viking as well that just because of very slight irregularities in differences in the ground, the frost is either thicker or thinner in some spots. And so it sort of randomly starts in different places.
COULD YOU SUGGEST A REASON FOR WHY IT WOULD HAVE THIS ALMOST PLANT-LIKE PATTERN TO IT?
I have no reason to give you as to why it has that. It's just one possibility that they are all radially consistent in the sense that the little light and dark lines extend radially away from the center and that would be consistent with a growing spot. That is, the spot gets larger as more and more frost disappears. So, whatever that linear pattern is a result of, it just keeps growing as the spot grows. And in the middle of the frame, it's like all the frost is gone and you've got this accumulated mess of what I think used to be a collection of these little spots. And it's just all grown to defrost to give you that funny pattern. It's a little bit past the beginning of spring in the Southern Hemisphere, so you would have the accumulated frost from all the winter going away. So, if I'm reading this right, this is sort of mid southern spring and at a high enough latitude that the frost is just going away as the sun is getting higher.
THIS WOULD BE A FREAKY LOOKING STRANGE KIND OF DEFROSTING ON MARS?
Yes, that's my best guess. I would not at all attribute it to biology.
LOOKING AT PHOTOGRAPHS TAKEN FROM A SATELLITE ORBITING MARS, DETAILS CAN LOOK LIKE 3-DIMENSIONAL, EITHER RISING UP FROM THE PHOTO OR GOING DEEP DOWN, OR IN THIS CASE, THE FRACTAL SHAPES SEEM TO HAVE A 3-DIMENSIONAL TOPOGRAPHY THE WAY WE WOULD THINK OF PALM TREES. COULD YOU DISCUSS THE DIFFICULTY IN ASSESSING WHETHER SOMETHING IS LEVEL, DEEP OR HIGH IN TERMS OF ALBEDO REFLECTION?
It is a difficult problem. And looking at the information for this particular frame – the solar incidence angle is 79 degrees. What that mean is that sunlight was coming in at only 11 degrees above the horizon, a very shallow angle. And I think because of that, that tends to exaggerate topography so that you have this very shallow illumination and even a very subtle feature casts a long shadow or is illuminated at its top very brightly even if it's a very subtle feature. And so that is part of the problem. But that's also consistent with this possibly being defrosting because that would respond quickly like that to a shallow illumination. As the sun got higher and higher, this stuff would disappear faster and faster. After awhile, you might not necessarily produce the patterns.
AS SOMETHING DEFROSTS IN THE SOIL, DOES THE SOIL TEND TO EXPAND UP A LITTLE BIT WHERE IT IS DEFROSTING?
It's possible, but that has less to do with the lack of the frost than whether or not there is water in the soil. I wouldn't have any clue as to whether these pictures indicate that.
MEANING WATER ITSELF AS WE KNOW IT MELTING AND CREATING THESE PATTERNS?
The difference between freezing and thawing can give you relief, yes. I would not guess that just because I don't think the conditions are right to melt water there. In fact, I think it's a very good chance that this is carbon dioxide frost, but I'm not completely sure about that.
IF THIS IS CARBON DIOXIDE FROST, DO WE HAVE ANY EARTH RESEARCH THAT WOULD SHOW WHAT CO2 OVER A WIDE AREA WOULD LOOK LIKE?
No, because we on earth don't get carbon dioxide frosts. It never gets cold enough to do that and we don't have enough carbon dioxide at the right conditions in the atmosphere to produce a CO2 frost. And with a Martian atmosphere mostly carbon dioxide, it does get cold enough to literally freeze out that part of the atmosphere."
---
Websites:
http://www.msss.com/moc_gallery/m07_m12/images/M08/M0804688.html



© 1998 - 2019 by Linda Moulton Howe.
All Rights Reserved.