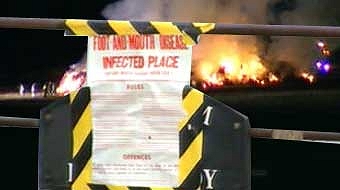 April 11, 2001  College Station, Texas – The number of outbreaks in the UK has now reached 921 with three new cases confirmed this week. More than 955,000 animals have been earmarked for slaughter to contain and eradicate the highly contagious virus, with 345, 000 waiting to be killed and 178,000 carcasses awaiting disposal. Computer experts project that the virus won't reach its peak until June 2001. By then, England might reach 4,000 cases of foot-and-mouth disease.
England's Prime Minister, Tony Blair, postponed Britain's scheduled May election because of the foot-and-mouth epidemic. The animal virus danger will also keep Prince Charles confined to metropolitan areas while visiting the United States in about three weeks. Farmers don't want him in the American countryside for fear that the insidious virus could be hiding somewhere on the shoes, suitcases or other gear of the Royal visitors.
I talked with veterinarian Gary Adams, D.V.M., Professor of Veterinary Pathology and Associate Dean for Research and Graduate Studies at Texas A& M University, who once had to cope with hoof and mouth disease spreading in Columbia, South America. I asked him why killing animals is the first choice of defense against the virus instead of vaccination or simply letting the animals live through the illness and gain immunity to what some have compared to a bad case of flu.
---
Interview:
Gary Adams, D.V.M., Professor of Veterinary Pathology and Associate Dean for Research and Graduate Studies at Texas A& M University, College Station, Texas: "The virus initiates the infection in the tongue. It causes huge blisters. The entire surface of the tongue and mouth is sloughed off. The animal can't eat. The virus also invades the band around the hoof and in the hoof. It causes ulceration of the hoof. The virus also invades teats on the udder. They develop superficial and severe erosions. The calf can't nurse. The cow can't lactate. These are much more than a bad case of flu. It's not even in the same league!
WHY IS IT THAT VACCINATIONS HAVE NOT BEEN USED?
Vaccinations are not 100% effective. They are not and never have been. So, if we depend solely upon a vaccine, we would have a segment of the population which is susceptible and perpetuate the disease, transmitting it to the other animals. It's highly contagious.
WHY IS IT THAT KILLING ALL THE ANIMALS IS THE ANSWER RATHER THAN LETTING THEM GO THROUGH THE DISEASE AND THEN GET WELL?
The policy (of killing infected animals) began to control hoof-and-mouth disease throughout the world years ago and the idea is to eradicate the disease so that we can then have free movement and trade without fear of transmitting this disease. Because once it's in, it's devastating. There are long term effects, chronic effects from this disease.
CAN YOU EXPLAIN SOME OF THOSE?
If the animal can't eat and the animal can't walk or walk very well and the calves that are nursing the cows can't nurse, those are tremendous effects clinically on the animal. Will the animal survive? Eventually yes. But there is a huge amount of weight loss associated with this disease.
DO THE ANIMALS GAIN BACK THE WEIGHT AND RESTORE TO HEALTH?
Yes, but you lose all of that time period in there when the animals had declining health when they were being productive. So, you never really totally regain all of the energy that went into that and the protein source and the minerals that were lost during that time period. And that varies anywhere from weeks to months, based on the animal and how susceptible they are.
CAN YOU EXPLAIN WHY IT IS NECESSARY TO KILL SO MANY ANIMALS IN ADDITION TO THOSE THAT ARE SICK?
Because many of the other animals have been exposed and are incubating the disease. They are in an eclipse phase of the infection where it's undetectable. Then you keep those animals back and the next thing you know that organism surfaces and you have the blisters developing on the mouth, feet and tongue and then you have perpetuation of the infection back into the population.
WHAT IS THE INCUBATION PERIOD?
That depends on the amount and type of virus, how susceptible the animal is, whether it's vaccinated or not, whether it's ever been previously exposed to the foot-and-mouth virus. It depends upon a lot of factors, but generally somewhere between 7 and 14 days. That's the norm, but some animals have a more extended incubation period. And those animals which are incubating the disease get sold from one farm to another or one country to another and then express the disease which can rapidly spread again.
Then there is aerosol transmission. The virus can be airborne for several miles which was documented and written about in the 1970s.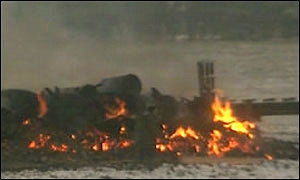 WHAT ABOUT BURNING ALL THE PILES OF CARCASSES? IF THERE IS TRANSMISSION THROUGH AEROSOLS IN THE AIR, COULDN'T THE VIRUS SPREAD BY EVEN BURNING THE CARCASSES?
Technically I'm not certain how to answer that question. Usually the virus is inactivated at higher temperatures like a fire. Mexico had a terrible outbreak in the 1940s and USDA worked with them to eradicate the virus by killing and incineration and that stopped the spread of that foot-and-mouth outbreak.
WOULD IT BE A WISE POLICY NOW IN THE UNITED STATES TO HAVE HOOFED ANIMALS VACCINATED AGAINST FOOT-AND-MOUTH DISEASE?
No. In my opinion, that would not be a good idea because the issue here is: those animals which are vaccinated are protected against some of the virus strains, but not all of the virus strains. So, one issue is: How do you know what virus strain to vaccinate against? Two, if there is an outbreak – should that ever occur, Heaven forbid! – and all of the vaccinated animals in the U. S. have antibody titers, examining their blood you would not know if they were newly infected or have been vaccinated. That's the issue.
So, let's say an outbreak occurred on Long Island. We would have animals vaccinated across the southwest and we wouldn't be able to distinguish whether that virus had traveled from Long Island to the southwest because both sets of animals have antibodies against the viruses. Whereas if the animals are not vaccinated, any antibody tire that develops against any strain, any type of foot-and-mouth disease virus would be triggered as a positive.
MEANING YOU WOULD KNOW IT WAS A NEWLY INFECTING VIRUS?
Yes, newly introduced.
YOU WOULD ARGUE FOR KILLING ALL OF THOSE EXPOSED ANIMALS?
Yes, or any other better control method that is available. But I don't know of a better measure to contain, control and eradicate immediately than killing the infected and exposed animals.
WHY ISN'T IT WORKING IN ENGLAND IN 2001?
I don't know why it's been so explosive in the U. K."
---
More Information:
Foot-and-mouth is a virus that infects all cloven hoofed animals including cattle, sheep, pigs, goats, elephants, hedgehogs, rats and deer.
The main symptoms are blisters that develop into deep sores in the mouth, nose, feet and teats accompanied by high fever, inability to eat and much weight loss.
The blisters contain concentrated quantities of the virus which is easily spread through saliva, milk, dung, reproduction, exhaled air from breathing or coughing and the wind. Thus, anything from feet to wheels that move through contaminated pastures, roads and paths can spread the disease. Thus, the need for disinfectants on shoes, wheels, hoses and other equipment.
There are 7 main types of foot-and-mouth virus that infect hoofed animals which can only be differentiated in the laboratory. None are a threat to humans. The human disease of hand-foot-mouth disease is usually mild, although a very contagious infection as well.
Vaccines are not always 100% effective.
The virus can survive for long periods in meat if the pH does not fall below 6.2. It can also survive in frozen lymph nodes, bone marrow and viscera. The virus also survives well in salted and cured meats and in non-pasteurized dairy products. One investigation found the virus surviving at least 30 days on hay.
The last outbreak in the United States was 1929 when a U.S. Dept. of Agriculture policy decided that killing all infected and exposed hoofed animals is the first choice of defense to contain and eradicate the highly contagious disease.
Countries affected by foot-and-mouth disease in the past 12 months include Bhutan, Brazil, Columbia, Egypt, England, Georgia, Greece, Ireland, Japan, Kazakhstan, Korea, Kuwait, Malawi, Malaysia, Mongolia, Namibia, Russia, South Africa, Taipei, Tajikstan, Uruguay and Zambia.
The foot-and-mouth virus cannot survive long in heat, so it is less of a problem in hot countries. The virus thrives in colder, damper areas like Great Britain.
---
Websites:
http://www.co-ordination.gov.uk/
The latest Government advice about Foot-and-Mouth Disease
http://www.maff.gov.uk/animalh/diseases/fmd/default.htm
http://www.countryside.gov.uk/footandmouth/uk.htm
http://www.aht.org.uk/
Animal Health Trust (Advice for horse owners)
http://www.britishwaterways.co.uk/
British Waterways




© 1998 - 2019 by Linda Moulton Howe.
All Rights Reserved.