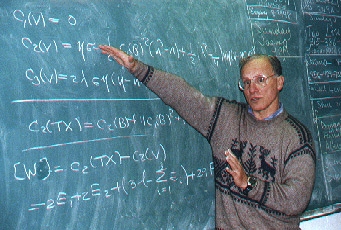 April 15, 2001  Philadelphia, Pennsylvania – A brand new theory about the creation of the universe emerged recently from cosmologists and particle physicists at Princeton University, the University of Pennsylvania and Cambridge, England. The new theory is called the Ekpyrotic Universe, from a Greek word meaning "conflagration" used to describe the universe's creation from a huge fireball that cooled down. Periodically, the Greeks thought, the process could repeat itself.
The new Ekpyrotic theory has grown out of super string and M-theory that say there have to be eleven dimensions. We live in the first four: three dimensions of space plus time. The 5th dimension is the one in which, the new theory goes, a cataclysmic event took place that ended up creating the universe we are now living in. Dimensions 6 through 11 are like scaffolding behind the scenes upon which our 3-dimensional theater plays out. Dimensions 6 through 11 are very tiny and curled up into a little ball which is too small to see, but without which the universe could not exist.
String theory says that dimensions 1 through 4 "float," so to speak, in the 5th dimension. The new theory suggests that not only is our universe floating in the 5th dimension, but the 5th dimension can have waves in it just like the ocean. Further, one or more of those 5th dimensional waves can become a soliton – meaning, a wave can form that keeps on going as a wave and does not collapse. If such a 5th dimensional soliton wave should come in contact with a 4-dimensional universe such as ours, what would happen? That's what these cosmologists and mathematicians have been working on. Rather than calling this a universe and the soliton wave a wave, theorists today now refer to large scale mathematical features in different dimensions as "branes." The term originated from discussions about "membranes" in different dimensions.
Recently in a meeting at the Space Telescope Science Institute in Maryland, this new theory about the creation of our universe from a 5th dimensional brane slamming into a 4-dimensional matter universe was presented by Princeton astrophysicist, Paul Steinhardt. He worked out the mathematical details over the last year and a half with Princeton graduate student, Justin Khoury; Cambridge, England physicist Neil Turok; and University of Pennsylvania particle physicist and mathematician, Burt Ovrut.
I visited Dr. Ovrut at his Penn Physics Department office this week to talk about this new theory of universe creation from a collision between different branes. He began by describing his concept of the 5th dimension.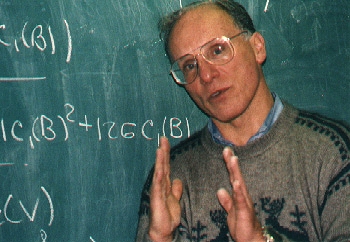 ---
Interview:
Burt A. Ovrut, Ph.D., Professor of Physics, University of Pennsylvania, Philadelphia, Pennsylvania: "This 5th dimension one might view as being an ocean. It's an ocean in the following sense: it's more or less pure gravitation, but gravity like water has waves in it, so there are gravity waves. It's just a field like water is in a sense a field and it can wiggle and wave and things move along. And gravity can do the same thing.
Now, when I was a small boy, perhaps 8 years old, I remember my father taking me down to see some of the ships in New York. The ocean liners existed then and they used to come into the west side of Manhattan. And I remember standing with him on the docks to this day – it really had an effect on me – in seeing a beautiful ocean liner called the Michelangelo which was one of the great ships of the time. And there was something wrong with the Michelangelo – the entire superstructure all the way to the bulkhead and all the way up to the bridge was completely destroyed. It was twisted and wrecked and the windows of the bridge were blown out. And I emphasize that the windows on the bridge must have been 200 feet above the surface of the water. These were gigantic ocean liners.
What had happened was that the Michelangelo had run into what is called a White Wave. It's some enormous wave that is formed in the ocean and then can travel very, very long distances without dissipating very much. It's what we might call a soliton, a technical term that people use in field theory. Waves can behave like this to some extent. One can have rogue waves, white waves, that travel across the surface of the ocean. In fact, the Michelangelo had hit one of these which must have been several hundred feet high and completely destroyed the superstructure of the Michelangelo. I will never forget that. And from time to time, you hear about these things. They exist.
Well, this is what you should conceive of happening inside this 5th dimensional ocean. You can imagine there is a solitonic wall, a big wave in the middle that is 3 + 1 dimensional. It's a big wall that runs across the sea and is either moving, or stationery, across the sea just like a wave. And the question is: what happens if one of those big babies comes in and slams into the walk way on which we are standing, slams into our visible world? And that can happen.
We find that there can be waves in the 5th dimension that can come in and hit our visible world and when they do, they hit it with a big bang. And that is our origin of the Big Bang. We claim that the Big Bang Theory of the Universe, the visible world, in fact happened precisely when a brane from the 5th dimension came and crashed catastrophically into our physical world.
I UNDERSTAND THE CONCEPT OF OUR GALAXY, ALL THE GALAXIES, THIS UNIVERSE THAT IS SOMEWHERE BETWEEN 12 AND 16 BILLION LIGHT YEARS ACROSS DEPENDING UPON HOW IT'S MEASURED OR WHEN. AND WE CALL THIS THE MATTER UNIVERSE. AND WHAT I THINK YOU ARE SAYING IS THAT EVEN IF WE DON'T SEE IT AND WE'RE NOT AWARE THAT WHICH WE THINK OF AS THE WHOLE COSMOS IS SOMEHOW SURROUNDED BY THIS OCEAN OF THIS 5TH DIMENSION AND THAT THE 5TH DIMENSION CAN HAVE THESE WAVE DYNAMICS IN THEM.
SO WHAT YOU ARE SAYING IS THAT THERE WAS A UNIVERSE OF 3-DIMENSIONAL MATTER THAT WAS EXISTING BEFORE THE UNIVERSE WE ARE IN THAT WAS SLAMMED BY ONE OF THESE 5TH DIMENSIONAL WAVES. AND THEN SETS OFF AGAIN WHAT WE HAVE BEEN CALLING THE BIG BANG WHICH WAS THIS ENORMOUS, RAPID EXPANSION OF HEAT AND ENERGY BEFORE THE CURRENT MATTER UNIVERSE. CAN YOU TAKE US BACK TO THAT MOMENT – THE WAVE IS HITTING A YET PRE-EXISTING UNIVERSE? HOW DO WE END UP OUT OF THAT COLLISION?
What you said is exactly correct. There is going to be some pre-world that is prior to that collision. It was in fact a boring place. Our universe is hot and lively and filled with people and art and whatever. The universe before these collisions was cold as far as we know. So it was a cold, dark place in which you had branes moving around in this 5th dimension. It is the energy that we imported from the colliding brane wave when it slammed into us that created the heat, light, matter and all of the world we see around us.
When it slammed into the pre-existing universe, it hit quarks and leptons and various kinds of gauge fields, photons and so on. It takes at least a part of that energy of collision and imparts it to them. That's what happens when one car hits another. It will take a certain energy. Even if one car is stationary, all of a sudden that car begins to move a little bit. So it hits the quarks and leptons and radiation and imparts kinetic energy and the motion in those particles is what we call 'heat.' So, it is precisely the heat of the Big Bang. Now we understand where it comes from. What we say is that the heat and the Big Bang are precisely a certain fraction of the energy that was the kinetic energy of motion of the 5th dimensional brane when it slammed into us – the motion of slamming into us really is true and it imparts all that slamming energy as heat and particles.
AS YOU WORK WITH ALL YOUR MATHEMATICAL THEORY AND YOU ARE FINDING THAT YOU HAVE MATHEMATICAL FORMULAS THAT ARE MATCHING UP TO THE WHOLE CONCEPT OF A WAVE COMING THROUGH THE 5TH DIMENSION AND SLAMMING INTO AN ALREADY-EXISTING UNIVERSE AND CREATING A NEW ONE THAT IS THE ONE WE ARE LIVING IN – COULD THIS HAPPEN AGAIN?
This is very interesting. Of course it's quite possible that there are other waves of this sort out there. We are looking at the possible effects that if there are other branes, could they possibly effect our present world in some measurable way. And we've thought about it and have nothing much to say about it at the moment, although we certainly are looking mathematically at such things."
Ekpyrotic Theory Matches Observed Background Microwave Radiation
THE MATHEMATICAL ANALYSES BEHIND THE EKPYROTIC THEORY SURPRISED DR. OVRUT AND HIS COLLEAGUES IN ITS ACCURACY OF DESCRIBING ONE OF THE GREAT MYSTERIES OF THE BIG BANG: THE UNIFORMITY OF THE BACKGROUND MICROWAVE TEMPERATURE IN EVERY DIRECTION, EXCEPT FOR FLUCTUATIONS SO REGULAR THAT THEY CAN BE PLOTTED ON A SCALE INVARIANT SPECTRUM FIRST DEVISED BY SCIENTISTS E. R. HARRISON AND YA. B. ZEL'DOVICH.
THAT TEMPERATURE THROUGHOUT THE COSMOS IS A PRETTY STEADY 3 DEGREES KELVIN WHICH IS ABOUT ABSOLUTE ZERO WITH FLUCTUATIONS THAT ARE THE SAME FROM ONE END OF THE UNIVERSE TO THE OTHER, EVEN IN PLACES THAT HAVE NEVER BEEN CONNECTED TO EACH OTHER. THAT'S WHY PHYSICISTS LONG AGO DEVISED THE THEORY OF INFLATION TO EXPLAIN THE UNIFORMITY. BASICALLY, THE INFLATION THEORY SAID THAT EVERYTHING BEGAN FROM A BIG BANG OUT OF A TINY SPOT CALLED A 'SINGULARITY' – A MATHEMATICAL CONCEPT THAT STARTS THE UNIVERSE FROM SINGLE PLACE FROM WHICH ALL HEAT, LIGHT AND MATTER HAVE CONTINUED TO EXPAND FOR AT LEAST 12 BILLION YEARS.
DR. OVRUT SAYS HE AND HIS COLLEAGUES HAVE COMPUTED THAT A BRANE MOVING THROUGH THE 5TH DIMENSION HAS A FLUCTUATION SPECTRUM WHICH IS PRECISELY THE SAME AS THE BACKGROUND MICROWAVE OBSERVED SPECTRUM OF OUR UNIVERSE. THAT DISCOVERY OF SUCH A CLOSE MATCH BETWEEN THEIR NEW THEORY'S DESCRIPTION OF THE BACKGROUND RADIATION AND THE ACTUAL UNIVERSE IS WHAT PROVOKED THE SCIENTISTS TO PROMULGATE THE EKPYROTIC COLLISION BEFORE THE BIG BANG.
"What excites us is that we find that a brane moving through the 5th dimension has a fluctuation spectrum which is precisely the same with a few small differences with the observed spectrum of the universe. It is the same spectrum with a few small differences from what the inflationary picture would have shown and it is not at all obvious that there was any other way other than inflation to ever produce a Harrison-Zel'dovich scale. We have shown, if nothing else, that moving branes do produce that spectrum. That to us is very important. It means that if this collision took place as we say, not only do we understand immediately why there is the same universe, even parts that are not in causal contact, but we also understand the large scale structure of the universe rather well and we are very pleased by the fact. And that's what leads us to promulgate this as a theory of the Big Bang. So that's really the important issue and we have been able to get quite far with that.
Now, there are some differences and these are very important to us. Again, one may worry about 5 dimensions and strings and how abstract it all sounds – we find this fluctuation spectrum generated by a brane moving in the 5th dimension is not quite the Harrison-Zel'dovich spectrum. It slightly has more power, is slightly stronger in the wavelengths that are shorter. That is, as things become more blue – blue has a shorter wavelength than red – as things become blue, there is more amplitude in those waves. Now, it's not enough to violate what is presently known about the large scale structure, but it is the kind of thing that is conceivably measurable. Now, inflationary theories also tend to be not quite a Harrison-Zel'dovich spectrum. However, they tend to produce spectrum that have more power in the longer wavelengths which are red. There is a real difference there.
Generically speaking, there is a difference between our Ekpyrotic fluctuations and the fluctuations of inflation which has to do with our fluctuations being more blue and theirs being more red. We hope that experiment in the not too distant future will begin to distinguish between these. So these are measurable, testable events, objects and theories and that's very important."




© 1998 - 2019 by Linda Moulton Howe.
All Rights Reserved.