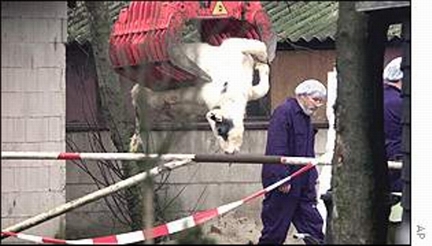 April 24, 2001  Plum Island east of Orient, Long Island, New York – Today in England, three suspected cases of human foot-and-mouth disease are being investigated by the British Public Health Laboratory. One of the patients is a man from Cumbria who developed blisters in his mouth and sore, itchy hands while working on a crew slaughtering hoofed animals infected with foot-and-mouth disease. Officials are waiting to hear from laboratory test results which should be in next week. If the humans test positive for foot-and-mouth disease, it means the virus moved from animals to people.
This has happened before. Foot-and-mouth disease has been around the world for a long time. To date, medical authorities say there are at least 35 human cases of foot-and-mouth disease on record. However, in humans the virus is very mild. Symptoms of blisters last a few days and then the disease is gone. But in hoofed animals, the foot-and-mouth virus hits hard, is the most contagious virus known and is hard to stop once it flares up, as Great Britain has been learning first hand since February.
The total number of confirmed cases in the U.K. is 1,465, with 13 new ones reported today. To counter the virus epidemic, Britain has slaughtered 1,974,000 cows, sheep and other hoofed animals. A quarter million animals are left to slaughter.
The Dutch Agriculture Ministry has also been slaughtering animals, at least 80,000 after ten cases of foot-and-mouth disease were confirmed the end of March. The Dutch tried to avoid Britain's dependence on slaughter and were the first to seek and gain permission to vaccinate animals around infected farms. But as the virus spread, officials decided they had to kill potentially infected herds.
In France where only two cases of foot-and-mouth disease were confirmed, the government is waiting and monitoring to see if the virus has been stopped.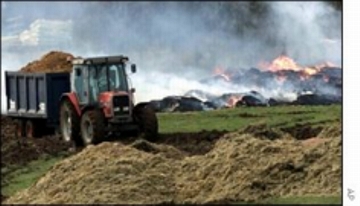 In England protesters are worried about airborne contaminations and pollutants. Many have challenged and blocked the burning of thousands of dead, diseased animals on huge cremation piles forcing the British government to try bury the carcasses despite high water tables on the island. Some people claim their well water is now poisoned and the U. K. government has had to finally admit that all the burning of dead animals covered with chlorine-bearing disinfectants, pesticides and other chemicals has now produced massive airborne emissions of the carcinogenic poison, dioxin. Scientists say that so far 63 grams of dioxins were emitted from burning dead animals, which is nearly the amount released from all of England's factories in a year! Dioxins are so toxic that the World Health Organization recommends that the average-sized person not be exposed to more than 30 billionths of a gram in any year. That means that burning all the slaughter foot-and-mouth carcasses has now delivered a dangerous dose of dioxin throughout the English countryside.
Making all of this even worse if possible, dioxin contamination of soil and water can last for years afterwards. Environmental organizations are telling the media the dioxin levels are shocking and expect farmland to be "unusable as a result of the Government's short-sighted obsession with slaughter."
So, why is there an official obsession with slaughtering nearly two million animals in the face of a virus that does not usually kill and its victims eventually get well? Why not vaccinate instead?
This morning I asked that question of Dr. Tom McKenna, Veterinarian and Microbiologist who is Laboratory Chief of the Foreign Animal Disease Diagnostic Laboratory at Plum Island off the tip of Long Island, New York. Plum Island was originally used as a Department of Defense Army base. Then in the early 1950s, it became the property of the U. S. Department of Agriculture in order to have an isolated place for scientists to work on many different and dangerous microbes without any direct bridge, tunnel or other connection to the American mainland. The particular laboratory run by Dr. McKenna has been studying foot-and-mouth disease since outbreaks in the 1950s in Mexico and Canada put the U. S. on notice that it had to better understand the contagious virus to better protect domestic herds. Here is Dr. McKenna beginning with the question: why not vaccinate instead of slaughter?
---
Interview:
Tom McKenna, D.V.M., Laboratory Chief, Foreign Animal Disease Diagnostic Laboratory, U. S. Department of Agriculture, Plus Island, Orient, New York: "The reason why vaccination is not done by many countries is that if you vaccinate, then your livestock products will not be welcome in countries which are free of FMD. And the reason for that is that vaccinated animals can become infected and actually be carriers of the virus without showing clinical signs. Because the disease spreads so fast and can be so devastating, countries without FMD don't want to take that chance of importing animal goods and live animals from countries which do vaccinate. So, if you want to be active in the international arena of trade, you can" afford to vaccinate for FMD.
AFTER THIS TERRIBLE EXPERIENCE IN ENGLAND OVER THE LAST 2 OR 3 MONTHS, DON'T YOU THINK POSSIBLY THE ENTIRE WORLD PERSPECTIVE ON HOW TO DEAL WITH FMD SHOULD BE CHANGED AND THERE BE UNIVERSALLY VACCINATION?
What we are seeing on the television, you know, it hurts your heart. These decisions are not made easily and as we said earlier, with the world watching how this approach plays out, it may force some new dialogue in the future.
And I think the countries around the world will probably look at how to handle it better in the future. There is new technology being developed, both in the vaccine field and the diagnostic field, which would allow the differentiation between vaccinated animals and infected animals. Once that science has been proven, I think the trading people may be able to allow some vaccination in the face of an outbreak, but all of that will have to be worked out between trading partners and it won't happen in 2 or 3 months. It will be a longer process.
ARE YOU TALKING ABOUT THE DEVELOPMENT OF SOME TYPE OF BLOOD TEST?
Right, a test that will look at antibodies in the animals. And you could tell, differentiate a vaccinated animal from an infected animal. Or the other possibility is an animal that is vaccinated and infected. And it would be important to clearly tell one from the other if you were going to allow vaccination to proceed along with trade.
YOU SAID THIS PARTICULAR STRAIN OF VIRUS – AND I UNDERSTAND THERE ARE AT LEAST 7 STRAINS OF FMD VIRUS. IS THAT CORRECT?
Yes. There are 7 major sero types of FMD and within each of those sero types, there are many sub-sero types. This particular virus is a sub-sero type of the O virus and it just seems to be a little more infectious, a little more virulent than some of the strains we've seen prior to this.
WE ARE DEALING WITH A VIRULENT STRAIN OF FMD CLEARLY, AND COULD THIS VIRUS BE AIRBORNE AS WELL AS BODY-TO-BODY CONTACT?
Yes, there is some data that shows FMD can be spread by aerosol or on the wind. Exactly how much a role that plays, I'm not sure how far it could blow and still cause disease. I'm not sure, but that is one of the ways FMD can spread, through aerosols on the wind. But the primary way of spread is contact between infected animals or the virus being moved on vehicles or people to susceptible animals.
NOW HAVING THAT KNOWLEDGE IN ENGLAND, WHY DO YOU THINK THE GOVERNMENT IN THE BEGINNING INSISTED THAT PILES, LITERALLY OF HUNDREDS IF NOT THOUSANDS OF ANIMALS, BE PILED UP AND BURNED?
Once the animal is dead, it is excreting very little virus. There is some virus in the animal itself, the dead carcass. But the way the aerosol would be a threat is the infected animal and primarily pigs are the ones that breathe out a lot of virus when they are infected. So with each breath, you would be throwing a lot of virus into the air and then theoretically, the wind could carry that virus to a neighboring farm. That's why there is such an urgency to kill infected animals to reduce the amount of virus that is in the environment. Once the animals are dead, the viral replication really stops and the production of virus and the release of virus into the environment becomes virtually zero.
DO YOU THINK THERE IS JUSTIFICATION IN KILLING 500 OR 1000 SHEEP ESPECIALLY IN A FARM OR NEARBY FARMS WHERE THERE HAS BEEN NO EVIDENCE OF THE DISEASE, BUT BRITAIN HAS TAKEN THE POSITION THAT THEY NEEDED "FIRE WALLS" TO STOP THE SPREAD OF FMD?
I think the philosophy on this type of approach is similar to surgery for cancer. When you have a tumor in a body, when you do surgery, you take out a lot of healthy tissue around that tumor to make sure you have gotten all the tumor. And you are willing to sacrifice some healthy cells in order to protect the whole body. If you were to get just the affected cells with the cancer, you might leave behind some and then the cancer could flare up again. And I think that is a good analogy for this. When there has been exposure, you are taking a tremendous risk if you wait for those animals to get sick and spread disease. Whereas if you go in right away and kill all the animals that have been exposed, you have a certain peace of mind that the virus will not spread beyond where you have spotted it."
WHY NOT LET THE HERDS GET SICK AND GET WELL AND HAVE THEM ALL HAVE THE IMMUNITY TO PASS ON TO THE YOUNG ONES AND NOT GO THROUGH THIS HORRIBLE CRISIS OF SLAUGHTER?
I think that cost of the animals being sick for two weeks that is an important cost that will be passed on to consumers. So if you can, the less disease that animals have, the better their livelihood and ultimately the cheaper the product to the consumer. So I think the goal of all producers is to reduce the amount of disease producers can have in their herds and flocks.
DID YOU EXPECT THERE COULD BE AN OUTBREAK IN A PLACE LIKE ENGLAND?
Because FMD is one of the most contagious agents known to man since it is present in other parts of the world, there is always a threat that it's going to spread. And beginning about 5 years ago this particular strain of foot-and-mouth seemed to escape from Asia and it has shown up in many countries. There have been outbreaks in countries that haven't had foot-and-mouth for decades. This includes Taiwan, Japan, Korea, South Africa and Britain, of course.
BUT WHY ENGLAND SO VICIOUSLY?
It was a big surprise to us to hear that England had FMD outbreak. We have been surprised at how fast this virus has shown up in other countries. I think it is a combination of a large population of animals which are naive, because they have not been vaccinated and that's all tied up with international trade, and then the way livestock production where you have large numbers of animals and they are close to each other and traffic between farms. As I said, this is one of the most contagious agents known to man and once it gets going it spreads like wildfire."
---
More Information:
Dr. McKenna said his Plum Island laboratory has tracked outbreaks of this current "O" strain of foot-and-mouth virus over the past five years in Asia, including Taiwan, Japan, and Korea; South Africa and Argentina. But he says he and his colleagues were surprised that the virus flared up so virulently in Britain.
Dr. McKenna: "I think it is a combination of a large population of animals which are naive, because they have not been vaccinated and that's all tied up with international trade, and then the way livestock production where you have large numbers of animals and they are close to each other and traffic between farms. As I said, this is one of the most contagious agents known to man and once it gets going it spreads like wildfire."
---
Websites:
http://www.co-ordination.gov.uk/
The latest Government advice about Foot-and-Mouth Disease
http://www.maff.gov.uk/animalh/diseases/fmd/default.htm
http://www.nfu.org.uk/
(National Farmers Union)




© 1998 - 2019 by Linda Moulton Howe.
All Rights Reserved.