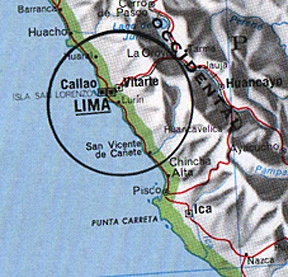 May 6, 2001  Caral, Peru – Archaeologists reported in the April 27, 2001 journal Science that the mounds and ruins in the Supe Valley 120 miles north of Lima are as old as the pyramids. Now Caral, Peru is the oldest city in the Western Hemisphere. Even though the site and seventeen others were first discovered in 1905, age was never precisely dated. Now Jonathan Haas, Curator of Anthropology at the Field Museum in Chicago and co-author of the report, says that disintegration of carbon in plant fibers in the ruin walls definitely date between 2627 B.C. and 2020 B. C. That makes the Peruvian Supe Valley home to a civilization as old and advanced as those in Egypt where the pyramids were being built, to Mesopotamia where the Sumerian culture dominated, to the Indus Valley, China and the newly discovered Central Asian civilization near Iran and Afghanistan which was making fine ceramics and had its own independent writing symbols. See: Earthfiles Science report 05-05-01.
The new dating on Caral "changes history as we know it," said Ruth Shandy Solis, Excavation Chief at Caral and Director of the San Marcos National University's Archaeological and Anthropological Museum in Lima. Perhaps 3,000 people lived in Caral and 32 flutes made from pelican and condor bones were found together in a shallow, sandy pit. Shandy said, "They were found together. That makes us think the instruments belonged to an orchestra. They are different sizes and with different decorate designs."
So much of the Caral site is still buried in the sand. Some archaeologists think when more is known that the Supe Valley people could be older than 3000 B. C. Still standing are two huge stone structures weighing a ton or more that seem to be an entrance to the largest mound that is 60 feet high and 500 feet across. There are symmetrical staircases on the big mound which is surrounded by smaller mounds and ruins covering about 200 acres.
One of the mysteries is that most ancient Peruvian towns grew very slowly. But Haas says that Caral emerged "like a big bang. It was very rapid."




© 1998 - 2019 by Linda Moulton Howe.
All Rights Reserved.