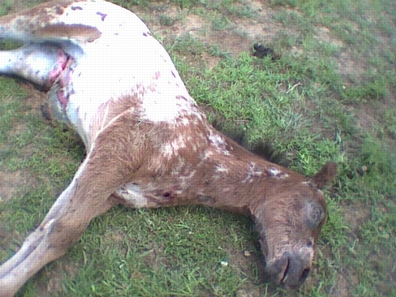 June 9, 2001 Washington, D. C. – This week President George Bush heard his own personally hand-picked scientific panel tell him that global warming is real, man-made, poses threats in the future and that the global temperature could rise between 2.5 and 10.4 degrees Fahrenheit over this century. When Bush created the panel in March, the President said he was unsure that global warming was a real phenomenon. Now his own panel of climate experts, including a Nobel Prize winner and members of the National Academy of Sciences, has answered with these sobering words:
"Human-induced warming and associated sea-level rises are expected to continue through the 21st century. National policy decisions made now and in the longer-term future will influence the extent of any damage suffered by vulnerable human populations and ecosystems later in this century."
In March, Bush dropped a campaign promise to restrict carbon dioxide emissions from older power plants that produce the most pollution because he said it was more important to have more electricity production. The United States now produces a quarter of the world's greenhouse gases and our carbon dioxide emissions alone increased thirteen percent in the 1990s.
Yet, the United States still refuses to support the 1997 Kyoto Protocol negotiated by the Clinton administration which calls for a 7 % reduction in global warming gases by 2012 compared to 1990 emissions. European nations strongly support the treaty and are very upset over Bush's declaration to businesses that there will be no Kyoto Protocol. The chairman of a U. N. panel on climate change told reporters that there are enough countries outside the U. S. to ratify the Kyoto Treaty and he has asked European nations to give the United States one last chance to support the Kyoto Protocol next month in Germany during a U. N. meeting about global warming.
Wherever humans have turned up on the earth, it seems there have been animal extinctions. This week in the journal Science, two studies try to answer the old question: What killed off the mammoths, mastodons and other large animals in North and South America and Australia?
Researchers found that 55 species of every large land animal, reptile and bird in Australia weighing more than 220 pounds disappeared within 10,000 years of human arrival. And in the Americas toward the end of the last Ice Age, 73 percent of large plant eaters, saber-toothed cats, wooly mammoths, camels, mastodons and large ground sloths were gone within 1200 years of human migration here.
The author of the study, John Alroy of the University of California, Santa Barbara, writes, "Human population growth and hunting almost invariably lead to major mass extinctions. The results show how much havoc our species can cause without anyone at the time having the slightest idea of what is going on, much less any intention of causing harm."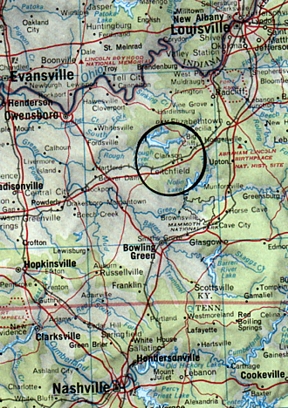 Leitchfield, Kentucky –
Many other large and small animals have died in the modern age from a mysterious assailant that usually kills in the night and leaves cattle, horses, goats, sheep, pigs, rabbits, cats, dogs, elk, and deer dead and mutilated without signs of struggle or blood. Usually an ear, eye, half the face, tongue, genitals and rectal tissue are cut away. Sometimes clean, bloodless holes are found penetrating an inch or two, "like a biopsy plug was taken," as one sheriff said.
Such a report was filed two weeks ago in the Grayson County Sheriff's office in Leitchfield, Kentucky between Louisville and Hopkinsville. The small horse farm in Leitchfield has been run by Mike and Rose Downs the past four years. The couple was delighted when one of their mares gave birth to a healthy male colt the first of March this year. Then on May 25th in the morning, Mike and Rose could not find the 3-month-old colt and noticed buzzards circling in the air above their pasture. I talked with Rose Downs this weekend about what they found.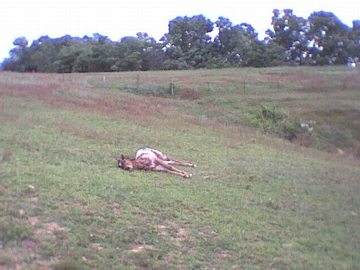 ---
Interview:
Rose Downs, Owner, 3-month-old Male Colt, Leitchfield, Kentucky: "My husband and I were out at the barn and looking at the horses and we noticed that the mother of the colt was there without the colt. And she was like spraying milk. And my husband said that was not right, she shouldn't be spraying milk like that. We looked right outside the barn and he said, 'The colt's not with her.' And he said something was wrong so we walked down through the fields and came to where the colt was and I said, 'Something is wrong with the colt. It's down.'
And then when we walked up to it is when we realized that it was dead. My husband got to looking at it and saw it had been shot."
Sheriff Notified About Colt That Had Been Shot
THE DOWNS CALLED THE GRAYSON COUNTY, KENTUCKY SHERIFF'S OFFICE AND SHERIFF JOE BRAD HUDSON GOT TO THE PASTURE AROUND 1 P.M. ON MAY 25TH.
Joe Brad Hudson, Sheriff, Grayson County, Kentucky (four years), Leitchfield, Kentucky: "Mr. Downs thought it was a gun shot. He looked at it and it was shot right in the chest area right below its neck with what appeared to us to be a slug. It was a perfect circle about an inch in diameter, but there was no exit wound. And I started taking a few pictures of it.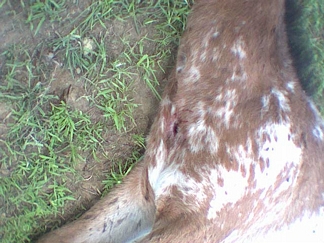 We then decided we would roll it over and we rolled it over and looked at it and it looked like an animal had gotten into its abdomen. We stood there and I was talking to Mr. Downs about it and he said, 'You know what, I just noticed something. That's a boy horse and it has no genitalia.' And we got to looking and it had been cut with a sharp object. It wasn't torn like an animal had done it or anything. It was cut completely off. And we noticed there wasn't any blood around the animal, nowhere!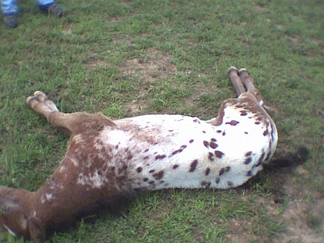 So, he said, 'You know what, about a year ago, my neighbor had a heifer killed. The vagina and ears were taken.' And he said the neighbor called, but we didn't go out and do a report on it. But the neighbor come over while we were down there with Mr. Downs looking at this horse and went over the incident and he said both the vagina and ears were taken off that cow about a year ago.
YOU ARE SAYING GUNSHOT WOUND, BUT DID YOU RETRIEVE ANY KIND OF BULLET?
No. The only reason I was clued in to it being a slug is that a slug makes a clean hole that stays open, whereas a normal gunshot wound would go in and tissue would go back and wouldn't make a hole. This was a perfect inch circle hole.
DID YOU HAVE VETERINARIAN OR PATHOLOGIST CUT INTO THAT HOLE TO SEE WHAT WAS THERE?
No, they opted not to. I left it with the owner who was willing to bury it. I don't know if he has or he hasn't. But we just did a criminal mischief report as we normally would.
SO ALL THE TISSUE ON THE HEAD ITSELF, THE EARS, EYES, THE TONGUE AND SO FORTH, THAT WAS INTACT?
That was intact.
IN WHAT PART OF THE COLT'S NECK WAS THIS HOLE?
It was right in the center.
AT THE BACK OR DOWN BELOW AT THE THROAT?
It's below the throat like where your breast bone. It was right there. If the horse is standing facing you, right between its legs where the chest first starts to roll up, that's where it was.
AND RIGHT BELOW THERE NOT TOO FAR IS PROBABLY WHERE THE HEART MIGHT BE IF YOU KEPT GOING?
Correct.
NOW WHERE THE PENIS AND SCROTUM SHOULD HAVE BEEN ­ CAN YOU DESCRIBE EXACTLY WHAT YOU SAW IN TERMS OF THE DEPTH OF THAT EXCISION?
It was just scalped.
DOWN JUST TO THE MUSCLE?
Yes.
IT WAS ONLY HIDE DEEP?
Right. It was just the hide and what was hanging there was taken.
WHAT EXACTLY WERE YOU LOOKING AT – AN OVAL OR CIRCLE?
There wasn't a pattern to it. It was like someone just took a knife to it and started cutting, picking up skin and cutting, until they got around to the anus and then they come back around the other side.
THIS IS AN EXCISION THAT EXTENDED FROM THE PENIS AND SCROTUM BACK AROUND THE RECTAL AREA?
Right, but the rectum was intact.
COULD YOU FIND ANY TRACKS OF ANY KIND AROUND THE HORSE?
We looked for tracks. We looked for shotgun shells. We looked all around the colt. We couldn't find nothing. There wasn't no blood drippings or nothing.
HAVE YOU IN YOUR LAW ENFORCEMENT CAREER EVER SEEN ANYTHING QUITE LIKE THIS BEFORE?
No. Not to that extent."
What Could Have Happened?
Rose Downs: "Really we don't know what could happen or why anyone would even want to do that. I mean, that is sad. That was a sad situation to see that colt laying there like that. I mean, it's very disturbing. It makes you feel scared. Or it does me. I'm a woman and I have a teenage daughter here at home with me. It's puts a scared feeling in you knowing something like can happen that close to you.
HOW FAR WAS THE COLT LYING IN THE PASTURE FROM YOUR HOUSE?
I don't know how to measure, but it was laying just right over the hill from where our barn is and our barn sets in our backyard.
DID YOU HEAR ANY UNUSUAL SOUNDS OR HEAR ANYONE REPORT ANYTHING UNUSUAL ON THE NIGHT OF WHAT WOULD HAVE BEEN MAY 24TH BEFORE YOU FOUND IT ON THE 25TH?
No, we didn't hear anything, but our neighbors reported to the police that they heard gunshots the night before.
YET A GUNSHOT WOULD HAVE LEFT BLOOD ON THE WOUND AND THE SHERIFF SAID THERE WAS NO BULLET.
I can't answer your question. I don't know.
IF THE COLT WAS NOT SHOT, WHAT MADE THAT HOLE AND WHAT DID EXCISE THE GENITALS?
I know. Like I said, I have a teenage daughter and now she says she's scared to walk outside at night. I just don't see how anyone could do something like that to a colt. Or anything else. It's just a baby."
The colt mutilation is still under investigation by the Grayson County Sheriff's Department and anyone with information is asked to contact the Sheriff's office at 270-259-3024. All calls remain confidential.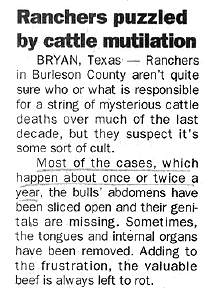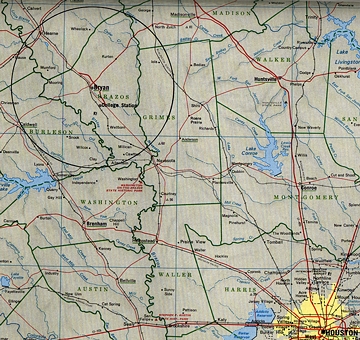 Bryan, Texas in Burleson County:
Another sheriff's office in Texas is also looking for anyone with information about a series of bull mutilations the past ten years near Bryan, Texas in Burleson County between Waco and Houston. The sheriff says the bulls' abdomens have been sliced open and their genitals cut off. Sometimes the tongues and internal organs have been removed. Confounding the Texas investigations just as in the Kentucky colt mutilation, there are no signs of human involvement such as tire tracks, shoe prints, shell casings, or cigarette butts. Burleson County Sheriff Gene Barber told local reporters recently, "If we could find any indication humans are involved, we would do more. But we don't and it is a mystery to me."
To date after more than forty years of the worldwide animal mutilation phenomenon, no one has been arrested, arraigned and convicted anywhere on an animal mutilation charge. And yet, the unusual bloodless, trackless animal deaths continue to be reported year after year.
---
More Information:
You can read about unusual lights, aerial craft and entities described by eyewitnesses over the years associated with animal mutilations in my 2-volume book, Glimpses of Other Realities, Vol. I: Facts & Eyewitnesses and Glimpses of Other Realities, Vol. II: High Strangeness now in new printings. Please see the Earthfiles Shop for order information and other books and documentaries I have done about the animal mutilation mystery.




© 1998 - 2019 by Linda Moulton Howe.
All Rights Reserved.