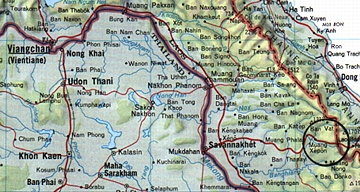 July 7, 2001  Xepon (Sepone), Laos – On June 25, 2001, I arrived in Hong Kong to meet the Bang Productions, Ltd. video team who were producing a TV series for The Discovery Channel first entitled, Asian Enigmas, and later changed to Modern Mysteries of Asia. Our goal was to fly to Hanoi, Vietnam, and Vientiane, Laos. We then traveled by road to Savannakhet and Xepon, working our way towards the Laos and Vietnam border and a remote village called Vilaburi where very tall, wild "forest men and females" with human faces and large, hairy bodies had been reported.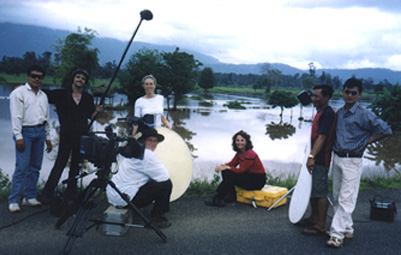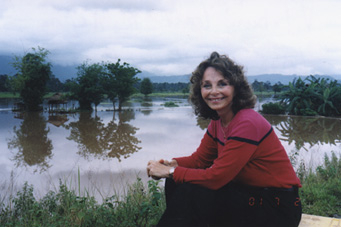 In Xepon, we met Tom Roberts from Red Bank, Queensland, Australia, who is currently based there as an Explosive Ordnance Demolition expert to clear away unexploded bombs (UXO) dropped during the1960s-1970s Vietnam war. We traveled in a Russian truck on Route 9 in Laos that had bombs and shells dropped on it 24 hours a day for nearly eleven years. Tom told me he had worked with the Australian Air Force during the Vietnam war to load ammunition and explosives and ironically in 2001 was back for the high fees he was paid to clear out unexploded bombs so mining operations could safely expand.
---
Interview:
Tom Roberts, Explosive Ordnance Demolition Technician, Xepon, Laos: "I work for a company called Milsearch. It's an Australian company originally set up by some ex-Air Force weapons engineers. They came up to Laos and started doing some clearance with some mining companies and they ended up becoming a joint venture company with the Laos Army. So, the name of the company up here is Milsearch BP KP.
It's basically a private organization. We have international insurance, which makes us very attractive. Most of the aid agencies who want clearances done want international insurance in case something goes off (explodes) some time. And we're the only company in Laos that has a license to do UXO clearance.
LMH:  AS WE DROVE ON THIS ROAD FROM XEPON TO VILABURI IN LAOS, WE SAW BOMB CASINGS BEING USED TO SUPPORT HUTS AND SOME OF THE OPEN CLAM SHELLS. I HAD THE SENSE THAT THERE ARE BOMBS ALL OVER THE PLACE ON EITHER SIDE OF THE ROAD. WHAT ARE THE CHANCES THAT THOSE COULD SUDDENLY GO OFF IN THOSE VILLAGES?
ROBERTS:  Every chance in the world.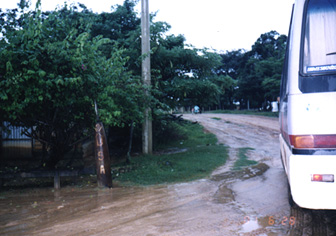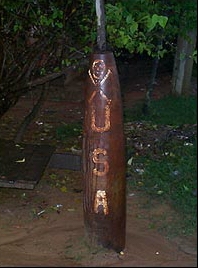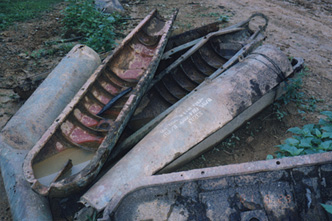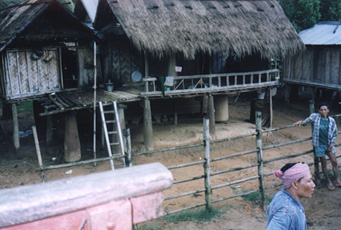 WHY DO THEY EXPLODE AFTER 30 YEARS?

Well, weapons when they are sort of sitting in the ground – you've got heat and cold and contraction. They move around in the ground. As they get older and older and older, the explosive tends to deteriorate. Sooner or later, you get little cracks. When you get cracks in explosives, you start to get crystallization and at any given moment, that crystallization might move and create a little spark that sets off the detonation. It's purely that it can happen at any time. Or it could not happen at all. They could lie there for 100 years and nothing would happen. But they might go off tomorrow. You just don't know.
HOW LONG HAVE YOU BEEN DOING THIS?

Last 10 to 11 months. Before that, it was before 1984.
THE FIRST ROUND, WERE YOU IN THE MILITARY?

Yes, I was in the Royal Australian Air Force.
YOU HAD WORKED DURING THE VIETNAM WAR?

Yeah, I was at a big American Air Force base half way between DaNang and Saigon.
WHAT WERE YOU DOING THERE?

I was an armory fitter with a squadron of aircraft from Australia. My job was to look after all the weapons equipment, fix that, and make bombs up and load bombs on the aircraft.
30 YEARS AGO, YOU WERE LOADING BOMBS INTO AIRCRAFT AND 30 YEARS LATER TODAY, YOU ARE DIGGING THEM UP HERE?

Yeah, that's about it. I don't know if they are the same ones, but they look the same.
COULD YOU EXPLAIN NOW FOR A NORTH AMERICAN AUDIENCE EXACTLY WHAT YOU ARE DOING IN LAOS?

Initially I am working at a big mining site that explored and found gold and copper and a few other type minerals. And because there was so much UXO being dropped here during the Vietnam war, everywhere you walk or want to take a vehicle, you have to clear it first. So, I have been basically clearing roads and living areas and all that sort of thing of UXO.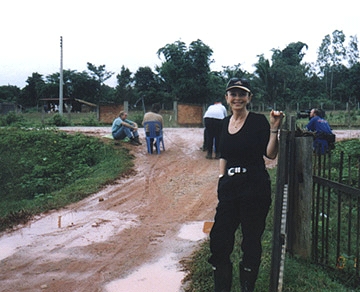 WE'RE SITTING RIGHT NOW IN A LITTLE GUEST HOUSE ON A ROAD THAT IS ONLY ABOUT 30 FEET FROM WHERE WE ARE AND THIS ROAD GOES UP TO VILABURI WHERE WE HAVE SPENT THE LAST COUPLE OF DAYS ON THE SEARCH FOR THIS FOREST MAN. CAN YOU TALK A LITTLE BIT ABOUT THE CONDITION OF THIS ROAD WE HAVE BEEN GOING UP AND DOWN AND HOW MUCH MILITARY BOMBS, SHRAPNEL, EVERYTHING MIGHT STILL BE IN THAT ROAD?

Well, there's probably a lot. Laos was bombed for almost eleven years, 24 hours a day, or just about that. And they dropped a lot of bombs on all the tracks. This area was originally the Ho Chi Minh Trail. In fact, it's not just a trail. It's about 40 or 50 kilometers wide and comprises rivers, tracks, roads. All these tracks when vehicles are on them when they are bombed, they left big bomb craters. So, when the aircraft went away and at night time, all the local people came out and filled in the holes up with whatever was there which might have been truck bodies, ordnance, anything, bombs, and just put them in the holes and filled them over to make the road again so they could get their trucks moving and get more supplies moving.
WHAT IS THE CURRENT SITUATION ON SOME OF THESE BOMBS AND THINGS BLOWING UP NOW?

Well, you never really know. Bombs can last for a long time in the ground or just laying there. You can hit it with a hammer or give it a good kick and nothing would happen, move it around and it would be fine. But you might sneeze at one and it could go off. You never know.
WHAT'S THE MOST RECENT ONE THAT HAS GONE OFF HERE?

We had one go off last October. It was right in the middle of the road. It was a deep bomb. I'm not sure what size it was. It must have been 750 pounds or bigger because it was a very deep hole and very big crater. But it was right in the middle of the road and closed the road for three months.
THAT'S VERY CLOSE TO WHERE WE ARE RIGHT NOW?

Yeah, that's about 12 kilometers away.
HOW HAVE WE BEEN GOING NINE HOURS UP TO VILBURI AND NINE HOURS BACK IN THAT SOVIET TRUCK – HOW HAVE WE DONE THAT AND OTHER PEOPLE HAVE BEEN DOING THIS FOR THE LAST THIRTY YEARS WITHOUT ALL OF THESE BOMBS AND MATERIALS BLOWING OFF BEFORE NOW?

I don't really know. It's just one of those things. They sit there until they decide to do it. With explosives, anything can happen. You cannot predict it at all.
WE ARE IN A DANGEROUS TERRITORY STILL IN THE HO CHI MINH TRAIL AREA?

Yeah, basically if you walk off the beaten tracks or get off the main roads and start wandering through the bush by yourself, you are in dangerous territory. You can step on something that could go off.
YOU'VE BEEN UP TRYING TO SURVEY WITH MAGNETOMETERS HOW MUCH METAL IS UNDER THE ROADS AND ALONG THE SHOULDERS TRYING TO CLEAR IT FOR THE MINING OPERATION. COULD YOU EXPLAIN A SUMMARY OF WHAT YOU HAVE FOUND SO FAR?

We've found all sorts of stuff. We've found big bombs, 500 pounders, 750 pounders. Mainly small munitions like blues which are called "little bombees" that are like little baseball things that are armed and when they hit the ground, they go off. Anti-personnel weapons. We find mortars, rusty boxes of anti-aircraft rounds, anti-aircraft rounds from about 12.7 up to about 5 or 6 inch whole rounds or parts of rounds, parts of rockets and rocket heads, mortars, all sorts of mortars. Basically, anything that is Russian, North Vietnamese, French, American, and there's pieces of other stuff around, too.
ONCE YOU HAVE USED THE MAGNETOMETER AND YOU FIND THIS MATERIAL YOU WANT TO CLEAR, HOW DO YOU DO IT?

Well, basically we go out to an area and we have a team of local Laos national men and we have surface detectors that go down about 5 or 6 inches and we search the whole ground with that to pick up anything metal. In fact, they pick up copper, stainless steel, brass and other stuff. We'll pick up a lot of the things like little bombees and maybe bullets and small arms and all that sort of stuff that is quite shallow. Once that's clear, we then go through with the magnetometer that goes down to about 3 meters depending upon what the ground is like.
If we get a hit, we start digging using the magnetometer and we also use the metal detectors as we go down. And when we start getting a good sound out of the metal detector, we know we are getting within about a foot or so of whatever it is and then we usually use that to go down and dig around and find out what it is. With a magnetometer, say you've got a bomb, depending how it's lying – you can usually tell that it's something big and you can usually pinpoint the ends of it if it's lying flat to the surface.
Sometimes, they are inclined to the surface or straight up and down which makes it really hard. So, most of the time when you're digging you don't know what you've actually got until you hit something, expose a bit of it. Then you realize what it is and then you can sort of get on with it.
BUT HOW DO YOU GET THEM OUT WITHOUT THEM EXPLODING?

Most of the bombs – when we sort of look at them, we have a look at the fuse system on them. Sometimes you can tell that they have been dropped safe. It might still have an arming wire on it. When bombs are dropped safe or jettisoned off aircraft, the arming wire goes with the bomb. Sometimes, there is an arming wire there. Or sometimes, there are other indications that it's safe. If the fuses are all knocked off, we look at what type of bomb it is and try to decide what fuse it might have been and then we work out what that fuse will do if the fuse could still work. Like, if it's a tail fuse – if the bomb hits head first, the tail fuse will go bang that way. If the bomb hits the other way, tail first, the tail fuse won't work because the detonator is going the wrong way to get into the fuse. So, if we pick that up and carry it a certain way and then drop it on its nose, there is a pretty good chance that it will be OK. So, we take it away.
If we find a weapon that we can't determine what condition it is – we play safe 100% of the time and blow it up on site.
YOU JUST BLOW IT UP RIGHT THERE?

That's right.
IN THE SURVEY YOU HAVE DONE SO FAR ON THESE ROADS, WHAT IS YOUR ESTIMATION OF HOW MANY BOMBS ARE STILL WITHIN THE UPPER 10 TO 15 FEET OF THE LAND AROUND HERE?

I wouldn't have a clue! But a lot! If we talk about Route 9 right across Laos, there is probably hundreds. But you just don't know. A survey we do is only a sample survey. In between, you might pick up a bomb on your sample and another 500 meters down, you might pick up another one. But there might be none in between or there might be ten bombs. You just don't know until you actually go over the whole ground.
COULD YOU EXPLAIN WHAT A BOMBEE IS AND HOW MANY YOU HAVE FOUND SO FAR?

Bombee is sort of a French word that Laotians use for "Blue 26's." There are usually 200 to 270 that come in a cluster bomb unit (CBU) – the container is like two big clam shells. When it comes off the aircraft, the clam shells are blown apart and all these little bomblets are thrown through the air in a great big pattern onto the ground. They air arm and when they hit the ground, they are supposed to go off – except some of them are designed to go off maybe an hour later or maybe a couple of hours later. And on top of that, there is a very high failure rate, probably up to about 20% of all the ones that were ever dropped. So, there is still a helluva a lot of it lying around the place in the areas that they bombed. In about 9 months, we have found about 1,000 plus in about 46 hectares that were cleared.
WHAT WAS THE CONDITION OF THESE BOMBEES?

They could be in any condition. Some had rotted to pieces in the ground and you just pick them up and they fall to pieces. Others were just sort of sitting half in the ground and half open. They tend to open because there is a little metal ring that holds the clamshells together on the little ones. Sometimes we find them sitting on top of the ground with brand new paint and all their markings as if they were made in the factory the next day and someone just placed it there.
IF A KID COMES ALONG AND PICKS IT UP TO PLAY WITH IT LIKE A BALL, WHAT HAPPENS?

Oh, it's a bit dangerous. It will go off. Sure as hell.
CAN YOU TELL ME ABOUT THE INCIDENT THAT OCCURRED NOT TOO LONG AGO?

There were a couple of kids that picked up one of these bombees and they were playing catch. And when one of them caught it, it went off and killed that kid and severely damaged the other little one.
IN A WAY, THE WAR IS STILL GOING ON ALMOST LIKE A GHOST ECHO OF 30 YEARS AGO?

Oh, yeah. It never stops here. Around all the villages, there is ordnance everywhere. Out in the rice fields even. What they usually do is gingerly pick it up and put it to one side, but they are all there. We found ordnance in old rice fields that haven't been used for two or three years. We dig down about 6 inches and there we find UXO.
LAST NIGHT YOU SAID YOU COULD WORK HERE FOR 100 YEARS AND YOU WOULDN'T CLEAR EVERYTHING.

That's about right. It will never ever be cleared out of Lao completely. There is just too much."
Continued – Part 2: Vientiane, The Capitol.
---
More Information:
Books to read: (Check amazon.com)
1) Bigfoot Prints, A Scientific Inquiry into the Reality of Sasquatch by Grover S. Krantz, Professor of Anthropology, Washington State University © 1992 by Johnson Printing, Boulder, Colorado.
2) The Field Guide to Bigfoot, Yeti and Other Mystery Primates Worldwide by Loren Coleman and Patrick Huyghe © 1999, Avon Books.



© 1998 - 2023 by Linda Moulton Howe.
All Rights Reserved.