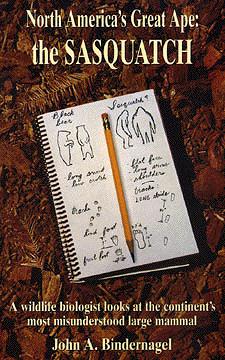 September 29, 2001 – Two weeks ago there was a Bigfoot conference in Jefferson, Texas. Two speakers presented two different sides of the hairy, hominoid mystery: the physical evidence and the connection of Bigfoot creatures with mysterious lights and sudden disappearances.
First, there is all the physical evidence of footprints, hairs, and eyewitnesses who have seen and described for decades very tall, hairy, hominoids that resemble humans. A wildlife biologist who became interested in the Bigfoot phenomenon when he was in school in Ontario, Canada more than thirty years ago is John Bindernagel, Ph.D. He is author of one of the best books about Bigfoot research entitled, North America's Great Ape: The Sasquatch.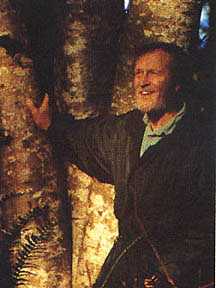 As a student in a university wildlife biology class, he had tried to discuss Sasquatch evidence, but the professor laughed him off. That closed minded attitude puzzled and upset him. Finally in 1988, he found tracks himself while hiking on Vancouver Island, British Columbia.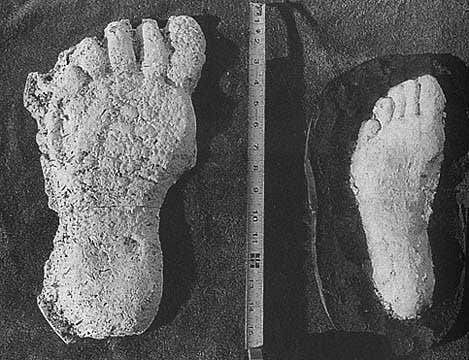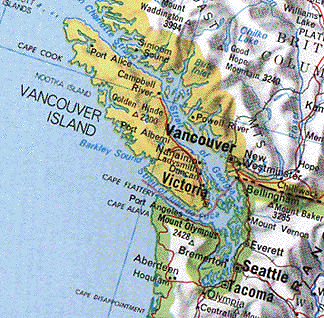 ---
Interview:
John Bindernagel, Ph.D., Wildlife Biologist, D. A. Blood Associates, Courtenay, B. C. Canada: "We were able to get back and make a plaster cast of those tracks. So, from that date on I had this large plaster cast of this huge human-like foot on my desk. And it didn't go away and I would raise it up once in awhile and think: 'There is really an important wildlife subject to be dealt with here.' But I was always trying to remain employable and credible and it was not a subject one could raise and not be laughed at or ridiculed. So I kept quiet, even with that for awhile.
And now I guess I'm moving into that area that is almost, What is the philosophy of science? Why the resistance? Why the denial? And I am getting a few thoughts on that now and realize that we North American wildlife biologists, we're not trained in Great Apes. We're trained in wolves, deer, moose, all the stuff we know is here. We don't think we have Great Apes, so we don't do the Great Ape literature. If we did, I think we would see the photographs of these tracks, we would see the plaster casts, we would hear the reports and descriptions and we would realize that what's being described as an upright gorilla is something very close to that.
COULD YOU PLEASE GO TO, I THINK, ONE OF THE MORE AMAZING EYEWITNESS ACCOUNTS ABOUT WATCHING THE FAMILY OF WHAT APPEARS TO BE A MALE, FEMALE AND PERHAPS A CHILD ON THAT HILLSIDE THAT HAD ALL THE ROCKS.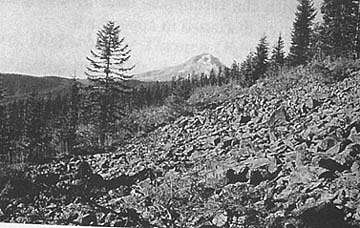 This is a very interesting report by a logger of the name Glen Thomas who had been supervising construction of a road in the Mt. Hood area of Oregon. He left the work site because work was proceeding satisfactorily and walked up on a rocky ridge and saw what he now describes as an adult male Sasquatch, an adult female and an immature. And they were walking across this rock slide and the adults were picking up rocks and sniffing them and putting them down again. But they didn't put them back where they had found them. They stacked them and it's almost the way we would build a cairn along a hiking trail.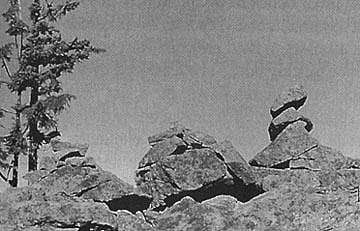 So, they just left all these cairns behind, these piles of stacked rocks. And then the male smelled something he really liked and he began to dig in the rock slide. And after he got down about five feet, he began pulling up hibernating ground squirrels in bedding of grass and ferns and other vegetation and they began eating them with the male and female getting most of them. And I think the young one just getting one. And eventually, they spotted the logger and ran off.
SO YOU DID GET TO SEE THOSE STACKED ROCKS FOR YOURSELF?
Yes, I did. I have a photograph of myself standing in that pit and looking at those rocks and went there twice.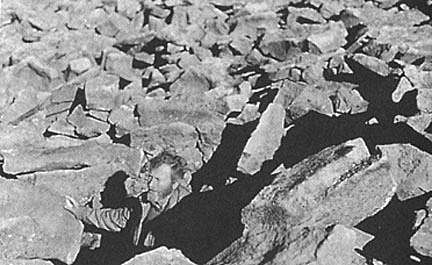 WHERE IS THE ONE PLACE YOU THINK WOULD BE MOST LIKELY TO SEE A BIGFOOT/SASQUATCH ALIVE WITH YOUR OWN EYES?
I'm following up on reports on the British Columbia coast where clam diggers have heard calls in the night, found tracks on the beach in the winter during the clam digging season and that's my plans now with a boat I've just acquired to get out there in some of the worst weather of the year in December and January. But it's a time that seems Sasquatches in that area do come down in the inner tidal zone to feed on shell fish. I think that is going to prove to be one of the best habitats but it's also a very difficult area to work in.
WHAT DO YOU THINK IT WILL TAKE TO FINALLY CONVINCE THE SCIENTIFIC WORLD THAT THIS CREATURE THAT HAS BEEN DESCRIBED FROM CHINA IN THE 1ST CENTURY A.D. – THAT'S ALMOST 2000 YEARS AGO ­ WHAT WILL IT TAKE IT TAKE TO CONVINCE SCIENTISTS THAT THIS IS WORTH STUDYING AND TRYING TO COMPREHEND?
I think it is going to take a carcass, a body. I keep hoping there will be a kind of road injury where one is kind of bruised and damaged, but is able to be photographed, DNA taken and then it goes off again. That might be the best case scenario. But it might take bones on a table and a hide. For museum people, they have to be more rigorous than some others. I think intellectually we can examine a lot of this evidence and make sense of it and make some conclusions, but that takes quite an effort. There is the problem that we don't have people working in this area. There is technology available, but not a willingness to apply it to this subject.
WHAT ARE SCIENTISTS AFRAID OF?
Well, certainly from my profession of wildlife biologists, we have dropped the ball on this one I would say big time! For years, people have been coming forward, not necessarily to biologists, but to police and conservation officers describing this apelike creature. And biologists are saying, 'No, you must be misidentifying a bear. Bears get up on their hind legs and they look very much like a human.' Well, to anyone who has seen any number of bears, this simply doesn't wash. It's a very poor explanation.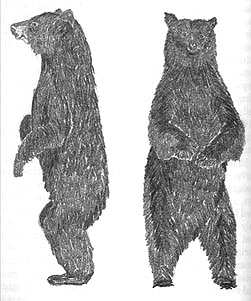 Comparison of Bears to Sasquatch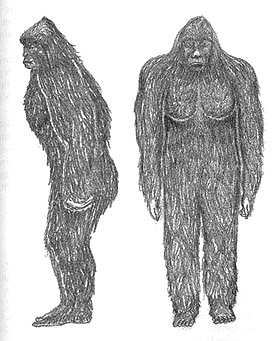 But again, it comes back to the authority of our field guides. The Sasquatch is not in the field guides. Bears are. It's the closest image. So we have the authority of these books saying, 'If this thing existed, it would be in the book and it isn't. Therefore, it doesn't exist.
HOW CAN SOMETHING IN THE 6 TO 12 TO 13 FEET HEIGHT BE WORLDWIDE AND YET WE FIND NO SKELETONS. DO WE HAVE SOME YET UNIDENTIFIED UNDERGROUND STRUCTURES ON THE PLANET THAT THESE CREATURES LIVE IN?
I can understand those questions being raised. I don't think we have to go that far. Being a wildlife biologist and knowing that I've only found two bear skulls in my whole thirty year career, only a few dozen deer skeletons, but having seen hundreds of deer and a lot of bears. Skeletons, bones, don't stick around quite as much as we think.
Teeth might, but the skeletons would be dispersed by scavengers and break down. And teeth would sink into the soil. If we start accepting we are dealing with a primate here, and I might say sort of fellow primate, we could sort of understand that there is a lot of intelligence involved. This creature probably observes us and our habits and if it chooses to unobserved, is able to do so. And many of the observations that are made is when it feels safe for some reason or indifferent to the presence of humans and just sort of allows itself to be seen."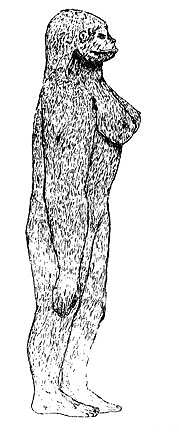 Continued in Part 2.
---
More Information:
To report Sasquatch tracks, sightings or other evidence,
Call John A. Bindernagel, Ph.D.: 250-338-8482 in Courtenay, B. C. Canada.
Or e-mail: [email protected]
His Book: North America's Great Ape: the SASQUATCH
© 1998 by John A. Bindernagel, Ph.D. (Wildlife Biologist)
ISBN: 0-9682887-0-7
Available from:
Beachcomber Books
P. O. Box 3286
Courtenay, B. C. Canada
V9N 5N4
Toll-Free Orders: 1-800-487-1494

Other relevant books:
In the Big Thicket, On the Trail of the Wild Man
© 2001 by Rob Riggs
ISBN: 1-931044-26-0
Available at amazon.com.
Big Footprints, A Scientific Inquiry into the Reality of SASQUATCH, 2nd Rev. Edition
© 1999 by Grover Krantz, Ph.D. (Professor of Anthropology)
ISBN: 0888394470
Available at amazon.com
The Field Guide to Bigfoot, Yeti and Other Mystery Primates Worldwide
© 1999 by Loren Coleman and Patrick Huyghe
ISBN: 0-380-80263-5
Available at amazon.com
---
Websites:
http://www.island.net/~johnb (John Bindernagel, Ph.D.)
http://www.mysteriousdimension.com (Rob Riggs)




© 1998 - 2023 by Linda Moulton Howe.
All Rights Reserved.