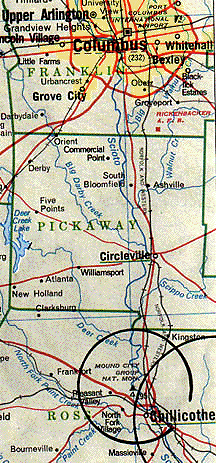 October 5, 2001  Chillicothe, Ohio – About 3,000 years ago, a culture that archaeologists call the "Adena" made great soil formations in Ohio and the greater Mississippi Valley. By 500 B. C., the Adena evolved into a subsequent culture that archaeologists call the "Hopewell" after an 18th Century farmer named Hopewell who owned the land near Chillicothe, Ohio upon which many mounds are concentrated. The ancient patterns include circles, octagons, squares and rectangles. When the Adena dug great round ditches and piled walls of soil along the edges, one of their favorite measurements for circles was a 90-foot-diameter. No one knows why.
But on June 29, a 90-foot-diameter circle completely underground was detected during the analysis of data from powerful magnetic sensors and instruments that measure geophysical energy fluxes. The research was for a Ph.D. dissertation by Ohio State University archaeology student, Jennifer Pederson, studying a region of the Hopewell Mound Group. The X in the map below shows where the underground circle was detected at the Hopewell Culture National Historical Park about five miles northwest of Chillicothe, Ohio.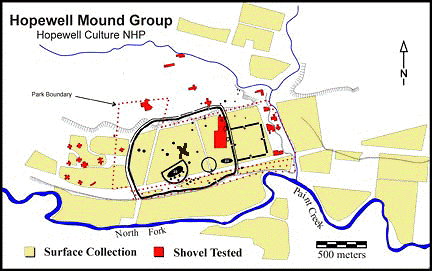 The underground circle was found during an archaeological field trip cohosted by the Hopewell Culture National Historical Park and Ohio State University. Students were learning how to use the fluxgate gradiometer which is sensitive to iron content in soils. The hypothesis is that the underground circle was once above ground and got buried as farming took over the region. The circle ditch would have been a round, empty ring before being plowed over, yet maintaining most of its original shape. The guess is that the looser soil that filled in contained a lot of organic matter with iron content that stands out as red in the fluxgate radiometer computer image below.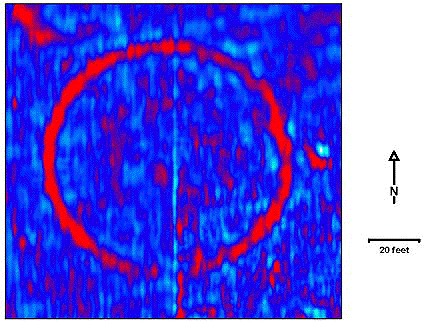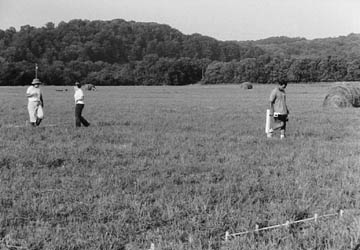 The Curator of Archaeology at the Cleveland Museum of Natural History since 1980, Nomi Greber, is fascinated by the Hopewell artifacts and is herself studying another even larger Hopewell circle that is 900 feet in diameter. She says that the remote-sensor technologies developed for oil exploration give archaeologists new eyes to see what has long been hidden.
---
Interview:
Nomi Greber, Ph.D., Curator of Archaeology since 1980, Cleveland Museum of Natural History, Cleveland, Ohio: "This is a very excellent use of a new technology which gives us information that we could not have found before since the first investigations in 1796. So this find is a very remarkable thing. This tells us that preserving sites, you have to assume there might be things there that you don't know about and you still can find them even though the site has been farmed and excavations have been done there for 200 years.
ISN'T THE FACT THAT THIS IS 90 FEET ACROSS AND SHAPED SOMETHING LIKE A DOUGHNUT SOMEWHAT UNUSUAL?
No. In southern Ohio, there were many, many enclosures. This happens to be one of the smaller earthworks styles in this area of southern Ohio. Another circle I'm working on at the moment is 3000 feet around and 900 feet across.
WHERE IS THAT ONE?
Near Chillicothe. In Chillicothe there are 6 enclosures. They were probably built from about 500 B. C. to 500 A.D. And they vary in size and shape. There are circles, octagons, long parallel walls and there are some sloppy ones. We don't really know exactly which date each one was built, but there is an amazing array of them. The first publication from the Smithsonian in 1848 was a survey and maps of these particular areas. They are really remarkable. Some of them are only 3 feet high. Some are 20 feet high. They are an example of a remarkable talent and engineering by the people who lived in Ohio at that time.
WHO WERE THOSE PEOPLE? WHAT IS THE BACKGROUND ON THE HOPEWELLS?
The name Hopewell is one given to this particular culture because the site from which many of the artifacts came was from a farm owned by a man named Hopewell. Since we don't know the names of these people more than 2000 years ago. We have no writing, we have no way of knowing what they called themselves.
But we do have remarkable remains of their culture in not only big enclosures like this which are very remarkable, but also in the types of artifacts and types of wooden structures that they built and many people are amazed that they did all these things without leaving behind great cities to match. Their settlements are nebulous and people keep wondering about this. But they collected many objects from the Rockies and all the way to the Gulf in mica, copper, marine shells and obsidian and things like this that they used in their culture. We can find them because in many instances they were covered over by mounds. And when the farming came, they were somewhat protected. It is amazing that this small circle can be found now partly because of the erosion wash. There was a mound near it that was nearly 30 feet high. It was actually three conjoined mounds a city block long.
THE MAGNETIC SENSORS HAVE FOUND THIS INTACT 90 FOOT CIRCLE UNDER THE GROUND BECAUSE OF IRON ROCK?
It's not rock, I don't think. But there has not been an excavation yet. From my previous experience and looking at the magnetic data, the strongest signal in the data comes from the ditch which accumulates organic materials and that will leave a nice mark that can be found later. The soil itself as it's turned up onto the ground will be very much like the ground around it and I think there are very faint traces where we can see part of that wall. But the most impressive thing you see is the signal from the ditch.
BUT WOULDN'T MAGNETIC SENSORS NEED SOMETHING THAT GIVES OFF SOME SORT OF MAGNETIC FREQUENCY IN ORDER TO DETECT IT?
These have what is called magnetic susceptibility. If you had a piece of metal in there, it would give off such a signal that it would mask everything else. This happens in farm fields if you come across a piece of a rake. But the soils do vary in their magnetic susceptibility (iron content) and that's what this instrument can pick up.
YOU HAVE THIS 90 FOOT CIRCLE THAT IS UNDERGROUND AND YOU ARE STUDYING ONE THAT IS 900 FEET IN DIAMETER?
Yes, and 3000 feet around.
HOW FAR IS IT FROM THE 90 FOOT CIRCLE?
Less than 20 miles probably.
FROM STUDYING THESE HUGE EARTHWORKS OF CIRCLES, SQUARES, OCTAGONS AND RECTANGLES, WHAT AS AN ARCHAEOLOGIST DO YOU THINK WAS THE PURPOSE?
I don't know that we can really estimate purposes as such. If you want a very detailed purpose, we don't really have enough information. We need to put it in the cultural context if we can and part of the problem is that we have trouble actually dating these to know which generation of people built which particular earthwork and which feature nearby might be associated with it. But clearly, the people were very able and talented enough to put a lot of commitment into doing this so it was something very important in their society. I would estimate that we can't separate out like we do in our society as economic, political, religious, secular. I suspect that in these societies that everything is all mixed together and the earthworks would have aspects of all of these in the reasons why they were built. Also, in the 1000 years in which they were built, each or some of the earthworks might have different places in the society. The little ones might have had a different place from some of the very large ones, particularly the smaller ones separated from the larger ones. So we do know they were very important, but I don't know what their purpose was.
IF WE GO BACK 2000 TO 2500 YEARS AGO WHEN THESE WERE BEING MADE, AND ASSUMING IT WOULD TAKE SOME TIME TO MAKE THEM, YOU ARE PARALLELING A TIME IN THE BRITISH ISLES WHERE THERE ARE AT LEAST 2,000 STONE CIRCLES IN MEGALITHIC SITES. HAS A COMPARISON BEEN MADE BETWEEN WHAT HAPPENED IN GREAT BRITAIN AND WHAT HAPPENED IN OHIO?
People do make comparisons. The ones in Britain are older than the ones in Ohio, so they were made at a different time. Some people would like to say at a particular time of social organization you build a big monument and that's one of the theories that people have in Ohio. These people, we really don't know whether they were farmers or not. People argue about that. They didn't have corn, that we know. They had a little bit, but it wasn't food at that time. But they did have seeds and other things from what is called the natural environment, things like may grass or sunflower and they probably cultivated some of these in their gardens.
COULD THE EARTHWORKS HAVE HAD ASTRONOMICAL CONNECTIONS?
It is possible. There is an astronomer, Ray Hively of Earlham College, who has worked with the particular site I'm working on who thinks there is enough evidence to say this formation might have had an astronomical design.
I UNDERSTAND THE MAGNETIC READINGS SEEMED TO SHOW THE FAINT OUTLINE OF A SQUARE WITHIN THE CIRCLE.
There are some early maps of sites nearby where there is a combination of circles and squares are combined in the design of these enclosures. This particular one (90 feet) I can't speak to and we really need to track down others and see if they are as square as drawn. Sometimes people take artistic license when people draw some of these things. But there are at least several very definite squares among the enclosures, but they are relatively rare.
IT'S AMAZING THAT THERE ARE THESE MANY LARGE CONSTRUCTIONS IN THE OHIO AREA BUILT 2000 YEARS AGO AND THAT AFTER 2000 YEARS, WE KNOW A GREAT DEAL ABOUT THE MIDDLE EASTERN CULTURES, BUT WE REALLY DON'T KNOW ANYTHING ABOUT THESE HOPEWELL BUILDERS?
I think we do know a number of things about them. We don't have writing and I think that's what people are emphasizing. So we don't have the type of information necessarily that you would have from the Middle East or Central America where you have writing. But we know they gathered materials from very far away to use. We do know they were very talented artists. There was some particular point in time in which they exploded out into this spectacular culture. We can find many of their things because of the types of materials they used. For instance, they used a lot of copper, hammered it into covers, so you can get organic remains protected by the copper.
We know they made beautiful fabrics. They used finger weaving. They didn't use looms.We can't answer their names or their religions because we don't have the books like they have in Egypt or the paintings on the tomb walls.
WHAT HAPPENED TO THESE MYSTERIOUS HOPEWELL PEOPLE?
One particular thing that changed was the introduction of the bow and arrow and a change of emphasis on crops such as corn. But we don't know what happened to them.
COULD THEY HAVE BECOME ONE OF THE NORTH AMERICAN INDIAN TRIBES?
There is no way to connect them to any tribe today.
BECAUSE?
They are 2000 years ago. There is no way to trace the history. In Ohio in the 17th century, there were no native Americans because of the great disruptions and the people who came here were kind of refugees from other areas of the country.
DISRUPTIONS OF THE ENGLISH TO THE EASTERN SHORE?
Yes, not just the English but Euro Americans and diseases came. There were tremendous dislocations in the 17th century and 18-19th, to the people who were living here such as the Delaware.
ARE THESE BIG CIRCULAR AND RECTANGULAR AND SQUARE STRUCTURES CONFINED ONLY TO OHIO?
Well, there are a few similar structures. One I can think of in Indiana. But this particular kind of thing such as the underground circles is relatively local to Ohio. There were mounds shaped like animals further west. There are other evidences of these kinds of earthworks sort of scattered. Particularly there is one at Poverty Point, great circles which might be much older down in Louisiana. It's the concentration of these underground structures in Ohio that are unusual."
---
Websites:

© 1998 - 2019 by Linda Moulton Howe.
All Rights Reserved.