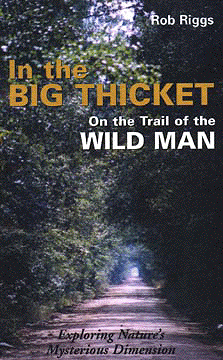 September 29, 2001  Austin, Texas ­ About 75 miles northeast of Houston is a swampy area called the "Big Thicket National Preserve" in Hardin County. On the southern edge of the thicket is a town called Sourlake. That's where journalist, Rob Riggs, spent his childhood and heard stories of the hairy "wild man" that had been seen in the Big Thicket woods. In the 1990s, Rob Riggs published the Lake Travis View newspaper in Austin and the Fort Bend Sun in Sugarland, Texas.
Before then, he had written for various southeast Texas newspapers, including the Kountz News back in 1979. That year, he started investigating the famous ghost lights on Bragg Road in western Hardin County and asked readers to send him any unusual experiences they had had in the woods. He was surprised when letters started arriving about wild men seen with mysterious lights. That set him off on two decades of research now published this year in an excellent book entitled, In the Big Thicket, On the Trail of the Wild Man.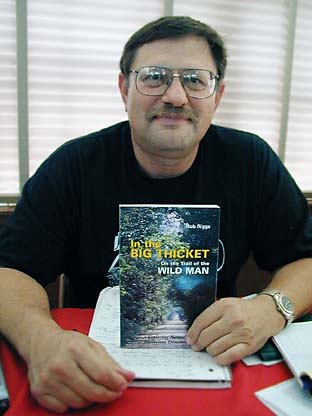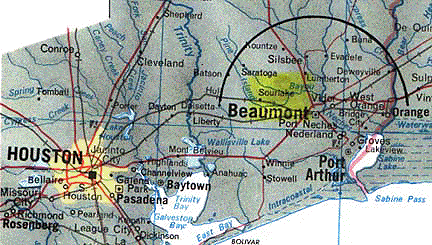 ---
Interview:
Rob Riggs, Publisher and Author, Austin, Texas: "The first story I got from one of my readers was a lady named Sharon Votaw and she was a resident of that area and had lived there all of her life. She told a story of a group of high school kids and they used to go out and do what they called "booger hunting." That meant they would go out in the woods and try to scare each other. Well, on one of their trips, they used to go to this cemetery where there was a statue of an angel in one of the mausoleums and they would go there just to try to spook each other out and talk to the angel.
One time they went there and heard this ruckus in the maintenance shed of the cemetery, looked up and there was this huge, apelike creature. They made their retreat, but they were curious enough because they couldn't believe what they were seeing. So, they came back and there it was again. They made three trips and brought in more and more people, all of whom saw the thing.
I got another report from another individual who asked not to be named who saw the Wild Man on the Ghost Road itself. It actually appeared on the Ghost Road right after they had seen the ghost light. The thing jumped on the hood of their pickup howling. It was a couple and the gentleman involved happened to have his deer rifle with him and just unloaded right through the windshield and the thing went howling off in the woods and left claw marks on the hood of the pickup. There have been a number of instances where these things have actually jumped on cars. Apparently the creatures in the Big Thicket are capable of being hostile, aggressive.
WHAT ABOUT TRANSFORMATION IN AND OUT OF LIGHTS? OCCASIONALLY IN MY OWN INVESTIGATIONS, THERE HAVE BEEN REPORTS OF PEOPLE, A RANCHER REPORTED TO THE CASCADE COUNTY SHERIFF'S OFFICE THAT HE WAS OUT HUNTING AND ENCOUNTERED AN 8 FOOT TALL REDDISH BROWN HAIRY PRIMATE STANDING UP, SHOT AT IT WITH A RIFLE AND IT 'DISAPPEARED IN A FLASH OF LIGHT,' AS WRITTEN IN THE SHERIFF'S OFFENSE REPORT.
Well, Linda, I got more responses of people having seen the creature on Bragg Road and this was some 20 years ago when I began this investigation. I got stories just like what you are describing. At the time, I could not believe them. I thought these people are putting me on. I had a story of some people who saw the light on Bragg Road and they said there was a carload of them and they would swear on a stack of Bibles that they saw that light turn into the Wild Man.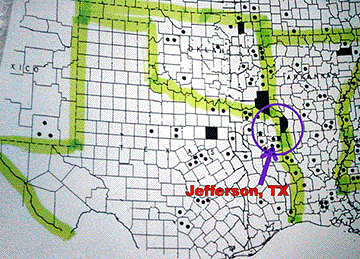 Since that time and since my book has been published, I go there frequently. My home town is in that area. I have interviewed other witnesses who have had what were frightening experiences. A truck load of kids from Newton, Texas which is a small town in southeast Texas said that they were on the road, they were all in their vehicles, they saw the light and as it was approaching them, what they described as a black shadow of a human being came out of the light. And they were visibly shaken by it. And they said what terrified them is that it was like a solid shadow of a person without the person being there.
Now, it's interesting if you go just across the border from southeast Texas into southwestern Louisiana, the Cajun people have a very established folklore that also associates the appearance of the hairy humanoids with lights. They call the humanoids the loup garoux (werewolf) and they call the lights the "fifolet." (French feu foulais, or "compressed fire.") And the Cajun folklore which overlaps somewhat with the voodoo traditions, there are stories of lights transforming itself into the loup garoux. So the folklore of people who have lived in those swamps for centuries and until only recently very isolated from the outside world, very much corresponds with the experiences of witnesses on the Ghost Road.
IF SOMETHING TRANSFORMS IN AND OUT OF LIGHTS, HOW CAN IT BE STRICTLY BIOLOGICAL?
Well, that's a good question. Now, I want to say something. I have photographs of some of these lights. I do not have a photograph of a light becoming a Wild Man or Sasquatch. I read your book recently, Mysterious Lights and Crop Circles. And noted with interest that a number of photographs that were submitted to you from people you have interviewed had lights that showed up on the photographs that were not visible at the time they took the photographs. And among those were what you call the translucent orbs and the mysterious mist-like photographs. Well, on the back cover of my book is a photograph of what we call a luminous mist that my colleague, Bill Fleming and I took on January 20, 1996. A luminous mist very similar to what I saw in the photographs in your book showed up on film. It was never visible to us. We took the photograph in pitch darkness without a flash and the fog thing showed up on the film.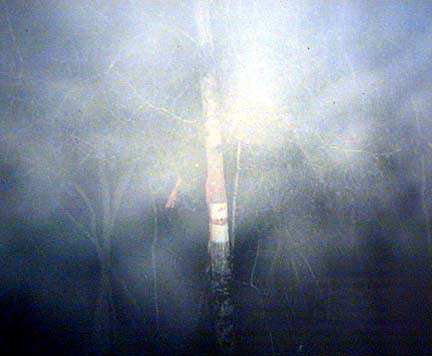 Now, what it looks like is apparently these lights can be just outside the visible light range. And at other times, through whatever frequency shift or whatever, they enter the visible light range. I have had a number of people describe having seen the lights on the Ghost Road that were similar to what our photograph showed. And the way it was described is as a small fog bank with a bright spot in it. And that's what is shown on the back cover of my book.
I also have had witnesses say that they saw the fog bank with the bright spot in it and the fog bank would collapse into the bright spot forming a distinct brilliant sphere about 6 to 10 inches wide. That is the typical description of the light when it is visible and many people have seen it in that phase. So apparently the lights can go through different phases of manifestation.
The reason I'm bringing this up is that I have numerous photographs of areas where there had been alleged Bigfoot or Wild Man in the big thicket where I have gone and taken photographs and the lights were not visible and yet they would show up on film similar to the pictures in your book.
And just as these spheres can sometimes be invisible or visible, apparently the creatures can do the same thing. How that works is a mechanism we don't understand. To me, one of the most interesting things about this whole phenomenon is what it suggests about mechanisms of human perception. Why is it that these lights can be right in front of our face and we can't see them? Are they outside the visible range? Or are we somehow psychologically not allowing ourselves to see them?
I THINK IT DOES MAKE A GREAT DEAL OF SENSE THAT WE SEE A VERY NARROW RANGE IN THE ELECTROMAGNETIC SPECTRUM AND THAT ONE OF THE THINGS THAT RESEARCH IN CROP CIRCLES OR THE NON-HUMAN CATEGORY OR THE SASQUATCH CATEGORY CONSISTENTLY BRINGS UP IS THAT OTHER THINGS ARE OPERATING OUTSIDE OUR ABILITY TO SEE WITH OUR RETINAS AND THAT THIS PLANET, IF WE COULD SEE IN THESE OTHER FREQUENCY RANGES, MIGHT BE MUCH MORE FULL OF ACTIVITY THAN ANY OF US GUESS.
I absolutely agree. Absolutely agree and to me that is the profound significance of the Bigfoot and Wild Man research. It's not just whether or not these animals exist, but some how the mode of their existence implies a much deeper, profounder, richer experience of nature than we imagine. There are whole dimensions of reality right at our fingertips, so to speak, that we might not be conscious of, but that we might be able to have some kind of conscious access to.
THE CONFUSION AND THE MYSTERY IS WHY IS THERE SO MUCH PHYSICAL EVIDENCE IN TRACKS, EVEN HAIR, AND THE REMARKABLE SIGHTING IN THE LATE 1960S THAT DR. BINDERNAGEL HAS DESCRIBED OF THE LOGGER WATCHING THE THREE UPRIGHT PRIMATE HUMAN-LIKE SASQUATCH DIGGING DOWN FOR THOSE HIBERNATING GROUND SQUIRRELS TO EAT – THAT IS SUCH A PHYSICAL PRESENCE AS WE WOULD UNDERSTAND ANIMALS AROUND US AND OURSELVES. AND YET, IN EVERY DIRECTION AROUND THE GLOBE ARE THE OTHER DESCRIPTIONS THAT SEEM TO PUT THE SASQUATCH, BIGFOOT, YOWI, YETI, WILD MEN OF ASIA INTO A CATEGORY THAT IS ASSOCIATED WITH THESE LIGHTS. THEY ARE BOTH THERE IN A VERY ODD, CONFUSING MIX.
Well, that's right. And for that reason, a lot of people don't want to look at the association with the lights because they think it reduces the Bigfoot to the type of paranormal phenomena that don't lead objective existence. But to my mind that is a very interesting situation because you do have the physical evidence and you do have these aspects of the paranormal as if it were some type of bridge between the subjective and objective world. And to me, that's what is really interesting. That is the profound significance of these and of my interest in these phenomena."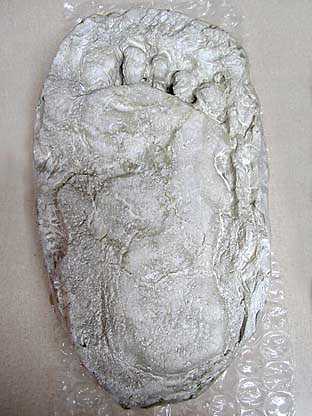 ---
More Information:
To report Sasquatch tracks, sightings or other evidence in east Texas:
e-mail: [email protected]
In the Big Thicket, Exploring Nature's Mysterious Dimension © 2001 by Rob Riggs
ISBN: 1-931044-26-0
Available at amazon.com.
Other Contacts and Books:
To report Sasquatch tracks, sightings or other evidence,
Call John A. Bindernagel, Ph.D.: 250-338-8482 in Courtenay, B. C. Canada.
Or e-mail: [email protected]
His Book: North America's Great Ape: the SASQUATCH
© 1998 by John A. Bindernagel, Ph.D. (Wildlife Biologist)
ISBN: 0-9682887-0-7
Available from:
Beachcomber Books
P. O. Box 3286
Courtenay, B. C. Canada
V9N 5N4
Toll-Free Orders: 1-800-487-1494
Big Footprints, A Scientific Inquiry into the Reality of SASQUATCH, 2nd Rev. Edition
© 1999 by Grover Krantz, Ph.D. (Professor of Anthropology)
ISBN: 0888394470
Available at amazon.com
The Field Guide to Bigfoot, Yeti and Other Mystery Primates Worldwide
© 1999 by Loren Coleman and Patrick Huyghe
ISBN: 0-380-80263-5
Available at amazon.com
---
Websites:
http://www.mysteriousdimension.com (Rob Riggs)
http://www.island.net/~johnb (John Bindernagel, Ph.D.)




© 1998 - 2023 by Linda Moulton Howe.
All Rights Reserved.