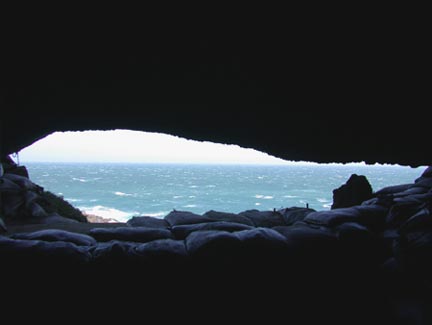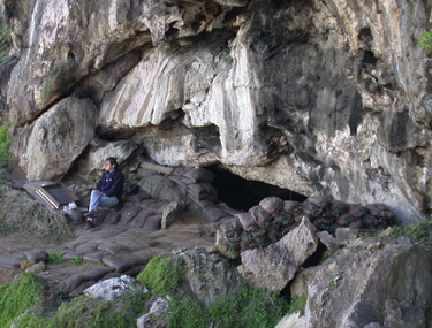 December 8, 2001 – The New York Times had a headline this week in its Science section entitled, "African Artifacts Suggest an Earlier Modern Human." The subject is an archaeological dig in a cave known as Blombos, 200 miles east of Cape Town. There, a team lead by Dr. Christopher Henshilwood, an archaeologist, has found polished and refined bone tools; beautifully carved stone points, some so thin that they seem more art than functional; and red ochre scratched as if cut to make powder, probably for color in cave drawings and perhaps body decorations. All three physical artifacts represent human ability to manufacture and to use symbols in art and communication, functions beyond lower primates. Yet, the dating of the layer in which all these artifacts were found together is 70,000 years ago. Dr. Henshilwood said, "We're absolutely convinced of the dating of the tools," and The New York Times described the Blombos discoveries as "turning long-held beliefs upside down."

The reason? In the 20th century, Europe's prehistory and Neanderthal past were considered by many archaeologists and anthropologists to contain the missing link between evolving primates and Cro-Magnon Homo sapiens sapiens. But when that missing link remained illusive, more research in South Africa began a revolution in re-thinking the early beginnings of humans. New facts such as the evidence in Blombos Cave indicate that both the bodies and behaviors of modern humans came from southern Africa and might extend back at least 100,000 years ago, pushing the old academic thinking way beyond the 30,000 year mark.
Until these new discoveries at Blombos Cave, which will be reported in the December issue of The Journal of Human Evolution, the oldest bone tools in Africa had dated to only 25,000 years ago. Some scientists argue that human language and modern behavior did not appear until 50,000 years ago, and then did so suddenly because of a genetic mutation in the brain.
This week I talked with a scientist who examined the bone tools by optical light microscope to see how they were made and what their uses might be. He is Dr. Richard G. Milo, Associate Professor of Anthropology and Archaeology at Chicago State University in Chicago.
---
Interview:
Bone Tools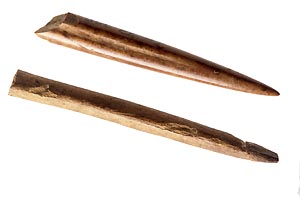 Richard G. Milo, Ph.D., Associate Professor of Anthropology and Archaeology, Chicago State University, Chicago, Illinois: "The largest number of tools are what we would call awls, and they were probably used for piercing something. If I had to guess, I would say piercing hides prior to sewing hides together into clothing. If you look at these tools which a typical one is about 5 inches long, it's made on a piece of a small antelope's limb bone that was broken off either in the process of extracting the marrow from the bone or perhaps deliberately to make a blank for the tool. The makers then took a sharp stone flake and began to work the narrower end of this blank into a point.
Examined microscopically it is sometimes possible to see how the fingers, particularly the thumb and fore finger of the user began to polish the surface of the bone.
BY USING.
By using it. And these polished areas tend to be rather close to the point, on the order of 3/4 inch back from the point and that suggests that the tool was gripped between the thumb and forefinger with the butt end of the piece resting against the heel of the hand and the middle finger, ring finger and pinkie applying pressure to the tool to keep it firmly pressed. In fact, there is very circumstantial evidence that most of them were being used by right handed people because of the way one's fingers match up with the polished and, in some cases, stained areas where the grip was.
HOW WOULD YOU COMPARE THESE AT THE BLOMBOS CAVE IN TERMS OF SOPHISTICATION AND STYLE TO OTHER OLD ARTIFACTS?
They clearly were made in a deliberate way for a deliberate purpose, but if you compare them to bone tools by later people, you probably would not put one in a Plexiglas box and put it on your mantle piece. However, the symmetrical, highly polished points would stand as fine examples of the bone workers' art, if you will, from any time and any place.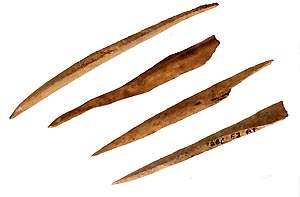 Bifacial Stone Points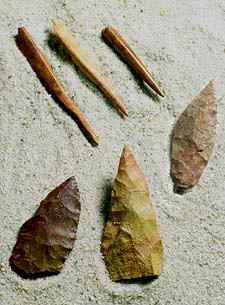 They are by no means the only evidence from Blombos for what we would consider perhaps advanced cultural thinking. There are also stone points quite remarkable and exceedingly beautiful, very carefully made, highly symmetrical, very thin and those are also present in considerable numbers in the middle stone age layers at Blombos. Some of these points are so thin that the argument could be made that they weren't intended for going out and hunting an animal or something like that. They would have fractured almost immediately upon contact with the animal's skin. So, then we have to ask: if these weren't made for a strictly utilitarian purpose, why were they made?
And the answer that immediately suggests itself is that these points were made to demonstrate something that had to do with other than a simple point. Now, what might they have demonstrated. Well, it might have been intended as a demonstration of the skill of the maker, which itself is a kind of symbolic act like, 'Look at this. I bet you can't make one this nice.'
Red Ochre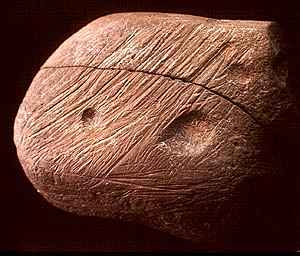 Besides the stone tools and bone tools, I must also mention one other extremely significant find from the site that bares on the question of behavioral modernity and that is a natural mineral pigment called red ochre. Ochre, and particularly red ochre, have been used by people for many thousands of years as a pigment, whether they ground it to use for paintings on rock faces or for personal decoration.
LIKE TODAY'S COSMETICS, SO TO SPEAK?
In a sense, but with reference to living people who use ochre, their use of the colorant of the pigment has a more broadly social function than our own contemporary use of cosmetics. For example, a shaman or somebody imbued or endowed with the group with some special or extraordinary power might decorate her or his body or face with ochre as part of a specific social activity, perhaps a healing ceremony or an attempt to contact the spirits of the ancestors or something like that. Again, we confront the symbolic use of this.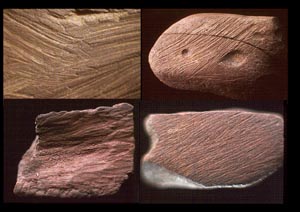 Symbolic Thinking
THAT IS WHAT LEADS TO DR. HENSHILWOOD'S QUOTE TO THE NEW YORK TIMES SAYING THAT THIS IMPLIED "SYMBOLIC THINKING AND SYMBOLIC THINKING IMPLIES THAT PEOPLE ARE USING SOMETHING TO MEAN SOMETHING ELSE. THE TOOLS DO NOT HAVE TO HAVE ONLY A PRACTICAL PURPOSE AND THE OCHRE MIGHT BE USED TO DECORATE THEIR EQUIPMENT AND PERHAPS THEMSELVES. THAT IS A SYMBOL OF SOMETHING ELSE THAT WE DO NOT UNDERSTAND, BUT IT SUGGESTS THESE PEOPLE MUST HAVE HAD ARTICULATE SPEECH TO CONCEIVE AND TO COMMUNICATE SUCH SYMBOLISM."
Yes, that is exactly right. One does not make a symbol in the absence of some way to share with other people what the symbol means. The production of symbols, whether it's done by a group working together or an individual, implies a shared understanding of what the symbol means.
THAT IS A PROFOUND SHIFT, I WOULD THINK, IN THE THINKING OF ARCHAEOLOGISTS AND ANTHROPOLOGISTS IN PEOPLE 70,000 YEARS AGO BEING ABLE TO ARTICULATE IN SYMBOLIC LANGUAGE.
It is not only a profound change in the thinking of archaeologists and paleo-anthropologists. It also represents one of, if not the, most profound transformations in the human lineage. It was that change that – well, to begin with enabled modern humans to grow so rapidly that they populated most of the world within the space of 30,000 years or so.
NOBODY TO THIS DATE FULLY UNDERSTANDS WHAT CAUSED THAT EXPLOSION OF HUMANITY AT A MORE SOPHISTICATED LEVEL?
That's correct. That's correct. It is one of the most enticing mysteries that remain in the study and understanding of our own origins.
WHICH IS WHAT IS IMPORTANT ABOUT THE SOUTH AFRICAN SITE BECAUSE THERE YOU HAVE AT LEAST THREE MODERN DEMONSTRATIONS OF TAKING PRIDE IN SOME KIND OF WORK THAT IS TOOLS AND USING SOMETHING THAT WENT ON THE BODIES OR WAS USED AS ART. AND ALL OF THAT WAS IN ONE PLACE AT 70,000 YEARS AGO.
That's exactly right. And consequently, it substantially pre-dates what has often been referred to as the creative explosion…
THAT MEANS YOUR THINKING ON THE CREATIVE EXPLOSION MIGHT HAVE TO BE REVISED?
That's right, and that's what makes these finds so – I hesitate to overuse the word, but revolutionary – because they give us our first concrete indication that in fact modern human had been developing for many thousands, or even tens of thousands of years in an incremental kind of way. It's very likely that if we were to encounter the people who lived and worked at Blombos 70,000 years ago, we would recognize them as human just as we are.
Whereas if we encountered the group, or type of human ancestors who were living in Europe at the same time that people generally refer to as Neanderthals, contrary to some claims, we probably would not recognize them as humans.
THE NEANDERTHALS.
The Neanderthals.
BUT THAT THE SOUTH AFRICAN SPECIES MAY BE EVEN MORE RECOGNIZABLE?
That's right. And that leads to another element of why these finds at Blombos are so important. There has been a growing consensus – and I won't claim that it is universally accepted, even today. But a growing consensus that the ancestors of all the human beings alive in the world today spring from just one group of human ancestors.
IF WE ALL CAME FROM ONE PLACE IN SOUTH AFRICA, HOW WOULD WE END UP WITH A VERY DIFFERENT NEANDERTHAL IN EUROPE AND A MORE MODERN HOMO SAPIENS SAPIENS CREATURE IN SOUTH AFRICA?
Ah, well, that is an excellent question. The Neanderthals were the descendants of very early human ancestors that began to move into Europe perhaps as early as 800,000 years ago. they were the descendants of a very early group of our ancestors who on present evidence appeared somewhere in east Africa. These east African pioneers, we might call them. And now we are going back a million and more years ago. They slowly filtered out into the rest of the world, adapting to different kinds of environments, perfecting forms of mutual cooperation that are distinctive to human beings whether modern or ancestral as compared to say the living apes. And by at least 300,000 years ago, it's perfectly clear that the Neanderthals were a European endemic species of human beings.
THAT IS WHY THE WORK THAT HAS BEEN DONE ON DNA COMPARING NEANDERTHAL AND CRO-MAGNON HOMO SAPIENS SAPIENS HAS SUGGESTED THAT THERE WASN'T SEXUAL INTERCOURSE BETWEEN THE TWO SPECIES.
That is exactly right. Which is not necessarily to say that such intercourse would have been impossible. But the differences between the two groups, differences in behavior, differences in appearance, we might say differences in approach to mating might have combined so they didn't really recognize one or another as the same kind of being and so they didn't recognize one another as potential mates.
ISN'T IT IRONIC THAT WE ARE AT 2001 AND JUST DISCOVERING FOR THE FIRST TIME SPECIES IN SOUTH AFRICA THAT GO BACK TO 70,000 YEARS AGO, WHEN IN THE 20TH CENTURY OUR GREATEST ATTENTION WAS LARGELY ON EUROPE AND NEANDERTHAL AS BEING A PREDECESSOR?
It is ironic. It's also to a certain extent kind of sad because we now must recognize that so many of the ideas we held really had to do with a different quantity and quality of archaeological and fossil evidence from different places. I fully expect that as archaeological research continues in Africa, and particularly in southern Africa, that we will find that elements of modern behavior appear, even earlier than 70,000 years.
DO YOU HAVE ANY SKELETAL REMAINS OR FRAGMENTS FROM THE CAVE IN SOUTH AFRICA?
Sadly, we do not. That is one of the principal focuses of ongoing research. There are a hand full of teeth and the teeth appear like the teeth of modern humans. But needless to say, it would be instructive to find more complete skeletal material, if only to demonstrate that the people creating these remarkable artifacts were in a sense sending a message to us 70,000 years in the future that they were us and we are them. It would be nice to be able to demonstrate that they looked like us, too.
IN THE BLOMBOS CAVE AREA, HAVE THERE BEEN ANY SKELETAL REMAINS FOUND IN THAT GENERAL GEOGRAPHICAL REGION?
Well, there are skeletal remains from Klasies River which is not too far away from Blombos. Klasies is a bit older than Blombos and it is from that site that skeletal remains have been recovered going back into the late 1960s that pretty conclusively show that the folks there were not so different from us. Unfortunately most of the skeletal remains from Klasies are rather broken up, a consequently of having been beneath rock and soil and all sorts of other things for 100,000 years. But there are enough of them to show us that we are dealing with very early anatomically or morphologically modern people."

---
Websites:
http://naples.cc.sunysb.edu/CAS/cape.nsf/pages/western



© 1998 - 2019 by Linda Moulton Howe.
All Rights Reserved.