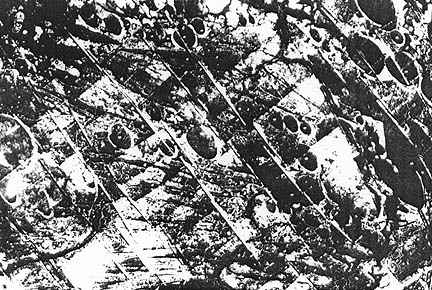 December 15, 2001  Leigh-On-Sea, Essex, England – Back in May of 2001, ocean engineer Paulina Zelitsky based in Havana, Cuba said she had discovered large underwater structures shaped like pyramids, roads and buildings about 2,200 feet deep off the western tip of Cuba. (See: Earthfiles.com 5/18/01)

"It is stunning. What we see in our high-resolution sonar images are limitless, rolling, white sand plains and, in the middle of this beautiful white sand, there are clear manmade large-size architectural designs. It looks like when you fly over an urban development in a plane and you see highways, tunnels and buildings," Zelitsky said.
Then in November, she and her husband and business partner, Paul Weinzweig, told me that in July they sent a Remote Operated Vehicle down to the site and videotaped some large rock structures that appear to have an engraved symbol and lettering resembling Greek, but not Greek. (See: Earthfiles.com 11/29/01) Nothing is confirmed until clear video images are presented which can be studied by language experts and other scientists.
But one word keeps coming up with a big question mark: Atlantis? Could the Cuban deep underwater site have anything to do with a remnant of the fabled civilization discussed by Plato?
In 350 B. C., the famous Greek playwright, Plato, wrote a dialogue about the creation of the universe and the earth called the Timaeus. In that work, Plato writes about cyclic destructions on the earth from "…the occurrence of a shifting of the bodies in the heavens which move around the earth, and a destruction of the things on the earth by fierce fire, which recurs at long intervals."
Recently on Dreamland radio, I interviewed North Ireland astronomer, William Napier, who has studied such a cycle in the Ecnencte's Comet which left a very thick, rocky, dusty debris field through which our solar system and planet pass every 2.5 thousand years. (See: Earthfiles 12/1/01. The last time was about two hundred years before the time of Christ, so we're expected to pass through the rocks and dust again in a couple more centuries. Was that comet the cycle Plato was referring to? Or something else?
Plato's Description of Atlantis Location
A few pages later in the Timaeus, Plato describes an island continent called Atlantis and its destruction this way:
"…in front of the mouth which Greeks call 'the pillars of Heracles' – today we call it the Straits of Gibraltar – there lay an island which was larger than Libya and Asia together; and it was possible for the travelers of that time to cross from it to the other islands, and from the islands to the whole of the continent over against them which encompasses that veritable ocean, (the Atlantic). …Now in this island of Atlantis there existed a confederation of kings, of great and marvelous power, which held sway over all the island, and over many other islands also and parts of the continent; and, moreover, of the lands here within the Straits they ruled over Libya as far as Egypt, and over Europe as far as Tuscany. … But at a later time there occurred portentous earthquakes and floods, and one grievous day and night befell them when the whole body of the island of Atlantis … was swallowed up by the sea and vanished; wherefore also the ocean at that spot has now become impassable and unsearchable, being blocked up by the shoal mud which the island created as it settled down."
Where is that "impassable" and shallow sea filled with mud? British historian Andrew Collins has written a book entitled Gateway to Atlantis in which he hypothesizes that what Plato's sources were referring to is the Sargasso Sea on the west side of the Mid-Atlantic Ridge that stretches from the Azores to the Bahamas and Cuba. Further, Collins describes 20th century research into half a million shallow craters called "Carolina Bays" in the southeastern United States. Collins thinks the craters are linked to a comet's collision at the end of the Ice Age around 8,500 B. C. that could also have caused the destruction of Atlantis.
---
Interview:
Andrew Collins, British Historian and Author, Gateway to Atlantis, Leigh-On-Sea, Essex, England: "Atlantis researchers have been saying this from the 1870s at least that we're talking about the Sargasso Sea. The Sargasso Sea is a huge area of free floating seaweed that stretches from the Azores in the east all the way across (the Atlantic) to the Bahamas in the west. The Bahamas themselves, if we look at them, is a great area of shallows. In some places, the water is as shallow as 3 or 4 feet deep.
What I show is that the early myths and legends of almost all the Mesoamerican tribes of Central America talk about an original homeland that existed quite clearly in the region of the Caribbean. I mean it goes under different names: Chulan; Xtalan. But they say at this island described in the middle of the sea is the place of their origin where humanity rose for the first time. They call it 'The Seven Caves.'
DO YOU THINK THE 1200 B. C. END OF THE BRONZE AGE WHICH IS 3200 YEARS AGO COULD HAVE BEEN RELATED TO SOME SORT OF DEVASTATION THAT MIGHT HAVE SUNK AN ISLAND OR SOME?
It was originally said that all of the islands in the Caribbean and Bahamas were together. They were one, one land mass. A number of folk tales from the islands talk about this. And that suddenly, one day the waters rose up, covered the islands and that when the waters retreated, the islands had been broken up. The peoples on the islands had been destroyed and the only ones that got away were either in caves or went to the top of a mountain, the Noah-like figures who were able to continue on.
DOES ANYONE HAVE A SENSE OF A TIME LINE FROM THOSE LEGENDS?
It's impossible, really. The only thing you can do is take some of the clues. One of the stories talks about at the same time the old moon broke and fell.
WHAT WOULD THAT MEAN?
I think if you take it in the context of another story that says the serpent flew through the air and fell that we might be talking about some kind of cometary or asteroid type of thing. So, then you have to say, let's look at all the oceanographic records for the Caribbean and find out if there is anything there that suggests a cosmic event in the last 12,000 years. So, this is what I did. And the only one event which seemed to make any sense is that of the Carolina Bays." (See more information at end.)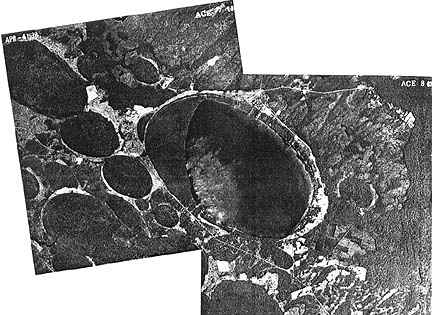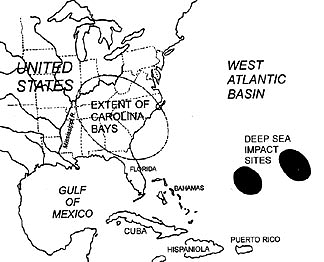 IF THIS WAS A COSMIC BODY THAT CAME IN AND CAUSED 500,000 HOLES TO BE PLOWED IN 6 STATES IN THE UNITED STATES AND POSSIBLY THE ATLANTIC OCEAN AND CARIBBEAN, THIS MEANS THAT IT WAS A LARGE BODY AND BROKE UP AND WOULD HAVE COME IN WITH A TREMENDOUS ENERGY.
Exactly. The other interesting thing is that all the craters are oriented northwest to southeast. Every single one. There are variations on this, but that is it. And at the southeast corner of many of them, there is a raised bank suggesting that whatever caused them the trajectory was coming in from the northwest and down towards the southeast, hitting and causing these banks.
ANY IDEA WHEN THIS OCCURRED?
OK, well, initially it was assumed that it was an event in the great distant past, maybe millions of years ago. But when a lot of core samples were taken at the basins particularly of the ones that had become filled with water that are now ponds, it then suggests that they were actually formed around the end of the last Ice Age.
THIS TIME FRAME WOULD BE 9,000 B. C. OR ELEVEN THOUSAND YEARS AGO WHICH WOULD BE CONSISTENT WITH THE GREEKS USING THE TERM 9,000 IN THE DIALOGUES. AND THERE HAS BEEN SOME CONTROVERSY ABOUT WHETHER THEY MEANT 9,000 SOLAR YEARS OR SOME OTHER TIME FRAME BECAUSE THE EGYPTIANS MIGHT HAVE CONFUSED THE DATE.
It definitely would have been thousands of years the Egyptians would have been dating with. They were not dating with lunar months.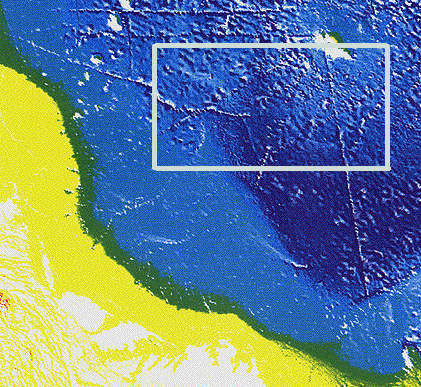 YOU DO NOT THINK WHATEVER THIS WAS OCCURRED AT 1200 B. C.?
No, not at all. I think this was much much earlier. We certainly know in the Canary Islands, we find evidence of advanced civilization that might go back to 6,000 to 8,000 years ago. Carvings.
DO WE KNOW ANYTHING ABOUT THAT CANARY ISLAND CIVILIZATION?
There are two carved heads that are very serpent like in appearance, but also very Mesoamerican. They were discovered there by archaeologists in the last year and they have been given a date in about 6,000 to 8,000 years old from the context in which they were found. This is great because we really could start seeing evidence of maritime exploration from the Americas across to Africa and into Europe.
COULD YOU TALK ABOUT THE SIGNIFICANCE OF COTTON IN THE NEW WORLD, PERU, MEXICO AND WEST INDIES?
The strains of cotton found in the countries you mentioned are a hybrid form of a strain that originated in the ancient world. And quite clearly it has been developed for the purpose of cultivation in the Americas. In other words, it's clear that whoever put it here, it was not natural. It was brought across and developed in the Americas by someone else.
DO WE KNOW ANY SENSE OF TIME FRAME HOW FAR BACK COTTON WAS HERE?
I think around 1500 B. C.
THAT WOULD PRE-DATE THE END OF THE BRONZE AGE?
Oh, yes.
THAT MEANS YOU HAVE RIGHT THERE HARD PHYSICAL EVIDENCE OF A CONNECTION BETWEEN ASIA, THE MEDITERRANEAN AND THE SOUTH AMERICA, CENTRAL AMERICA AND WEST INDIES ON COTTON FIBER ALONE?
That's right.
WHY ISN'T THAT STORY ALONE ENOUGH TO KICK OUT THE OLD STORY OF COLUMBUS?
I suppose the obvious answer is that it doesn't come from the right source. I'm a historical writer and I can make 2 + 2=4, or even 5. But if this doesn't come from an academic with clout and influence, then it's never going to take hold. You can come up with as much evidence as you like to support something, and if it does not fit the existing paradigm, then it's going to be rejected.
I believe the greatest potential we have been given so far of finding evidence of a civilization that could link to Atlantis is Paulina Zelitsky's Cuba discovery. From the evidence that I've accumulated and presented in Gateway to Atlantis, all of the clues point towards Cuba and the Caribbean as some how holding the final key to the mystery of Atlantis."
---
More Information:
Carolina Bays
Facts
An estimated half a million (crater) depressions, in at least six states that cover around 160,000 square kilometers.
Aside from Georgia, North and South Carolina, they are also to be found in other bordering states such as Maryland Virginia and Florida.
Their (craters) frequency is astonishing. One area of Bladen County, North Carolina that measures 8 kilometers by 6.4 kilometers has a 67% covering of bays. Other areas of the Carolinas have as much as 50% bay cover.
No fewer than 140,000 of these are of moderate to large size, with lengths of more than 152.4 meters. One of the biggest depressions is Big Swamp Bay in central South Carolina which is six kilometers from one end to the other. Some bays over 11 kilometers long.
Many craters possess magnetic anomalies.
In Camden, South Carolina, close to some of the bays, drainage ditch excavators found at a depth of 4.3 meters a mass of downed trees, all in the same alignment as if there had been a massive blowdown in the distant past.
Andrew Collins, Author, Gateway to Atlantis: "In the 1930s, aerial surveys were done for the first time of the Carolinas and when these pictures were developed and printed off, it was noticed what appeared to be hundreds or thousands – and we now know there are as many as 500,000 elliptical craters – some filled with water, some just dry land across the Carolina states. But also when it was traced further, it was noticed they went as high as New Jersey and down south to Florida. And they covered, I think, six states.
"And this was quite clear that when you started plotting the position of these that you are dealing with a much larger event which would have entailed – the ones that remain. Ones that went into mountain areas obviously disappeared. Those that went into the water were not traceable. So, right from the earliest point, it was suggested these were the result of meteor showers. But some of the bays or craters were several miles long. Some of them were only a few hundred yards. There was no consistency to what had happened."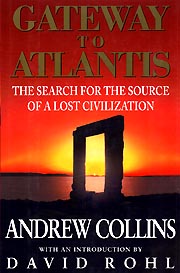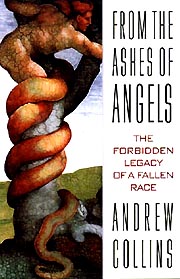 Gateway To Atlantis © 2000 by Andrew Collins, published by Carroll & Graf Publishers, Inc.
From the Ashes of Angeles © 2001 by Andrew Collins, published by Inner Traditions Bear & Company.




© 1998 - 2019 by Linda Moulton Howe.
All Rights Reserved.