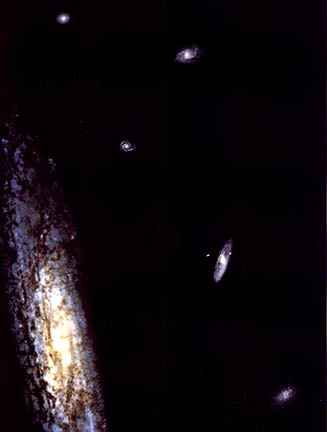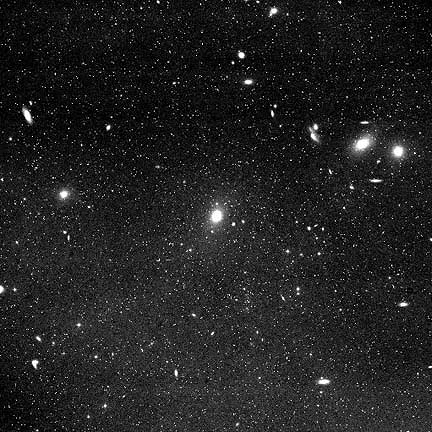 December 20, 2001  Cambridge, Massachusetts – In 1917, physicist Albert Einstein wrote his General Theory of Relativity in which the speed of light was considered the ultimate speed for anything in the universe. He thought back then that the universe was stationary, not expanding and not contracting. But since gravity pulls things together, Dr. Einstein needed to explain why ordinary matter in the universe didn't collapse on itself. His answer was a repulsive force that he called the "cosmological constant," a mysterious force that fills the vacuum of space balancing out gravity and keeping matter apart.

Now in 2001, scientists say data from observations indicate that our universe is NOT stationary, but is expanding every second, every day, every year at an accelerating rate. If so, why don't we notice changes in the world and sky around us? Dr. Abraham Loeb, a theoretical astrophysicist at the Harvard-Smithsonian Center for Astrophysics in Cambridge, Massachusetts, says it is Dark Energy that is expanding at an increasing rate and taking matter along with it. What is Dark Energy? It's a modern term for Einstein's cosmological constant. But it's also the mysterious "zero point" energy in the vacuum of space which makes up two-thirds of the universe and scientists think it has become stronger than the gravitational attraction of matter. The implication is that our universe will keep expanding more and more rapidly, forever.
If so, what will happen as the clumps of matter we know as galaxies, including our own Milky Way, recede further and further from everything else in the universe? Dr. Loeb, who grew up near Tel Aviv, Israel, did his post-doctoral work at Albert Einstein's alma mater, the Princeton Institute for Advanced Studies. He says that astronomers in the distant future will never see the end of the universe because light will "freeze" at a moment in time billions of years from now in a final frame, so to speak, that will never change, even when most of the universe has receded so far from the Milky Way that only an empty void will surround what is left of matter as we know it. This week I talked with Dr. Loeb about why the universe will appear to end frozen in time.
---
Interview:
Abraham Loeb, Ph.D., Professor of Theoretical Astrophysics, Harvard-Smithsonian Center for Astrophysics, Cambridge, Massachusetts: "The bottom line is that the universe seems to be accelerating now. We have known for several years that it is expanding, but its expansion seems to be accelerating. And that can happen if the vacuum itself contributes to the mass density of the universe.
THIS IS WHERE THE DARK ENERGY COMES IN?
Exactly. The Dark Energy seems to amount for about 70% of the density of the universe and the remaining 30% is matter, part of which is ordinary matter that we are familiar with in our daily life. And part of it is the Dark Matter which we don't really know what it is, but we know it is other types of particles that are probably very weakly interacting.
OF THE 30% THAT IS DARK MATTER AND MATTER AS WE KNOW IT, HOW MUCH IS MATTER AS WE KNOW IT?
Only 10% of that. So matter as we know it amounts to a total of maybe 3-5% of the total.
OF THE TOTAL UNIVERSE AND ALL ITS CONSTITUENTS, THE MATTER WORLD WE ARE IN IS ONLY 3-5%?
Yes, something like that, on average. Now, what happened here on earth and in the solar system and so forth is that this matter segregated and formed the planets and the sun, just like any other star. These objects are made of ordinary matter. The other types of matter cannot segregate as efficiently. They cannot cool and segregate and form objects like that.
THEY MAKE UP THE MAJORITY OF THE UNIVERSE?
Yes, when you average the large volume, they make up the majority of the universe.
IS IT TRUE THAT RIGHT NOW THE WORK YOU ARE DOING AND OTHERS IS FOCUSING ON THE FACT THAT IT APPEARS THE DARK ENERGY HAS NOW WON THE BATTLE IN THE UNIVERSE OVER GRAVITY AND THAT'S WHY WE HAVE A CONTINUAL ACCELERATING EXPANSION?
Right. And it will become even more so in the future. The vacuum we believe will be more and more dominant as time goes on. And I was trying to think one morning what the consequences might be for future generations of astronomers. You know, many years into the future, what will they be able to see from the rest of the cosmos? What kind of sources (of energy such as galaxies, stars, x-rays, gamma rays) will they be able to see? Or if we monitor some of the sources in the sky, how would they appear in the more distant future? That's what my work is about.
WHAT DO YOU SEE?
I found actually to my surprise. Originally I was not aware of this. I found that if you extrapolate to a time when the universe would be ten times its present age, ten times older, then all of the sources that participate in the cosmic expansion will be extremely dim. But in this process, their images will be frozen, fixed in time along their history.
WHAT DOES THAT MEAN EXACTLY?
So, if you consider a given source in the sky – for example, a galaxy that is made of stars like the sun. We consider that galaxy to follow the cosmic expansion. It will be pulled away from us by the cosmic expansion by an accelerated rate. As time goes on, it will move faster and faster away from us and eventually, it's recession velocity relative to us will exceed the speed of light. Radiation that is emitted by this (accelerating) source will not be able to catch up with the cosmic expansion and we wouldn't be able to see how this galaxy evolved later on in its history.
WHAT YOU MEAN IS THAT THINGS BECOME FROZEN IN TIME BECAUSE PHOTONS CAN ONLY TRAVEL AT THE SPEED OF LIGHT.
Right.
IF THE RECEDING UNIVERSE AND ALL THE GALAXIES, SUNS AND SO FORTH BEGIN ACCELERATING ULTIMATELY FASTER THAN THE SPEED OF LIGHT, AN ASTRONOMER ON EARTH WOULD NEVER SEE PAST THE PHOTON SPEED OF LIGHT.
Would never be able to see past a certain point in time at which time the galaxy or source started receding faster than light away from us. So, one way to think of it is that there is a horizon surrounding us and all these sources are exiting out of this horizon at some point along their history because they are being pulled away from us at a speed larger than the speed of light. Now, this may look paradoxical because Albert Einstein argued in his Special Theory of Relativity that no object can move faster than light. So how is it possible to get this effect?
Well, the point is that the speed of a particle is always defined locally, you measure it locally at a given point. And here we are talking about a global effect about the source which is very far away. And space itself is expanding in this case. The source if you look at it locally, it doesn't move at all. But it is the space of the universe that is expanding at an accelerated rate.
ONCE THAT HAPPENS, WHAT YOU ARE SAYING IF I UNDERSTAND CORRECTLY, THAT THE EXPANSION OF THE UNIVERSE ITSELF, THE VACUUM, IN SPACE, WILL REACH AND EXCEED THE SPEED OF LIGHT AND AT THAT POINT ALL STRUCTURES IN THE UNIVERSE BEYOND THAT SPEED OF LIGHT, WE WILL NEVER SEE AGAIN AND WE WILL NEVER SEE ANYTHING CHANGE BEYOND THAT WALL THAT IS THE SPEED OF LIGHT?
Right. It basically means that when these sources reach a certain age and they continue to emit light or radiation, the photons that were emitted from them were never able to reach us. We are still… For example, there are sources right now on the verge of becoming disconnected from us, causally disconnected. And these are sources that have the cosmological red shift which measures the distance which is larger than 2. Now, these sources right now if they send a signal in our direction, the signal will never be able to reach us. And if we send them a signal, if there is an extraterrestrial civilization out there and we tried to communicate with it, we would never be able to do that because at this point in time they are already crossing this horizon. And the only reason we still see them is that the radiation we see right now was emitted a long time ago. So, we are seeing them as they were a long time ago, but the radiation that is emitted right now in (real) time will never be able to reach us.
ARE THOSE DISTANT OBJECTS THAT ARE ALREADY REACHING THE POINT WHERE WE WILL NEVER KNOW EXACTLY WHAT HAPPENED BECAUSE THE LIGHT THAT GOES IN THAT FUTURE WE WILL NEVER RECEIVE. ARE THOSE AT THE EDGE OF OUR UNIVERSE IN WHAT WE CALL QUASAR TERRITORY?
Yes, some of them are quasars. Some are galaxies. They have to be above a cosmological red shift of 2. So all the sources that have a cosmological red shift of 2, of more than 2, they are at this point in time disconnected from us. So, if they emit right now a signal, we would never see it. The signals that we do see right now were emitted a long time ago.
HOW FAR DO THESE OBJECTS HAVE TO BE AWAY TO HAVE THAT RED SHIFT FACTOR OF 2?
They are very close to being 14 billion light years away. They are very close to that, about 13 billion light years. The way we measure distances in cosmology is by the red shift factor. And the universe is expanding, so the farther an object is away from us, the faster it is receding away from us. And so because of the Doppler Effect, if such an object is emitting photons, the wavelength of these photons will be stretched by the Doppler Effect. We will see it to be much longer than the emission by the source. And so, the higher the red shift is, the more distant source is because the recession velocity corresponds to the red shift.
HOW LONG WOULD IT BE INTO THE FUTURE UNTIL THE SKY ON THE EARTH, FOR EXAMPLE, WOULD HAVE LESS STARS IN IT BECAUSE OF THIS ACCELERATION OF THE UNIVERSE AWAY FROM US?
What we know about right now is that if the parameters of the universe remain fixed as they are right now, that the vacuum does not decay, then the universe will accelerate forever. And we live in a special time in the sense that we can still see a large portion of the history of the universe. But if you wait 50 billion years or so, then we wouldn't see much of the rest of the universe and we would be forced to focus on problems closer to home.
But if we exist as a civilization 50 billion years from now, we would have no idea there was a Big Bang, for example, because the cosmic background radiation would be extremely faint by then.
OUR SUN IS SUPPOSED TO DIE OUT IN A RED GIANT EXPLOSION IN ABOUT 5 BILLION MORE YEARS.
Yes, the sun will also die out, but there are lower mass stars that will prevail at that time. And also new stars are being born all the time, so the sky would not be completely dark. In fact, it's not only our galaxy that would remain attached to us, the Milky Way galaxy, but also a few galaxies in the local group, such as Andromeda galaxy which is bound to the Milky Way galaxy. And also some galaxies in the Virgo cluster. So the sky would not be completely dark. It's just that all these other galaxies that participate in the cosmic expansion will disappear out of sight. And their images will be frozen. So we would have a finite amount of information that we could collect about them.
THAT MOMENT FROZEN IN TIME, WE WOULD BE LOOKING THROUGH TELESCOPES AT LARGELY A BLACK UNIVERSE WITH A FEW DOTS OF GALAXIES HERE AND THERE?
That's right.
AS THIS SOLAR SYSTEM AND THIS GALAXY PROGRESS IN THE FUTURE OVER TIME AND THERE IS MORE AND MORE RECESSION OF THE REST OF THE MATTER IN THE UNIVERSE AS THE DARK ENERGY CONTINUES TO ACCELERATE ALL MATTER AWAY FROM EACH OTHER…
Right.
WHAT CONSEQUENCES THEORETICALLY MIGHT THAT DISAPPEARANCE OF OTHER GALAXIES AND QUASARS BEYOND THAT FROZEN IN TIME MOMENT AT THE SPEED OF LIGHT HAVE ON OUR GALAXY?
It would be the sort of lonely corner of the universe. We would be embedded in a big void. We wouldn't be able to see anything coming in our direction from the distant universe. There would be no radiation, no background radiation.
NO STARS IN THE NIGHT SKY?
There would be stars associated with the Milky Way galaxy and the local group of galaxies. By the way, our galaxy by that time would probably merge with Andromeda galaxy and instead of being a disk galaxy it will become an elliptical galaxy because of this merger. But you would be able to see all these stars, especially with the naked eye or an amateur astronomer's telescope, you would be able to still see the stars associated with this merger remnant of the Milky Way galaxy. But you wouldn't see much beyond that and a few more galaxies associated with the Virgo cluster. If you were to use a big telescope like professional astronomers use, it wouldn't be very useful because there wouldn't be any source to look at at that time. In some ways, we would have an enormous void around us, the void of matter because all these galaxies that were in that void were pulled away from us and are pulled exponentially with time. So, they are accelerating quite fast.
HOW DO WE KNOW RIGHT NOW THAT THERE ARE ANY STARS OR QUASARS AT 12 TO 14 BILLION LIGHT YEARS? WHY COULDN'T THAT BE AN ILLUSION OF THINGS FROZEN IN TIME?
This light was emitted a long time ago, so all we can tell is that these sources had specific properties at that time when the light was emitted. We can't say anything about the stars are like right now.
THAT'S WHAT I MEANT. MAYBE THEY ARE ALL GONE AND WE ARE STILL SEEING AND MEASURING AN ILLUSION.
That's quite possible. The only way to find out is to wait and see what happens in the future. The light is on its way to reach us, but as I mentioned before, some of the galaxies are so far from us that they are already causally disconnected from us.
THEY ARE ALREADY DISAPPEARING.
Exactly. These predictions are true if indeed the universe is accelerating the way we believe it is.
And future generations would have to believe us about what happened in the universe earlier on in terms of the Big Bang and so forth. They would not be able to test it for themselves, to look at empirical data. They would have to rely on records that we leave for them.
ESSENTIALLY WHAT YOU ARE SAYING IS THAT IF ALL YOUR THEORIES ARE CORRECT IS THAT THIS ACCELERATION AND EXPANSION BECAUSE OF DARK ENERGY MEANS THAT THERE WILL COME A POINT WHEN NO CONSCIOUS INTELLIGENCE IN THIS UNIVERSE CAN SEE EITHER THE BEGINNING OR END OF THE UNIVERSE?
Yes. If the universe will accelerate forever, it may well be at some point in the far future, the vacuum will decay, the cosmological constant will disappear and the acceleration will be replaced by a deceleration. And then at some point, we will start to see these things that escaped from us re-enter back into our horizon. It's possible in principle. But if the universe continues to accelerate the way it is doing right now, what you said is exactly right.
THAT YOU HAVE THE LARGEST PART OF THE UNIVERSE, DARK ENERGY AND DARK MATTER, THAT STILL ARE UNDETERMINED ABOUT WHAT THEY ARE AND EXACTLY WHAT THEIR DESTINY WILL BE?
That's correct. And it's quite humbling to me as an astronomer to confess that we still don't know what most of the universe is made of despite decades of studies. The conclusion that we reach is that the universe is dominated by some form of matter and by some form of vacuum energy that we have no understanding of."



© 1998 - 2019 by Linda Moulton Howe.
All Rights Reserved.