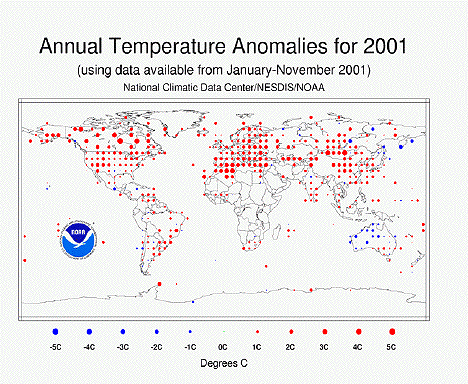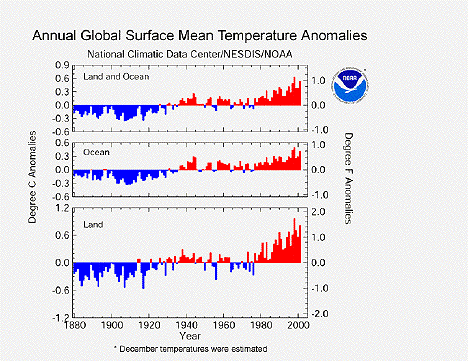 December 22, 2001  New York, New York – Recently the American Geophysical Union of scientists held its annual meeting in San Francisco. One of the presentations that made international news also appeared in a December National Academy of Sciences report. It warns that global warming, combined with increasing greenhouse gas pollution, could trigger a rapid climate change with unpredictable consequences. Scientists who have been studying the ice cores of Greenland and other regions of the world say the data indicates that climate changes in the past have included one sudden global temperature increase of 18 degrees Fahrenheit in only a decade or less.

Current computer models project steady global warming over the next 100 years and indicate that sea levels will continue to rise and threaten coastal populations with more flooding while many food-producing regions of the world will face persistent drought. One of the leading atmospheric physicists at the meeting was Dr. Wallace Broecker, a professor of environmental sciences at Columbia University's Lamont-Doherty Earth Observatory in New York. He compared the current global climate threat to "being blindfolded and walking toward the edge of a cliff. We don't understand what causes rapid climate changes, so we don't really know what to look for. Or when we reach the cliff."
This week I asked Dr. Broecker if our planet were to be pushed into a sudden climate change, given current greenhouse conditions, would heating escalate? Or could temperatures unexpectedly dive toward a new Ice Age?
---
Interview:
Wallace Broecker, Ph.D., Professor of Earth Sciences, Columbia University, Lamont-Doherty Earth Observatory, New York, New York: "Well, I don't think we know. And one has to put this all in context. These abrupt changes occur only during glacial time. And they appear to have been triggered by pulses of fresh water that went into the northern Atlantic ocean and effected the large scale circulation in the entire world ocean.
There were sharp changes in both directions, so it would jump from very cold to intermediate cold and then a thousand years later back from intermediate cold to extreme cold. So, there were sort of rectangular changes (meaning if data put on graph.)
With this warming trend and the increasing thickness of the carbon dioxide blanket around our planet, what is your own projection for what could happen as we move through the 21st century?
We are lacking some big parts of the puzzle, therefore, we have to be humble about what we are doing to the planet. We cannot really predict whether this warming is going to remain gradual or whether it's going to reach some critical point where this system decides to reorganize into one of its other states. And a lot of effort is now going into trying to get to the bottom of what is going on. That doesn't mean we are going to be able to make an accurate prediction because predictions like this are difficult.
As I said in the press conference, it's somewhat like walking along with the fear there might be a steep cliff you are walking toward. But Number One, you're not even sure if the cliff is there. And if it is, you don't know where it is, so you don't know which step will take you over the brink. And that's the situation we are in. We don't know for sure whether CO2 warming will push us over the cliff. And of course, if it is going to do that, I would say the likelihood is that it's not in the next several decades, but rather something that might happen in a hundred years or so if we continue business as usual production of CO2 and don't do anything to stem its build up in the atmosphere.
What would you expect to be the first signs that we had pushed the earth over the cliff?
Since in the past it appears the trigger has been in the ocean and in particular in the production of deep waters in the cold polar regions of the earth, what I would do is keep my eye on as many details of the salinity, temperature, flow rates of the waters in those regions. That could give us a clue that the conditions are changing such as there might be a reorganization. But as I said, we don't really understand the phenomenon, so that it's not clear that that would help. But it would be foolish if we didn't look at that because that's the most likely place where this is going to occur.
Changes in the North Atlantic drift would affect Europe's climate very much, wouldn't it?
My original idea was that Europe would be the most affected by this. But I think now we have evidence that these changes are global. They appear to be hemispherically symmetrical. In other words, they were just as big in New Zealand as they were in the Swiss Alps.
So, one of the big problems in getting to the bottom of this is that we know these changes were really fast and they occurred all over the earth. But we really don't understand what the link is between changes in ocean circulation and atmospheric climate because it is the atmospheric climate that changed a lot and that is what will affect us and we don't know what that link is. We think there has to be a fast connection with the tropical Pacific, but we don't really understand what that connection is. And that's what scientists are struggling to figure out.
In the process as the earth has definitely been warming over the last 100 years, we have been losing glaciers. We have lost at least 40% of the Arctic pole ice. We've seen increasingly large icebergs fall off Antarctica. With this decrease in the icy reflection from the earth's mountains and other areas, does anyone have an idea what the consequence will be?
Well, you are correct. The mountain glaciers are disappearing and presumably as greenhouse warming continues, they are going to disappear in most places altogether. However, as far as the overall heat budget of the earth, since those mountain glaciers are tiny compared to the rest of the continents, that effect will be small.
Also, the amount of fresh water they dump into the ocean is small because they are small. We would, if the Arctic were to become ice free, of course that should in itself make a large climate change. I mean, especially at high northern latitudes that open water would mean that everything was warm. So, again, you know we are playing with a system that we really don't understand and that's the unfortunate part.
People who don't think the CO2 problem is a serious one would say we have to prove exactly what will happen before any action will be taken. Well, that's exceedingly unfortunate and that's exactly the opposite of our stance on most environmental problems. Normally, you have to write an impact statement showing there will be no serious consequences before you can do something. In this case, we are doing it and people want to turn it exactly around and say you have to prove it's going to be a really serious problem to the economy and wildlife and so forth before anything can be done.
The irony is that it could be potentially the most dangerous trigger to kick in that anybody could comprehend. And I'm curious if anyone has run computer projections now having to do with the total melt down of the Arctic ice to clear water and what that might do to the global climate?
People are doing that, that's for sure. But you have to remember that these models are great for projecting weather for three or four days. But, they are very fallible for projecting climate. People have made runs at what would happen if the Amazon Basin was totally de-forested. Would that make more or less rainfall? Warm the planet? Cool the planet? And different models give different results.
What's the worst case?
I think the biggest impacts will be on wildlife. We're already very concerned about extinctions and demise of forest lands and everything. So, a major climate change ­ that's where the price is going to be paid and it's going to wreak havoc with environmental systems. Man can adapt. Environmental systems can't on that kind of time scale.
The United Nations 2001 Panel on Global Climate Change report suggested that all of the lab computers indicate that over the next one hundred years, the global mean temperature could rise as much as 10.5 degrees Fahrenheit. that would be as much as the entire temperature change of the earth since the last ice age.
That's right.
The consequences would be what?
It's going to change everything! If the planet warms up that much, it's going to slow down circulation in the ocean which will slow down the up welling of nutrient elements which are necessary for algae and hence, fish production.
Plankton.
Yes. For plankton growth and hence, the food web that feeds off the plankton, that's going to be slowed down.
You're talking about a decline of species in the ocean at an accelerated rate?
There will be less of everything in a broad sense because if you reduce primary productivity by 50%, then you are going to have to reduce everything along the line by 50%. Now, I don't think anyone knows how to convert that into the survival of species. It certainly isn't going to help. I mean those species which are threatened, that will just put more pressure on them.
Among the crises that we might face in the United States, is one of them increasing drought?
Yes.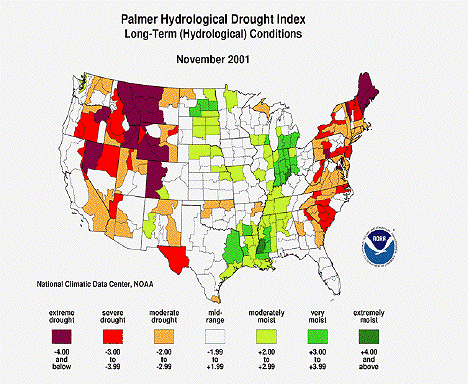 I know that Pennsylvania and so many places have had droughts this year of 2001. If it continues like this in a pattern, what will happen to our food supply?
Well, you know, as it warms, the amount of rainfall isn't going to decrease everywhere on the planet. So some places are going to get more and some are going to get less. That's what I said. We are going to have to adjust. So as it dries out in one place, it will get wetter in another and if that happens to have arable land, then one would shift. We grow grain near Denver because it is very dry and wheat can grow in a dry climate. Corn requires much more water. So, in Iowa we grow corn. Farmers are eternally resourceful and I would assume.
As climate changes, they would change crops?
Yeah. Or, you know, there is all kinds of genetic engineering and tools they have to cope with this. But of course if the bread baskets of the globe all really dried out, then that would be tough because that is where all the agricultural land is. And to some extent, the models would reject that they will dry out. So that may prove to be a very serious problem.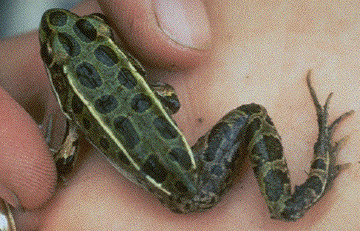 6th Mass Extinction of Plant, Animal and Insect Species
And bring more and more extinctions. Biologists and zoologists have been warning for several years that the earth is going through the 6th mass extinction of plant, animal and insect species, comparable to the last global die off of dinosaurs 65 million years ago. The cause? Human industrial pollution, global warming and destruction of natural habitats.
The October 2001 issue of Nature contained a report entitled, "Catastrophic Shifts in Ecosystems" by a consortium of international scientists. Their data indicate that many of the world's ecosystems – including coral reefs and tropical rain forests – are so fragile they could completely collapse if further damaged by environmental assaults such as chemicals, drought or fire. Until now, scientists thought that ecosystems were more resilient and responded slowly, but steadily, to climate and environmental changes. The new research reported in Nature warns of sudden collapses in animals and plants.'

Dr. Jonathan Foley at the University of Wisconsin-Madison, a co-author of the study, says: "Ecosystems might go on for years exposed to pollution or climate shifts without showing any change at all. And then suddenly, they can flip into an entirely different condition, with little or no warning. The idea that nature can suddenly flip from one kind of condition to another that is probably irreversible is sobering.'
The scientists point out that humans have assumed we can keep altering the earth with time to change things if we see negative results. But the research now shows that we might see little effect 'until the breakpoint. Once the catastrophic change has occurred, the way back is very difficult. … Some of the rapid switches might take us by surprise and cause not only a tremendous loss of biodiversity, but also play havoc with human use of nature … And the productivity of food and forestry systems upon which we all depend.'"

---
More Information:
"CO2 build up will remain in the air a long time, longer than 100 years. If we want to stop CO2 rising, we pretty much have to shut down the production of fossil fuels. If we want it to level off, we would have to shut down emissions almost totally by 2060. And then we would still have a CO2 content approaching double what it was in 1800. So, we are destined no matter what we do to have higher CO2. The question is whether we can level it off in the 600 parts per million range or whether it is going to go up to 900 or 1000. When you get up in that high range, every (computer) modeler would agree there is going to be a very significant warming."
– Wallace Broecker, Atmospheric Physicist, Columbia University, December 2001
---
Websites:
http://lwf.ncdc.noaa.gov/oa/climate/research/2001/perspectives.html
U. S. and Global Climate Perspectives
http://www.gcrio.org
U. S. Global Change Research Information Office




© 1998 - 2019 by Linda Moulton Howe.
All Rights Reserved.