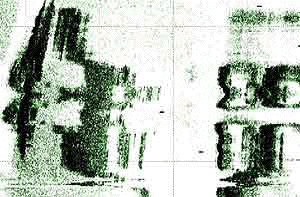 December 28, 2001  Havana, Cuba – This past May, Reuters News Service carried an international story about the discovery of unusual structures at 2,200 feet below Cuba's western tip. The ocean engineer who found the structures is Paulina Zelitsky who is a partner with her husband, Paul Weinzweig, in a Canadian company called Advanced Digital Communications, or ADC, with offices in both Victoria, British Columbia and Havana, Cuba. Their specialty is deep ocean exploration. Paulina told Reuters that she had high resolution sidescan sonar images of "a huge land plateau with clear images of what appears to be manmade large-size architectural designs partly covered by sand. From above, the shapes resemble pyramids, roads and buildings."

On December 21st, one of those sonar images above was released by the Prensa Latina press in Cuba. The article was entitled, "Geology or Archaeology? Which is it?" referring to the structures in the sonar images. This article described Paulina Zelitsky's efforts over the past year to get sonar and videotape images by a remotely operated vehicle known as an ROV. Prensa Latina also interviewed Dr. Gabino La Rosa, an archaeologist with the Cuban Natural Museum of Sciences, who has been studying the ADC sonar and videotape images. In this latest article, he suggests that the megalithic structures could be natural rock; or natural rock used for construction by an intelligent civilization; or artificial structures created by intelligence.
Only one week before this article, another controversial story had appeared on December 14th in Prensa Latina which announced that archaeologist Dr. Gabino La Rosa calls for "prudence" about possible discovery of a submerged city in the western waters of Cuba.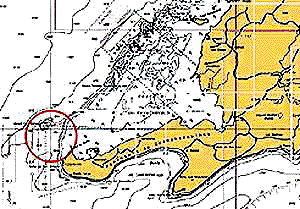 ---
Interview:
Paulina Zelitsky, Ocean Engineer and Partner, Advanced Digital Communications (ADC), Havana, Cuba: "The December 14 Prensa Latina article was written by a person who never met or spoke to any of the people involved, to any of the scientists involved. So, this person, a woman, called me afterward to apologize, this person didn't have access to any of the information. She just interpreted it herself as she wanted.
That's why Dr. La Rosa got so upset?
Dr. La Rosa got upset and other people. And we are upset as well. We asked Latina to reconsider.
Did Dr. Gambino La Rosa, has he seen the videotape you have of stones appearing to have the carved ovals in them?
Yes, he did. He studied the videotape.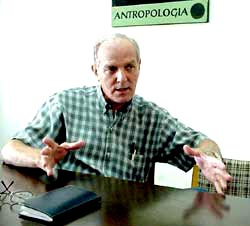 What was his reaction?
It appears to him they are artificial because they are completely smooth, flattened, and constructed in different shapes as blocks on blocks. If Nature did something like that, it could have been, but it's hard to explain how Nature would work this way. Plus, the inscription that he apparently sees. It's hard to read them because visibility is poor under the water. At these depths, it's always poor. And we have a lot of currents. It's hard to read them and we need additional investigations in order to take many more data.
Right, and I'm curious if he could see the crossed ovals, the oval cross, that we had talked about? (See: Earthfiles 11/19/01)
Yes. Cuban television now broadcast them. They are showing and describing the cross.
Do they have videotape from you to show?
Videotape and sidescan sonar, yes. It's a sidescan resolution, like video, but made acoustically.
But have you released some of that July 2001 videotape for broadcast?
Academy of Sciences asked for a few photographs, a few pictures that I have released. But of course, I selected those pictures to present evidence.
In the Prensa Latina on December 21 by Manuel Vazquez, there is an image that says it is from the original sonar in 2000.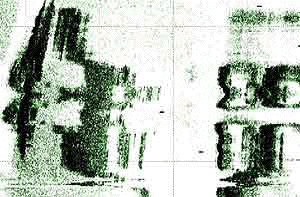 That's correct. That's one of the images. We have of course many of those images. And the Museum of Natural Sciences published a number of those images and the Museum of Natural Sciences is alleging that it is impossible to explain by nature, naturally, how these structures could be aligned this way.
It definitely looks like a street between buildings, doesn't it?
Yes.
From the other images where there is the corridor going between these structures, were some of the structures the ones you thought were pyramidal-shaped?
Yes, some of them are. And the one I am most intrigued of all is one with many walls intersecting. When you have intersecting walls, many of them, – and in a perfect shape – then it's really impossible to explain by Nature. And that one structure has many intersecting walls.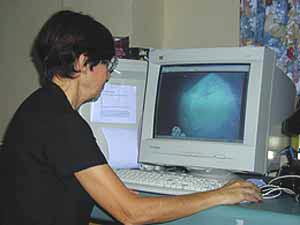 The one of you sitting at the computer – what is the image on the computer?
That's an image of one of the pyramidal shape.
Was this taken in 2000 or 2001?
It was taken in 2001. This is video. The video was taken in 2001 and the sonar images were taken in 2000. What is very important to point out is that we haven't made any definite conclusions because we don't have sufficient data. We have a number of hypotheses and one hypothesis that is very strong in our opinion is that these structures are natural, but re-shaped and accommodated by intelligent beings.
That Dr. La Rosa himself feels that he is looking at data that suggests artificial structure?
Yes, he does because granite is not natural to the area.
Granite has definitely been confirmed?
Well, it's white. We couldn't take the sample because to take the sample you have to drill in the granite and it is very difficult. But we are building a robot that is walking on the bottom and this robot will have all stability required in order to drill for samples, in order to carve, in order to remove, it will be first in the world – a robot that is built for deep underwater archaeology. All kinds of difficult tasks for deep water and the robot is designed to work at a depth of 2000 meters.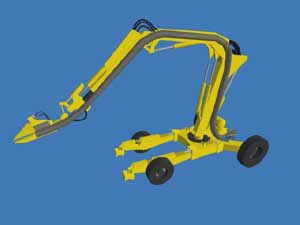 You mean it will mechanically be able to roll along the bottom where the stone structures are?
Actually, it will walk as insects. It looks like an insect, like a scorpion, because it has a manipulator that is 10 meters long. It's a manipulator that can swing 360 degrees.
At the end, is there a camera as well as the ability to drill?
Yes, at the end, there is a camera and lights and in total there are three cameras on this robot and many lights. And it has the ability to drill, to carve, to remove, to excavate, even to weld. The most for archaeology, it has the ability to wash away sediments and to suck in large amounts.
To actually suck in for analysis?
Yes.
When will this robot be placed down at the site, do you think?
This summer.
Any idea yet about approximately when?
June or July.
When you and Paul Weinzweig and I talked in November, you thought you might be able to get down for more videotaping towards the end of January or early February. Is that still on?
Yes, we will attempt to do that, but you have to remember that it's winter weather and it's difficult with the system we have right now, as I told you, it's a navigating, flying robot. It's difficult for this kind of robot on tethered cable to do effective work because of sea conditions. In winter time, it's rare that sea conditions are quiet.
Will National Geographic be involved at all?
Yes, I would think so. They are media, aren't they?
Yes. I'm referring back to last year when we I first talked with Paul Weinzweig and then National Geographic who said they were trying to work out an agreement. I think your husband said there were so many complications. So, I didn't know if anything had ever been resolved?
Well, they expressed their interest for years now to partner with us in this project. But there are some governmental and political complications. You have to remember that we are working in Cuban waters.
Does that make everything more difficult in terms of working with an American company?
I know that everybody involved is aware of the fact that between Cuba and America and the United States there are a number of political disagreements.
So right now, you and your husband and your company, ADC, will be the sole controllers and distributors of the information?
Yes, because our Canadian company is working under license in Cuba. And we are working jointly with numerous Cuban organizations in this field.
What is your personal opinion of all the images you have seen so far?
What is number one, that it could be made by nature. Then we can't explain how such a complex architecture could be made by Nature. His number two is that it's made by man, some ancient part of man. It is definitely not a civilization that we know in history, in present history. And Number Three, that these are natural structures that were reshaped and accommodated by intelligent beings.
Is ADC working with any other companies or countries to help finance all this exploration?
Nobody is helping us to finance this. No institutions are helping us to finance. It is a completely private initiative. It's very difficult.
We will welcome any private or institutional groups, as investors or contributors, to participate with us if they wish to and are able. The thing is, we need them to contribute. We don't just want free passengers. We are privately financed and these kinds of expeditions are costly. So, those who want to participate could share with us both the responsibilities as well as the benefits.

---
More Information:
If you are interested in communicating with ADC about shares or partnership in the deep underwater research of the megalithic structures off the western tip of Cuba, Paulina Zelitsky and Paul Weinzweig have provided this fax number and e-mail for communication:
Advanced Digital Communications (ADC)
FAX: 537-971690
e-mail: [email protected]



© 1998 - 2019 by Linda Moulton Howe.
All Rights Reserved.