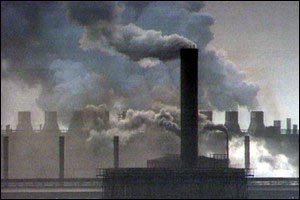 January 5, 2002 New York City, New York – In a Dreamland radio news report at the end of 2001, I talked with a Columbia University scientist about the risk of rapid global climate change as cars and industries put more and more carbon dioxide and other greenhouse gases into the atmosphere. (See Earthfiles 12/22/01.) Industries and motor vehicles over the last century between 1900 and 2000 put 280 billion tons of carbon from carbon dioxide into the earth's atmosphere and oceans. That blanket of CO2 is warming the planet now and is expected to keep getting thicker and warmer throughout the next hundred years. The unpredictable consequence could be rapid global climate change and many plant and animal extinctions.
Further, when you add up all the industrial and auto emissions together in the United States now, each American is adding CO2 to the atmosphere at the rate of 22 tons per person each year. At that rate, the amount of carbon dioxide that builds up like a blanket around the earth could rise from 370 parts per million today to more than 600 parts per million by the end of this century. Computer climate models all predict that such an increase in carbon dioxide would cause great changes in the global weather and change the acidity of ocean waters so much that coral and many other marine creatures will die off.
That much CO2 increase over the next several decades also means we could increase the average mean temperature of the earth as much as 10.5 degrees Fahrenheit. That's how much it took the earth to warm up over the past eleven thousand years since the last Ice Age. What will happen if the earth warms up that much in only 100 years? Atmospheric physicists say this is like playing Russian roulette with the world's future.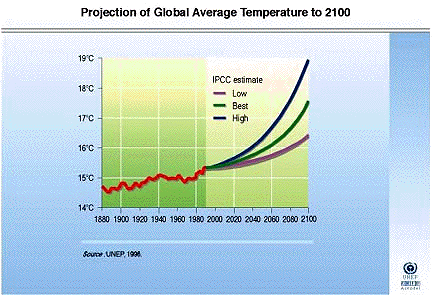 Amid the growing alarm bells from the United Nations and scientists around the world is one man who thinks he has a way to help reduce carbon dioxide emissions while humanity burns fossil fuels. He is Dr. Klaus Lackner, Professor of Geophysics in the Department of Earth and Environmental Engineering at Columbia University in New York City. Dr. Lackner grew up in Germany and received his Ph.D. equivalent in particle physics at the University of Heidelberg. He has held post-doctoral positions at the California Institute of Technology and Stanford University's Linear Accelerator. Then he worked at the Los Alamos National Laboratory from 1983 until 2001 when he transferred to Columbia University. He is seriously worried about the CO2 build up around our planet, thinks that humans will be dependent upon fossil fuels for at least another century, is trying to solve the greenhouse problem with physics – and even Washington, D. C. is beginning to listen.
---
Interview:
Klaus S. Lackner, Ph.D., Ewing Worzel Prof. of Geophysics, Dept. of Earth and Environmental Engineering, Columbia University, New York City, New York: "I believe that in order to have energy for the next one hundred years or so, we will have to reach a point where we have what I call a net zero carbon economy. For all the carbon dioxide that we generate and send out, we have to have an equal amount of carbon captured and disposed of safely and permanently. In order to accomplish that, I am working on a number of projects which together are trying to first capture the carbon dioxide and then safely and permanently put it away.
And we have suggested in a very long term, the very best way of getting rid of it is as a solid. And it turns out that there are plenty of minerals out there that are rich in magnesium oxides, magnesium silicates, that can react with carbon dioxide and form magnesium carbonate (limestone) and silica (quartz) which comes out as sand.
So, we now have a way of permanently tying up that CO2 as a solid. The reaction is exothermic so it doesn't consume any energy if it is done right. And it is thermodynamically stable once you have formed it, you need a substantial amount of energy to undo it so you can be absolutely sure that over time this will not leak back into the atmosphere. It is a permanent and safe disposal.
Can you please explain first how you would go about getting carbon dioxide out of the atmosphere?
You can get carbon dioxide in two places. One is you can try to collect it at the source of emissions, such as a power plant for example. There are a number of people who are trying that with various projects. I am also looking at the option of directly taking the carbon dioxide back from the air.
You know that can be done because that in effect is what a tree is doing. We believe we can do this much more efficiently than you would do that way. For example, you can use lime water which is a good absorbent and as the air moves over that, the CO2 in the air will be absorbed by that lime water and turned into limestone.
Since this is a planet motivated by making money, is there anything that would be an incentive to companies to do this process and make magnesium carbonate? Can we do something with magnesium carbonate?
You may be able to use some of it as building material. You may also have side benefits from the operation which provided you the magnesium silicate in the first place. For example, very often there are iron oxides associated with that. But I would caution you this may help you in the transition phase. In the long term, keep in mind you have to tie up 22 tons of carbon dioxide per person in the U. S. and by the time you have tied it up, you have made on the order of 50 tons per person per year. There is hardly anything short of water that we consume on that scale. So, it seems to me in the long term this becomes a disposal issue and a financial incentive has to come from some form of regulations which basically allow you to trade carbon permits against carbon credits where you have put CO2 away. I would like to call that a Certificate of Sequestration.
Meaning there would be some sort of reward for those countries and areas that were using this process to reduce the CO2 emission?
And one of the advantages of the air extraction approach would be that it allows new companies to enter into this field and turn it into a business, provided somebody is paying for the service they render. Which then means that some how or other, society has to come up with a way of having these kinds of processes paid for. We do this routinely in other areas today. We already have sulfur trade for sulfur dioxide emissions from power plants. That is in some sense different because here you buy a right of pollution. We also do the same thing with the sewer system. Nobody today argues that we don't have to pay for having a sewer line from our house to a system which treats it before it goes out to a river.
We are already dealing with other emissions having to do with smog and other problems on the planet and we have been for quite awhile. This would simply be another application of technology to reduce CO2 in the atmosphere which is a problem that no one knows how to deal with, meaning we are not going to be able to cut back the need for fossil fuels over this century because it is the only real viable large energy producer that we still have?
That is correct. I believe we have vast amounts of fossil energy available. I think the discussion currently going on whether or not oil runs out misses the point. We have enough coal, tar and shale to last us many centuries at a cost which is hardly more than it is today. So as a result whether we like it or not, fossil fuel is going to be a major player for the next 100 years and we better figure out means of dealing with the environmental impact. So, what I am saying is that whatever storage you use, it has to last a long time compared to a thousand years.
That's why magnesium carbonate would be good for a permanent, solid storage.
It is so attractive. It's permanent. It's solid. And it's thermodynamically stable. You can see that because entire mountain ranges are made out of the stuff today. Dolomites are a mixture, the Dolomite mountains are essentially a mixture of calcium carbonate and magnesium carbonate.
We might be able to use that residue to build things with in the future.
You might. On the other hand, the amounts we would be creating per person are very, very large. This is more than we consume concrete or even aggregate.
We would be building new mountains with magnesium carbonate.
Yes, but don't forget they are replacing mountains of magnesium silicates!
We would know that those mountains stood as testimony to human ingenuity in facing a crisis of the atmosphere and transferring that CO2 blanket build up into mountains on the earth which couldn't hurt us.
They couldn't hurt us. But on the other hand, you have to admit up front, they are large. And I cannot help that because the amount of fossil carbon we are extracting from the earth is large. We are talking on the order of cubic kilometers of oil that we are burning on an annual basis.
Because people can't see it, they don't realize what we are building up in the atmosphere, invisible to our eyes, but equally as solid and massive as mountain ranges.
It is as massive as mountain ranges. The issue ultimately will be can we, what are the compromises we are willing to make in order to have energy? And we have to come to a system which is environmentally acceptable. And rather than diluting the CO2 over the planet and causing all sorts of consequences because CO2 is a greenhouse gas. It is physiologically active and plays a major role in the environment. Changing it, doubling it, tripling it, is simply not an acceptable way of dealing with it. So we have to find other ways of storing it.
In the interest of national and global security, have you been in any discussions in Washington, D. C. with political people about this idea and whether the U. S. would be prepared to try to go forward with this idea?
My impression of the response is that generally people are favorably inclined. They like to see more data to prove that this can be done, but I think a large part of the impasse is that we don't see technological solutions to this problem. By providing them (with one), I think we can get beyond that. If you listen to the debate, I think it is generally accepted that the stabilization of CO2 in the atmosphere ultimately will have to be achieved. The question, the debate is more about what level is that? How far is that out?
Meaning in terms of a time line?
In terms of a time line and also the levels of CO2 in the atmosphere that people would be willing to tolerate. Would we have to stop at 400 ppm? I don't think we can achieve that anymore because the time has run out on that.
We're already at 370 ppm.
So, could we get to 500 or 600 ppm? I think everybody agrees that we will have to stabilize at a point. I would like to make it very clear that this is a different from sulfur emissions where all we have to do is keep the rate of emission constant from where it is today. If we held the rate of emission constant (on CO2), we would still have a problem. We are filling up a cup and we are filling it higher and higher. And in the end, we have to reduce CO2 emissions to essentially zero if we want to succeed. If you want to stabilize CO2 levels in the atmosphere and excess carbon in the environment, we will have to go to a system in which the CO2 emitter is compensated for more or less completely.
But isn't the big question here that we are already at 2002 and that's only 98 years to the end of this century. And we are approaching 400 ppm CO2 in the atmosphere and the atmospheric physicists are already warning that if we get to 600 ppm, it is an open question about whether we are getting into territory in which the earth itself could switch into one of these rapid reorganizations of rapid climate change that have happened in 5 to 10 years in the past and cause such revolutionary change of drought, too much water, flooding, no crops ­ all of those things could kick in. I don't see that we have a lot of time to debate what we can do.
There is no question that we are moving into a new regime which is rather different from what we have seen in the last tens of millions of years. And this is new territory and I would like to add to what you said that it is not just the climate change. The extra carbon dioxide in the atmosphere will undoubtedly acidify the surface oceans. That has consequences for coral reefs which have nothing to do whatsoever with the change in temperature or change in climate. So, we completely change the major material cycles on the earth by basically adding an unprecedented amount of carbon, free mobile carbon, into the system.
What you are saying is that sense the oceans are the largest element to absorb CO2 right now along with trees, as CO2 levels go up and more and more go into the oceans, lakes and water systems, that it's going to change the alkaline or acidity of the oceans to the point that it could destroy the coral?
That's correct. The amount of uncertainty we are creating is very large. And I am pointing out that we are always focused on the climate change issues. But there are these other marine issues as well."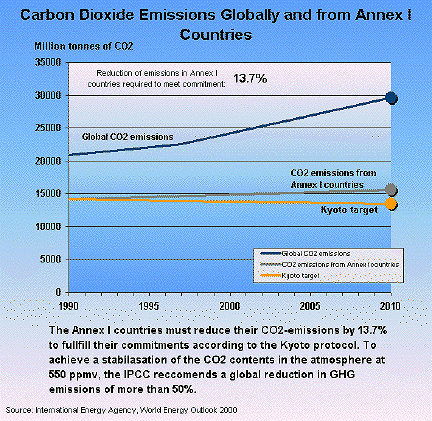 ---
More Information:
Statistics To Consider:
At current rate of carbon dioxide emissions, in 100 years 600 billion tons of carbon in the form of CO2 will have been put into the earth's atmosphere.
If CO2 emissions grow at a rate equivalent to the 20th century's carbon dioxide increase which grew roughly by a factor of 12 between 1900 and 2000, the amount of CO2 in the atmosphere could jump from 600 billion to anywhere between 2000 to 3000 billion tons.
If you add a 1000 to 1500 billion tons of carbon in the form of carbon dioxide to the ocean, you will change the pH chemistry of the ocean from top to bottom by a significant .3.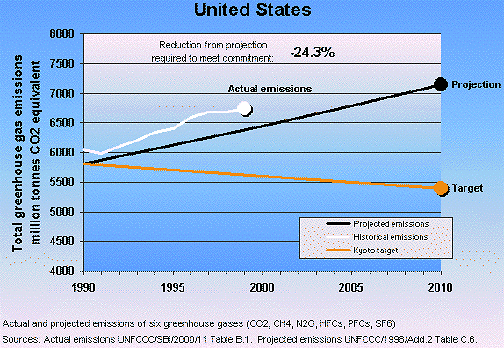 ---
Websites:
http://www.co2science.org/center.htm
http://www.epa.gov/globalwarming/emissions/national/co2.html

© 1998 - 2019 by Linda Moulton Howe.
All Rights Reserved.