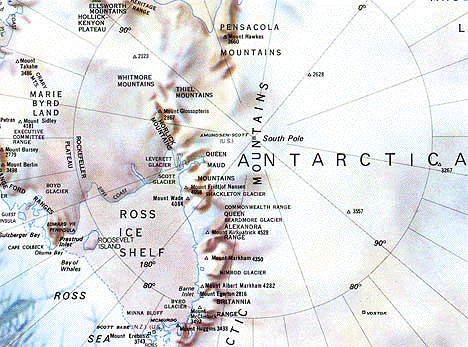 January 30, 2002 Pasadena, California – The huge Ross Ice Shelf in Antarctica is bigger than Texas and two-thirds of a mile thick. It has been the source of Rhode Island-sized icebergs in recent years in what was thought to be a continual slow melting in slippery mud at the bottom where the heavy ice layer pushes against the continental land mass. Since the last Ice Age ended ten thousand years ago, icy "rivers" have moved along that mud base and dumped Connecticut-sized icebergs into the sea in recent years.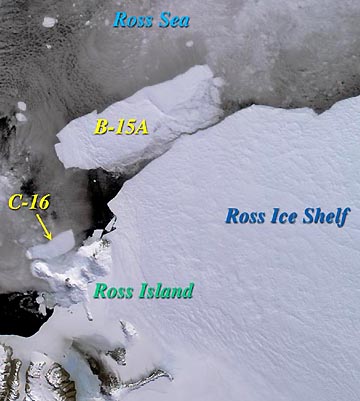 In fact, scientists have been concerned since the 1970s that accelerated melting, possibly due to global warming, could perhaps cause a catastrophic collapse of the entire Ross Ice Shelf into the ocean that would cause sudden and global sea level rise.
But when Ian Joughin, Senior Engineer in the Jet Propulsion Laboratory (JPL)'s Radar Science and Engineering division, analyzed satellite images from the past eight years, he found that one of the major ice flows has stopped, another slowed and that snow is accumulating faster now than the ice "rivers" can carry it away. Before Dr. Joughin's research, old estimates said the Ross Ice Shelf was losing 20 billion tons of ice a year. His new data indicates the ice is actually getting thicker at the rate of 26 billion tons a year.
---
Interview:
Ian Joughin, Ph.D., Senior Engineer, Jet Propulsion Laboratory Radar Science and Engineering, Pasadena, California: "Understanding how and why these ice streams are changing their speeds is an important issue we are studying. We've only been getting this data over the last seven or eight years and already we've seen a lot more variability in glacier and ice stream speeds than we would have expected to see. And we're trying to understand if this is a natural variability so that even if things were stable it just sort of oscillates around? Or is there some trend there that could have an effect on sea level one way or the other?
The way that part of Antarctica loses ice is that these large streams of ice, actually flowing ice within the ice sheet, carry the ice to an ice shelf such as the Ross and off to the ocean where it breaks off as large icebergs. So, iceberg "calving," not melting, is how Antarctica loses snow. Otherwise, the snow would just continue to pile up. In fact, we think the ice flows and iceberg creation are independent of global warming at this point.
The satellite images I studied were from instruments actually meant to make radar images, but some people before I was even working on this figured out a way to make measures of small land displacements. My particular application is looking at ice sheets, but this kind of technique can also be used to detect small displacements of the earth's surface, such as when you have an earthquake. You can see all the displacement resulting from that earthquake. Or when a volcano is inflating or deflating during an eruption or prior to an eruption. You can actually see very small motions from space over wide areas. So, it's a very powerful new technique.
The part of Antarctica that I was looking at is sort of removed from the ocean because of the big ice shelf between the pole and the ocean. It is really so cold there that climate change isn't having much of an impact. The reason we think that ice is thickening in this region is because one ice stream, or river of ice, stopped moving about 150 years ago. That is well known. Another ice stream next to it was thought to be discharging ice much faster than it could be sustained by the amount of snow falling. And what our study found was that this ice stream has slowed down so much over the last twenty years that it is now not really out of balance. So all the thickening in that other ice stream is where the ice is piling up. And that's happening because that's where the ice stream stopped 150 years ago. That really pre-dates the internal combustion engine and it's hard to make any connection between it and global warming.
Why did it stop 150 years ago?
Well, part of the reason for the concern regarding this part of the ice sheet is that it has sort of been steadily retreating over the last 10,000 years or so since the end of the last Ice Age. So the idea was that this retreat could continue on until the ice sheet disappeared and once the ice sheet had gone into the ocean, it would raise sea level by several meters. And there is evidence that some time within the last 600,000 years, this event did happen ­ that the ice sheet was gone and the sea level was higher. But what our results suggest now is that the ice streams are slowing down and at least one is stopping and one is slowing down. This long term retreat is coming to an end.
Paradox of Ice Build Up: Ross Shelf Got Too Thin To Insulate Ground Nearly A Mile Below
The reason, we think, is that these ice streams are slowing because they are sitting on a layer of wet mud. You've got about 1,000 meters of ice on top of this layer of mud that's lubricating the flow. Over time, the ice sheet has been thinning. And the reason that mud is there ­ even though the surface temperature is very cold ­ this thousand meters of ice acts like a blanket and insulates the bed beneath the ice stream from the cold surface temperatures.
As that blanket has thinned over the last few thousand years, it has gotten to the point where it is perhaps not thick enough to provide enough insulation. That starts to freeze the water that is supporting that mud and removes the lubrication and causes the ice streams to slow down. In many ways, ice streams like these act on their own cycles in terms of growth and decay and are definitely not forced by short term climate changes. They might be forced by long term climate changes on a scale of several tens of thousands of years, sort of ice age cycle time scales.
Is it fair to say that the scientific community studying the atmosphere has been warning that there would be thinning of even the Antarctic ice and this thickening of the Ross Ice Shelf comes as a surprise?
I think it's a complex issue that has been over-simplified in the way it's been expressed in the press. Parts of Antarctica like where the Larsen Ice Shelf broke up are much further north and warmer and in contact to the ocean and much more susceptible to climate change. There are also other glaciers in Antarctica which calve more directly into the ocean and they have closer contact with the ocean. So they are sensitive to climate change.
What would it take to seriously melt all of the Ross Ice Shelf?
It would take a huge rise in temperature. I don't know exactly what that would be, but to completely melt it away would take quite a lot. Probably 10 degrees or more.
The 2001 Inter-Governmental Panel on Climate Change under the United Nations that accumulates data from laboratories around the world has projected that by the end of this century, there could be an increase in the average global temperature of 10.5 degrees Fahrenheit. Would that temperature cause a major change in these ice flows that you have been studying?
A temperature rise of that magnitude would cause much more melting in coastal areas of Antarctica and certainly a significant amount of melting in Greenland.
It's a concern when ice and water come off the land masses because that's where sea level begins to rise further.
Yes, ice that is already floating in either the sea or as an ice shelf is already displacing its weight in water. It's already made its contribution to the sea level. But ice that is sitting on land and falls into the oceans is what we're worried about.
Less Chance Now That Ross Ice Shelf Will Collapse and Suddenly Raise Sea Levels
What you are measuring would tend to support an opposite direction of ice build up as opposed to its moving off the Ross Ice Shelf into the sea?
Well, no, the area I'm looking at is that regardless of climate change, the Ross Ice Shelf on its own internal flow and dynamics could collapse. That was sort of the fear first raised in the late 1960s and early 1970s. The more over time that people have studied the problem, the risks for that particular area have been downgraded. Already there has been less worry about that area and the study we did shows there is even less concern. This particular part of Antarctica will collapse on its own irrespective of climate change.
Until recently, the rivers of ice have fed off the land and into the oceans?
They feed into the large Ross Sea there and that's where the Ross Ice Shelf is. So, this large, several hundred meter thick layer of ice floats and calves icebergs at the mouth of the bay. That's where you get the large New England state-sized icebergs calving off. Much of that ice originated on land, flows into the top end of the Ross Ice Shelf and the ice breaks off into icebergs.
Anything coming off the Ross Ice Shelf is contributing to sea level rise?
In a sense. It doesn't contribute immediately at the time, but over time, whatever ice breaks off, more ice is flowing in at the other end of the ice shelf to replace it.
The expectation has been that with an increase in average global temperature rise there would be an increased melt which would add significantly to sea level rise until your new research was published in the January 18 journal, Science?
Well, again, most of the research in this area hasn't been so tied to climate change. There are other parts of Antarctica like the Larsen Ross Shelf – and that really is an area that's believed to be warming and has undergone a lot more melt – but this area even at the Ross Ice Shelf is pretty cold. There's not a lot of melt there right now.
The dynamics of the oceans and atmosphere are complex and as the earth warms up, could there be something in that machinery that could paradoxically cause the cold at the South Pole to maintain itself?
It's a complex system, but warmer temperatures even in this area can have an effect say by increasing or decreasing the amount of snow that falls each year. Now, in our particular area because we are looking at thickening due to ice streams that change their speeds, that doesn't really have anything to do with change in accumulation. But certainly areas of Antarctica could thicken because you get more snow accumulation even though the global climate was warming.
Because there might be more water trapped in the atmosphere that would fall out as snow?
Yes. You would have wetter and warmer air in the waters around the continent, but the continent itself would rarely have any melting. So you could deposit more snow on it.
So, it is a paradox in the warming trend?
Yes.
Do you know the last date there was no ice or snow in Antarctica?
I don't know the dates, but a lot of that ice has been there for a long, long time. On the Antarctic Plateau at Vlostock, I think the ice cores go back over 400,000 years. There has been ice there much longer than that. But in west Antarctica sometime in the last 600,000 years, there wasn't much ice there or much of the ice disappeared and that could have raised sea level by a few meters.
Prior to 600,000 years ago, is it assumed there was no Antarctic ice cap?
No, between the ice ages, there have been warm periods in the last 600,000 years and this part of Antarctica did not have ice. But there was still a huge ice sheet on the rest of Antarctica.
Keeping Track of the Antarctic Ice In The Future
What is the next step in your research?
Antarctica is a complex place and we were looking at one area. I have a colleague here, for example, who is looking at an area in western Antarctica sort of on the other side of the ice divide where he's seen some glaciers that are thinning rapidly. And so all of these different glacial systems seem to act somewhat independently of each other and we need to collect a lot more data to be able to do an assessment for the whole continent. Before you can say how much Antarctica is contributing one way or the other, you need to look at all things, not just one glacial system.
But I'm hoping that NASA will be able to put up a low earth orbit satellite that will orbit from north to south around the earth's poles, allowing us to see the whole world every eight days.
It seems we still don't know a lot about Antarctica in terms of how the ice builds up and moves out and melts.
Yes. When people were going out 20 to 30 years ago, they hardly knew where the ice streams were. In fact, a large part of the ice streams we only knew about in the last 5 or 6 years with good satellite observations. So, we're really just beginning to get the data from space which really can get the whole kind of continent scale picture. My personal priority is to understand how these ice streams change over the next decade or so since the Antarctic ice is such a dynamic system."
More Information: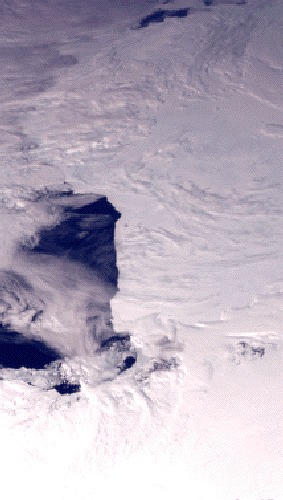 © 1998 - 2019 by Linda Moulton Howe.
All Rights Reserved.