"An enhanced population of Oort cloud cometary major axis orientations
which cluster around a 'great circle' on the celestial sphere has been detected.
(Data from 109 comets indicate) …the orbital properties of these comets are being dynamically produced by a perturber…" yet to be identified.
– John J. Matese, Ph.D., Physicist, 2002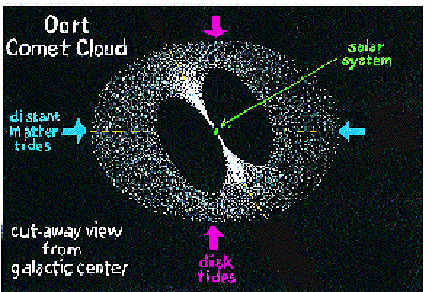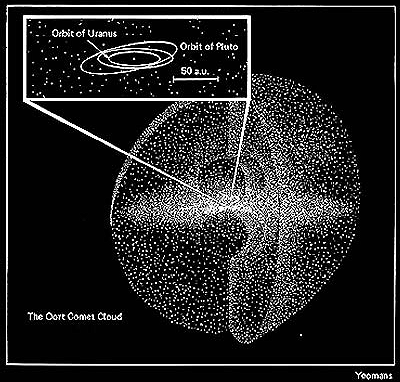 January 26, 2002  Lafayette, Louisiana – Since the mid-1990s, two physics groups have worked independently in England and Louisiana to study the orbits of comets at the edges of the Oort cloud which surrounds our solar system. Both groups discovered that the farthests points of the comets' orbits seemed to cluster along a particular path. In 1999, Dr. John Matese, Professor of Physics at the University of Louisiana in Lafayette, lead his team to publish a paper entitled, "Supportive Evidence for a Brown Dwarf Solar Companion." His hypothesis is the comet orbit pattern is consistent with the gravitational attraction, or "impulse," of a large object that cannot be explained as a passing rogue star or the normal gravitational tugs and pulls of galactic matter. In other words, there is Something out there perturbing comet orbits in the Oort cloud surrounding our solar system. He thinks it might be a brown dwarf, but so far there is no visible evidence.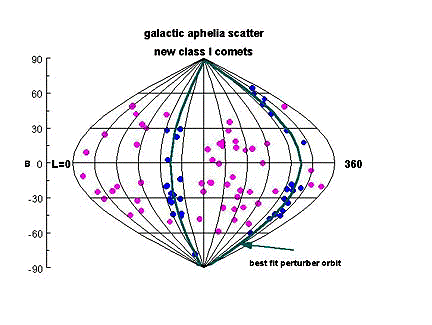 ---
Interview: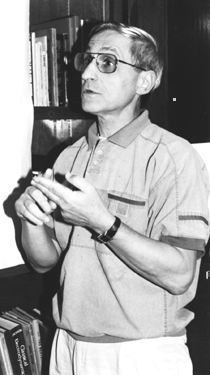 John Matese (Ph.D., Professor of Physics, University of Louisiana at Lafayette, Lafayette, Louisiana: "Within the last month, I have received new data that is complete up through December of 2001 (from 109 comet observations). The extra number of comets that we are seeing in this more recent enhanced data that we have, the enhanced track (perturbation) across the sky still persists. And we ask questions like: Can we reject the conjecture that an object out there exists? And in essence, you cannot reject this conjecture. In fact, it is highly suggestive that you need an impulsive contribution to the Cloud. But does that mean that we have proven that such an object exists? That would be a bit foolish to say. No one is going to accept this as proven until it is observed.
Can Hubble (Space Telescope) see this object possibly?
Hubble probably cannot see this object because Hubble does not look at the wavelength range. If it has the properties that we infer, Hubble doesn't have the sensitivity in the wavelengths. The object we're talking about would be rather cold and dark. Dark in visible light. It would be relatively bright in certain regions of the infrared radiation band.
If it is a very cold object, what is it?
It would likely be an object that would be at the low end mass end of objects that we think of as 'brown dwarfs.'
Why would a brown dwarf, a kind of dead star, be orbiting our solar system a half a light year (three trillion miles) from our sun?
It's now fairly well believed that when stars form and when our sun formed that the environment is very complex. That the star doesn't form in isolation. That it forms in a dense complex of other stars, in a star-forming region, and we know that these brown dwarfs exist. Brown dwarfs are seen. Brown dwarfs are found freely floating in space, and we know they can be attached to other stellar systems.
These are basically stars that tried to become suns and for whatever reason they died.
Yes. They didn't have enough mass to fuse hydrogen. They may be doing some secondary fusion, so to speak, releasing energy, but not the hydrogen fusion. So they are not releasing enough energy to become a conventional star. And if they are mass is only the size of Jupiter's mass, then even that secondary fusion won't be occurring. They will just be slowly cooling off from the collapse process. And these are the kind of object that we are thinking ­ there can't be any fusion going on in the object we're talking about. If there was fusion going on, there would have to be much mass, it would have to be more the size of conventional brown dwarfs and we don't think it can be that massive. It has to be more a few Jupiter masses.
If I understand, you are describing that in the early solar system there might likely have been something developing in the sense of a binary star system. There are many binary star systems in this galaxy. And this mystery object might have been the so-called twin or other star developing along with what became our sun. But the one at the edge of the Oort cloud didn't have enough ingredients to get going as a sun?
That's right. That's the conjecture. One of the reason why the whole thing is still considered speculative is that nobody has seen such a system out there yet. They haven't seen other stars that have a binary Jovian mass companion because the orbit we are talking about is very extended. And they have only inferred the evidence of Jovian mass objects around other stars when they are very close in planetary orbits.
That leads to another question I had. How could gravity from this solar system keep something that is several sizes of Jupiter attached to this solar system at a distance of half a light year from our sun?
Well, if you accept that the Oort cloud of comets can remain attached to the sun, then anything closer in can remain attached to the sun. Our object would be a thousand times further than Pluto.
Scaled Distance Perspective If Earth Were One Inch From Sun:
­ Pluto, the ninth planet/moon, would be a bit more than a yard from the sun.
­ Mystery object, or brown dwarf, would be a half mile from the sun.
The object, or brown dwarf, would be about a half light-year from the sun? (3 trillion miles. Closest known active sun is Alpha Centauri, 4 light years from Earth)
Yes. And it doesn't matter whether it's a comet or whether it's a Jupiter mass object, the sun's gravity will tend to dominate if the object is moving slow enough, it will fall around the sun if it's inside that interval of distance we were talking about.
But if it were moving fast, it would have gone away from the solar system?
Yes, I alluded to the fact that not too long ago, stars come zipping past us. And these stars sometimes come zipping relatively close, meaning as close as I'm talking about this Jovian mass object being out there a thousand times as far away as Pluto. Sometimes stars come zipping by and get that close to the sun. But because they are moving so fast, the gravity of the sun only deflects their trajectory a little bit and so instead of falling around the sun, they just get deflected as they zip on by.
This suggests that if there is a slow speed to this large object out there half a light year from our sun, it might have been attached to our solar system for a very long time. Do you know what the length of time to revolve around our solar system would be for this object?
There are different time scales that might be discussed. If this object exists out there, it probably formed along with the solar system, so it probably has been around for 4.5 billion years that the solar system has existed. And it probably formed in this complex with all the other stars that were in this presumed star-forming region.
The time it would take to go around the sun if it is in its conjectured orbit, the time is something of the order of 4 million years.
It would take four million years?
Four million years as compared to the life time of the solar system which is more than four billion years.
The idea that something could be orbiting at that distance every 3,000 to 4,000 years is not feasible in terms of your calculations?
Where does the 3,000 or 4,000 year orbit come from?
There is a man named Zecharia Sitchin. (Author of The 12th Planet © 1976)
Oh, yeah. I don't want to talk about that.
But this is a book that is out there in the world in thousands of copies.
I get an extraordinary number of e-mails and requests to talk about this thing and what he is talking about is in no way connectable to the object I'm talking about.
Because a 3,000 or 3,600 year orbit would not apply?
That is not consistent, it could not produce the effects I just got through referencing.
Have you ever talked with a Sumerian academic scholar about the Sumerian cuneiform that is supposed to suggest some sort of tenth planet that revolves around our solar system?
I have not talked in a conventional sense. I have had e-mail exchanges with people who have attempted to get me interested in it and I have read some material. But the extent of my reading didn't last past ten or fifteen minutes and I concluded that there was no chance that there could be anything scientific coming out of these readings, so I am not knowledgeable about the subject.
It's interesting that there are cuneiform tablets and seals with drawings that are about 5,000 years old from Mesopotamia. The seal drawings do seem to show a solar system with the sun and what appears to be not nine, but ten planets. (White arrow below points at actual Sumerian seal depiction of solar system.)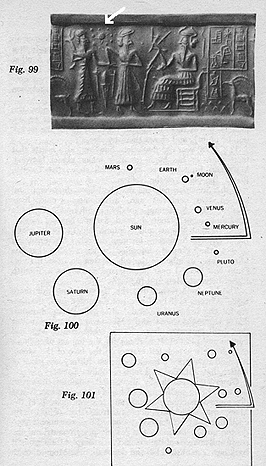 But the problem is that I've just described that the object I happen to be talking about can't be seen in visible light and the Sumerians just didn't have infrared detectors back then. So, it's not likely we are talking about the same object. It's just not possible.
5,000 years ago was it possible that something out in the Oort cloud, or at the edges, might still have been seen in visible light?
Nope, not if it's the object I'm thinking about. I mean, it's possible someone else has other ideas, but not my object. What we're talking about, if my physics is correct, their object cannot be my object.
Because a brown dwarf would have been invisible and cold 5,000 years ago?
Yes.
When are we going to be able to look out there and try to find this object in some kind of infrared?
In fact, they are putting up an (infrared) satellite (NASA Space Infrared Telescope Facility, SIRTF) in the next year or so that would likely detect this object if I could tell them precisely where to point. And therein lies the problem. My analysis at the present time is only capable of giving a relatively rough estimate of where we would look. And by that, I can do no better than delineate 5% of the sky. The object that I'm thinking about, it should be found in a portion of the sky that would extend up to 5% which is an awful lot of sky to be looking at."
Future Infrared Research:
Do the satellites with the infrared ability have to be pinpoint? Or can they do a broad brush and still pick up heat sources?
Dr. Matese: They are directional, that is, they aren't used in the mode for a survey. They aren't just going to look at 50% of the sky and catalog everything they see for later use. Quite some time ago there was a satellite out there with lower sensitivity that did a survey called IRAS and there was a proposal to send another survey instrument up there to survey the sky in the infrared. And that is in fact the instrument that would be most likely to pick this object out of the sky because it (mystery object) should be relatively bright in the infrared if you use current technology and look in its direction. But unfortunately, there is no survey instrument out there and that's that.
The current infrared instruments that are being constructed for launch are by NASA?
Yes, one which will be a satellite is called SIRTF (Space Infrared Telescope Facility) and that's going to be operational this year, I think. And there is another program called SOFIA (Stratospheric Observatory For Infrared Astronomy). Both of these systems have different capabilities, but I think both would likely be able to detect this object if it really exists and they knew exactly where to look.
­ SOFIA: Based from a Boeing 747SP aircraft modified by Raytheon Aircraft Integration Services to accommodate a 2.5 meter reflecting telescope. SOFIA will be the largest airborne observatory in the world and will make observations that are impossible for even the largest and highest of ground-based telescopes. SOFIA will be based at NASA's Ames Research Center at Moffett Federal Airfield near Mountain view, California and is expected to begin scientific observations in 2004.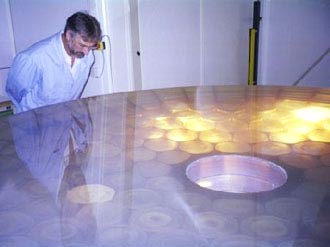 In 2002, if SIRTF and SOFIA are the only infrared instruments we will have to look out into the Oort cloud and beyond, it will only be luck if we stumble on to the mystery object?
Yes. At this stage, serendipity is the only way this object would be seen which is why I have to be patient and hope that within the next ten years the government funds an infrared survey. Several scientists are making such proposals, but it has to be something that will be funded and the government has to make decisions. There are always competing requests for money."
---
Websites:
http://www.ucs.louisiana.edu/~jjm9638/matese.html

© 1998 - 2019 by Linda Moulton Howe.
All Rights Reserved.