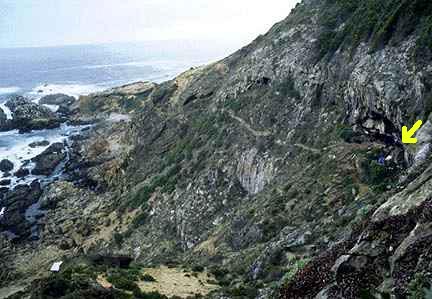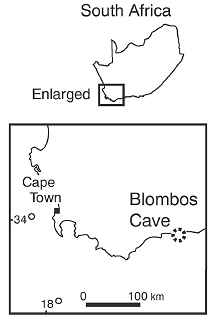 January 24, 2002 Blombos Cave, South Africa – On December 8, 2001, I first reported about the new archaeological evidence that "modern humans" lived in Blombos Cave, South Africa 70,000 years ago. (See: Earthfiles 12/8/01) This month the journal Science published a report by the lead anthropologist and discoverer, Christopher Henshilwood, Ph.D., Adjunct Professor of Anthropology at the State University of New York, Stony Brook, and the Iziko South African Museum in Cape Town.
One of the remarkable finds, in addition to finely carved bone tools, are pieces of red ochre stone etched with X's. Some of the X's are placed between parallel lines, all of which suggest intelligent design.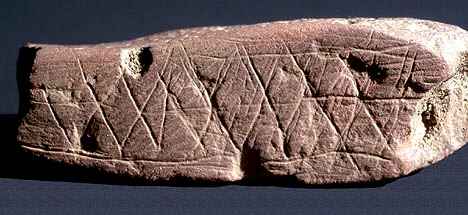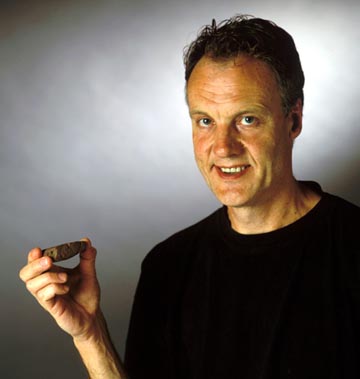 Were the red ochre stones carved as art? To count something? Or other communication? "They symbolize something that clearly had meaning to the people who made them," answers Dr. Henshilwood. Whatever provoked those South African minds 70,000 years ago, there was also a large population of Neanderthals living in Europe and Asia at the same time. The physical evidence about them indicates those ancient, thick-browed beings used tools, buried their dead with ritual and had a language. Then suddenly about 40,000 years ago there was a dramatic and still unexplained change in the evolution of humanoids. Neanderthals died out and Cro-Magnon Homo sapiens sapiens rose up allegedly from Africa and took over the earth.
The ochre and fine bone artifacts in Blombos Cave do not answer how that happened, but show that modern human behavior was already in evidence in South Africa seventy thousand years ago.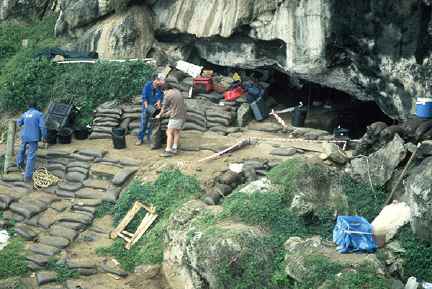 ---
More Information:
See: Blombos Cave news report and other bone and ochre images at Earthfiles 12/8/01.
---
Websites:
http://www.nsf.gov/od/lpa/news/02/pr0202images.htm
http://clasdean.la.asu.edu/news/images/bone




© 1998 - 2019 by Linda Moulton Howe.
All Rights Reserved.