"Government officials said intelligence suggested that al-Qaeda
members had been considering attacking U. S. nuclear power plants
with car or truck bombs, boats or aircraft."

– Seth Borenstein, The Philadelphia Inquirer, January 31, 2002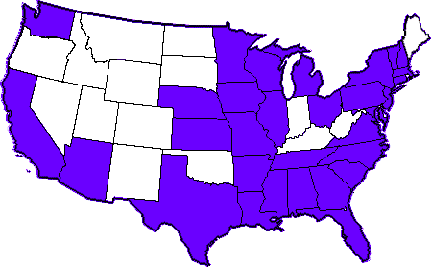 February 4, 2002  Middletown, Pennsylvania – President George Bush said in his January 29, 2002 State of the Union speech that "diagrams of American nuclear power plants" were found among terrorist manuals and other artifacts left by terrorists in Afghanistan. Earlier on January 16, the Federal Bureau of Investigation (FBI) had issued an alert that a terrorist attack on a nuclear power plant could be imminent.
After the State of the Union address, the President of the Nuclear Control Institute, Paul Leventhal, said, "Unfortunately, neither the White House nor the Nuclear Regulatory Commission (NRC) have taken protective measures commensurate with the threat or with the unthinkable consequences of a successful attack on one of these nuclear plants. These plants are vulnerable today, and that is intolerable."
The Nuclear Regulatory Commission keeps saying that security at plants has been strengthened and is satisfactory to cope with terrorist threats in this time of war. But a man who lives near Three Mile Island in Harrisburg, Pennsylvania has worked as a concerned citizen since 1984 to monitor the plant after its partial core melt down spread radioactivity into the environment in 1979. He says security today is still not what it should be and he's got the photographs to prove it.
Scott Portzline has researched the issue of sabotage and terrorism of the nation's nuclear power plants for nearly two decades. For eight years he helped the volunteer civilian Three Mile Island Alert group monitor radiation and security. He has testified before the U. S. Senate, the U. S. Nuclear Regulatory Commission, the Advisory Committee on Reactor Safeguards and before other governmental bodies in an effort to close security gaps that he has found. His research has been cited by the U. S. Department of Energy and various military branches. Portzline also maintains a data base of lost and stolen radioactive materials in the United States.
Over the past week of heightened alerts, he has visited the Three Mile Island nuclear power reactor site and found that the gates have not been closed and guards slow to respond, even when he was there videotaping on January 31st as a pickup truck arrived and stopped voluntarily next to an empty guard house.
---
Interview:
Scott Portzline, Former Security Chairman for Three Mile Island Alert (TMIA), Harrisburg, Pennsylvania: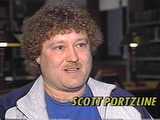 "I went to the north entrance of Three Mile Island, which is the main entrance, and observed nobody at the immediate entrance. There was a guard shack which was empty. A pick-up drives up to the entrance and slows down and voluntarily stops. Of course, if this had been an intruder who had malevolent intent, he could easily have driven across the bridge and on to the island and then into the parking lot.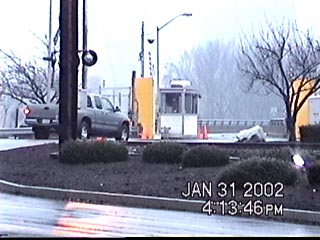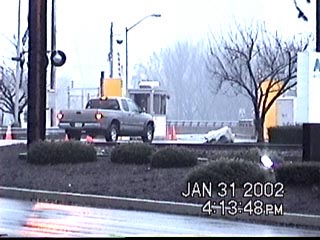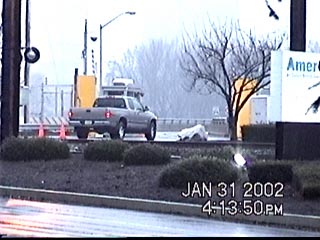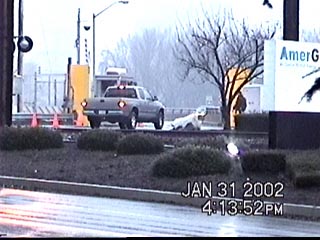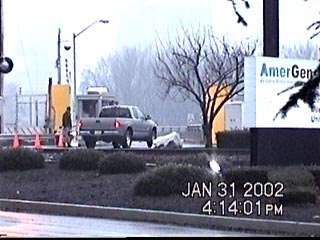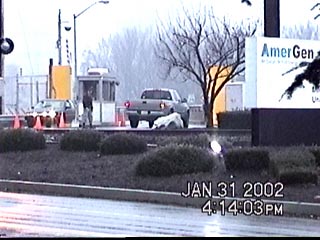 BOTH THE METAL HORIZONTAL GATE AND THE INTERIOR LIFT GATE WERE WIDE OPEN?
Yes. The vehicle barriers at Three Mile Island have been open now for the last two and a half months each time that I've been there. They need to close the vehicle barriers at the nuclear plants right now. And only open them when they are sure that a vehicle is properly cleared to go in to the plant. They are doing some bomb checks. And sometimes I've observed some very thorough bomb checks where they enter cargo vans and look around and it takes ten to fifteen minutes. And they use the mirrors under the vehicles. But I don't see that for all the cargo vans, even, that go in.
DON'T OPEN GATES SEEM PECULIAR AT A TIME WHEN WE'VE HAD FBI ALERTS CONCERNING POSSIBLE TERRORIST ATTACKS ON NUCLEAR PLANTS?
It's definitely not everything they can do. We hear from government officials that everyone is doing as much as they can do. Well, no they are not. They should close those vehicle barriers. And it makes no sense to have them open. What would happen if Al-Qaeda drives a van with 15 commandos through that front entrance because the vehicle barriers are open and there's nothing to slow them down?
WHY SINCE SEPTEMBER 11TH ANY GATES WOULD BE LEFT OPEN?
The only thing I can think is that the Nuclear Regulatory Commission is considering here is that they are protecting against smaller truck bombs. So, they don't seem to be considering delivering commandos through the entrance. If you protect against a small truck bomb rather than a large truck bomb, then you still don't have to control access to the plant until you get closer to the protected area of the plant which is the middle of three security zones. The inside zone is called the Vital Area; the middle zone is called the Protected Area; and the outside perimeter is the Owner Controlled area.
But in 1984, the Sandia National Laboratory found that a large truck bomb from a large set-back distance greater than the protected area for most plants could cause unacceptable damage leading to a meltdown or a radioactive release."
Gordon Johndroe, White House Office of Homeland Security, Deputy Press Secretary, Washington, D. C. :
"FOR EACH OF THE 103 NUCLEAR REACTORS IN THE 62 GEOGRAPHIC REGIONS OF THE UNITED STATES, IS THERE AN ORDER, A STANDING ORDER, NOT A REQUEST, BUT A STANDING ORDER THAT THERE BE A SECURITY GUARD AT THE ENTRANCES OF ALL NUCLEAR POWER PLANTS IN THE UNITED STATES?
The Nuclear Regulatory Commission has standards for security at its licensing facilities that were in place before September 11 and we continue to evaluate those and provide additional funding to the commission in order to better protect our nuclear facilities.
BUT ARE YOU SAYING THAT THERE IS NO REGULATION FOR THERE TO BE A GUARD AT EVERY ONE OF THE NUCLEAR POWER PLANTS?
I would have to take a look at the guidelines. All of our nuclear facilities are guarded. I don't know where it says they specifically have to stand per your question standing at the front gate. But there are requirements that the facilities have security.
THE QUESTION HAS COME UP BECAUSE THE THREE MILE ISLAND ALERT GROUP, SCOTT PORTZLINE, SPECIFICALLY ON JANUARY 31ST AFTER THE FBI ALERT, AFTER THE PRESIDENT'S STATE OF THE UNION SPEECH TALKING ABOUT TERRORIST THREATS TO NUCLEAR POWER PLANTS IN THE UNITED STATES, HE WENT TO THREE MILE ISLAND WITH A VIDEOTAPE CAMERA, JUST STOOD OUTSIDE AND VIDEOTAPED. A PICKUP TRUCK, THERE WAS NO ONE IN THE GUARD SHACK. THE TRUCK STOPPED VOLUNTARILY. THE TRUCK COULD HAVE GONE ON THROUGH. THE TRUCK STAYED THERE AT THE GUARD SHACK VOLUNTARILY WAITING FOR A GUARD TO COME. THAT WAS JANUARY 31ST.
There are security measures. There are security measures in place at all of our nuclear facilities. Some can be seen. Some cannot be seen. But our facilities are being protected by a variety of means.
But what I think what is important that while the President said that we found Al-Qaeda was gathering information on various facilities and landmarks in this country and around the world, we have no specific information as to a time, date or location, nor do we have any corroborating information indicating that they were doing anything more dangerous than just gathering information. So, the FBI and Nuclear Regulatory Commission have issued alerts. The FBI has to local law enforcement and the NRC to their facilities to be on alert to any suspicious activities around their facilities. And if we do gather any information that is specific to time or date or location, all appropriate measures and precautions will be taken.
COULD YOU PLEASE EXPLAIN WHY WE DON'T HAVE 'NO FLY' ZONE RESTRICTIONS OVER ALL OF THE NUCLEAR POWER PLANTS IN THE UNITED STATES?
There are other security precautions that are in place to help protect our nuclear facilities. Those include strengthening our overall aviation security. There are other means that are in place to make sure all the necessary precautions are taken around our nuclear facilities. And if No Fly Zones are determined to be the best way to protect nuclear facilities at any given time, then where appropriate they will be instituted. But No Fly Zones have a significant economic impact on the region and on the economy and on the airlines. And that is why other precautions are taken before needing to go to a No Fly Zone.
RIGHT NOW, DOES DIRECTOR TOM RIDGE, HEAD OF HOMELAND SECURITY, HAVE ANY PROPOSALS ON HIS DESK ABOUT DECLARING NO FLY ZONES OVER NUCLEAR POWER PLANTS IN THE UNITED STATES?
There are a variety of proposals regarding security for our nuclear power facilities as well as other measures to strengthen our homeland security. And we are constantly evaluating the information we have to determine whether No Fly Zones or other security measures are necessary."
The Public Is Urged to Write About Concerns and Suggestions
Write to the American President, Secretary of Transportation or Homeland Security Director Tom Ridge:
Tom Ridge, Director
White House Office of Homeland Security
The White House
1600 Pennsylvania Avenue N. W.
Washington, D. C. 20500
January 28, 2002
Why Not Have "No Fly Zones" Above American Nuclear Reactors?
Scott Portzline: "I saw a military aircraft flying very low preparing to come in for a landing at the Harrisburg International Airport which is just 2.5 miles away from the TMI plant. And so, on a regular basis you can observe large aircraft flying directly over Three Mile Island. In this case, it wasn't directly over. It was about a mile away, but it demonstrated that there is a flight path at a nuclear plant that is troubling because there would be no way for anyone to determine whether this was a plane about to attack TMI. We have small airplanes and corporate jets at another airport that's just a few more miles away, and it's very possible that this flight corridor and landing area could be used to attack TMI from the air.
WHAT DID YOUR INSIDE SOURCES SAY ABOUT THE FBI ALERT THAT TERRORISTS MIGHT ATTACK A U. S. NUCLEAR POWER PLANT IN JANUARY?
I had been getting a sense that something was up for a couple of weeks then. And I finally decided I needed to talk with some of my intelligence sources. I've never heard the way this one gentleman talked to me in the last decade or so. He sounded upset and bothered by what he had been reading and told me he didn't even like to look at the daily intelligence reports because of the things he had learned recently.
MEANING THEY WERE SO ALARMING?
Yes, that was the impression I got. He didn't tell me any details about what he saw other than saying things like, 'I wish I didn't know what I know.' And that he has goosebumps when he thinks about September 11th and some of the other things he has read recently.
October 17, 2001
WHAT DID HE SAY ABOUT THE OCTOBER 17, 2001 FBI ALERT? HOW VALID WAS IT?
The Three Mile Island threat ­ my source told me that there was a lot of intelligence behind the threat that came in on October 17 and that the threat was an e-mail from Spain and that there were many other factors that said this was a real threat and putting things together, it was easy for me to figure out when the federal authorities were saying that the threat was not credible, they were actually making a cover story. I believe the threat was credible.

In fact, they closed down the Harrisburg International Airport for several hours and there were three F-16s circling the Three Mile Island area.
WHY, SCOTT, A MONTH AFTER SEPTEMBER 11 WOULD ANYONE IN THE GOVERNMENT FEEL JUSTIFIED IN COVERING UP A VALID POTENTIAL ATTACK ON THREE MILE ISLAND?
I don't understand intelligence and we certainly don't get told everything that we may actually have a right to know about. It would frighten a lot of people, especially in this area which went through one nuclear accident. Some people here still suffer from the anxieties produced by that 1979 nuclear accident. It would frighten me.
I SUPPOSE WHAT AUTHORITIES ARE WEIGHING IS: DO WE TELL AND GET PEOPLE OUT IN AN ORDERLY FASHION WHILE WE WAIT FOR A TERRORIST ATTACK?
The local officials complained quite heavily about the delay in communications to them and being mislead by the Pennsylvania Emergency Management Agency. They were told not to speak of the threat. There was a hearing held by a local U. S. Congressman to try to repair the communications problem. I was invited to testify at that hearing and to talk about security problems. But when we got to the end of the section of the meeting that was going to lead into the current situation, including security, he banged the gavel and that was the end of the meeting. So while he's telling the media that he's solved some of the communication problems and had a hearing on security, they didn't really have a hearing on security.
POLITICIANS DON'T WANT TO TALK ABOUT A POTENTIAL NUCLEAR THREAT IN PUBLIC?
That seems the case. Earlier this summer before any of these things came up, I went to a town meeting with U. S. Senator Arlen Spector from Pennsylvania. I met with one of his assistants to express my concern that there were no guards at the entrances at TMI. Then I went to a public meeting and talked for a few seconds and he cut me off. Then I started to talk for a half minute and he signaled for a staffer to come over and get details from me and they took me out of the room. He did not want a public airing of what I was discussing.
Sometimes I think it might have to do with politics where the Bush/Cheney energy plan is calling for revitalization of nuclear energy and the plants being pursued now have no containment buildings.
THESE ARE THE PEBBLE BED REACTORS?
That's right. It's called the modular pebble bed reactor. They are smaller. They are cheaper to build because you don't have a containment building and you can add on to them unit by unit.
BUT THEY ARE STILL EXPERIMENTAL, RIGHT?
Yes, there is an experimental program about to get underway in South Africa. There was an experimental program in West Germany, the Hamm-Uentrop, which on May 4, 1996 experienced a radioactive release nine days after Chernobyl which was still burning. And the pebble bed graphite can burn. And without containment buildings, these pebble bed reactors might be even more vulnerable to terrorist attacks.
September 8, 2001 ­ Three Days Before 9-11
On September 8, Saturday evening, about 7:45 p.m. EST, I was videotaping at the north entrance at Three Mile Island. There was no guard, no guard booth, no police officers and no National Guard, of course. And the vehicle barriers were wide open. So, the entrance was completely open. This was further documentation of the conditions at TMI and the vulnerability of it which was only three days before the horrific attacks in New York and the Pentagon.

More Security Guards Needed?
WHAT IS YOUR UNDERSTANDING OF THE CURRENT PENNSYLVANIA POLICY ON THE NATIONAL GUARD AT THE NUCLEAR REACTORS?
The National Guard was deployed in November after a lot of public outcry, but it's there on a volunteer basis. The guardsmen are paid, but they volunteer for the duty. And it's unclear as to what type of training they've had and exactly what their responsibilities are. We don't think the policy is strong enough.
If you go back before the attacks on September 11th, you would not have found any guards at the entrances of Three Mile Island. And I had filed a petition with the Nuclear Regulatory Commission so there would be a requirement for at least one armed guard at the entrances of all nuclear plants. I picked one because it was the simplest, least amount of trouble that it would be causing the NRC and their pocketbook. I figured it would be a litmus test.
WHAT HAPPENED?
The time period for the comment to come in on that ruling has just ended two weeks ago, so we will soon find out from the NRC what they have decided.
IF THEY IGNORE YOUR PETITION AND NOTHING CHANGES, WHAT DO YOU CONCLUDE?
There is not a proper security effort at U. S. nuclear power plants."
Could U. S. Nuclear Power Plants Ever Blow Up Like Atomic Bombs?
Paul Leventhal, President, Nuclear Control Institute, Washington, D. C.: "No. The nuclear power plants we have in the United States because they use a low-enriched uranium fuel rather than a bomb grade enriched uranium fuel will not explode like an atomic bomb. But if there is a meltdown and the containment is breached. Frankly, in the event of a meltdown it is very likely that the containment walls will be breached because of the very large pressures and explosions that take place in that kind of circumstance. then the radioactive plume has the effect of fallout from a nuclear explosion. So, it is the radioactive debris from a destroyed plant that people would be subjected to rather than the blast effects of an atomic bomb. But that doesn't mean that the consequences in terms of radiation effects are minor. To the contrary, the consequences could be quite severe.
THE BUSH ADMINISTRATION HAS ALREADY MOVED TO MAKE AIRPORT SECURITY AND CHECK-IN BE UNDER FEDERAL OVERSIGHT. WHY WOULD WE NOT MOVE IN THAT SAME DIRECTION TO PROTECT NUCLEAR REACTORS, TO PUT THEM UNDER A FEDERAL SECURITY ADMINISTRATION?
Well, that's the $64.000 question. It would seem to me that there is no reason not to do it. the president in his budget message is asking for billions of dollars more for the Homeland Security Agency. They are going to be spending a lot of money on security in the United States. The actions they are taking at the airports are a good first step. Clearly still insufficient in terms of the quality of the personnel and of the detection equipment being used. We think the same high priority must b e placed on protection of nuclear power plants and we think emergency action must be taken immediately so these plants do not remain vulnerable any longer. As we speak, these plants are vulnerable.
Yet, application of military resources to the protection of these plants can reduce the vulnerabilities to an acceptable level and that's what needs to be done.
WHAT IS THE NEXT STEP FOR THE NUCLEAR CONTROL INSTITUTE IN ALL THIS?
Well, we continue to do vigilance on what the industry and what the government are doing. We try to be a truth squad in the sense that when they put out misleading statements and point to misleading video of tests of planes crashing into walls. We try to keep them honest so that the American people understand the extent to which they are being mislead. And we are also appealing to congress to take action to get legislation passed that will over the long run provide greater security, but we also point out that emergency actions need to be taken immediately. And that can only be done on the authority of the Nuclear Regulatory Commission and the President of the United States. And that is what is most lacking right now.
Call For Nuclear Power Plant Security Changes
My suggestion is that action be taken on three fronts:
1) One is with regard to No fly zones be established immediately over every nuclear power plant in the United States.
2) The second is to have ground-to-air battery missiles installed at these plants under the control of highly trained military operators who are further under the control of military and political authority.
3) And thirdly, you need to have troops on the ground, at least 30 or 40 troops around each of the 62 plants to provide a visible show of force and a credible deterrent against attack.
If you had those measures then I think people could rest reasonably assured that the plants are protected. But you need to have those defenses tested in mock exercises to demonstrate that they work. And only then should the plants be allowed to operate. And if those kinds of protections are not in place, then the plants should be shut down.
YOUR WEBSITE IS WWW.NCI.ORG.
We have a special section on nuclear terrorism. Unfortunately the nuclear terrorism threat is not limited to the sabotage of reactors. There is also the possibility that terrorists that can acquire atom bomb materials and make bombs out of them. There is the 'dirty bomb' threat a number of other threats. And at our website, we describe what each of these are and give assessment of the relative severity of these threats and we always point out what needs to be done to prevent these dangers from materializing."
1993 ­ First World Trade Center Bombing on February 26, 1993
Scott Portzline: "The terrorists responsible for the first bombing of the World Trade Center in 1993 had a training camp 30 miles from Three Mile Island and they did a night time mock assault on an electrical substation as if they were practicing going into a nuclear power plant. (See: http://www.tmia.com/threat.html)
Then nineteen days later, the World Trade Center was bombed and they vowed to take it down the next time they would attack. And they also said they were going to attack U. S. nuclear facilities with 150 suicide soldiers.
Calling themselves the 'Liberation Army Fifth Battalion' in a letter to the New York Times, the World Trade Center terrorists threatened to attack additional targets, including 'nuclear targets' with '150 suicide solders.' The letter was received four days after the bombing and subsequently authenticated by federal authorities. The motive for the attack was revealed in the one page letter. It said:
'The Americans must know that their civilians who got killed are no better than those who are getting killed by the American weapons and support. The American people are responsible for the actions of their government and they must question all of the crimes that their government is committing against other people, or Americans will be targets of our operations that could diminish them.'
They made a list of demands which included an end to interfering 'with any of the Middle East countries interior affairs.'
Although other terrorists have previously threatened to attack US reactors, the World Trade Center terrorists could have gotten their inspiration by an intrusion at Three Mile Island just three weeks before the bombing. A US Senate hearing was held to evaluate the implications of these two events and what they implied about security at the nation's nuclear power plants. Senator Joseph Lieberman, chairman of the oversight committee, labeled the TMI intrusion 'a warning bell' and the bombing of the World Trade Center 'a warning earthquake.' Lieberman called nuclear plants 'soft targets' after viewing a video which was prepared by the licensee (GPUN) to explain their security and demonstrate the intruder's route."
---
Websites:
http://www.pbs.org/wgbh/pages/frontline/shows/reaction/readings/tmi.html
http://www.whitehouse.gov/homeland

© 1998 - 2019 by Linda Moulton Howe.
All Rights Reserved.