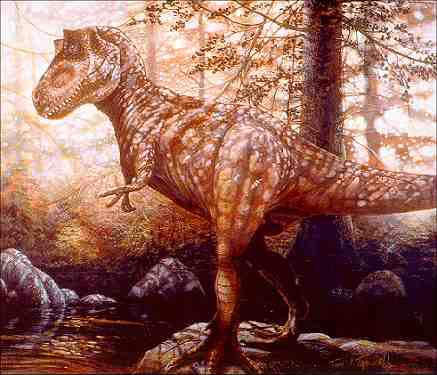 March 9, 2002 New York City, New York – This week I talked to a scientist who is confident that many dinosaurs had feathers, including the fierce Tyrannosaurus rex "monster" meat-eater, – or at least when it was young. Dr. Mark Norell, Chairman of the Paleontology Division at the American Museum of Natural History in New York City, published photographs and information about a new fossil discovery from the Liaoning Province in northeast China in the March 7th journal, Nature.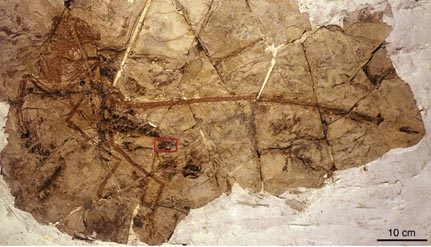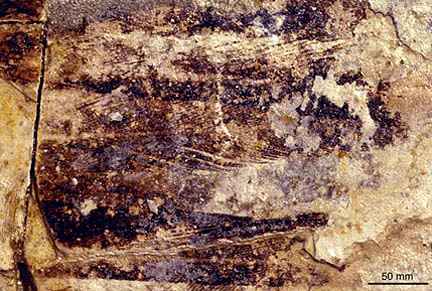 The fossil is 128 million years old, was a two-legged carnivore about three feet long with feathers identical to modern chickens. The hypothesis is that the dinosaur was warm blooded, and the feathers were used to retain body heat, not to fly. This feathered dinosaur belonged to the Tyrannosaurus rex family.
Dinosaurs first emerged on earth 235 million years ago. Feathered birds flying in the air came much later, around 130 million years ago. So, feathers on dinosaurs has been a controversial hypothesis. I asked Dr. Norell about the significance of this most recent fossil discovery in China.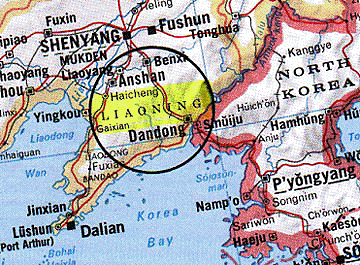 ---
Interview:
Mark A. Norell, Ph.D., Biologist and Chairman of the Paleontology Division, American Museum of Natural History, New York City, New York:
"This animal (fossil) really shows a feather which I think everyone can agree is a feather. I can show photographs of it to my 5-year-old daughter and she says, 'Yeah, that's a feather.' Because it has a central shaft and has the barbs that formed a vein that comes off the side of the shaft and everything else. So, it truly is a feather.
Now, why is this important? For a scientist, it's important for a couple of reasons. One, it is really completely de-couples the idea that the origin of feathers and the origin of flight are the same. These animals didn't fly. They weren't birds. They are outside, they are more primitive than birds are. This has sort of been pretty well accepted the past couple of years by a lot of finds that people have made, mostly in northeastern China. However, I think that this thing really nails it. This is body covering that we thought at first were just primitive feathers really, but are more than primitive feathers. They are in fact just like the feathers that one sees in modern birds.
Could you give radio listeners a kind of word picture about what this particular feathered dinosaur might have looked like?
I think if you were to take yourself back to look at it, it would look pretty much like a bird with a long feathered tail. I mean, it was bi-pedal, meaning it walked on two legs. It wasn't very large. It was only about three feet long. It had a fully feathered tail with long feathers that stick off the end of the tail. It had long feathers off the hind legs, off the forelimbs and I'm sure that the body was pretty fluffy, too, even though even a lot of the body feathers aren't preserved on this specimen ­ a fluffy body covering is present on a specimen that was announced last year at this time.
If you were looking at current known birds, what would be the closest bird feathers to what would match the fossil?
They are not really flight feathers because the flight feathers of birds, the feathers that form the airfoil, are asymmetric which allows, helps give them lift. In this animal, it's just basically a normal feather like if you plucked a feather off, a generic feather off the tail of a chicken or something like that, it would look pretty much like that.
So short, not long?
Well, no fairly long. Some are 4 or 5 inches long, but are rounded and not pointed on the end. Then they are just kind of a generic feather.
The more we learn, it almost becomes humorous that dinosaurs would have had something that looked like chicken feathers.
Yeah, some of them did for sure. I think there is pretty good evidence that perhaps even juvenile Tyrannosaurus rex would have had these things (fluffy down and/or feathers).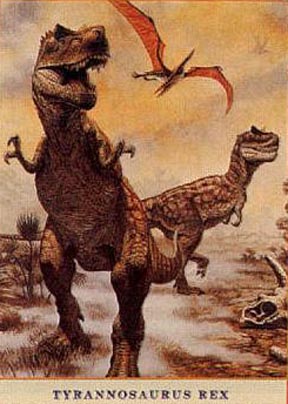 Is it possible that a full grown Tyrannosaurus rex, that fearsome meat-eater, might have had feathers?
Well, not as an adult probably. I think that at least a lot of people are suggesting now that the origin of feathers mostly has to do with the origin of warm blooded metabolism. So, just like we wear down coats and that kind of thing, birds use feathers as insulation because they are warm blooded. The thing about warm bloodedness is that once you get to a certain size, you come into what's called thermal balance with the environment where you don't need to hold on to heat that well anymore. And that's why animals like elephants by virtue of their great size, they don't need to have a big body covering. Their problem is getting rid of heat as opposed to holding on to it. When Tyrannosaurus were born and quite small, they were hatched out of the egg, not born, they would very likely have had a body covering. But then, as they grew larger, they would probably have lost it.
So, we would have to re-think all of our models in museums and zoos and what kids get (in school and toy stores) – that maybe all dinosaurs, even though reptilian, might have started with a furry covering?
Yeah, there are really some exciting animals that are coming out of northeastern China and some things that are very distantly related to modern birds which seem to have some sort – I wouldn't call them feathers – but they seem to have some sort of covering which isn't the classic kind of scaly dinosaurs that everybody has thought of for a long time.
Would the scales on the dinosaurs, if they were scaly, had grown in evolution from feathers?
No, not really. I think the scales on dinosaurs – a lot of us argue that dinosaurs are still alive today. We just call them birds. Modern birds that are alive today do have scales. If you look at the foot of a chicken or a duck or pigeon or any of the birds that people commonly see, they have scales. The scales are different than the scales of a lizard, but all the evidence points to the scales of extinct dinosaurs are the same as the scales that one finds in chickens and ducks today.
Is there a close evolutionary relationship between current day lizards and reptiles and dinosaurs?
No, all dinosaurs are more closely related to modern birds than they are to lizards or crocodiles.
Dinosaurs went extinct 65 million years ago and emerged….
235 million years, yeah.
Would the dinosaurs have preceded birds? Who would have had the feathers first?
You can't really look at it that dinosaurs and birds are two different things. Just like humans are a kind of primate, birds are a kind of dinosaur. Birds really are dinosaurs. Birds split off from what people would call the traditional dinosaurs at least 130 million years ago.
So, the dinosaurs would have been first with feathers before birds?
Yeah, the earliest dinosaurs do occur before the earliest birds, but birds are dinosaurs also.
And birds wouldn't have feathers perhaps if the dinosaurs hadn't had feathers first?
You might be able to say that, but the reason that birds have feathers is because they were descended from non-avian dinosaurs that had feathers.
Meaning that the dinosaurs that have been discovered weren't flying with these feathers?
Right. Right.
Why do you think there is such a focus of these discoveries in China and not elsewhere?
It's largely serendipity. There are a few great places in the world to find fossils. Some of these places are different than others in the sense they have environments that preserve soft tissue. That is a very rare thing to find as fossils because you need to have very, very fine grained sediments. You have to have a lack of oxygen so specimens don't disintegrate really quickly. All these things have to come together and they just happened to come together about `130 million years ago in northeastern China to preserve these things.
They might have been around the world, but not preserved?
I'm sure they were all over the world. In fact, we find close relatives of these animals in North America, Mongolia, even in the south of France.
Is it established pretty much that dinosaurs were warm blooded and not cold blooded as we thought decades ago?
Obviously, some dinosaurs are warm blooded because birds are dinosaurs and birds are alive today and are warm blooded. There is a lot of evidence that has been accumulated over the past several years from a variety of different sources, all the way to looking at the microstructure of bones to looking at different proportions of different types of isotopes of oxygen in bones which are all really pointing in the same direction that in fact, some dinosaurs were warm blooded just like birds are.
If the dinosaurs were warm blooded and still categorized as having a reptilian link, why is it that reptiles would end up being cold blooded?
The primitive condition of reptiles is to be cold blooded, but I think most modern classifications of reptiles include both dinosaurs and birds as kinds of reptiles. Primitively, they were cold blooded, but as they evolved in the more derived forms, warm bloodedness originated.
Why was there so much resistance in the beginning of these discoveries about feathers on dinosaurs?
Uh, I have no idea! Actually, I don't know. People just get these notions and want to hold on to stuff. But as a scientist myself, if day after tomorrow, somebody comes up with a data set that shows these aren't feathers or we have misinterpreted something, I would say, 'That's fine. Let's move on with a new idea. Everything I wrote was incorrect.'
But a lot of scientists ­ I wouldn't say a lot, but some don't feel that way and they claim to hold ideas almost as if it were a religion or something.
But in your own mind, there is no question that what you've got in this recent China fossil are feathers?
Right."
---
Websites:

© 1998 - 2019 by Linda Moulton Howe.
All Rights Reserved.