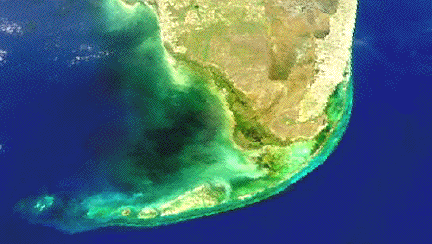 April 1, 2002  Marathon, Florida – Fishermen who have spent their lives catching marine life in the waters between Naples and the Florida Keys began calling news media in January to report massive areas of water so dark and dense it was eerie and many said they had never seen anything like it before. By the middle of March, NASA satellite images clearly showed dark waters that at one point spanned an estimated 100 miles. Fishermen also noted that dead plants from the ocean floor seemed to rise up and follow the movement of the dark water through Florida Bay and the Keys. Fish seemed to turn away from the dark currents and eventually scientists discovered that coral and sponges had died or were dying in certain channels where the dark waters had been.
This past week on March 28, members of the scientific community met at the Florida Marine Research Institute in St. Petersburg to review data from some water samples. Their consensus was that the "discolored water is most likely due to a non-red-tide algal bloom of coastal marine origin. …the presence of a large amount of algae in the water can potentially cause problems for bottom organisms as the bloom decays." Into at least mid-April, divers will be going back down into the dark waters to take further samples. The discolored area is still observable in a region about thirty miles by ten miles.
After the meeting, I interviewed Dr. Brian Keller, Science Coordinator for the Florida Keys National Marine Sanctuary in Marathon, Florida. The sanctuary is funded by NOAA. Even though no single organism has been identified as the cause of the massive dark waters, he has a theory that the organism responsible is a species of diatom which is a microscopic type of algae that give off a gold-brown color. First, I asked Dr. Keller about the fishermen's first reports.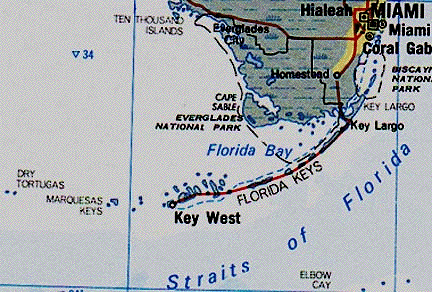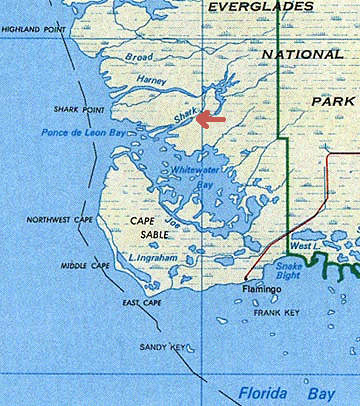 ---
Interview:
Brian Keller, Ph.D., Science Coordinator, Florida Keys National Marine Sanctuary, Marathon, Florida: "The observations that were coming in from commercial fishermen were water conditions unlike anything that they had ever seen in their time on the water. Dark appearing water, no sheen characteristic of an oil spill, no strong aroma that would be characteristic of red tide; at night boat propellers caused phosphorescence. There were sightings of large numbers of comb jellies (jellyfish) in the water that can cause phosphorescence, as well as some of the type of phytoplankton can cause phosphorescence at night. They said they were seeing something like they had never seen before, a dark mass of water that fishes appeared to be avoiding and the fishes in the water appeared to be behaving unusually. They talked about stringy masses in the water columns. That could have been a type of bacteria that can form stirringly-looking growth forms in the water columns.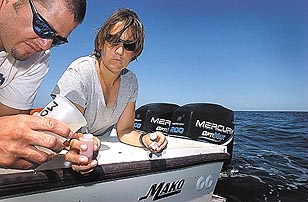 They collected water samples that have been sent to the Florida Marine Research Institute for analysis. Some of those samples have fairly large numbers of diatoms in them. There was very little indication of red tide in those samples.
More recent samples collected by the Mote Marine Laboratory just north of an area called Sugar Loaf, many of those samples had medium to high concentrations of a particular type of diatom. So, our thinking is that this may be a particularly massive and persistent bloom of algae.
Why blackness and why such an unprecedented appearance to the fishermen?
Well, the blackness is apparent only in satellite imagery. People on the water in what appears to be black in the satellite imagery appears a brownish, greenish-brown at the water's surface. So, we have some kind of a disconnect between the satellite imagery and the actual appearance of the water which is more of a dark color, not black to the eye, up close.
In terms of why it is so large, we can only speculate about that because these types of bloom happen in that region of western outer Florida Bay and the southwest Florida shelf pretty much every year. They are associated with silicates that come out from Shark River flue which is an outflow from the Everglades in that southwest region of Florida.
Diatoms require silicate in order to grow and reproduce. They also get a pulse of nitrogen. What's unusual is the size and persistence and we can only speculate that there was more than the usual influx of nutrients that fed this bloom and enabled it to grow to such a massive size and to last as long as it has.
Those nutrients would fall into the category largely of fertilizers and pesticides?
Well, these actually come out of the system naturally. Part of the geology in that part of Florida ­ we have a shift from sediments, the normal types of sands that are silicate sands into Florida Bay which is all carbonate sand. And so the Shark River outfall can bring with it naturally occurring silicate. The agriculture areas are a long distance away from that part of Florida and pass through a lot of wetlands vegetation. And studies in the Everglades indicate that the agricultural nutrients pretty rapidly get taken up by the wetlands vegetation in what are called water conservation areas. And so, it's unlikely that agricultural nutrients are going all the way across to the southwest coast of Florida.
So, you would say right now as an educated guess that whatever fed this diatom bloom was some natural relationship between the silicate and the ot6her kind of sandy floor in those two waters?
That's correct. And we've had a very wet what would normally be our dry season from November until about April – we've had a very wet dry season that might be linked with what could be a forthcoming El Nino event. And that could explain why more than the usual outflow came from Shark River bringing these nutrients to feed this diatom bloom, but that's just a guess.
Is it definite that it is the diatoms that are causing the blackness from the satellites, or could there be something else there mixed with the diatoms?
Again, looking at the water up close, it does not appear black. But what can happen in these blooms is there can be shifts in the types of algae that dominate the blooms, so that one type of algae will bloom and then die off and provide nutrients that feed yet another bloom. And that might have been the sequence in this case.
Now, the Pfiesteria phenomenon that is usually linked to estuaries along the East Coast when it is in the blooming dinoflagellate amoebae stage – any possible connection between Pfiesteria and what is happening?
I don't see any connection and we've been able to have scientists analyze the composition of the plankton and they are able to identify different groups and different species and there's no indication of any Pfiesteria. It's never been observed in this part of the country and it's not being observed in this case. There were some indications of low concentrations of red tide type dinoflagellates. It's not unusual to have a mix of several different species in these types of algae blooms, although something like a diatom may dominate, it doesn't mean that every other type of algae is excluded.
So, it's not unusual to see a mix. But in this region, when I think of black water, I think of water that has been discolored by the tannins that have been released by decaying vegetation from mangroves and terrestrial leaves and vegetation like that which can impart a truly blackish appearance to water because of those dissolved compounds from the tannins. Since people on the water do not see blackness, I can't explain why the satellite imagery appears black.
High "Chlorophyll A" Concentrations in January 2002
In early January, Florida International University conducted one of its four times a year surveys through the sanctuary waters out into the southwest Florida shelf and they saw a low salinity between the 10th and 13th of January, right in the area of the mouth of the Shark River that supports the notion of an outflow at that time. They saw an area of concentration of chlorophyll A which is a photosynthetic pigment utilized by these algae and they saw the highest concentrations of chlorophyll A that they've ever measured in these waters since 1995. They also saw a very high concentration of oxygen which also supports the idea that this was a dense bloom of algae that generate large amounts of oxygen when they are photosynthesizing during the day time. This was definitely not a dead zone. This was a very full of life zone at that time. And now two months later in March, we are seeing signs down in the sanctuary that we have large numbers of diatoms and we are seeing dead diatoms, the dead skeletal material they leave behind. So, it appears that the bloom is starting to age and dissipate.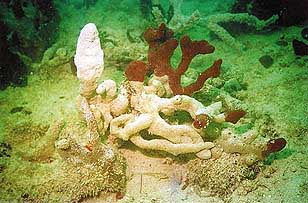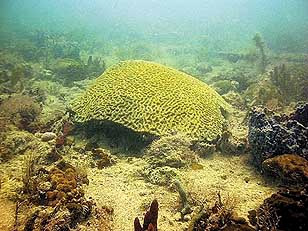 Sponge and Coral Die Offs
There were reports that sponges and corals in a channel off of Key West were found dead at the height of the fishermen reporting the dark water. Any truth?
That's correct. Those observations were made about a week ago by a very experienced diver who is an excellent natural history observer and we have scientists from Mote Marine Lab who are going to that same site today to collect tissue samples for analysis, get some photographs and some video of what the community looks like and possibly get some more quantitative data on what's happening there.
If the answer to all of this dark water is a diatom, why would a diatom which is a plant have the ability to kill sponges and corals?
We're not sure there is that linkage. We're not sure whether it's something associated with the bloom other than the diatom that is causing this effect. We had a massive sponge die off in the Florida Bay in the early 1990s that was associated with a different kind of algae bloom, with a cyano-bacterial bloom. And there can be a combination of toxic effects. A lot of these microscopic plants carry nasty chemicals to try to prevent animals from eating them. There can also be physical clogging of filter feeders by huge quantities of these microscopic particles that will clog up the filtering apparatus of things like sponges. So, we're not sure what is causing the die offs that we have seen near Key West associated with this bloom. And we're hoping that the tissue samples that are being collected today and probably more in the future will give us some insight as to what caused those die offs.
What have you learned since Friday, March 29?
Researchers from Mote Marine Lab went to an area just northwest of Key West where there were reports from a week earlier of sponge die offs, corals either dying or dying off.
How wide spread was the coral and sponge die off?
We're not sure about that. Because of the mixed reports of what appeared to be serious die offs in some areas, but not the case in areas not too far away. That's why we need to have some more intensive and quantitative surveys.
But would you say quite a large number of corals and sponges, based on the data you know as of April 1?
I can't say that based on what I've heard. And we still don't have any quantitative data. We just have reliable observations of dead and dying sponges and some dead and dying corals, but we don't yet have a good idea of the spatial extent of that.
If their deaths were linked to this microscopic diatom, what would there be about the presence of a diatom that would kill off sponges and corals?
Well, I'm not sure it would be the diatom. It could be some other components of the bloom. There are some types of phytoplankton that have some toxic chemical compounds in them. There is also the possibility of at least for the sponges of a simple physical clogging of their filter apparatus. In the case of corals, the really dark water would block sunlight that they need to help with their growth and condition.
On Friday, oxygen measurements were made and even at that time the concentrations of oxygen were very high. And so we're not yet seeing any signs. But we're concerned about it and we're going to keep watching it and we have another extensive water quality cruise that's scheduled to start on the 15th of April and that should give us a good map of water quality conditions throughout the region at the surface and at the bottom of a large number of nutrients and water quality parameters. And the Mote Lab scientists were reporting what might be a very particularly microscopic form of phytoplankton as part of the bloom – what's called picoplankton. They are very miniscule type of algae.
In this microscopic algae, is it something that is rare and coult it be contributing to the low visibility in the water and problems in the coral and sponges?
It could be a contributor and we're looking forward to getting the full analyses of the water samples that were taken on Friday so we can know more about the composition of algae in the blooms, their concentrations in the water columns and information like that.
How much of the dark discoloration is still being seen in the waters as of April 1, 2002?
We had another vessel from NOAA's Atlantic Oceanographic and Meteorological Laboratory in the vicinity of the bloom on Friday and it did a cruise track along what is called the back country which would be the northern edge of the Keys that are characterized by a lot of shallow water areas. And they saw these bloom conditions from an island known as Big Pine west to Key West and that would cover a distance of approximately 30 miles. And they estimated it extended 10 miles to the north, this very brownish-green water.
So, it's still covering a very large area?
That's correct. The underwater visibility is typically less than 2 feet in this kind of pea-soup appearing water. The divers I have spoken to have experienced no adverse affects other than the limited visibility in the water. Again, there are areas where the bottom community appeared healthy and OK, despite being immersed in what appears to be very concentrated plankton bloom.
It's that density that is so puzzling to everybody at this point?
Yes. But what comes out of the Shark River and what is unique for the diatoms is the silicate that can come out of those waters. It is natural. It is silicate that comes into a system where the sediments are dominated by carbonate sediments rather than silicate-based sediments. And so, it provides nutrients that are otherwise lacking for diatoms.
What you mean is that on a cyclic winter to spring basis, you can suddenly have an influx coming out of the Shark River into the southern waters that contains a lot of phosphorous and silicate and whatever diatoms are there in a carbonate-based mud will thrive suddenly on the new influx of phosphorous and silicate?
Yes, and when we look at the data gathered in that area in January and February, they show a plume of low salinity water coming out of the vicinity of the mouth of the Shark River. And this was a month apart. And we had a relatively very wet winter which is characteristic for this region in anticipation of an El Nino event. And we are getting early warning signs from the Pacific that another El Nino is developing. So, we've had a wet winter that would tend to send more of this silicate-laden water out of the Everglades and out onto the southwest Florida shelf which is consistent with a model of how diatoms occur in that region.
What is it about a bloom of something like a plant that naturally exists in the ocean that can become so dense that it can cause destruction of coral and sponges and what makes that become a potential threat in the future?
A general issue in that regard for any such phenomenon is how much is due to human-related causes and how much is truly natural. And in this particular bloom, I'm not sure we're going to be able to develop a good answer for that. Perhaps we'll never know."
---
More Information:
Lab Analyses As of April 1, 2002
Beverly Roberts, Research Administrator, Florida Fish and Wildlife Conservation Commission, Florida Marine Research Institute, St. Petersburg, Florida:
How many samples of dark water have you analyzed in your lab so far?
"It looks like we may have had over 30 samples. Some of those are clumped fairly close together and that's over a period of time from March 8 to March 30.
Of those, what seems to be the most dominant organism, plant or otherwise, that you've found?
There isn't one (dominant).
There isn't a single dominant one?
Not really. That's what I'm saying about our samples are giving us quite varied results in terms of phytoplankton. Samples collected from March 28 through the 30th in areas just north of the Keys indicate that a Florida red tide organism, Karenia brevis, is still present and in apparently a very patchy distribution through all that area. We have observations that the discoloration and actual textural variations along the surface are quite different within just a few nautical miles of one position and another recorded position. And we may not have good resolution of what is causing this discoloration at this time certainly and possibly for some time to come.
What about the issue of a diatom being present?
Diatoms are still being observed in the samples that are coming in, not the same species in all occasions and not always the dominant species. Diatoms are a typical component along the west Florida shelf, so it's not surprising to find them. I'm certain they are part of the overall event that is being observed in southwest Florida.
But it is still not clear what produced the mass of darkness that has been observed since January?
Yes, it's uncertain what the major component of the discoloration is that has been reported since January. Our sampling at this point seems to indicate that there may be various causes involved with the entire area."
---
More Information:
Official Summary of Conclusions from March 28, 2002
scientific investigators' review of recently compiled data and observations:
"The combination of satellite imagery, nutrient data, and organic matter signatures seem to indicate that, as of 03/19/02, the 'blackwater' is an event of marine and biological origin. Characterization of the area of water mass as a dead zone is not accurate because living organisms of various plant and animal groups are still present, but conditions on the bottom deserve further study. This colored water is not related to the hypoxia (abnormally low levels of oxygen) found in the northern Gulf. Although hypoxia on the bottom as a result of decomposition of organic matter is always a concern with algal blooms (especially at night), none of the sampling in south Florida coastal waters has indicated that this is an issue to date.
"In the samples collected on 03/19/02, nutrient levels were not higher than those previously found on the West Florida Shelf, phytoplankton composition was similar to other coastal samples, and the Colored Dissolved Organic Matter was characterized as coastal marine in origin (but more samples are needed to confirm this). The salinity of the sample, 35.8-36.2, was consistent with coastal waters of south Florida, and the event may have been associated with a decaying coastal bloom(s).
"Future sampling may help determine the initial cause of the discoloration event. Investigators' discussion included determining what samples could be collected in the future and what other historical data could be examined to aid the investigators on identification of the factors responsible for the discolored water event."
Historic References to Other Dark Waters In Same Florida Region:
Brian Keller, Ph.D.: "There were earlier observations of dark water events. One in the mid 1950s from the crew of a boat that goes out by Tortugas National Park on a regular basis. It's a supply boat and the crew noted in the log sometime in the mid-1950s very unusual mass of dark water between Key West and the Dry Tortugas. And there was an earlier report in 1898, scientists, there was a marine lab in the Dry Tortugas at that time and they reported a dark water event.
But we don't have enough to go on to be able to say that those earlier events were also diatom blooms. But it certainly is a possibility. Thinking ecologically on the long term, it would make sense that the sort of thing – and we've seen, for example, red tides back in the 19th Century – algae blooms have likely occurred throughout all of history from natural events. This appears to be probably an extraordinarily large and persistent bloom for this area."
---
Websites:

© 1998 - 2019 by Linda Moulton Howe.
All Rights Reserved.