The Wisconsin Department of Natural Resources haas confirmed ten cases of deadly chronic wasting disease (CWD) in wild white-tailed deer, the first such cases east of the Mississippi River. Photograph © 2001 by Roger Barbour Kuhn.
April 6, 2002  Madison, Wisconsin – On February 28th, the Wisconsin Department of Natural Resources (DNR) confirmed three cases of deadly chronic wasting disease (CWD) in free ranging white-tailed deer in the Mount Horeb area of western Dane County. This week that number jumped to ten. Since March 5, 2002, the DNR has collected 197 deer samples from that region and plans to collect 300 more. CWD is a prion disease that attacks brains and nervous systems similar to mad cow in cattle, scrapie in sheep and new variant Creutzfeldt-Jakob and kuru in humans. The culprit in both animals and humans is called a prion. Prion stands for proteinaceous infectious particles. More simply, prions start out as normal proteins that mysteriously change shape and then destroy brain and nerve tissue. To this date, no one knows what caused the proteins to change shape in the first place or how misshapen proteins are transmitted. There is no blood test to find prions while animals are alive and no cure after prions are confirmed. Death usually occurs within weeks or months.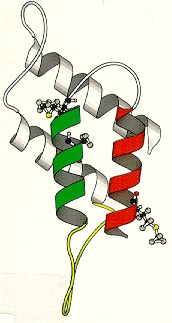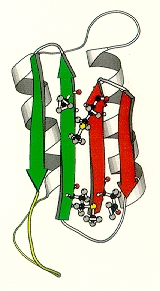 Wisconsin's Department of Agriculture, Trade and Consumer Protection has banned deer and elk imports from other states unless sellers can prove their animals have been free of CWD for at least five years. The problem is that no one has been testing herds in the United States that long, except Colorado and Wyoming where chronic wasting disease first showed up in the 1960s. Field research has shown that chronic wasting disease can spread quickly and as many as sixty percent of white-tail deer exposed to the illness can become infected. The Deputy Administrator of the Land Division of Wisconsin's Department of Natural Resources, Dr. Sarah Shapiro Hurley, is a veterinarian with a Ph. D. in Molecular Biology. The past fourteen years, she has worked on state wildlife issues and is surprised that so many cases of chronic wasting disease have suddenly been found in Wisconsin.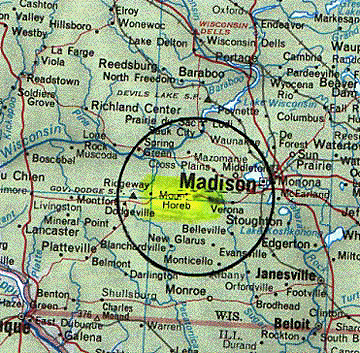 ---
Interview:
Sarah Shapiro Hurley, D.V.M. and Ph.D (Molecular Biology), Deputy Administrator, Wisconsin Land Division, Department of Natural Resources, Madison, Wisconsin: "The disease had not been detected east of the Mississippi River and the closest that the disease had been to Wisconsin was in western Nebraska, South Dakota, North Dakota and eastern Wyoming and Colorado. We didn't expect to find it particularly in free ranging white tail deer. We have no idea why it's there. Obviously, that's a part of our investigation, but we may never know exactly what brought it here.
It's a big jump from Colorado and an area where it's been since the 1960s to Wisconsin, isn't it?
Right, but part of what we don't know about the disease is how it's transmitted, why it occurs in certain places, and whether or not it does exist undetected in some of the intervening territory. For instance, Iowa has not been doing any sampling for chronic wasting disease. And I believe that Minnesota has done some, but it has been very limited. There is so little known and in terms of sampling free ranging wild animals, there really is almost nothing that has been done throughout the country outside the endemic area in Colorado and Wyoming.
How do you think it has spread, even if you're speculating, from Colorado and Wyoming now to Wisconsin?
I honestly can't tell you. I don't know. There are theories that range from the fact that just as it arises spontaneously such as Creutzfeldt-Jakob disease in humans in one in a million people appears to be spontaneous. Perhaps it arises spontaneously in deer and other animals and that because of the deer densities or some other set of circumstances, it was able to spread from one animal to another? It's possible that it moved on an animal that was imported into the state. It's possible that these deer are ranging in part over land on which sheep with scrapie disease (another prion disease) were pastured at one time. It's possible that someone went hunting out west and brought back a mule deer and discarded the skeleton and hide somewhere out in that part of the world. You could just go on and on and speculate, but we don't really know.
Is it true that like mad cow disease and perhaps scrapie, that the infected prion nerve tissue has to be ingested, literally eaten and consumed into the animal that becomes ill?
We don't know that. It isn't known how it's transmitted. Scrapie, for instance, when it's transmitted sheep to sheep probably is not as likely to be ingested. There is some evidence in scrapie in sheep that there's a genetic component and it's transmitted from ewe to lamb.
We do have a lot of indication that it's density dependent. It doesn't matter if it's nose to nose contact or contaminated feed or spread by sexual contact or sneezing or…
Urine and feces….
or carried by fleas from one animal to another, whatever it might be. We don't need to know exactly how it happens if we understand at least some of the dynamics and we can reduce the density, regardless of what exactly is happening in the moment that the disease goes from one to another. We've been able to intervene there and reduce the risk of transmission. We don't have to understand everything about it to be able to begin to manage it. We can fine tune the management if we know more about how it's spread, but we aren't completely helpless or powerless in being able to begin to work on the disease, just because we don't know everything there is to know.
Wisconsin is famous for deer hunting. What are you going to tell the deer hunters that I assume you are going to turn to in order to reduce the deer population? If there is a chance there is contaminated prion meat, does that mean for the foreseeable future that people will be warned not to eat any deer that they kill in the state of Wisconsin?
We have been working very closely with Health and Family Services in the state on developing a responsible, responsive, understandable message about the risks of transmission of chronic wasting disease through eating meat, venison. What we expect to tell hunters about that risk is to explain the relationship to mad cow disease and Creutzfeldt-Jakob disease, to explain the situation with regard to chronic wasting disease and to give folks the information they need in order to make their own personal decision about whether they choose to eat the meat.
What is that information?
Well, the information is that this disease is in the same family as mad cow disease and that mad cow disease has been shown to be transmitted to humans, that there is no evidence ­ based on the World Health Organization's and Center for Disease Control's investigations of all the anecdotal evidence and everything else that is out there, that chronic wasting disease has ever been transmitted to a human. There is no higher incidence of the new variant CJD in populations in the area where chronic wasting disease is endemic in deer and elk. There is no higher incidence of new variant CJD in populations of people who eat venison and there is no evidence that it has been transmitted. But we are not going to assure folks that there is no way that it ever will be. We're going to tell them, give them the information and facts, and say very clearly: This is something you need to think about and determine whether or not you are willing to take the risk of consuming the meat. And that it is a small risk, but we are not going to sugar coat it or make it appear that it doesn't exist.
Would you yourself eat any deer that was killed right now in the infected Wisconsin area?
I wouldn't eat any deer. I would not eat meat from a deer that was obviously sick and I would not eat meat from that area. I wouldn't eat something where the venison had been commingled. But if it were a healthy animal and I was eating only the meat and I was not eating the brain or the marrow or something like that. Then, yes. I would eat the muscle tissue from deer, a healthy deer that was killed in that area.
What is your perspective on the relationship between the spread of mad cow disease in Europe and what now seems to be the parallel spreading of chronic wasting disease in the United States?
I don't think there is any connection at all. I think the epidemiological evidence has shown that in Europe with mad cow disease a large part of that spread had to do with feeding bone meal from ruminants to ruminants, cattle. That has been against the law in the U. S. since 1999. And there is very little feeding of bone meal to deer. So, I don't there ­ I doubt there are parallels.
You can't help wonder as a human living on the planet, why is it that at parallel times there should be a spread of prion disease in cattle that jump to humans in Europe and at approximately the same time that deer herds in Colorado, Nebraska and then further east to Wisconsin should see the spread of another prion disease which is chronic wasting.
In the United States with chronic wasting disease, the spread has been of a different nature. Up until, Wisconsin, most of the documented spread of the disease was in the transfer of game farm elk from one farm to another and it was fairly easy to track. How it got there was pretty straightforward. This doesn't fit that pattern as far as we know.
Isn't that what makes Wisconsin sort of alarming – that now this prion disease has showed up in a state that is quite a ways from Colorado and Nebraska and no one can really understand or explain how it got there?
That's true. But we've only known it's been there for a month. I mean, we may at some point be able to understand or have a likely scenario through which it spread.
But in your mind and other professionals', it must be of some worry that since mad cow disease – that prion – jumped from cattle to humans in Europe, there is a possibility that the prion disease that produces chronic wasting disease could also jump to the human population here?
Oh, sure. And that's what I was saying earlier. We are not ignoring or trying to keep the public from learning about that and say to them: This is not a decision for us to make. You, here is what we know and you make your decision just the same way you make a decision about whether or not to wear a seat belt when you drive your car, whether or not you make a decision to smoke or not smoke. Here is another risk and here's what we know about it. Make a decision about whether or not you want to eat the venison."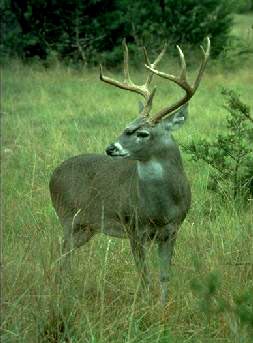 ---
More Information:
From the April 2, 2002 Wisconsin Department of Natural Resources News Release:
"CWD has been known to occur in deer and elk in the western USA for decades (Colorado and Wyoming). In spite of ongoing surveillance for similar disease syndromes in humans, there has never been a proven instance of people contracting a disease from butchering or eating meat from CWD-infected animals. A World Health Organization (WHO) panel of experts reviewed all the available information on CWD and concluded that there is no scientific evidence that CWD can infect humans. However, there is much that scientists still do not know about CWD and one cannot state that transmission of CWD to humans is absolutely impossible."
March 27, 2002, The Washington Post:
"The number of British cases of variant Creutzfeldt-Jakob disease, the rare and fatal human equivalent of 'mad cow disease,' is doubling every three years, even though measures to protect meat, the presumed source of the infecting agent, have been in place for nearly a decade. The continued growth of the epidemic of variant CJD almost certainly reflects the long delay between infection and the appearance of symptoms, rather than representing new infections, a British scientist told a gathering of infectious disease specialists. Robert Will of the Western General Hospital in Edinburgh, Scotland. ' The central issue is, how long is this going to go on? We don't know because we simply don't know what the incubation period is.'"
Mad cow disease shocked the medical world when it spread from cattle to humans in 1995. Since then, 117 cases of vCJD have been diagnosed in Britain, five in France, one in Italy and one in Ireland. The human variant causes brain tissue to disintegrate into holes that look like a sponge in autopsies after death. The disease is always fatal, usually within months of symptoms.
---
Websites:

© 1998 - 2019 by Linda Moulton Howe.
All Rights Reserved.