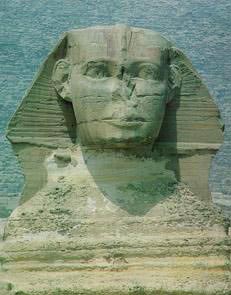 April 23, 2002  Athens, New York – In 1991, Egypt researcher John Anthony West joined Boston University geologist, Robert Schoch, Ph.D., to study the weathering on the base of the Sphinx. Dr. Schoch's academic opinion was water damage at least eight thousand years ago and the two men announced their theory which made worldwide headlines. Since then, two British geologists named David Coxill and Colin Reader have independently traveled to Cairo to study the Sphinx and each has supported Dr. Schoch's conclusion that the weathering is from water. But no one yet has definitively proved how long ago there was enough rain to weather the Sphinx.
Another weathering puzzle is a chamber deep within the "Red Pyramid" at Dashur known for the rust color on its limestone blocks. It stands 343 feet above the desert sand and each side measures 722 feet. Inside it are three chambers with elegant corbelled ceilings. The third and deepest into the pyramid appears constructed out of stones that appear deeply weathered. Are they remnants of a very ancient structure around which the Red Pyramid was later built? Or were old and weathered stones from some revered structure reused to build the Red Pyramid. Whatever the original truth, the age of those weathered blocks would seem to be older than the outer structure of the Red Pyramid?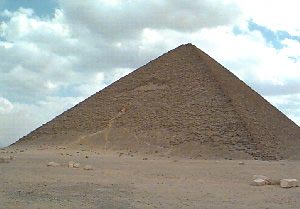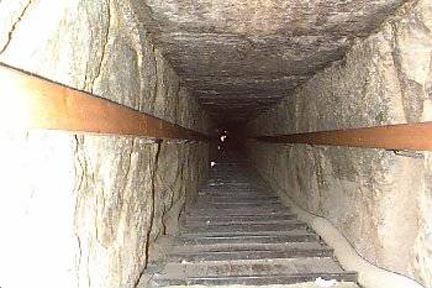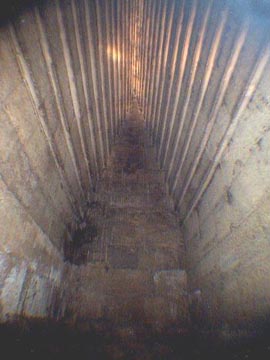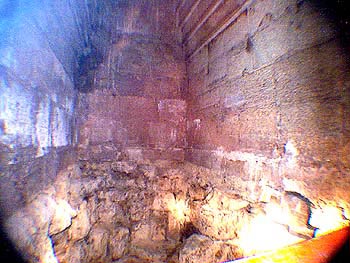 John Anthony West thinks that eventually science will be able to prove the age of the weathering and he thinks the age will exceed 10,000 years back to, or even before, the end of the last Ice Age. I asked him why geologists today can't pinpoint more specifically and agree on the age of weathering in ancient structures such as the Sphinx and the Red Pyramid.
---
Interview:
John Anthony West, Egypt Researcher, Director of Ancient Wisdom Foundation and Author, Serpent In The Sky, Athens, New York: "Well, it's hard to date stone. You see, there is a method, but no one is really sure how accurate it is. You can't carbon date stone. You can only carbon date organic materials and even in that, there is a question that carbon dating is open to lots of questions. Lots of people challenge carbon dating. But you can't do that with stone.
There is a technology in place called isotopic analysis in which you take a sample of stone and when a bedrock is cut and exposed to the air, it gets bombarded by cosmic rays which gradually changes the isotopic content of certain of the trace elements in them. I think cadmium, cobalt, beryllium and a couple of different elements that will change, will start losing their electrons, once they are exposed to the air.
In theory, it's possible to date stone. But you need three, you need to be able to triangulate. First, you need virgin rock. You need a core sample of virgin rock. And then you need a sample of a piece of rock of the exact same sort that you know the date of, let's say something from the New Kingdom, 1200 B. C., something like that. But then, the same rock, but rock X that you don't know. And then you triangulate and in theory, you come up with a date.
But whether or not that technology is good enough to determine dates in terms of thousands of years? Or only good enough to date for tens of thousands of years? We don't know because we haven't tried it.
A number of geologists, particularly at our first presentation back in 1991, were quite enthused about all this and offered to help and put our laboratories at our disposal. But, because of that prevailing hostility at the time, we were never able to get back there to do any further work. We put that on hold and is still on hold because I know that probably the hardest thing to get permission to do in Egypt anywhere is to take samples. So, it's just something that somewhere along the line or someone will figure out another way to date the stones.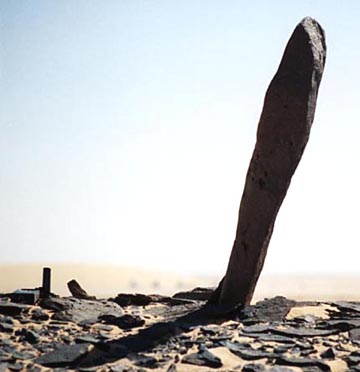 Normally, they date things like Nabta by the stratigraphy. You dig down and the archaeologists can find things like pollen or organic material found around there. There are a lot of ways of dating via stratigraphy, but dating stone directly – this is tough to do. The dating of the Nabta stone circle at about 4600 B. C., making it the oldest, certifiably dated stone circle or megalithic structure in the world is revolutionary in a sense. And even the people who discovered that, Fred Wendorf and a couple of other archaeologists who have been working on it ­ acknowledge that it is oriented astronomically with the equinoxes, it's an astronomical orientation.
This is a megalithic construction – not Stonehenge – the stones are roughly the size of grave stones. But even that is not fooling around to produce that stone circle.
Then you have an astronomical orientation – this isn't done to calculate when to plant your seeds. Whoever the ancients were – and whatever their reasoning for positioning temples astronomically, which we don't know, but can only surmise, this is of immense importance to them and it means there was careful enough astronomy in place 4600 B. C. to precisely orient a stone construction. So, now we are talking about a different level of civilization and we're talking about 4600 B. C. and not our Sphinx age whenever that may have been.
The whole issue of stone circles around the world, the concentration of more than a thousand in the British Isles, and a date of 4600 B. C. in Egypt which is approximately 7000 years ago – doesn't that mean there was a global pattern of stone circles in many areas? Where was the first built? Was it in Egypt or Great Britain?
Who knows. There were loads of stone circles and megalithic constructions in America which the stupid archaeologists keep calling "colonial root cellars," as if the colonists were living in log cabins themselves, but were shifting around four ton stones to keep their turnips through the winter. This is moronic. But there are tons of them in America. My sister lives right next to one in White Plains, New York. They are all over the place.
There are loads of them in New Zealand, believe it or not, which is being kept quiet because the Maoris would like to say they are the first people, the settlers of New Zealand. And if there were stone circles, or megaliths already there, it means the Maoris themselves were not the first. But it's politically incorrect now to talk about these stone circles in New Zealand. But it would appear that wherever you look, there are these megalithic remains and I guess, since there is no dating them, no texts or documents, it's probably global and futile to see who is first or where. It's all over the place.
The fact that the stone circles are global and go back at least 7,000 years and perhaps earlier makes me wonder what inspired the placement of stone circles around the world in the first place?
Exactly, Linda. See, my sense of it is that we're talking about a global civilization that is much older than that even. And that gets blasted out of existence whenever ­ when the Ice Age melted, something catastrophic happened. This is not New Age thinking. This is solid anthropologists and zoologists and archaeologists and paleo-climatologists who acknowledge that something drastic happened around 12,000 B. C. Everyone agrees with that.
What they don't agree with is that there was an advanced civilization in place at that time. But my sense of it is that our Sphinx ­ the Sphinx is probably the single most important evidence in this whole puzzle ­ because it is the most difficult to attack. The opposition arguments about the age of the Sphinx and water weathering are absolutely ­ they range from uninformed to more commonly moronic. You get a good sense of what goes on ­ there are a number of websites to go to about these arguments. That's the linchpin of the whole thing, sitting there, 240 feet of Sphinx with a tremendously deeply weathered core body. And even more important, the deep and uneven weathering of its enclosure wall and this defies up to now any other explanation but water weathering in the distant past. Now, how distant that past ­ this is a major bone of contention. And probably will continue to be a major bone of contention, really until the case is proved.
When I think about academic resistance to evidence and change, I think that for hundreds of years, there were dinosaur bones being found and everyone was arguing. They were arguing whether these were hoaxes, or whether these were giants, or whether something, a trickster played on them by God. And then in 1838, one of the earliest geologists at exactly the right time, the argument was right that this was an extinct animal and suddenly, the opposition caved in and said, 'Yes, this is an extinct animal' and within a couple of generations, the museums of the world were filled with reconstructed dinosaurs.
I think we are in something of the same position. That's why I think our geologist panel is so important because I feel it can be the battering ram that bursts open the door to the ivory tower once and for all. And if we get a panel of a dozen, credentialed, absolutely uncommitted geologists to go over there and say, 'Yes, this is the case. It's water weathering. It could only have been produced by rain, lots and lots of rain in the very distant past – we don't know exactly when, but certainly not anything close to Dynastic Egyptian times. And these guys have absolutely no connection with us and no axe to grind.
If a very ancient age was proved once and for all scientifically, wouldn't that be the biggest draw to tourists in the world?
Absolutely! This is what I keep trying to tell people. Zahi Hawass, Egypt's Director of Antiquities, is more open than you might think, but some others have very closed minds. And that's why you need something like a geologist panel – it is perfect for this because it is non-invasive, we don't need any seismographs, we don't want any samples – we just want a dozen credible academic professionals to look at this.
Once it happens, like the dinosaurs, then progress is made in a hurry. But to break down that initial barrier, academics just don't like being wrong. Nobody likes being wrong.
We know that in every direction our old academic perspective of the history of cultures on this planet is being pushed back and back every year.
Absolutely. There is hardly a week that goes by that something doesn't show up in Peru or Australia or something that really forces a rethink. But each time, the establishment acts as though it's a singularity, as though it doesn't really count.
The age of the Sphinx is a strictly scientific question. And really a lot of people have the right to ask: So what? What's the difference if it's 36,000 years old? That's what I think it is for a variety of complicated texts, partly from Egyptian texts and partly because that was the Age of Leo, I think it's a Leo marker and I think knowledge of the procession of the equinoxes goes back all those thousands of years and I don't think it refers to the 10,000 date that is favored by Bauval and Hancock because the earth was in a state of ongoing cataclysm at that period of time.
The end of the Ice Age.
The end of the Ice Age and the destruction of all the mammoths and stuff going on all over the earth, so I think it could be the age before that which corresponds with certain enigmatic Egyptian texts themselves. Then were are talking about 36,000 B. C. Then the question is: what does, so what? What's important about how old the Sphinx is? And in a way, people are correct to ask when civilization started?
The real point of all this, of all the work I've been doing on Egypt all of these decades, is that in my view the Egyptians had in place what Schwaller calls the symbolist interpretation of Egypt ­ they had in place a genuine civilization. In other words, this was a long period of time ­ not just Egypt, but everywhere else besides that: Vedic India, China and so on. There was in place in the very distant past a global civilization where human beings understood that they were on this earth for some reason and their lives were devoted to the execution of that reason. To put it in a word, it's what Hancock calls the Science of Immortality and Schwaller calls the "Doctrine of the Return to the Source." This is the basis of all the religions that ever were and no matter that most of them these days, you would never know it in their degenerate and corrupted state. But we're on earth for a purpose.
The recycling souls in and out of container bodies?
All of these things are connected with that understanding and the important part of Egypt, the Dynastic Egypt we all go to visit and are awed by, is that it is an example of how civilized human beings once comported themselves. And when I take these trips to Egypt, they suddenly understand ­ the problems of building them is pointed out and their significance….the philosophical, science and spiritual significance of these monumental structures."
---
More Information:
Egypt Virtual Reality Website:
John Anthony West: "I've been working for about a year with a friend of mine who is an animation expert and in the forefront of virtual reality technology and we're putting out a set of DVDs and CD ROMS on magical Egypt, which is effectively a tour, the next best thing We go in-depth precisely into this philosophy and all the things that are made relevant and demonstrable by this whole question of the Sphinx.
Because proving that the Sphinx is that much older, or very much older, and then understanding the implications of what's involved in not just the Sphinx itself which is arguably the most moving and certainly biggest statue on earth, but also the temples around it that are built with a technology we don't understand and can't emulate. If this is correct, it is much older, it means that not only the ability to create this spectacular art masterpiece, but also to surround it with temples made with a technology we don't understand and can't copy, means that tremendously civilized, far more civilized people than ourselves, lived in the very distant past.
Our Sphinx theory is one of the wedges that can open the door to learn more about that advanced civilization and the fact that someone was building megalithic structures in Egypt and around this planet long before 5,000 years ago."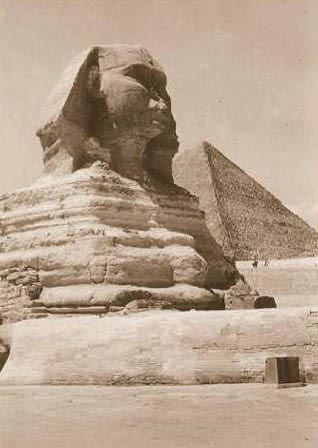 ---
Websites:
http://www.magicalegypt.com  (virtual reality tour)
http://www.jawest.com (West's research and communications)

© 1998 - 2019 by Linda Moulton Howe.
All Rights Reserved.