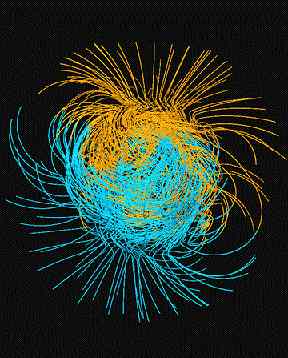 April 27, 2002  Cambridge, Massachusetts - Deep beneath our feet as we walk around ­ in fact, 4,000 miles down ­ is the center of the earth where an iron core is so hot it is liquid and boils around like cooking porridge. That moving, melted iron also produces the magnetic fields that surround the earth and upon which much of earth's surface life, satellites and space technology depend upon for orientation, and for protection. If magnetic fields did not trap highly energetic particles racing from the sun, all kinds of damage could be done to living organisms and space technologies. For nearly a million years, magnetic field lines have been coming out of the south pole and entering the north pole of the earth. That is called the magnetic dipole.
Click here to subscribe and get instant access to read this report.
Click here to check your existing subscription status.
Existing members, login below:

© 1998 - 2023 by Linda Moulton Howe.
All Rights Reserved.