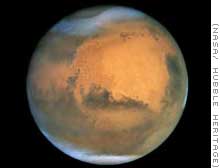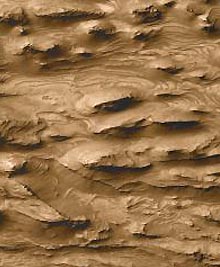 June 1, 2002  Pasadena, California – Since NASA's 1976 Viking missions, Mars has been thought by most people to be dry, dusty and dead, marked with ancient river channels and gullies that meant water had been there once upon a time. For several decades, traces of atmospheric water and some water ice along with frozen carbon dioxide at the poles had been known. But where had all the water gone that had once flowed through the rivers and canyons? Apparently, the oxidized, rusty surface has been deceiving. Less than a meter below the red rocks and dust in very cold regions, scientists have found a signal for the element hydrogen that is so strong it's assumed to be frozen H2O (water), according to this week's journal Science.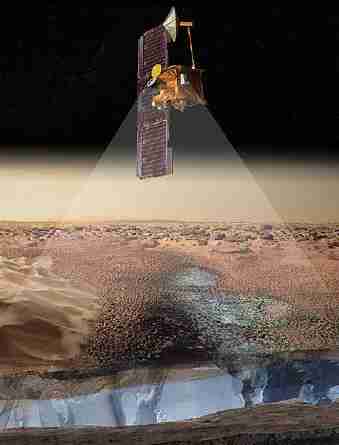 Four months ago in February 2002, astronomers and geologists had just turned on the gamma ray spectrometer and other instruments aboard NASA/JPL's orbiting Mars Odyssey spacecraft to get the instruments ready to explore for water. The gamma ray spectrometer wasn't even in its correct position when scientists were surprised by a strong hydrogen signal. The detection of hydrogen is based both on the intensity of gamma rays emitted by hydrogen and by the intensity of neutrons that are affected by hydrogen.
Since February, the Mars Odyssey instruments have returned so much data that NASA/JPL scientists have been able to produce beautiful maps of the hydrogen distribution in both the Southern and Northern Hemispheres of Mars. So far estimates on the amount of hydrogen indicate the icy layer is about half water ice by volume. That means if you had a gallon of the dirty ice and heated it, you would end up with a half gallon of water.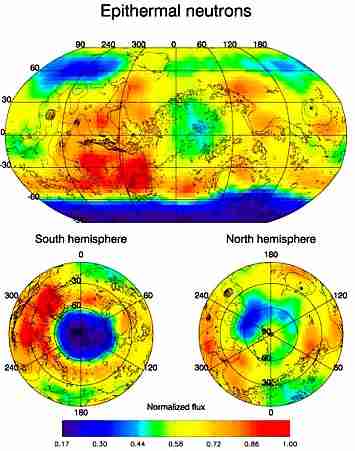 One planetary geologist, who is intrigued by Mars' watery past and who wrote the "Perspective" comments in Science, is Jim Bell, Asst. Prof. of Astronomy at Cornell University. Dr. Bell is also a member of the Mars Odyssey Camera Team. Previously, he worked on the Pathfinder Rover Team and is involved with the two upcoming Mars Exploration Rovers that will launch next year for a Mars landing in 2004. With this week's announcement of frozen water only a meter down over large regions of Mars, Professor Bell called the discovery a "stunning surprise."
---
Interview:
Jim Bell, Ph.D., Asst. Professor of Astronomy, Cornell University, and member of the Mars Odyssey Camera Team and 2003-2004 Mars Exploration Rovers: "What is surprising and what is, I think, quite stunning, is that the Odyssey measurements have detected the presence of water ice underground ­ not on the surface ­ but underground. And that is somewhere you can't see with a camera, you can't take pictures of underground ice. You need instruments like the gamma ray spectrometer, like the neutron spectrometer, to make that detection.
Today, Mars is a cold, dry and barren world with no liquid water on its surface. But if you look carefully at the pictures, and many astronomers have, in some places on Mars there is evidence that long ago lots of liquid water flowed across the surface. There is evidence for channels and ancient river systems and gullies and streamlined islands that could only be created by the flow of large amounts of liquid water. Those are wonderful evidence that a liquid was there like water in the past, but it's not there today. And so the question that has been on everyone's mind is: where did all that water go? Mars was an earth-like planet, perhaps with a higher atmospheric pressure and higher surface temperature that would allow liquid water on its surface, but it's not an earthlike planet today. Something happened in that environment, water went away. It went somewhere.
And in the Odyssey results, I think we may have part of the answer. At least some of that water appears to have seeped into the subsurface and frozen in place as these icy deposits that have been detected by the spacecraft.
Why would it go down at least a meter underground?
That's an excellent question and I believe it has to do with the nature of the Martian surface. Again when we look at pictures of the planet, we see in many places on Mars a battered surface that's been hammered by asteroids and comets for billions of years and many places on Mars look a lot like the moon, for example. Many impact craters all over the place. The surface has been hammered and every time you crash an asteroid or comet into the surface, you break it up, you shatter the rock. It becomes very fragmented and porous. And so the uppermost surface of Mars is likely to be a jumbled, fragmented, very porous kind of material with lots of space between rocks and grains that would allow any liquid flowing across the surface to seep down into that surface itself.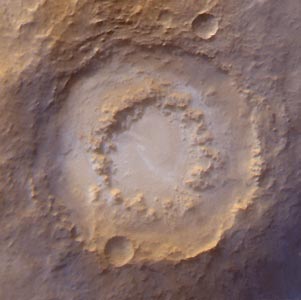 Any idea yet from any of the data how deep into Mars this frozen ice might go if it is starting in the three feet below the red dusty surface?
Well, that's the $64,000 question that everybody is asking. The Odyssey measurements are only directly sensitive to the uppermost meter or uppermost few feet or so of the surface and that is where the detection of this water ice has been made, in that uppermost meter. But no one really knows where the bottom of that layer is. There is some evidence that the layer changes depth with position on the planet. It is perhaps much deeper near the equator where the temperatures are warmer and shallower near the poles where the temperatures are colder.
But where the bottom of that layer is right now, is anyone's guess. What's going to be required to find out is more measurements, more remote sensing measurements from orbital spacecraft. Perhaps the deployment of additional instruments from rovers or landers in future missions that will be able to try to sense the depth of this icy layer using radar or electromagnetic sounding techniques like the same ones that are used in places like Siberia where there is permafrost and places like Greenland and Antarctica and study the ice layers there.
Ultimately the final test might not be made until people actually go there with large, fairly cumbersome drilling rigs and other drilling equipment and astronauts can get down into those layers and extend drills down many meters, perhaps tens of meters, perhaps hundreds of meters, down into the subsurface, to see where the bottom of that layer really is.
Are we talking about hard ice like you would get out of an ice maker? Or permafrost?
The signal that has been detected by the spacecraft has been modeled by scientists as being consistent with something like 20, 30, 40 percent ice by weight, which is about half percent weight by volume. So, if you stuck a shovel in the ground and dug a shovel full of this stuff up and dumped it on the table what you would get is a dirty slurry mixture of ice and rock and dust, all kind of mixed together.
Dr. Jeff Plaut at JPL (Radar Specialist) said that there are indications in some areas that it might be almost pure ice as if there are underground pools, or globs, of ice.
It's possible. Again, it depends on how you model it. Certainly it's not unambiguous that that's the case. But, one of the things I talked about earlier that is interesting and exciting about this result from the Odyssey is there are these maps, spatial maps, across the entire planet of the strength of this (hydrogen) ice signal. So, what Jeff Plaut is talking about is there are some small areas where the signal is much stronger than in other areas. So that either could indicate a more pure ice component or perhaps a more abundant ice component, a deeper ice deposit in that area than in other areas.
How much water in total between the two hemispheres do you think we are talking about if it all melted?
If it all melted, that's a great question. It depends on the depth. How deep does that layer go? If it's only a meter deep, which would I think be kind of surprising because that just happens to be the depth that we can sense to ­ if it's only a meter deep, then we're not talking about a lot of water ­ perhaps a Great Lakes quantity spread across the whole planet, producing a layer maybe centimeters thick which isn't really a lot of water. Earth has kilometers of water on its surface, for example.
However, if that layer really does extend down many tens of meters or hundreds of meters in places, then we get up to the level of talking about a small sea or ocean's worth of water perhaps trapped in the surface. And that's why I had a question mark in my original commentary on this ­ Tip of the Iceberg? Are we really looking at an ocean's worth of water stored in the subsurface? Or is it just a small amount? It's a very important question which has real implications for future explorers when they get to Mars.
It's almost like an ironic cosmic joke that the red desert, dusty planet of our solar system should have so much potential water just a meter down?
Mars is a planet of spectacular cosmic contrasts. It's a relatively small earth-like planet and yet it has the largest volcanoes in the solar system.
And the deepest, biggest canyon.
Perhaps nowhere as geologically active as the earth, and yet it has the largest and deepest canyon system. And then as you just said, it's a dry, cold, inhospitable world, and yet just below the surface there may be in fact evidence preserved there that tells us in fact that Mars was a much different, much more earth-like place early in its history.
What about the possibility of microbes in that icy region?
It's a fun thing to think about and people wouldn't have given it much possibility 5 or 10 years ago, but we've discovered on the earth that bacterial life forms are all over the place in the most unlikely environments, including in the permafrost of Siberia, including in battery acid type water in deep mines, including at the bottom of the ocean where there is no sunlight available. The most wild and crazy places on the earth, life has a foothold and it seems to be thriving in them. So, it's not crazy any more to talk about the possibility of life in the Martian subsurface. We have no evidence there is any life, but what we do have is evidence that many of the conditions that are necessary for life as we know it are met there, including the possibility of liquid water, including heat sources from volcanism from impact of geothermal heat and including organic molecules which have been raining down on all the planets from asteroids and comets since the beginning of the solar system.
What will be the first instruments or machines on landers and rovers to try to bore down into the soil to look at the icy soil?
Well, the first one that would have tried was the 1999 polar lander spacecraft, but that unfortunately crashed and its mission was a failure. It had an arm that was to dig a trench into the surface and it was going to land at a very high latitude in the Southern Hemisphere. So, it may have unearthed some of these icy deposits. Of course, that mission crashed and that couldn't happen.
The next two NASA missions that go will be the Mars Exploration Rovers and both of those will be going to relatively equatorial regions, so they won't have a capability to dig into these deposits. They also don't have drilling devices.
But beyond that, the next series of missions in either 2007 or 2009, I think it is likely that we will see a relatively modest drilling capability, or trenching capability, to try to get down into the most upper meter or meter and half or so of the subsurface and I think there will be a strong push based on these results and others to try to land the next generation of landers and rovers at high latitudes and get into these icy deposits.
Why wouldn't we change our launch directions next year?
Can't do it. Celestial mechanics, Isaac Newton ­ it's just too far along in the process and for the launch vehicle that we have available to us we are restricted to equatorial latitudes.
What about England's Beagles ­ would they be able to dig down?
No, Beagle is a very small, simple landing device that deploys some instruments and takes some pictures and makes some other relatively simple measurements. But there is no mobility or trenching capability.
So, we have tantalizing indications in 2002 of a lot of water ice under the surface of Mars, but we won't be able to do physical digging for maybe three to five more years?
You've hit the nail on the head, exactly. We will collect more data from orbit. Of course, the Odyssey Mission has just started, so these measurements will continue to get refined. The Mars Exploration Rovers that will get launched next year will address the issue of water that could be trapped in minerals at equatorial latitudes. That is part of the picture that Odyssey is also showing, but will not be able to dig down into these deposits at high latitudes.
Personally, what is your greatest interest in exploring Mars?
I'm very interested in this issue of how Mars may have been earth-like a long time ago, and yet it is not today. How do you change a planet's climate so dramatically? How do you go from a possibly warm and wet earth-like world to the cold and barren desert-like planet that we have today? And what could that mean for ourselves on our planet?"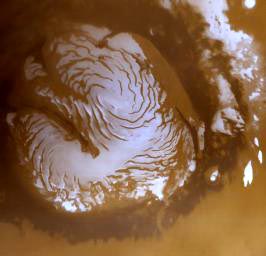 ---
Website:
http://www.jpl.nasa.gov/releases/2002/release_2002_121.html


© 1998 - 2019 by Linda Moulton Howe.
All Rights Reserved.