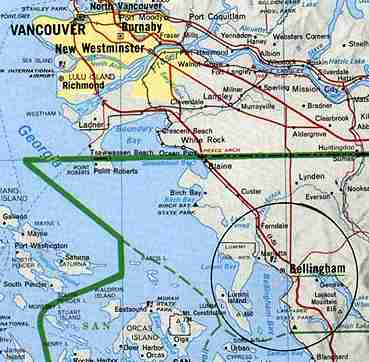 May 31, 2002  Bellingham, Washington – In the week between Thursday, May 16 and Thursday, May 23, 2002, four domestic cats were found in the Fairhaven district of Bellingham slit from the throat to the pelvis. But there was no blood on the fur or the ground. Bellingham Police Lt. Dac Jamison said, "There is methodology to what's going on." The speculation is that the cats are some how removed from their home or neighborhood, taken somewhere for the cut and excision of internal organs, and returned close to their homes.
At the same time in Austin, Texas, the number of mutilated cats since March 2001 climbed to 25 when residents near the 7900 block of Stone Cliff found one dead cat on May 12 and another on May 16. The Austin Police Department has taken over the investigation and are only saying the cats were cut in a "meticulous and precise way. No blood." Other recent unusual cat deaths have also surfaced in San Diego.
This week I asked the head of the Whatcom Humane Society in Bellingham if she knew about previous cat mutilations in 1993 north of her in Vancouver (See More Information below) or the current rounds of other cat mutilations in Austin and San Diego. She had no knowledge of the other cases, but explained to me some of the details about what has happened in the Bellingham cases.
---

Interview:
Penny Cistaro, Executive Director, Whatcom Humane Society, Bellingham, Washington: "One was found on a porch; the other three were found in a backyard, but not the owner's.
Nearby though?
A couple blocks from home.
Was the one on the porch at its house?
No, it wasn't at its house.
So, each one was returned nearby, but not at the exact property from which the cat was taken?
Correct. We also had one in September last year (2001), for a total of five cats with this type of thing done to it.
All five had the excision from the throat down to the pelvis, a clean, straight, bloodless cut. Upon examination have all the internal organs been removed?
Not in all the cases and I don't want to specifically comment on these cases because this is still an open investigation.
Would it be fair to say that some internal organs have been left?
In a couple of cases, yes.
Did anybody examine the hair along the cut to see if the hair or tissue had been subjected to high heat that cauterized?
The veterinarian has examined it and did not describe that as evidence.
If no cautery, the implication is that if it were a normal kill and cut like that with removal of organs, for the cat to be bloodless, it would have to have been taken someplace else and cleaned up before being returned?
Probably. That's what we are assuming.
What is the current local police perspective?
They are alarmed. They are investigating it with us. They are in a lot of ways taking the lead on it because we are turning information over to them and tips that we may be getting. They are following through on everything for us. We are working closely to the police, but we turn a lot of information over to them directly anyway. They are taking it very seriously. They are concerned about the mental state of the person or persons doing this.
Do the police in Bellingham have any prior cases of these same kinds of cat mutilations in years prior to 2001 to 2002?
We, in June 2001, had one cat specifically that we believe it was done by a person. There was an incision around the base of the cat's tail and it was a perfect circle, done with a very sharp instrument, probably a scalpel or knife of some sort. The cat was skinned and the tail was skinned.
Then there were similar cats around the same time that had injuries to the rear end, the tail area, that could have been done by a person and veterinarians are saying the cat could have gotten its tail caught in a garage door, that type of thing.
Then in the summer of 2000, a cat had been cut in half. And there have been coming to our attention now people who are saying that a couple of months ago, or last summer, they found a cat that had been cut in half or a cat that had been mutilated without any other information. There is nothing for us to follow up on because it wasn't reported when it happened. We don't have any information other than they are reporting what they saw or found.
In all the cases of the half cats, was it the front half of the cat that remained?
It was either the front half, or just the head. There have been a couple of different reports. The cat in the summer of 2000 that was reported cut in half, it was the top half that they found.
Were you aware that in the year 1993, there were many half cat mutilations in Vancouver, B. C. north of you?
No. I am speechless to realize so much has happened in other places."
---
More Information:
Since the 1970s, there have been waves of cat mutilations in such widespread geographic areas as London, England; Toronto and Vancouver, British Columbia, Canada; Bellingham, Washington; Tustin and San Diego, California; Plano and Austin, Texas; Pensacola, Florida; and Falls Church, Virginia.
One cycle began in May 1992 in Vancouver, B. C. Typical was the purebred Russian blue cat that was put out in the evening and never came back. The back half of the cat was found three blocks from its owner's home without a trace of blood. It was the fourth cat found cut in half in a two week period. The pattern of only half cats persisted, either the back half or front half found at any one location. By January 10, 1993, Vic Warren, Supervisor of Animal Control for the Vancouver City Pound, had opened a file on seven cats found cut in half. "They're clearly being butchered by someone – it's a real surgical job," he said. "All I hope is that these cats were already dead when they were cut in half."
In March 1992, John Altshuler, M.D., Pathologist and Hematologist in Denver, Colorado, received one of the Vancouver half-cats for examination and confirmed that the entire excision had been cut with high heat.
Similar reports of cats cut in half were investigated by the Plano, Texas police department in the summer of 1991 and the spring of 1993. Plano is an affluent suburb north of Dallas. I talked with Plano Police Detective Mike Box. In addition to the mutilated cats, he said by August 1991, his station had missing reports on more than eighty domestic house cats with collars and I. D. tags. None of those cats were ever found. In 1993, other animals had disappeared from adjoining Creek-Forest neighborhoods. Detective Box and his department investigated satanic cult activities, but could find no hard evidence that connected satanists to the mutilated and missing cats and other animals, such as dogs.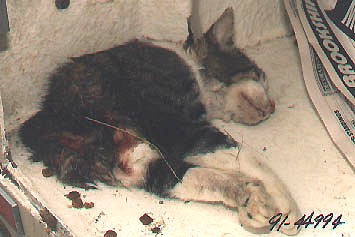 Thirteen years before in 1978, authorities in St. Catharines near Toronto, Canada were also frustrated by more than one hundred missing cats and dogs and others found skinned and badly mutilated.
Similarly, by August 1989, sixty-seven cats had been found in Tustin, California. The New York Times reported on August 13, 1989, "Some of them were cut in half with what some say is almost surgical precision, others disemboweled or skinned." Janet Hampson of Tustin summed up the eeriness of it all: "There is never any blood at the scene, the animals are often dismembered with surgical precision and paws and other body parts are often left on the ground in strikingly similar arrangements. No one ever seems to hear anything, nor do dogs bark during the killing." She believed the cats are captured, taken elsewhere, their blood drained and organs removed, then replaced on their owners' lawns.



© 1998 - 2019 by Linda Moulton Howe.
All Rights Reserved.