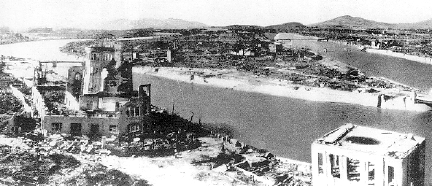 Nuclear material was Uranium 235.
Energy released was equivalent to 12.5 kilotons of TNT dynamite.
Maximum temperature at burst point was several million degrees centigrade.
A fireball of 30 meters diameter formed in 0.1 millisecond, with a temperature of 300,000 degrees centigrade and expanded to its maximum size in one second.
The top of the atomic cloud reached an altitude of 17,000 meters.
Radioactive debris was deposited by "black rain" that fell heavily for an hour over a wide area.
Maximum wind pressure of the blast: 35 tons per square meter.
Maximum wind velocity: 440 meters per second.
Wooden houses within 2.3 kilometers of ground zero collapsed.
Concrete buildings near ground zero hit by the blast from above had ceilings crushed and windows and doors blown off.
Many people were trapped under fallen structures and burned to death.
People exposed within 500 meters of ground zero were killed by the radiation.
People exposed at distances of 3 to 5 kilometers later showed radiation symptoms, including radiation-induced cancers.
More than 100,000 people died in the atomic explosions at Hiroshima and Nagasaki.

May 25, 2002  Washington, D. C. – The terms "suitcase nukes" and "dirty bombs" do not refer to the same radioactive weapon. A suitcase nuke in the 21st Century is about the size of the atom bomb the United States dropped on Hiroshima and Nagasaki in 1945 that ended World War II. Bomb making technology advanced so much during the Cold War with the Soviet Union that scientists were making similar bombs as small as suitcases, hence the name. Building atomic bombs, small or large, is not easy and the only country thought to have such weapons is Russia. But no one knows for certain where suitcase nukes might be or if any have been sold to countries such as Iran or Iraq.
The radioactive weapon of greater concern is the "dirty bomb" because it is much easier for terrorists to make. Radioactive cesium is in medical equipment; cobalt is used in the food irradiation industry; americium is used in oil industry research. Monitoring and controlling all of the industrial sources of dangerous radioactive materials is almost impossible, especially when any of them are vulnerable to theft. Michael Levi, a Princeton University physicist and Director of the Strategic Security Program at the Federation of American Scientists in Washington, D. C. told me this week that suitcase nukes would be the most devastating weapon of them all, followed by biological disease. But he worries about dirty bombs the most because all a terrorist has to do is have enough technical know-how to wrap stolen radioactive material around sticks of dynamite and blow it up. I asked him if he was in the southern end of Manhattan where the Trade Towers once were and TV news announced that a dirty bomb had just exploded, what would he do?
---
Interview:
Michael Levi, Director of the Strategic Security Program, Federation of American Scientists, Washington, D. C.: "If I was nearby, I would get on the subway and go somewhere else. If it was at the other end of the island, I would stay inside and watch TV to find out exactly what the nature of that bomb was. There are a wide range of dirty bomb scenarios and I would hope that emergency responders ­ I hope they are being trained now ­ hope they would go to the scene and find out what the nature of that bomb was. I would wait to find out to be told what I should do, but there would be no reason to immediately get in my car and try to leave the island. That would not be a useful thing to do. And it would only serve to make it more difficult for responders to get near the people at the scene who would need immediate attention.
If I understand correctly, the most sensible thing to do in an emergency involving a dirty bomb is to go inside of a building or apartment or some place interior because the greatest danger will be immediately after the explosion of what could be inhaled from the air?
That's right. It depends a lot on the kind of material that is used. But if we don't know what kind of material has been used, then that's to take that precaution.
How will emergency workers be trained about how to deal differently with cesium or a gamma ray emitter or whatever the material might be?
I'm not quite sure how they will train them. I hope they will train them. I think one thing that would be very useful is for them to be equipped with portable detectors that can differentiate between different materials quickly. It is important that they recognize that the nature of an attack differs depending upon the material. What first responders should be trained for as far as nuclear incidents go or nuclear power plant melt downs are very different beasts from this. And if they reacted in the same way to a dirty bomb as they would to a nuclear power plant incident, unfortunately they would not take the right steps.
Meaning what?
For example, distributing iodine tablets would be useless. There would be no point to doing that because iodine tablets are used to deal with radioactive iodine which would likely not be present in any dirty bomb. If they followed existing evacuation guidelines, they would probably evacuate more people than they needed to and would damage their ability to deal with the people who are really in need of urgent care. So this issue of triage, deciding who needs care most urgently, is going to be very crucial. And presumably that doesn't need to be done by individual first responders, but certainly those coordinating and managing them should be prepared to make the quick decisions in response to whatever information their folks gather on the ground.
Wouldn't emergency responders now have to have in their arsenal of equipment some type of radioactive suit to go into such situations?
Only to go very close into the initial explosion. Even at a range of several blocks, being there for ­ well being there for a short time would have an immense adverse health effect. They certainly would need to restrict the amount of time there that a person could spend in one area, that would need to be restricted. But the need for a clumsy radiation suit might be there for some relatively small regions and they have suits like that, they are equipped to respond to hazardous materials. So, I presume they would be able to deal with that.
So, a dirty bomb is going to be more of an irritant and a long-term clean up problem than an immediate hazard to people who can move away into buildings from the explosion?
Absolutely right. That's absolutely right.
If I were in southern Manhattan and I am watching TV news and I learn a dirty bomb has gone off only a block from me…
You probably heard the blast before you saw it on the news in that case. That's the kind of thing that is happening. If you're close enough to have to get out really quickly, you'll hear it. And you will notice it. That will make you leave the scene as much as any news of radioactive contamination.
But it would not be wise as happened in the Trade Tower catastrophe to run out into the street. That's where the greatest danger would be. The best thing would be to stay inside.
Stay put, that's right. That's right.
Now, on the suitcase nuke side of things, what exactly would happen and what would be the diameter of the most intense destruction?
The first effect would be to send out a massive blast that would take down buildings in an area half a mile from ground zero and killing tens of thousands of people immediately. It would also pick up an enormous amount of dirt that it would make radioactive which would then come down as radioactive fallout. And depending upon whether people were outside when that fall came down, it would cause again tens of thousands of deaths and many more cases of radiation poisoning. There would also be fires, both by the heat of the explosion and by the effects on electrical lines.
Give us a sense in terms of miles from Ground Zero. What would the radius of destruction be?
It really depends on the construction of the buildings around, but something on the order of a mile.
So, for a mile radius from Ground Zero, or two miles in diameter, everything pretty much would be destroyed?
That's about right.
Beyond that 2-mile-diameter circle of complete destruction, how much further would fires and radiation sickness from intense radioactivity take place?
I don't know off hand. For fallout, we're talking huge areas, simply because the fallout can be carried on the wind. That can contaminate very large areas. There wasn't that same kind of phenomenon in Hiroshima because the bomb exploded at such a great height that it didn't kick up much dirt and didn't make much dirt radioactive. That would be one way in which a terrorist bomb would be very different. It would kick up great amounts of dirt which would be made radioactive and spread over an enormous area.
Because it would go off on the ground and take out everything around it.
That's right.
Which makes it in many ways horribly lethal and impossible to protect against at the instant of explosion?
Right, no one close to the explosion could protect themselves, that's right. Once again, it's also different from the Cold War situation that we looked at because during the Cold War you had fallout shelters and you had bomb drills, but that was because you had even a 10-minute warning from something like this (meaning missiles launched from Russia or from the sea.) In this case (of a suitcase nuke), you wouldn't necessarily have a warning. It would just go off. So our response would have to be focused on people much further away from the blast who would have to deal with shielding themselves from the radioactive fallout and preventing further health effects from happening.
No matter what city, if the bomb is Hiroshima-sized, it will destroy everything in a two mile diameter circle.
Something of roughly that size. It would really depend upon construction of buildings. It could be one mile or two miles. It's going to be a very large area, especially if you think about skyscrapers in that area that hold enormous numbers of people for a given small space on the ground.
Devastating.
September 11 was horrible, but if this happened, you ain't seen nothing yet. This is why this should be an absolute urgent priority to work to prevent something like this from happening.
The dirty bomb attack we need to work to prevent it from happening, but we also need to focus a lot of work on how to deal with the aftermath if it did happen. I think with the nuclear weapon, with a suitcase nuke or crude nuke, the priority absolutely has to be on preventing something like this from happening.
How do we do that?
We choke off the sources that terrorists might have for these weapons or materials. And that means cooperating with other countries that have these materials and weapons and securing those materials or weapons in those other countries. In particular, cooperating with the former Soviet Union. But also not becoming too myopic and making sure we work with other countries to make sure we secure their materials. It's really imperative. It doesn't matter where the material comes from, whether from here or from Russia or Pakistan. They can still be used to inflict the same massive damage. So we do need a comprehensive global plan to secure, to get rid of these materials where they are not needed and to secure them where they still are being used.
Would the quickest and most efficient way to secure those thousand tons of enriched uranium in Russia be for the United States to buy it all and have it secured somewhere?
We obviously can't buy it all. Some of it is in Russian weapons, for example. Some of it is in their naval reactors. But the materials they aren't using anymore, the surplus materials, absolutely. If we could purchase those materials, if we can, we should. We have a great arrangement now where we purchase a certain amount of that material every year. We convert it to a lower enriched version which can be used as fuel for nuclear power plants, but we stopped that. It's a program that pays for itself and we advocate extending that program, speeding it up. It's constrained by the uranium market and there are ways to fix that and to expand it to cover civilian material, materials in other countries.
I think you have hit it right on there. Any opportunity that we have, we should take and the simplest one is if they don't want the materials, we buy it. We've done it in the past. We should institutionalize that so we can more effectively do it in the future.
Right now, we fund these programs at about $1 billion/year in various nuclear cooperative security programs. It's $1 billion/year and we certainly are not pumping enough money in to solve these problems. There are efforts to increase the amount of funds. Senators Dominici (New Mexico), Luger and Biden today (May 24, 2002) introduced a new bill that would add $500 million/year for these kinds of cooperative security programs and that would be fantastic if it passed. This stuff needs to be recognized as a high priority."
---
More Information:
Graphics and text from the testimony of Dr. Henry Kelly, President, Federation of American Scientists before the U. S. Senate Committee on Foreign Relations, March 6, 2002:
Figure 1. Long-term Contamination Due to Cesium "Dirty Bomb" in Washington, D. C.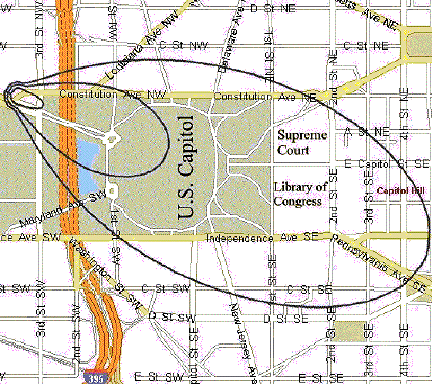 Figure 2: Long-term Contamination Due to Cobalt "Dirty Bomb" in New York City
Figure 3: Long-term Contamination of Cobalt "Dirty Bomb" in NYC, Compared to Chernobyl, Russia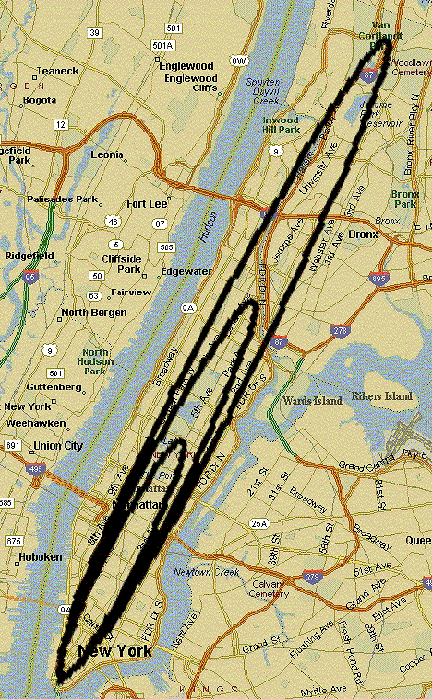 ---
Websites:
http://www.whitehouse.gov/homeland/

© 1998 - 2019 by Linda Moulton Howe.
All Rights Reserved.