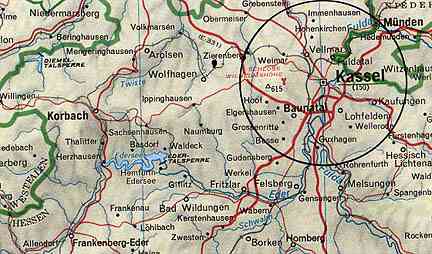 May 23, 2002  Kassel, Germany – The www.invisiblecircle.de researchers in Germany report a third crop formation near Kassel, discovered on May 20, 2002 by Dirk Moeller. The two part formation was in young barley near a geographic site known as the "riesenstein," or giant's stone near the village of Zueschen. All three 2002 Germany formations have been near Kassel; the first at Fritzlar southeast of Kassel found April 26 and the second around the same date north of Kassel. See 05/04/02 Earthfiles.
Frank Laumen photographed both formations from an airplane and Dirk Moeller photographed one of the two formation's interior.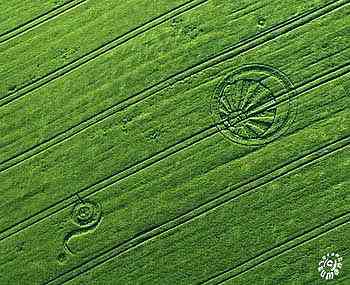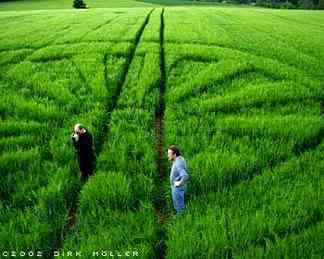 Dirk Moeller reports that the first design is a small circle surrounded by a large outer ring to which an "'S' or hook-shape is attached that ends near a small circle with a standing center" of barley. The nearby second formation has twelve rays inside a crescent, all encompassed by a thin ring.
"Due to the fact that the formation was already some days or even more than a week old, the young and fresh barley has recovered so much from the ground that it is nearly impossible to judge its original condition or even to find all the (original) outlines."
The researchers point out that the giant's stone nearby is a mysterious and legendary place that was used to celebrate religious rites no doubt connected to the movement of the sun. For example, on December 21 of the winter solstice, a person can sit inside a man-made niche in the rock and watch the sun rising between the stones. Ancient legends speculate that the "riesenstein" was created by either a giant or a devil.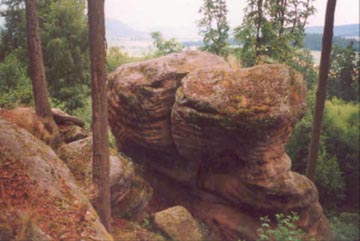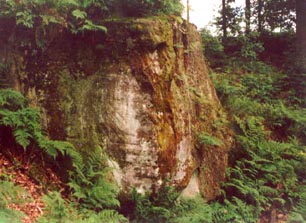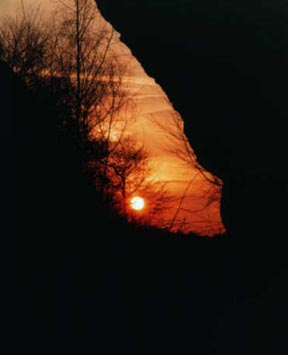 ---
Websites:
http://www.invisiblecircle.de/ser/d2002/d200205201-uk.html (Has English translation)
http://www.kultplatztours.de (German)
http://www.cropcircleconnector.com




© 1998 - 2019 by Linda Moulton Howe.
All Rights Reserved.