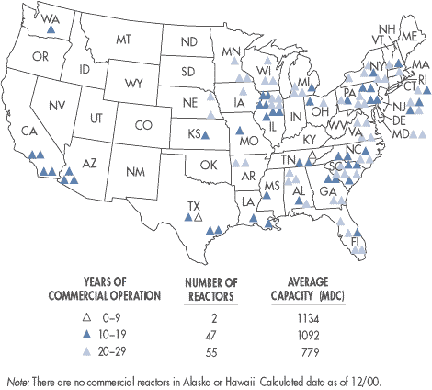 May 25, 2002  Washington, D. C. – This Memorial Day weekend, the U. S. government has announced several terrorist threat warnings. The latest came from the Nuclear Regulatory Commission placing all 103 nuclear power plants throughout the country on a heightened state of alert. This weekend the FBI also warned of possible underwater terrorist attacks by scuba divers that could target nuclear power plants as well. Recently intelligence sources warned that on the Fourth of July, Pennsylvania's Three Mile Island (TMI) could be the target of an Al Qaeda attack. In fact, there is concern that spent radioactive fuel could be stolen to produce a dirty bomb to be set off at nuclear power plants.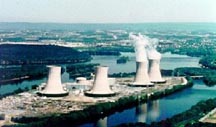 The FBI also warned this week of possible small airplane suicide attacks against New York landmarks such as the Statue of Liberty and the Brooklyn Bridge. Further, the Transportation Department warned of possible attacks on rail and transit systems.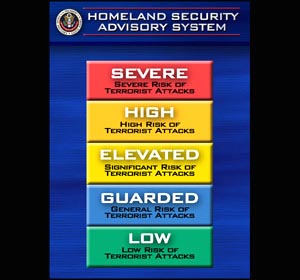 Three types of radioactive threats are of great concern:
1) Dirty bombs
2) Suitcase-sized nuclear bombs
3) Attacks on nuclear power plants
Attacks on nuclear power plants could produce a partial or total core melt down and the release of radioactive particles over a huge area. Nuclear power plant operators depend upon computers and other electrical devices to control reactor cores and cooling. If electric wires and cables are destroyed in an initial destructive impact, even back up electrical generators could be destroyed as well.
The American Federation of American Scientists argues that terrorist attacks on nuclear power plants or the smaller atomic bombs known as "suitcase nukes" are less likely to happen than explosions of "dirty bombs." Terrorists can more easily make dirty bombs from the cesium in radioactive medical equipment, cobalt used in food irradiation plants, americium used in the oil industry and other radioactive industrial sources. The idea is to wrap the radioactive material around dynamite and dispurse the radioactive debris into the air. Once inhaled by people or animals, the risk of cancer rises dramatically. In addition to cancer, the stones, bricks, wood, cement, asphalt of a city could become so contaminated with radioactivity that demolition and removal of entire city blocks might be necessary.
Imagine if half of Manhattan were irradiated by cobalt fall out from a terrorist's dirty bomb and became unlivable ­ or that millions of people living on the island psychologically had to leave in order to have some peace of mind. Relocating millions of people and losing one of the world's main financial centers has been unthinkable ­ until now in the post 9-11 world.
In this report, I interview a physicist from the American Federation of Scientists who is an expert about dirty bombs and suitcase nukes. But I begin with an update about what is happening to Three Mile Island security right now from Scott Portzline who lives near there and who has worked as a concerned citizen since 1984 to monitor the plant after its partial core melt down threatened the health and safety of the Harrisburg region. Scott has never felt completely safe since then because he does not think nuclear power plant security has yet been improved enough to make plants invulnerable to terrorist attacks.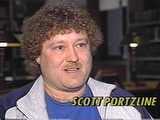 For eight years, Scott Portzline helped the volunteer civilian Three Mile Island Alert group monitor radiation and security. He has testified before the U. S. Senate, the U. S. Nuclear Regulatory Commission, the Advisory Committee on Reactor Safeguards and before other governmental bodies in an effort to close security gaps that he has found. His research has been cited by the U. S. Department of Energy and various military branches. Portzline also maintains a data base of lost and stolen radioactive materials in the United States. I asked Scott what the consequences might be if a large aircraft or a suicide truck bomber slammed into Three Mile Island.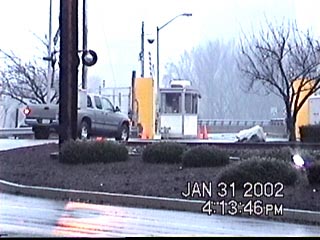 Interview:
Scott Portzline, Former Security Chairman for Three Mile Island Alert (TMIA), Harrisburg, Pennsylvania: "Three Mile Island has recently admitted it is not designed to withstand the impact of some of the larger aircraft like a 747 or 767. Even without penetration into the containment, the resulting fires could knock out enough systems that they lose control of the plants through the electrical systems that control the core.
But assuming penetration of the containment building and a full scale attack and fire, you could have the entire state of Pennsylvania rendered uninhabitable and economically not viable for decades. This comes from a report done by MIT Professor in the 1970s named Norman Rasmussen. It was for the Nuclear Regulatory Commission's "Severe Accident Consequences." He described the worst case scenarios where an area the size of Pennsylvania could be rendered unusable and uninhabitable for decades. So, the cost would be getting up towards trillions of dollars. Tens of thousands of people would end up dying from cancers in the next 20 or 30 years. Leukemias possibly in the first couple of years, we could see hundreds of leukemia cases. It depends on the wind blowing and it depends on how fast people can evacuate.
As we have seen in the hurricanes of Florida, some people were only able to travel 20 miles in 24 hours. And we think the same thing would happen here if Three Mile Island were attacked. There's a lot of roads in Pennsylvania, but there's an awful lot of traffic in the first 20 miles concentric around that plant.
In the month of May 2002, the FBI has put Three Mile Island on a list of potential targets by Al Qaeda. It's not specific about what form the attack might take, but it certainly made headlines. Since that FBI declaration, have you seen any change in the security operations at TMI?
Well, Three Mile Island added state police and the national guard. They did heed to my advice where they made the setback distances to protect from truck bombs more than 400 feet. It used to be only 125 feet, so that was a problem.
I got a letter from my U. S. representative saying that the national guard does air patrols over the northeast and the details are highly classified as to flying missions all across the United States to protect the nuclear reactors and that they could respond to any hijacking that comes up. But the problem that comes up here at Three Mile Island is corporate sized jets flying into the Harrisburg International Airport which is only 2.5 miles from Three Mile Island or another airport that is about 5 to 8 miles away, they fly very close to Three Mile Island. In fact, when they come in for a landing, they fly right through the mist of the cooling towers. That still is happening today. There isn't a No Fly Zone at Three Mile Island. And so, there is no time for the national guard air patrols to intervene in such a case.
There are things they can do additionally at the nuclear power plants where we still are only relying on jets being able to respond to a known threat. But at Three Mile Island it's very unusual in the country because it's so close to an international airport and the planes fly over on a regular basis. If we used a radar-guided missile, or computer-guided missile, there is still the chance for failure and lock on to other air traffic and I don't want to see them hit. But a Phalanx gun uses a bullet, a rapid fire bullet, which would take away from some of the dangers of the missiles.
There is still collateral damage going to occur. At that point you would have to make decisions for national security whether the loss of the plant and the radioactive contamination is a worse trade off than the lives of people on a jet airliner.
The last time we talked after 9-11, there was concern on your part that you had videotaped the fact that the security guard gate at the front was still being left up and this was after the 9-11 problem when it took security several hours just to hook up the electricity to get the gates closed.
That's right.
Now we're in May 2002 with the FBI issuing alerts that Al Qaeda might attack a nuclear power plant in the United States, specifically Three Mile Island. Has anything changed in your observations about that security gate being closed now on a regular basis with guards there 24 hours a day?
No, the barrier is still open. I call it the vehicle barrier or gate. It is still wide open. And they have increased the number of patrols, but I have never seen the national guard patrolling the island. They claim it does, but I have never seen that yet.
The problem with the open gate is that a large truck bomb from even a quarter of a mile away from the nuclear reactor could break pipes because of the ground shock wave. There is a tremendous blast that is propagated through the ground that creates a lateral acceleration that far exceeds that during the peak magnitude of an earthquake.
What you mean is that even if an airliner was not in the attack, a large suicide truck bomber could barge through fast and end up exploding with such an impact that it could break the pipes and tubes that cool the reactor.
That's right. You could have a loss of coolant from lateral acceleration that snaps pipes through the shock waves that travel through the ground, not the air. And it hasn't been studied properly. And until the study has been done, they should keep that gate closed at the entrance of TMI so that no traffic is permitted onto the island. Because once a vehicle is on the island, they would be only about a quarter of a mile away from the reactor. From that distance, it's not certain the reactor pipes could survive that kind of shock. Another thing that can happen is even if they don't break the main cooling pipe from that type of wave, there could be the breakage of other water pipes which create water jets and can short out electrical systems and you lose control of the reactor. Or lubricating oil pipes break and then they become like a blow torch and cause fire and you use control of the reactor. Or just the simple metal fragments that explode and go throughout the area can cause fires, possibly taking out the emergency diesel generator building. There is quite a bit to worry about because they still haven't decided to close the vehicle barrier at the north entrance of TMI.
Recently The New York Times had an article entitled, 'Post 9-11 Questions About Security At Electric Plants.' It quotes the former FBI investigator, Jim Kallstrom, as saying: 'There is nothing more of a national security asset than the power grid.' He is very concerned about security weakness. Could you comment on this?
One of the biggest concerns at the nuclear power plants is called station black out where the loss of off-site power can contribute to loss of electrical control of the reactor system. So what we can foresee is an attack against the electrical grid where off site power is lost and the plant is put into the condition known as station black out. At this point, the diesel generators have to fire up at the plants themselves. They are emergency diesel generators to supply electricity to bring the plant to a safe shut down. But the loss of those generators can result in a meltdown and they have some troubles on a regular basis.
Recently, the NRC has been extending the times they are allowing for the repairs to these diesel generators ­ used to be 72 hours to 2 weeks and even a month now. So this is new in the last year where the NRC is actually reducing its safety levels. And there is no good reason for it. It's just gambling, rolling the dice, hoping that nothing will happen. So I'm hoping to file a petition for rule making with the Nuclear Regulatory Commission to require a mobile diesel generator. It would serve two functions for safety and security. If there was ever an attack on a nuclear plant or a jet liner that takes out the switch yard and they lose off -site power and the resulting fires also destroy the emergency diesel generators, there could be a mobile unit that is parked several thousand yards away from the reactor sites, started up within a few minutes and driven up to electrical box connections, may be two or three around the plant and restore power. This seems to me to be a logical step and a part of depth of defense, they call it ­ the trade term is that they like to say we have so much 'defense in depth.' But the truth is in electrical systems, it's only two deep: the off-site power and the emergency diesel generators.
Yes, there are some batteries that can supply power and they do have some steam-driven pumps, but those will not work long enough to bring it to a successful shut down.
The bottom line is that if electrical power is cut off to a nuclear power plant, then the ability for the technicians to control the plant and to keep it from going into a meltdown is going to depend upon back up power.
Yes, and what happened in Ohio – that's the reactor that recently had the hole eaten through the steel where it was almost to the point of causing a loss of coolant accident ­ a few years ago a tornado struck the plant and took out the off-site power. It went into station black out. One diesel generator overheated and another didn't start up properly and the operators said their hearts went up into their throats for a few minutes."
Continued in Part 2.
---
Websites
http://www.whitehouse.gov/homeland

© 1998 - 2019 by Linda Moulton Howe.
All Rights Reserved.