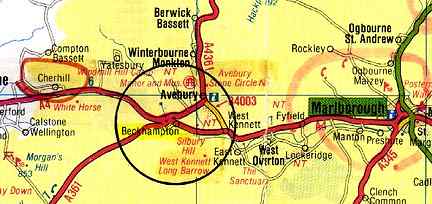 June 4, 2002  Avebury Trusloe, Wiltshire, England – For days prior to Saturday, June 1, rain had been falling hard on the crops in the famous farm county of Wiltshire, England. Then between the night of June 1 and 6 a.m. June 2, something touched young, green, 4-foot-high barley growing in a field near the famous and ancient ring of large sarsen granite stones in Avebury. The farm owner, a Mr. Butler, said he knew the barley was normal the day of June 1, so he was surprised and amazed to find a 180-foot-diameter formation of most intricate design at 6 a.m. on Sunday morning. According to Mr. Butler and a couple of other people who came along, the pattern was in pristine condition. No one could find tracks or other evidence of entry in the wet, rain-soaked mud.On June 2nd, Charles Mallett – new owner with his wife, Frances, of the Silent Circle Cafe in Cherhill not far from Avebury – heard about the new formation and went to see it. Charles has been in dozens of crop patterns and later talked with me by phone about his impressions.
---
Interview:
Charles Mallett, Crop Formation Investigator and new Co-Owner with Frances Mallett of the Silent Circle Cafe, Cherhill, Wiltshire, England:
Avebury Trusloe, Wiltshire, England Discovered Sunday, June 2, 2002 (Young 4-foot-tall barley)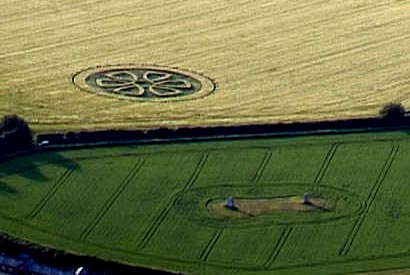 "When I walk around in a barley field that has been rained on for a week, I make such a mess, you wouldn't believe it. And I'm trying to be careful. The weather for the previous week to ten days has been absolutely terrible. Raining like hell for a week or so. That Saturday night was dry and fine weather, but the fields were very wet and muddy. After I entered the formation on the Sunday afternoon, my boots were very muddy.
So I want to emphasize, it was extremely clean. I could perceive where visitors to the formation had walked, but all the other areas were absolutely clean and pristine. You know when people first walk into a crop formation, they will walk around the perimeter and make a bit of a path. And then everyone else who comes, goes around the same path. That's the easiest place to walk and that pretty much happens in all the formations. The other clean areas weren't damaged at all. In what I consider to be a genuine formation, the crop is put down quite gently and it can't take 160-pound man on it without breaking.
It's an expansive formation about 180 feet in diameter. My first impression was a Mayan or South American iconology. But after viewing the aerial images tonight, it's kind of a Celtic knot design of some kind. But very interesting interior shapes. To describe it from the inside out, I would say there is a standing ring at the very center of the formation with a flattened circle inside the ring.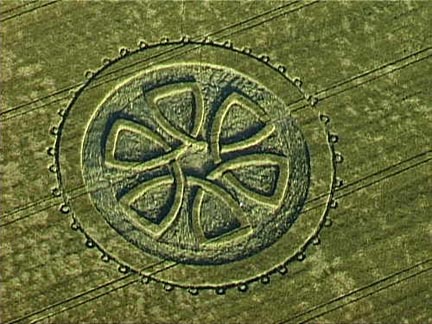 Then radiating out in six directions so this is a six-fold geometric design, six kind of arrowhead-shaped standing sections or bulging triangles radiating out all around, all enclosed in a flattened circle. Surrounding this whole apparatus is a flattened ring about 1 foot wide, maybe 18 inches, and coming off this ring out towards facing away from the formation are 39 little loops flattened circles done very delicately and smooth, as if a continuous action had gone around the whole formation around this whole outer ring to produce the loops.
It's laid down so neatly as if it went down in the interior sections between the six standing kind of arrowheads, its gone down in huge waves as if it all happened pretty quickly.
It has that liquid flow?
Sure. The barley is extremely delicate compared to late season wheat. It's very silky and light. It kind of blows around in the wind like an ocean.You would know, Linda, because you have obviously been in a lot of formations. Some of them you can kind of tell by looking that the whole thing has been created by a single hand because the style over the entire formation is exactly the same, opposed to others that are suspicious where it seemed like six different styles because there were six different people.
On the contrary, this formation is one of those that looks extremely sharp on the ground as if a single agency has been involved in the creation. No board marks.
Did you look for any lengthened nodes or expulsions in the nodes or any of those biophysical changes we have seen in other formations?
We didn't see blown nodes, but we did see a lot of elongation of nodes. Where the lay had changed directions to swerve around and sweep around standing crop, the nodes bent around corners to meet with the flow which was rather interesting. So, there was plenty of pretty obvious changes at that level.
The whole thing is extremely neatly laid out. I went back there on June 3 and because this is fairly young barley, over the course of one day, most of the crop has gone upright again. You wouldn't expect that from the aerial images because it looks so pristine and perfect. Geometrically, it's certainly fine and finished extremely well. It's really the best that has happened in southern England in terms of esthetics and geometry so far in 2002."
Halewick Lane, Sompting near Worthing, Sussex, England Discovered Monday, June 3, 2002
You might want to know about another formation which I believe happened on the same night as Avebury Trusloe. This one is in Sussex, near a town called Hove in the Sompting area quite aways east of Wiltshire. There have been crop formations in the past.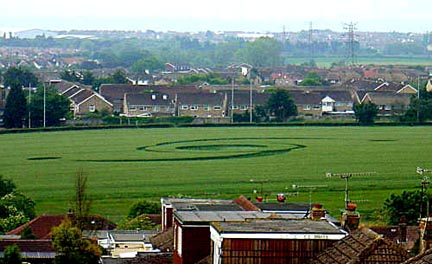 Only one shallow angle image so far, but it looks very large, at least 250 feet based on the number of tramlines it crosses. (Tramlines are the lines made by tractors through crops and distances between the lines can vary from 30 to 80 feet.) It's in barley and looks very clean cut and sharp.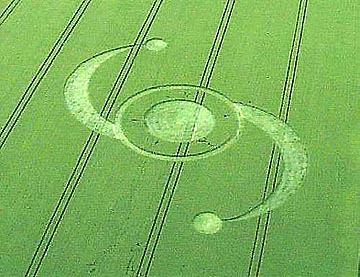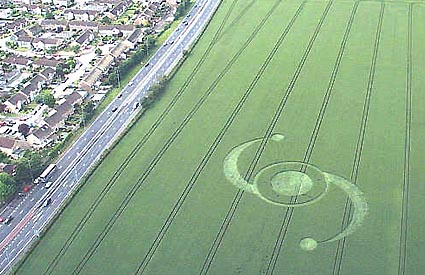 Silbury Hill, Wiltshire, England Discovered Tuesday, June 4, 2002 (Young 4-foot-tall barley)
I first heard about this formation this morning at 11 a.m.. Some guy came in our Silent Circle Cafe up the road from this formation. It happened to be his birthday and he had taken an early morning microlight (very small airplane) flight over the countryside. I believe it was a birthday gift and he spotted a new formation down at Silbury Hill. Seeing our cafe there, he came in and told us.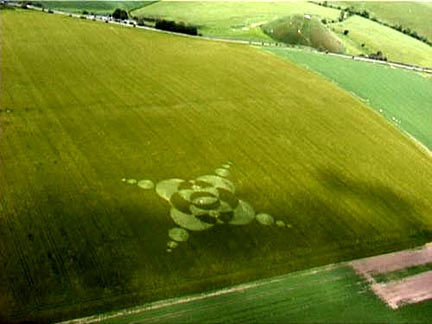 We headed out there as quickly as possible and located the formation almost dead opposite the ancient mound of Silbury Hill. In fact, it is in exactly the same location as a formation in 1999 that was a 4-fold design or stepped pyramid. This new one is in the exact same location and quite strangely at almost the same elevation as the top of Silbury Hill which, I believe, is 130 feet.
We made our way into the formation and it is quite spectacular to say the least. Easily the neatest English formation of this year. It is absolutely crisp.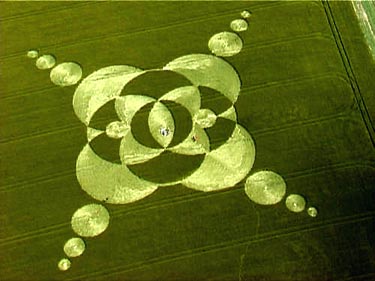 Better than Avebury Trusloe?
In some ways. It's almost as if a different agent is involved here, equally stylish and equally stunning. But it's kind of different in just the basic way it's gone down. It's quite odd, as opposed to Avebury Trusloe which was kind of very freehand, loose, laid down very gently as if something had just brushed over the formation at Trusloe.
This one at Silbury Hill was quite flat to the ground, and yet everything was raised up about three inches so that when you step on it, you get a real crunch under the foot as you put your body weight onto the plants. In Trusloe, the plants were coming up around my knees. So, obviously there had been a much gentler put down at Trusloe. The lay in Trusloe seemed to be one of those where it needed to be seen from the air because it was very hard to make sense of it on the ground.
It's in similar-aged barley to the previous day's formation. It's about 4-foot-high barley, very damp, very green. It had rained the previous night which is quite interesting in itself because I personally wouldn't want to be on a hilltop on a windy, wet night in Wiltshire. But the formation arrived in those circumstances.
We made out way into it and it's a little more than 200 feet in diameter. The formation consists of a fairly large number of circles towards the center of the formation, very large interlocking circles making a kind of Vesica Pisces symbols and radiating out in four directions. There are strings of circles kind of disappearing, lapping over the sides of the hill. The way the formation is positioned, it kind of looks like a star shape draped on top of the hill.
The actual design to me seems reminiscent of things that were happening back in 1998. There was a formation named the Queen constructed in a very similar fashion. Also, a couple of others known as "cat's eyes." They were quite similar in construction, but not quite as neat as this one ­ maybe because it's in barley. It does go down very smoothly. The entire floor of the formation really did look as if a single sweep had gone over the whole thing, like a rippling pond of crop. Very, very impressive to see on the ground. There were some very interesting center swirls, tufts left standing, and some very interesting weaving going on. It's actually quite complex on the ground because there are lots of circles interlocking with each other, certain sections standing and certain sections down to create this effect from the air.
It is strange that we often get splatterings of formations that suddenly jerk us back a few years, almost as if for some reason to remind us of what came before. But the formation did seem, in my opinion, extremely genuine in terms of it didn't sem to be one of those made by people. My experience tells me that this one was created by a single hand, probably very fast and you have to be there on the ground to appreciate it. You would never see those details from the air. It's the whole rippling motion as if one fairly swift sweep went over the area and put the crop down extremely precisely in a moment. That's my impression.
Are any of the known hoaxers trying to claim anything on these first formations?
No, I have had no word on that. As you know, we've opened a crop circle information center and cafe at Cherhill just a few miles from this particular formation. We have had a few of these hoaxer individuals drop in to look at the place and have some tea. For instance, yesterday the Avebury Trusloe formation was present and we had individuals in there who we know have been involved in making fairly mediocre formations in the past and it was pretty apparent talking to these people that they knew nothing about any new formations just from sitting down and having conversations. Generally, my experinece tells me that people who make crop circles are on some ego trip and are quite keen on hingting about new formations to guage our opinions. But there was no sign that any individuals I have spoken to knew about any formations prior to their arrival, which is quite intersting. It is always after the event that they say, 'Oh, yes, I made that one. I made this one.' But when it comes down to the proof and facts which I have learned it is extremely flimsy.
It's also significant that this year there were more oilseed rape formations in Germany first. People were speculating about the quiet of the spring season in England. If you go back to 1990, that was the way that year was – very quiet until the first of June and then a whole series of remarkable formations occurred and many seemed to be "a new language" in the pattern history.
Yes, it's extremely bizarre how the situation seems to work. In Wiltshire, we have massive canvasses of perfect rape which is available in early May. And for some reason, it just doesn't happen some years. One year, maybe it will start the first of April and we'll get stunning formations like a dozen formations through April and May. But this year, it just didn't happen – until now."
---
More Information:
You can e-mail Charles and Frances Mallett for more information about The Silent Circle Cafe and crop circle information center at: [email protected].
Telephone in Calne, Wiltshire, England: 07810-825-185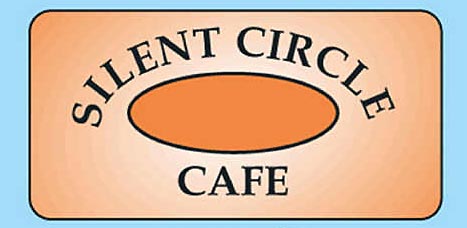 Charles and Frances Mallett opened The Silent Circle Cafe on June 1, 2002.
Hours are 10 a.m. to 7 p.m. daily on the A4 Beckhampton-Calne Road, below the
Cherhill White Horse and obelisk near Calne, Wiltshire not far from Silbury Hill and Avebury.


---
Websites:
http://www.cropcircleconnector.com

© 1998 - 2019 by Linda Moulton Howe.
All Rights Reserved.