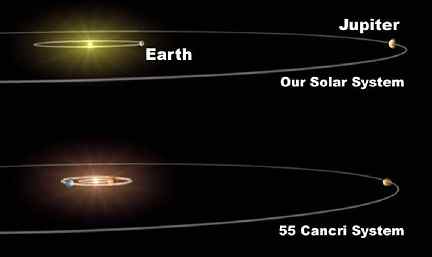 June 14, 2002  Pasadena, California – Today NASA's Jet Propulsion Laboratory announced that astronomers have discovered another solar system orbiting around the star 55 Cancri in the constellation Cancer which resembles our own sun and planets, at least in two large gaseous planets located at similar orbit distances. The first planet there was discovered in 1996 near that sun. The star 55 Cancri is 41 light years from Earth and is about the same age as our solar system, 5 billion years.
Dr. Geoffrey Marcy at the University of California, Berkeley, and astronomer Dr. Paul Butler of the Carnegie Institution of Washington, Washington, D. C., have been searching for fifteen years to find a similar earth planetary system with funding from NASA and the National Science Foundation. Planet searchers look for Doppler shift wobbling around stars. In this case, even the two large gaseous planets now thought to orbit 55 Cancri do not explain all observed wobbling. One possible explanation is that one or more other planets in addition to the large gaseous ones could be there.
In a JPL press release, Dr. Marcy explained that in addition to the first 1996 planet find, the latest discovery of a larger-than-Jupiter-sized planet was exciting because the new planet orbits 55 Cancri at a similar distance as Jupiter does from our sun. "All other extrasolar planets discovered up to now orbit closer to the parent star, and most of them have had elongated, eccentric orbits. This new planet orbits as far from its star as our own Jupiter orbits the Sun."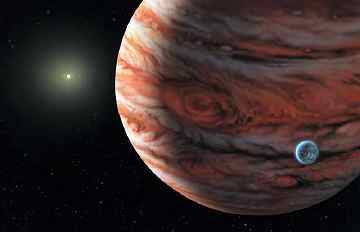 JPL explained that if astronomical units (AU) are compared between our solar system and the Cancri system, this new gaseous planet is 5.5 AU. Jupiter is 5.2 AU (824 million kilometers or 512 million miles) from our sun. The revolution of the new planet is 13 years compared to Jupiter's orbital period of 11.86 years. This 55 Cancri planet is bigger, 3.5 to 5 times the mass of Jupiter.
Astronomer and astrophysicist Dr. Greg Laughlin at the University of California, Santa Cruz, calculated from the Marcy and Butler data that between the two known large gas planets at 55 Cancri, an earth-sized planet could "survive in a stable orbit," but no such planet has yet been confirmed.
"The existence of analogs to our solar system adds urgency to missions capable of detecting earth-sized planets," said Dr. Charles Beichman, NASA's Origins Program chief scientist at JPL. "This planetary system will be the best candidate for direct pictures when the Terrestrial Planet Finder is launched later this decade."
A space interferometer telescope is being built in Flagstaff, Arizona that will combine the light gathered by five telescopes from distant cosmic objects. Such optical strength could photograph the dimples on a golf ball at a thousand miles. This Terrestrial Planet Finder interferometer is scheduled to be operating in about two more years.
---
Website:

© 1998 - 2019 by Linda Moulton Howe.
All Rights Reserved.