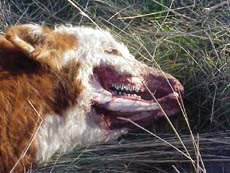 "Veterinarian Alberto Pariani, D.V.M., at the University of La Pampain General Pico has never even heard of this 'hocicudo rojizo' mouse.
... Dr. Pariani was especially surprised by the official statements in the press conference because he has not seen any fecal droppings from foxes, birds or mice on any of the mutilated animals he has examined."­
 - Reed Lindsay, Freelance Newspaper Reporter, Buenos Aires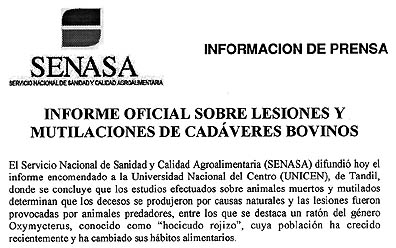 July 2, 2002  Buenos Aires, Argentina - The National Health and Agroalimentary Quality Service (SENASA) yesterday held a press conference in Buenos Aires to announce, as the press release above states, "Official Report Regarding Injuries and Mutilations to Bovine Carcasses." To most everyone's surprise, including ranchers and veterinarians who had examined dozens of the dead animals, SENASA's President, Bernardo Cane, announced that "studies performed on dead and mutilated animals have established that the deaths were the result of natural causes and the injuries were provoked by predators, among them a rodent of the genus Oxymcterus, more commonly known as the 'hocicudo rojizo' (red muzzle) whose population has recently increased and whose nutritional habits have changed."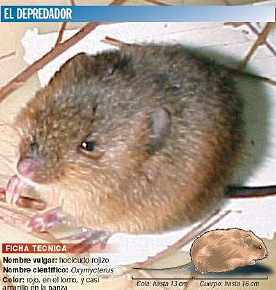 A reporter at the SENASA press conference in Buenos Aires was Reed Lindsay, a freelancer who attended after spending time in Salliquelo and General Pico of northern La Pampa province to talk with ranchers and a couple of veterinarians who have seen dozens of dead cattle from which ears, eyes, jaw flesh, tongues, trachea, larynx, esophagus, genital organs and rectal tissue have been excised "surgically" and bloodlessly. The ground under the dead animals has not shown any signs of struggle or tracks. I talked with Reed today about the press conference and what he has learned the past few days in his research.
Click here to subscribe and get instant access to read this report.
Click here to check your existing subscription status.
Existing members, login below:

© 1998 - 2023 by Linda Moulton Howe.
All Rights Reserved.