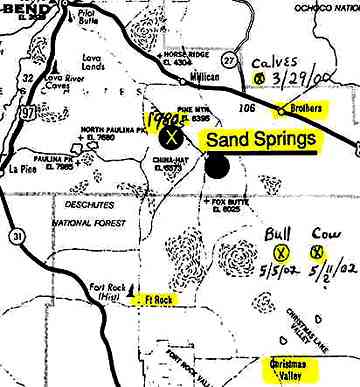 July 6, 2002  Christmas Valley, Oregon ­ Deputy Sheriff Keith Bumpass of the Lake County, Oregon Sheriff's Office has discovered another mutilated cow in Christmas Valley southeast of Bend. This new case is in the same general area as the previous bull, cow and long-horn cow mutilations reported at Earthfiles on June 17 and May 18. Deputy Bumpass says the location is "about three miles straight north of the sand dunes area. It would be about 12 miles straight east of the May 5th bull and about 6 miles east of the second mutilated cow.
This animal was found by BLM workers who reported this recent cow stuck in a fence by a watering tank. When Deputy Bumpass went to investigate, he recognized the cored rectal area and excised udder. But there was another anomaly. The cow seemed to have only three legs. He told me today that when he and another deputy rolled the cow over, they realized the front left leg was broken and shoved into the cow's body. One speculation is that the cow was dropped from a considerable height right onto that front left leg. As I've reported in my documentaries and books, ranchers and law enforcement since the late 1960s have often found animals laying in impact craters as if dropped from a great height. Broken hips and other bones in those animals have been confirmed.
But no one knows exactly who, or what, is raising the animals out of pastures and then dropping them back down already dead with bloodless excisions of tissues. It certainly is not the red-nosed mouse of Argentina.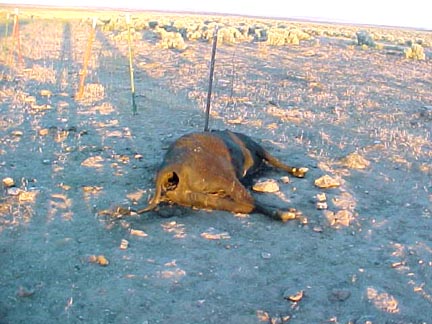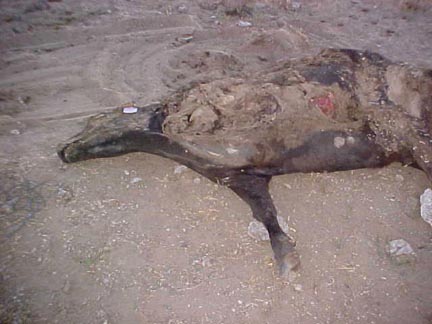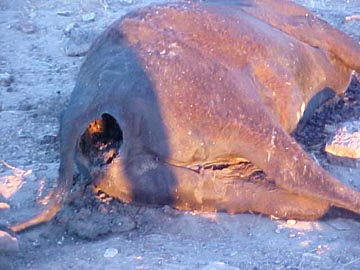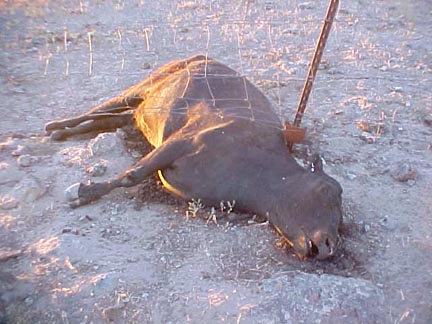 ---
More Information:
If you have any information to report about these Christmas Valley, Oregon cattle mutilations, please contact Deputy Sheriff Keith Bumpass at the Lake County, Oregon Sheriff's Office.
Phone: 541-576-2781.


© 1998 - 2019 by Linda Moulton Howe.
All Rights Reserved.