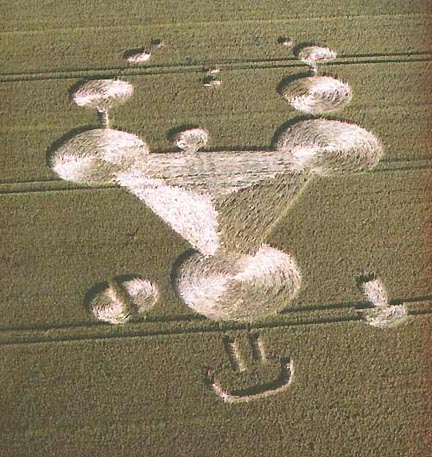 July 12, 2002  West Overton, Wiltshire, England -­ At noon time on Tuesday, July 9, Charles and Frances Mallett at The Silent Circle Cafe in Cherhill, Wiltshire, received a phone call about a new crop formation in West Overton, not far from the double spiraled serpents discovered on June 23, 2002. It had been raining for several days. Fields were full of mud and not conducive for pranksters, so the Malletts immediately drove out to see the condition of the plants while still fresh. I talked with Charles the next day, July 10, about his impressions.

---
Interviews:
Charles Mallett, Crop Circle Researcher and Co-Owner with Frances Mallett of The Silent Circle Cafe, Cherhill, Wiltshire, England: "This new one is a few hundred meters from that June double spiraled serpent formation in the next field. This time the crop is young wheat as opposed to elderly barley in which the coiled serpents went down.
The weather has been absolutely dismal here. You wouldn't believe it, Linda! It's like January. It's been raining every day for the last week or so. It was actually stormy rain on the night this formation happened which must have been the night of July 8 going into the 9th. When the formation was reported to us, we figured it was not going to be a hoax or anything silly. We thought it would be very clear in the plants and muddy ground. If it were a bunch of guys tromping around in the field in the rain in southern England now, they would make a helluva mess. No way to avoid it.
When we got there, it looked like a couple of people had visited earlier in the day. There was one very small tract going into the formation that looked like a couple of people had walked in. But essentially, the formation was very clean, very crisp and neat.
It's a flattened triangle in this wheat with a flattened circle on each point. I would say the circles were about 25 or 30 feet in diameter, each. The three sides of the triangle are 50 feet, maybe.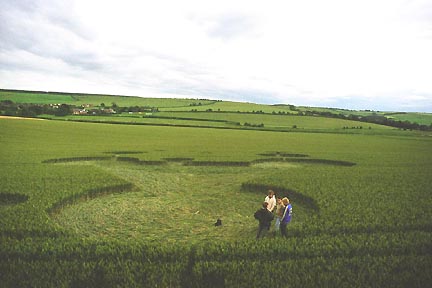 Is that similar to the Barbury Triangle?
It's not actually, but it's interesting that you should say that because my immediate impression upon seeing it from an adjacent hill is that it looked kind of Kabalistic, that brand of ancient Christian mysticism. For some reason, it struck that chord with me. It's far less sophisticated than the 1991 Barbury triangle and much smaller and much less complex.
Nonetheless, it is cleanly "cut" (no physical cutting ­ crisply, neatly laid down) into the field. Coming off each corner, we have one point pointing straight up the hill in the formation facing the road. Coming off the top outside the main body of the formation is a couple of laid areas in the shape of rectangular boxes and above those an arc, or letter "C," also laid out. That's clearly the top of the formation.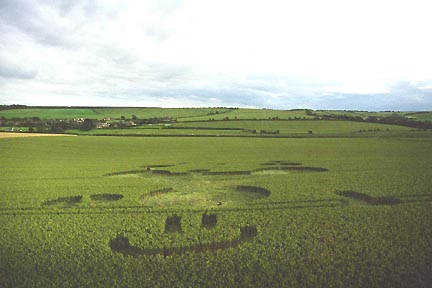 One of the boxes of these arcs is very slightly twisted in relationship to the main body of the formation, which is interesting. At two lower points of the formation, we have strings of receding circles sort of disappearing down the hill.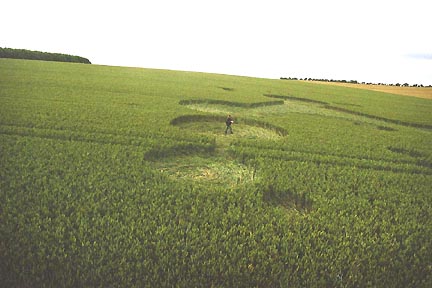 One or two other interesting little glyphs are dotted around the formation. The whole thing probably covers about 180 feet across the field. It's consistently neat pretty much over the whole thing.
It's an interesting formation and to me, my first impression was some weird spaceship, very mechanical, like a machine-type looking.
In contrast to how the plants were laid down at Stonehenge or in the double coiled serpents at West Overton, how were the plants laid down in this triangle compared to the other two formations?
I would say the formation down at Stonehenge is a separate agency. In my mind, there is no doubt at all. The Stonehenge formation, as we discussed in your earlier Earthfiles.com report on July 5, seems to be very related to the 1999 Hackpen Hill spiraling formation. The agency involved down at Stonehenge I'm absolutely certain is the same agency that created Hackpen Hill. I went in both formations on day one. They were essentially the same.
When you look at these crop formations every day, or every few days, you perceive subtle things about the way they are laid out, just the way they are arranged in the field and around or on topographic details ­ things that casual visitors might not notice. So, Stonehenge and Hackpen Hill are related.
In comparison, this latest formation at the West Overton location of the double spiral, is not the same hand or agency ­ whatever you care to call it ­ there is no way it's the same as Stonehenge. I don't know why or what's going on, but it's not.
I mean, it's very neatly done, but it seems much more mechanical, much more aggressive. It was kind of flatter to the ground. Down at Stonehenge, when we were standing on the crop, it was like a carpet sinking under your feet. We were crushing the plants with our feet that had been laid down very subtly and gently.
Over at West Overton in the triangle and in the spiraling double serpent formation, they seemed to be pretty flat, fairly mechanically done. Just a lot more harsh, for some reason. Even though the edges and everything about the patterns suggest they are genuine events as far as we're concerned because they are so inconsistent with the typical efforts of the average hoaxers that we are aware of. There doesn't seem to be any doubt about that!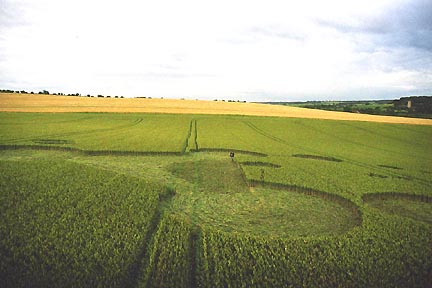 Having come in rain, for people to have worked on these formations in the rain and mud without leaving evidence of mud somewhere on the plants just doesn't seem quite feasible?
No. As you know, I've walked around in a lot of corn (cereal crops) fields in a lot of bad weather and I can absolutely assure you that you cannot walk up and down tramlines in a crop field in southern England in the rain without making one helluva mess. Most noticeably, the weather conditions were the same when the huge, amazing formation turned up at Stonehenge. Linda, that was absolutely pristine and clean.
If you put your foot on a gently laid bed of wheat, you're going to leave a big footprint. Even if it's not muddy, you still leave a big footprint. When it's muddy, you leave a horrible mess. You can't help it, as simple as that. None of that was present at Stonehenge and the West Overton triangle was pretty similar in cleanness when we first went in it."
More About Holland and German Crop Formations in Upcoming Report
---
Websites:
http://www.cropcircleconnector.com
http://www.temporarytemples.co.uk

© 1998 - 2019 by Linda Moulton Howe.
All Rights Reserved.