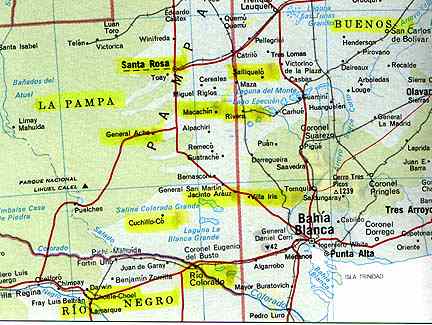 July 19, 2002  La Pampa Province, Argentina ­ Argentina's recent federal government assertion that red-nosed mice, Oxymycterus rufus, are the culprits in the country's wave of animal mutilations has not stopped the unusual animal deaths. On July 1, rancher Camilo Lisiardo near Rufino in Cordoba Province west of Buenos Aires, found one of his calves (sex not specified) lying on its left side, dead. The right jaw was stripped of all muscle tissue, so cleanly the bone looked like it had laid in the sun for weeks. Its tongue and right eye had been cut out, a 4 centimeter-diameter circle of hide was excised around the naval, and the rectum was cored out.
By Wednesday, July 3, veterinarian Hernando Brandino examined the calf. He used a knife on the carcass and compared his cuts to the mutilator's cuts. Dr. Brandino said his experiment supported the hypothesis that a sharp instrument had been used on the calf.
On Friday, July 5, in San Francisco del Monte de Oro, a 5-month-old cow looked "as though a machine had gone into its mouth and sucked out everything inside. In very fresh cuts, its ears had been removed and so had the tongue from deep within the throat. One eye was gone along with the intestines and anus. El Diario de la Republica reported that all the cuts appeared burned and "part of the tail has similar (burned) lesions."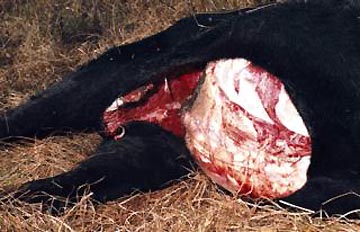 In Tucaman – a town famous over many decades for unidentified aerial lights – seven goats and eight cows were found dead and mutilated. Resident Maria del Carmen told Diario La Gaceta de Tucaman that she saw a bright light at night, followed by the discovery of the dead animals.

Professionals Reject the Argentina Government's Mouse Theory
Tenured faculty at the National University of Rio Cuarto and the National University of Cordoba rejected the government's mouse explanation, along with Gustavo Siegenthaler, Director of the National Museum of History of La Pampa. He explained to reporters that the Oxymycterus rufus is not even known to La Pampa Province, based on a "Survey of Vertebrates in the Province of La Pampa" in 1986 to 1992. Siegenthaler said, "We have placed between 70 and 120 traps each night and have never found that species, and it does not appear in the bibliography either."
Further, the book Mammals of Argentina by Migule Lillo Institute says the "red-muzzled mouse" lives in the Mesopotamia region between the Parana and Uruguay Rivers northeast of Buenos Aires Province.
19 Cattle Found Inside A Large Water Tank
Perhaps the strangest event so far in the entire Argentina 2002 saga occurred at the end of June, but has only recently been translated. The location was Suco west of Rio Cuarto very near the border of San Luis Province. A well-known livestock producer found nineteen of his cattle inside a large water tank that had a sheet metal tank and a metal conical cap. Nine of the cattle were dead, according to a veterinarian who was called to examine the animals. The remaining ten animals were alive inside the water tank, but near death from the freezing cold temperature of the water. Police also investigated. So far, no one has been able to explain how the 19 cattle were put inside the tank which was even surrounded by a tall fence.
If you consider eyewitness accounts in the United States over the past 30 years in which people have seen beams of light come out of glowing discs in the sky and have watched animals rise up in the beams and then be lowered bcak down into pastures inside the beams, such a technology might be able to put nineteen cattle inside the water tank. If that did happen, it still does not answer the question: why would anyone, or anything, want to put nineteen cattle inside a large water tank?
Strange Lights and Entities Are Being Seen­
On July 5, twenty-five people in the village of Carmen de Patagones in Comarca Viedma, Argentina watched for nearly a half hour as a light approached and receded "like some sort of zoom lens" and changed colors from red to blue to white as it moved. Eyewitnesses also said that the object moved in a zig-zag pattern and when it stopped mid-air, it went into a swinging motion.­
In Chascoumus, Argentina, residents called the police after a series of strange lights that changed colors landed on the edge of a lagoon and near the Fish and Nautical Club.­
In Entre Rios Province, a resident in Crespo filmed fifteen aerial lights which "spun around in circles for ten minutes." His home video was broadcast by local news media as proof of the odd phenomenon. Police in two police cars saw a powerful light approach them on a road. The light sparked, "similar to a photographer's flash." The light's presence stopped the motors and electrical systems in the police cars. When the bright luminosity vanished, suddenly police sirens and engines turned back on.­
One of the most bizarre cases was investigated by the C.O.R. Group in Rio Cuarto, Argentina. Its field investigators traveled on Sunday, July 14 to Rio Cuarto, a town of 7000 people devoted to farming and livestock. There, the investigators interviewed Pedro and Estela Moine who had a startling encounter on Wednesday, July 3. It was 9 p.m. when the couple walked along pathways that wind through pastures and an old railroad yard once used for loading grain. What they thought were "voices" talking in a language neither understood, followed by "strange 'O' sounds. They were like conversations in a strange language," Pedro explained later.
Then Pedro saw a "a thing with human shape" that lacked arms and legs, seemed to have a white glow and apparently could "fly or float" in the air. Rather than retreat, Pedro and Estela ran after it. The entity hid behind the control room of the truck scale at the grain-loading dock. Pedro ran toward the area and was amazed to see the entity "rising as a plane taking off, flying at an altitude of five meters, and disappearing behind a large metal shed."
As Pedro and Estela discussed more details afterward, the couple explained that the humanoid mass "of the apparition appeared to be a body covered from head to toe in some sort of mantle, as if the entity wore a hat and long raincoat that hung down to its feet.
The above report from C.O.R. was sent by Mario Luis Bracamonte to Scott Corrales, Director, Institute of Hispanic Ufology, Bradford, Pennsylvania, for translation.­ Two weeks later on July 16, El Diario de La Pampa reported that police were called when a young woman fainted after a "close encounter with some sort of green dwarf that appeared before her in the late evening as she walked in the vicinity of her home. This incident was further confirmed by personnel from an emergency ambulance service who said the woman was treated by a Dr. Brum.
The same day, Diario La Manana reported that three residents and three policemen from the Mercedes Police Department in Gobernador Ugarte "witnessed something strange over a farmhouse ­ something that radiated a very powerful white light from its lower section, making it difficult to see what was above the light."
Villarrica, Chile on July 10, 2002

In the north near the Argentina and Chile border on July 10 in late evening, El Diario Austral de La Arucania in Chile reported that dozens of families and a controller at Radio Apumanque in Villarrica watched an unidentified aerial object over the town.Patricio Castillo at Radio Apumanque said, "I looked and saw a luminous object with three red lights in one of its sides. It was still for a few seconds and then made a very swift movement."Pilar Castillo, host of the "Morning Talk with Pili" was leaving a meeting and saw an object that "was like a shooting star that changed colors as it went away. It came from the direction of Nancul to Villarica. It was red for some minutes and then turned violet."
---
Interview:
Scott Corrales, Director, Institute of Hispanic Ufology, Bradford, Pennsylvania: "Argentinian reporters I am in touch with say that almost every province in Argentina is reporting animal mutilations despite the government's odd effort to blame it all on the red-muzzled mouse that veterinarians in La Pampa have never even seen before.
What is your perspective on the many reports of so many aerial light sightings and encounters with humanoids and dwarfs?
It's possible that whatever intelligence is behind this phenomenon has decided to put 'more toys on the board' to see how we (humans) react. Cattle mutilations have gotten our attention and now we have the addition of lights. Further, we are getting cases involving the police and eyewitnesses. It seems almost as if there is a new emphasis on the lights and not the animals. But in Uruguay where the government tried to blame the mutilations on yellow jackets, there were sheep mutilations this past weekend.
There certainly have been many new mutilations reported in cattle, goats and sheep in Argentina since the Senasa announcement.
Yes. The impression people there have is that the government had to bring things to an end for political reasons in order to reduce the impact on the commodities market. There had also been bloody political repression going on in Buenos Aires at the time. In fact, there were stories of the police infiltrating rioter groups in order to shoot them and that happened only three weeks ago.
Meaning that the police were politically connected and assigned to kill certain groups of people threatening the status quo?
That's correct. Given the nature of the economic crisis, Argentina is going back to a more repressive tone. Certainly this is being seen in Buenos Aires. The impression that the Senasa report gave everyone was that the government wants to bring this to an end.
But the press conference did not stop mutilations.
Their main concern was to give out an answer and then accuse the major newspapers of, 'If you people pursue these stories, you're being sensationalist. You are creating the panic because we've already told you. It's the red-muzzled mouse.'
The result has been that the main Buenos Aires media stopped reporting about animal mutilations, even while the provincial newspapers and online media keep reporting them as they happen.
There has always been the odd disconnect in the animal mutilation mystery around the world that has always been there between that which is politically unacceptable to discuss versus the truth. No matter what excuse is brought up by governments to explain away animal mutilations, it never makes them stop. One can't help but wonder why did SENASA come up with the mouse story?
It probably seemed the easiest. Any other answer such as satanic cults, voodo, santaria would have demanded expensive police investigations and arrests to quiet the public concern. So the government knew that was not the easy way out. But if you say a mouse did it, no one expects anything from you except, 'OK, you guys found an answer and that is fine.' Especially when the country is going through an economic depression which Argentina has not seen since the 1930s. The mouse answer satisfied.
Satisfied who?
It satisfied the government. It did not satisfy the public at large, the vets, the ranchers who lost the animals and lost the money tied up in those animals.
Unlike the chupacabras cases in Puerto Rico, Mexico and Central America back in 1995, those were spaced out over time. In one week, you might have a couple of cases and then nothing for another week or so. But in Argentina, you are getting cases every day from different towns and it is difficult keeping them all straight.
That's my point. It is a massive phenomenon in a very large country covering at least eight provinces and maybe many more. The government has not really done anything effective and veterinarians are embarrassed by the explanation of their own government because they know it is not true. The vets who have examined the mutilated carcasses have never found any mouse droppings.
That's correct and they have come out and said so in the media. However, the vets are very deferential toward the universities and SENASA even though they know the mice are not the answer.
Meanwhile, mutilated animals continue with more lights and entities being seen.
Right, there is no doubt about that. I think we're now waiting for the next act.
Will it happen in the fall?
Interestingly, compared to what happened in Chile back in 2000, everything started back then in April also on Good Friday with a wave of animal mutilations. Mutilations started in Argentina with intensity this April 2002. Back in 2000 in Chile, the mutilations ran through the summer. Then in September came the most dramatic cases involving chupacabras-type creatures. In one case, there were students returning home from school and they found themselves facing a small, red-eyed creature with wings that hovered off the ground at eye level and stared them down. The boys ran off. There were other cases in which people were at home, heard something walking on the roof, went down and saw apelike, red-eyed creatures on the rooftops.
Everyone wants something to blame in animal mutilations and the cause in Chile were the strange entities. Finally, all the Chile phenomena faded out around November to December 2000.
Now in Argentina, we're seeing the mutilated carcasses and people are reporting lights. But they don't have definitive eyewitnesses to something in the act of mutilating the animals as people reported in Chile and the earlier chupacabras reports. Without that, the mouse is a convenient answer to shut down the Buenos Aires media and say the government investigated and has an answer ­ even if the answer is not true."
---
More Information:
Mutilated Calf "Preserved" for Fifteen Days
On July 17, 2002, La Voz de Bragado, reported that a calf was found mutilated in the Province of Buenos Aires near Bragado. Its tongue, jaw flesh, eyes, ears and rectal tissue had been excised.The cattle owner, Oscar Latorre, told reporters that the most extraordinary aspect of the calf's death is the fact that the animal has been dead for fifteen days, yet "does not present any signs of decomposition and has not been devoured by vultures or foxes, who are frequently seen around this area.

These photos of the mutilated calf's bloodless excisions below are all © 2002 by La Voz de Bragado, Bragado, Argentina.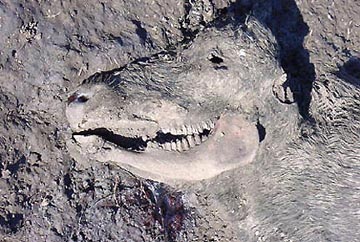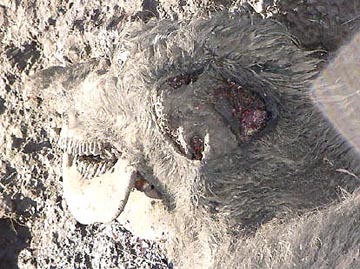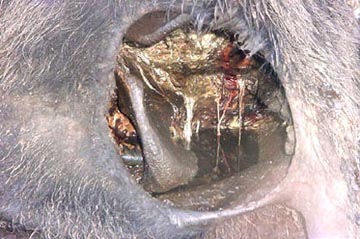 ---
Website:
http://www.inexplicata.com (Journal for Spanish Ufology)



© 1998 - 2019 by Linda Moulton Howe.
All Rights Reserved.