September 28, 2002  Sicily –
Italy Reports Its First Human Mad Cow Victim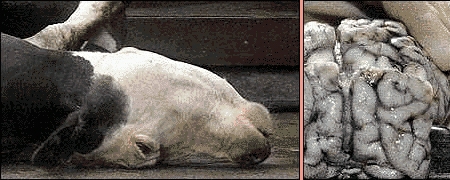 The Lancet medical journal reports that a 25-year-old woman in Sicily has variant Creutzfeldt-Jakob Disease (vCJD) which has killed 128 people in Europe since mad cow disease was first detected in England in the mid-1990s. The current medical theory is that the brain and nerve damaging prion disease in cows was spread to people who ate prion-infected beef. New variant CJD has nearly a 100% mortality rate.
Of great concern to health authorities is the fact that the young woman in Sicily had never traveled to Britain or other European regions affected by mad cow disease such as France and Ireland. So, Italy's Health Ministry ordered an investigation of Italian cows and so far 73 have tested positive for the deadly prion disease.
More Than 2,300 Cases of West Nile Fever Virus in U. S.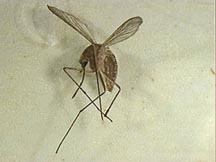 September 27, 2002 Trenton, New Jersey – Today, the New Jersey Department of Health and Senior Services confirmed two more cases of West Nile virus bringing the state's total for the year to six. One patient is a 65-year-old Moorestown resident and the other is a 79-year-old from Wildwood Crest. Both have been released from hospitals after several weeks of recovery. West Nile Fever is spread by mosquitoes that carry the virus in the blood the insects suck from infected birds and other animals. In Pennsylvania, 24 West Nile Fever illnesses have been reported and three people died. The total United States cases so far in 2002 have been more than 2,300 and 116 people have died. New Jersey officials believe their population was not as badly affected this year because health departments urged residents everywhere to keep standing water near homes clean or empty altogether to eliminate the watery places in which mosquitoes like to breed.
---
More Information:
Other Archived Earthfiles.com Reports About "Mad Cow" and Prion Disease:
04/06/2002 —  Chronic Wasting Disease Spreads to Wisconsin White-Tailed Deer
03/21/2001 —  USDA Finally Removes 233 European Sheep from Vermont Farm
02/25/2001 —  Environmental Updates
02/11/2001 —  Update On Mad Cow Disease
02/04/2001 —  Mad Cow-like Chronic Wasting Disease in North American Deer and Elk
01/21/2001 —  Prions – The Misshapen Protein That Causes Mad Cow and CJ Disease
12/03/2000 —  Bacteria from Outer Space?
11/26/2000 —  Environmental Updates
Other Archived Earthfiles.com Reports About West Nile Fever Virus:
10/30/2000 —  Science, Environment and Medical Updates
09/24/2000 —  Infectious Diseases – A Global Threat
09/03/2000 —  Environmental Updates and 79 Cattle Die in Saskatchewan
06/17/2000 —  Spring 2000 – Hottest On Record in U. S.
04/16/2000 —  Environmental Update April 16, 2000
03/12/2000 —  Environmental Updates and Mysterious Fires Near Scott, Arkansas
01/23/2000 —  Possible Link Between 100,000 Lobster Deaths & Pesticide Spraying
11/15/1999 —  Kunjin West Nile Fever Virus Update
11/07/1999 —  Environmental Updates and Calf Fetus Shocks Los Brazos, New Mexico
10/24/1999 —  Short Updates About Environmental Problems
10/21/1999 —  Bird Deaths In Mascoutah, Illinois and Erie, Pennsylvania
10/12/1999 —  Kunjin/West Nile Virus – First Time in Western Hemisphere
09/26/1999 —  Could Ancient Microbes in Polar Ice Cause Epidemics?
---
Websites:
http://www.thelancet.com/journal/

© 1998 - 2019 by Linda Moulton Howe.
All Rights Reserved.