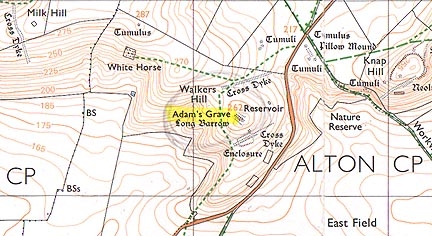 September 28, 2002  Alton Barnes, Wiltshire, England – Two weeks ago in England, pilot Tony Hughes was flying over Adam's Grave in Wiltshire when he saw a circle inside a sweet corn field growing along the road between Adam's Grave and Milk Hill. Then a week later, photographer Peter Sorensen was flying over the same area and reported a second circle in the same corn field.
When Charles Mallett at The Silent Circle Cafe in Cherhill heard about the circles in corn, he suspected it was Hollywood's Disney producers putting circles down amid tall corn stalks just like they had in the science fiction thriller, Signs movie, with Mel Gibson. But after Charles went to see the first circle for himself a few days ago, he told me he was surprised to find the corn stalks were not swirled around in the circle, but were laid down straight out from the center as if by a strong explosive force.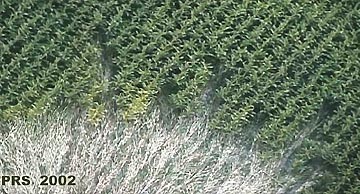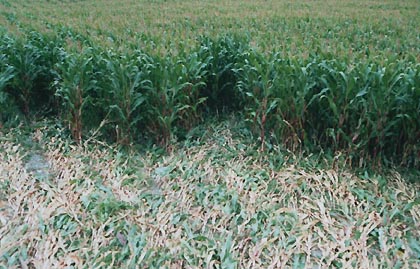 Charles Mallett, Crop Formation Investigator and Co-Owner, The Silent Circle Cafe, Cherhill, Wiltshire, England: "Those plants are 7 feet high, so what I had to do is walk up the hill, locate the circles from a high vantage point and then pretty much guess when I got down to the edge of the standing crop because it's so high, you have no point of reference at all. My first attempt when I walked into the field, it's like being in a jungle. You need a machete to get through it. It's ridiculous! I walked right past the formation and ended up at the other end of the field. Missed it completely. Completely disorienting. It's bad enough just trying to make your way through there (the tall corn crop), let alone make a circle or pattern in it. It was unbelievable!
So, my second attempt I managed to find the circle. What I was looking at ­ and I don't know how many people had been there because I was not absolutely certain how long it had actually been down ­ what I initially perceived as an irregular circle ­ in fact, I went back a couple of days ago and measured it. It's 74 feet across and north south it's 92 feet, so it's kind of egg shaped. Pretty vague.
Actually, there's a standing center ­ seven standing stalks ­ and from that point it literally looks like a bomb has gone off in there, as if some kind of blast had hit it.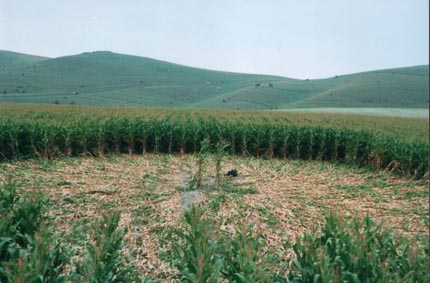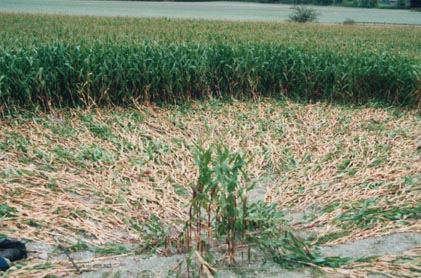 Everything was dead flat to the ground. Everything was kinked off at ground level and about 1/3rd of the plants were broken right off and it was all radially splayed from the center out in all directions. It looked quite impressive in some ways. I don't see how a team of hoaxers could do so much damage, even if they were trying, you know?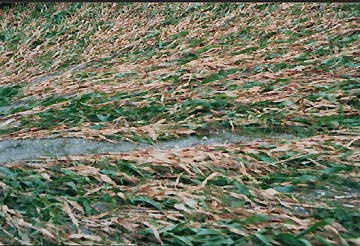 So, this corn circle seemed to have violent energy associated with it?
Severe. Even looking at the plants, myself and Frances, my partner. We are fairly experienced at looking at crop circles. Even though the violent nature of it was obvious, totally apparent, there wasn't ­ on the stems of the plants, there weren't any indications of board marks or mechanical tools. They were pretty moist, very delicate, the stems. They just crush badly. There wasn't any perceivable mechanical or board type marks that you see in a standard hoax type formation. Judging by the mess I was making by walking on the plants, they would have been there if it had been a hoax. But then again, I wasn't there when it happened and I don't know the methodology of that thing going down. But I was fairly impressed.
How could the seven stalks have remained standing in the center?
I don't know. I have no idea. It's quite interesting, actually. Around the seven central standing stalks, the perimeter ones were kind of bent over kind of half way down. It was like a curtain of seven stalks with the outermost ones bent over half way down. It just looked like some shock wave had hit the thing and splayed it out in a vague circle. It really did look like a bomb went off in there and I haven't seen a circle like that before. So I haven't really got much of a reference point for judging it.
And there is a second circle formation nearby?
Yes. This one must have appeared about six or seven days later. This was reported by Peter Sorensen to the same pilot which initially reported the original event. He said it was a circle. It turned out this second one is bang in the center of the field. The first formation is in the top right hand corner of the field. The second one appeared about 6 or 7 days later and a more accurate circle. And rather than being radially splayed out in all directions, it's swirled in a more conventional crop circle style with a large standing center.
I haven't examined this on the ground as yet. But nevertheless, some of what I saw in that first circle here doesn't square with a mechanical method for laying crop; i.e., using planks of wood and things like that because that would have crushed the stems if they did. I tried it myself."
Continued in Part 2
---
Websites:
http://www.geocities.com/cropcirclecanada/circlescanada02.html (Canada)
http://www.geocities.com/cropcirclecanada
http://www.cropcircleconnector.com (England)

© 1998 - 2019 by Linda Moulton Howe.
All Rights Reserved.