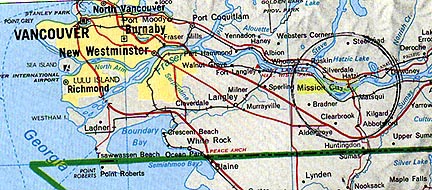 October 1, 2002  Mission, British Columbia, Canada – On the other side of the ocean in North America, two more circle patterns in maize corn were reported on September 8th from a British Columbia, Canada farm community called Mission. Paul Anderson, Director of the Canadian Crop Circle Research Network (CCCRN) and I contacted the farm owner, Bobby Braich. Mr. Braich wondered from the condition of the plants if they had gone down even earlier at the end of August. If so, it is strange that no one driving on the busy road separating the corn fields bothered to report the patterns before September 8.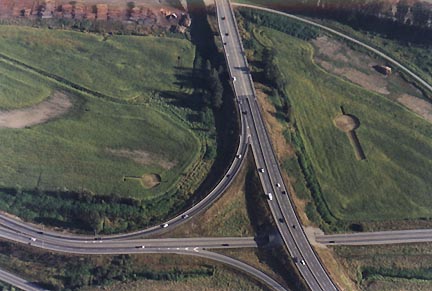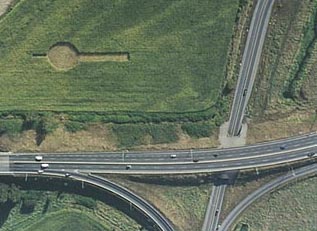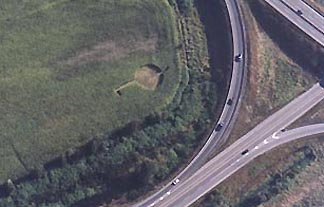 Paul has been keeping records about Canadian crop formations for several years and says of the more than hundred formations in all the provinces, he has no record of a pictogram pattern in maize before these two in Mission, British Columbia.
Like Charles Mallett, Paul at first thought that any patterns in corn stalks must have been produced in connection with the Hollywood thriller, Signs. But when he went there on September 22, to collect soil and plant samples for biophysicist W. C. Levengood in Michigan, Paul was surprised to find the corn stalks splayed out as if "a bomb had gone off in there," similar to the "violent force" impression that Charles Mallett described in England.
Paul Anderson talked with me after his investigation of the corn patterns in Mission, British Columbia, about an hour east of Vancouver, British Columbia.
---
Interview:
Paul Anderson, Founder and Director, Canadian Crop Circle Research Network (CCCRN), Vancouver, B. C.: "First of all, just to describe the kind of location, the fields are on each side of a busy highway. The fields are maybe 20 to 25 feet below the road, so they are like in a valley of sorts on each side of the road.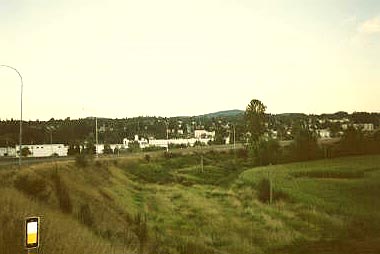 You have to go down a steep, if you go down into the fields from the highway, you have to go down a steep incline and then go through ten to twenty feet of bramble bushes just to get to the field. The other way to get into them is to go around to the opposite ends of the fields which we did, which is a lot easier access to get into them, except then that puts you approximately. several hundred feet for each one away from the formation. So, then you have a long walk you have to do through the corn field itself, which is what we did.
We found that when you are walking through corn that is that tall , at least 9 to 10 feet tall, you can lose your way pretty easily. It's hard to tell where you are going in terms of directions.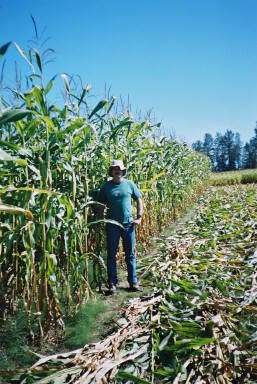 That's what Charles Mallett said, too, in England.
That's exactly right. It was kind of like being in the SIGNS movie, you're walking through the tall corn and then suddenly out in front of you, you have these flattened areas that you walk into and it just kind of spreads out in front of you. That's exactly what it looked like.
The first thing I noticed is that these were larger than the original estimates. The first formation with the main circle in it, she estimated it to be 20 feet in diameter, actually turned out to be 60. And then the one long pathway, an L-shaped pathway coming off of one side of the circle, and a shorter curved pathway coming off the opposite side. the longest pathway was approximately. 45 meters or about 150 feet long, which was a fair size. It would rang as one of the largest formations we've had in Canada so far. Nancy Talbott was telling me these would be the largest formations known so far in corn fields. And we've had them in corn before in Canada, but not very ­ I can think of one or two cases offhand, but one was actually a random downed area from 1998. That was in corn in Ontario about the same height.
But these were definite geometric patterns. There was no mistaking that when you saw them on the ground. One of the first things I did was go to the center of the main circle to inspect the center and didn't see any holes in the ground or anything like that. Nothing that looked like it had been disturbed too much. What I noticed about the plants themselves was a lot of them ­ in fact, I would say most of them ­ were completely cut off, the stalks were completely cut off and laying on the ground, completely like severed off. Some looked like they were broken off, some looked almost like they had been cut off, like they had a fairly clean, straight cut through the stalk.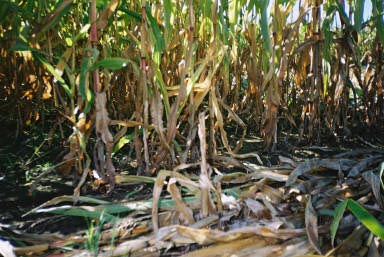 How high above the soil were those clean, straight cuts?
There were only a handful of stalks that I saw that looked like that and one in particular that stood out. And that one I measured at about a foot and three inches above the ground. And the stalk that was remaining, still standing firmly in the ground, was still standing straight up. It didn't look like it had been touched or bent over or knocked over or anything at all, still standing straight up, and yet the rest of it was just missing. But where the cut or break or whatever you want to call it was, it was just like straight across and looked like someone had taken a knife and did that. Maybe they did, I don't know.
A lot of the other stalks were just broken off and they looked like they were broken more than I would expect from someone simply pushing them over, because they were like completely severed and just laying all over, like on the ground, like the formation itself was generally clockwise lay, except with the exception that the stalks for the most part were completely severed from the base.
Some were broken off like that close to the ground, almost at the ground. Other ones, again like these other ones, were broken off as much as a foot or foot and a half above the ground. So, it was all kind of mixed. And then there were a few other isolated ones I did find that were curved over close to the ground and then laying flat on the ground like that, but not broken. So, it was all kind of mixed. Some like this and some like that. and you would have some right beside each other. There would be one broken completely off and one beside it that was just curved over and not broken.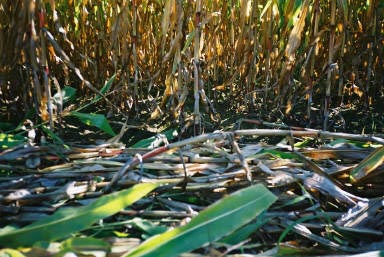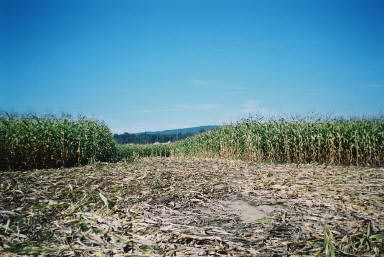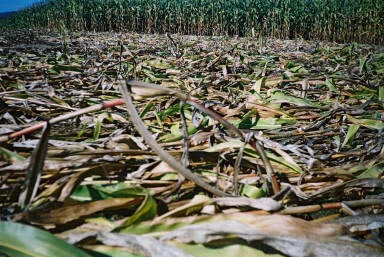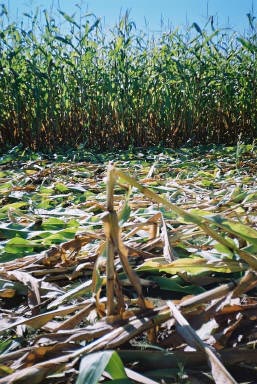 Would you say that what you were looking at in either of the formations in Mission could fall into the category of violent energy applied?
That's a good question. That is a term I guess you could use for this certainly looking at it. Again, going back the description I gave for the first formation applied pretty much to the second one as well, even though that one was almost twice as large as the first one. It was ­ there wasn't any radial lay in either one of these. It was all just in both of them in the main circle just clockwise lay and then in the pathways themselves, just straight lay, straight down to the ground going out away from the circle respective to each formation.
But the way that the plants were all ­ a lot of people would look at this and say, 'Obviously, it was kids with planks doing this.' And yet, the way a lot of the plants were either broken off or completely snapped off, that might be a good description (violence) to use because whatever , who or whatever did this, must have used a fair amount of force. I would definitely say that just because when you had stalks that were completely cut off, whether just at the ground or a foot and a half above the ground like other ones, this laying, thrown onto the ground like match sticks kind of thing ­ yeah, I think that would be a good description, actually.
Violence, violent energy?
Yeah.
Corn Formations Added To Later
We heard from another witness who actually lives in another town a bit further east from Mission and from the land owner himself, who also told us that they felt the formations had appeared approximately two weeks before September 8 when first reported to us. So it could have been mid to late August sometime when they were actually created.
But what also happened is that on September 20, the first woman who reported them to us then e-mailed me back to say the second formation had additions to it. And sure enough, when we went back out there to take a look, that's when it had another much longer and much larger pathway added to it which is what made the formation as long as it is at 284 feet total length. The pathway itself was 149 feet long and 29 feet wide.
The one that had been added?
Yeah. Whatever or whoever did these, went to some effort, especially in 9 foot tall corn. There wasn't a lot of publicity about these. Never heard of anything in the local media, or anything like that yet.
That's what the farmer told me – that no one had done a story. There hadn't been anything in a newspaper. I find that amazing.
I do, too. That's another aspect of this I find a bit puzzling ­ these were two very large formations sitting out there in full view. When you're going along this road and over that bridge, you can't miss them. It's not like you're looking directly down on them and yet they extend out enough they are in full view. In all this time since they were first reported by the other woman, she is the only one who ever reported them to us, or to anyone for all we know! There are people going by all the time. People must be seeing them, and yet nobody even bothers to report them to anyone.
We're in a remarkable situation in which something from the unseen could be doing some of the patterns in the cereal crops of the world, but humans are being conditioned by humans to not pay attention.
Yes, it's strange. I think, too, that a lot of people assumed it had something to do with the movie. In the movie the formation was in corn, also. I can understand that people driving by see these things in the corn and they assume it has something to do with the SIGN movie. It is possible that this was a prank done by kids or whoever as a result because of the movie. But we don't know that for sure and that's why I'm anxious to get the testing back from Dr. Levengood on these."
Continued in Part 3
---
More Information: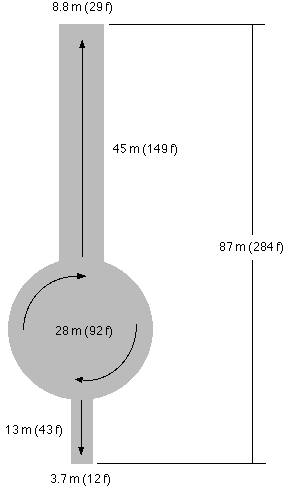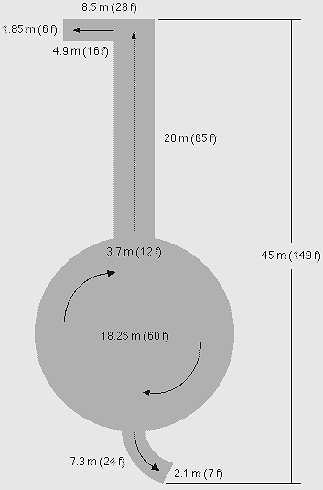 ---
Websites:
http://www.geocities.com/cropcirclecanada/circlescanada02.html (Canada)
http://www.geocities.com/cropcirclecanada
http://www.cropcircleconnector.com (England)

© 1998 - 2019 by Linda Moulton Howe.
All Rights Reserved.