October 3, 2002  Vancouver, B. C., Canada – From reports over the past nine years, the Canadian Crop Circle Research Network (CCCRN), founded and directed by Paul Anderson of Vancouver, British Columbia, has listed 113 crop formations that have occurred over time throughout the country. CCCRN also includes four unusual patterns in crops ranging from canola to wheat and pasture grass that were reported in the 1980s in Alberta, Saskatchewan and British Columbia. Even further back, a Landis, Saskatchewan farmer told Paul that during a 1941 duck hunting trip he found two circles about 25 feet in diameter swirled down in a hay field.
Since 1998, the farm community of Midale, Saskatchewan near the North Dakota U. S. border has had seventeen formations. In this modern age of mysterious, worldwide crop glyphs, southern Saskatchewan is Canada's hotspot as Wiltshire County is in England and as Kassel is in Germany.
Formation locations in Saskatchewan colored on a map run from northwest to southeast in which the same geography has been affected year after year since 1993. The top map begins in the northwest section of the crop formation "alley" and the second map ends at the southeastern corner of Saskatchewan. Both maps show Regina for a reference point.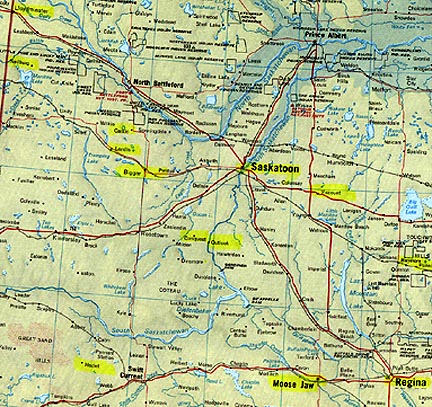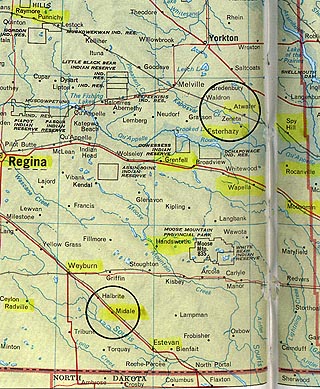 This week I asked Paul Anderson to give me an overview of the 2002 crop pattern season in Canada. Here are some highlights of our discussion about his files on seventeen events so far. See his complete list and more details in diagrams, photographs and field reports at Paul's website, http://www.geocities.com/cropcirclecanada/circlescanada02.html hot linked at the end of this report.
---
Interview:
Paul Anderson, Founder and Director, Canadian Crop Circle Research Network, Vancouver, British Columbia, Canada:
Randomly Downed Anomalies:
"The first reports for this year that were not geometric patterns, but more in the category of randomly downed plants occurred in April on Vancouver Island, B. C. Not many patterns have occurred on the island before. It was interesting that this farmer had not seen ones like these before. It was like parts of it were semi-circular, almost like a formation trying to form perhaps, but didn't quite succeed. There were swollen and bent nodes on some of the hay stalks.
There was a similar case almost at the same time out in Ontario and it turned out after that, there were similar reports from Ontario that came from a wide area in the Great Lakes area in the southern tip of Ontario. All were classified as randomly downed events because none of them were geometric. And yet in some of them, you had the swollen nodes, even blown nodes and bent nodes, those anomalies found in crop formations.
Geometric Patterns
Georgetown, Ontario – July 23, 2002: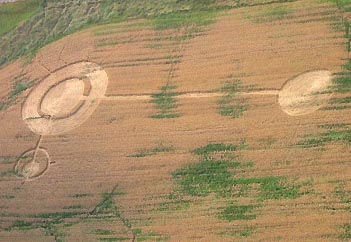 There was a long, geometric pictogram reported July 23. This was in wheat. Total length was 354 feet which would make it the second largest formation in Canada.
THE LARGEST BEING THE HEXAGRAM LAST SEPTEMBER OF 2001 NEAR RED DEER?
That's right and that one was 422 feet. So, this one was just a bit less than that and a completely different configuration. Many of the stalks were bent over and not broken. Some appeared dehydrated.
WHAT WAS THE CROP?
Mature wheat. Some single standing stalks throughout the formation. There was a weed in the formation that was not flattened down as the wheat was in most places. There were no blown nodes, but some did appear to be darkened or singed. I don't know if that could possibly be from mold or possibly from heat energy.
Two of our assistants who went into these reported an electrostatic crackling sound which I know you're familiar with. (See book: Mysterious Lights and Crop Circles.) And we've heard about many times before.
Limehouse, Ontario – July 23, 2002: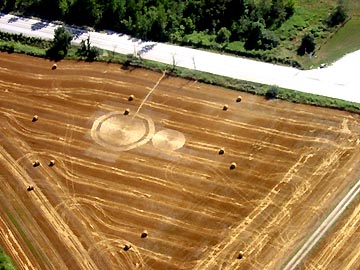 Also July 23, there was a second formation not too far from Georgetown near Limehouse. This was also in wheat approximately 119 feet in length. A simple formation and nothing particular stood out in lay or complexity or blown nodes. But what's interesting
HOW FAR APART IS THE GEORGETOWN AND LIMEHOUSE FORMATION?
Approximately. 20 to 30 miles. These were all clustered in a very small region which is another thing that tends to happen a lot. You'll get as happens in England and elsewhere, you'll get clusters of formations within sometimes a very small geographic area. That seemed to be what happened in Ontario.
By the time the Limehouse formation had been reported, the field had already been cut, unfortunately, but the formation was still quite visible. Something unusual was that when one of our Toronto assistants, Matt Rock, went back to both the Georgetown and Limehouse sites the third week of September, he found in both formations lush green grass growing exactly where the patterns had been. (See Earthfiles 08/24/02 for similar lush, green grass growth at the Colt's Neck, New Jersey formation.)
WITH GEORGETOWN AND LIMEHOUSE, WERE THERE ANY REPORTS OF MYSTERIOUS LIGHTS?
Not that I've heard.
Howick, Quebec – August 3, 2002: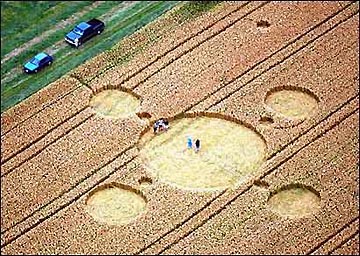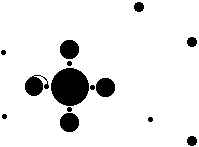 I was feeling more cautious about reports since the Signs movie came out on August 2. And sure enough, on August the 3rd, we had a report from Quebec near Howick of a very large formation in barley. The main 9-circle formation was surrounded by more circles making a total of fifteen. There were both clockwise and counter-clockwise lays of the crop, very flat to the ground, but no blown or bent nodes. We don't find those in every case anyway. The clay ground was very dry and cracked. There were some holes found in some of the circles, but not all of them.
Our field investigators who did go into these were quite cautious abut it, both in terms of the condition of it on the ground and it looked mechanical, had the feeling to them that it was probably human-made, but we don't know for sure.
ESPECIALLY COMING THE DAY AFTER THE OPENING OF THE HOLLYWOOD MOVIE.
Yeah. And being in Quebec that is historically not known as crop circle country, even though it does have fields. I wonder why we have some regions like southeast Saskatchewan which tend to get so many.
LIKE WILTSHIRE, ENGLAND.
Yeah, and then you have other regions even like Frasier Valley, British Columbia ­ we have lots of fields around here, but for some reason we don't seem to get the formations. I don't know what the explanation is. But like you said, Saskatchewan is the Canadian equivalent of Wiltshire. It's the one region in the country that seems to get the most activity. It's also seen a lot of UFO activity over the years, plus cattle mutilations.
Weyburn, Saskatchewan – August 5, 2002: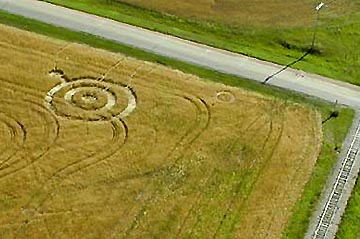 We learned about the Weyburn formation after we traveled on August 17 to investigate a Midale report. But the Midale pattern was two weeks old and Weyburn was almost a month old. The farmer, who had never seen one before, thinks the Weyburn was formed on August 5, 2002. I think it was more interesting than Midale. It was smaller, about 71 feet total diameter, with concentric rings surrounding a small circle and then off the largest ring to the outside of that was another curved pathway ending in a small 10-foot circle. But the lay in this was interesting. The small 10 foot circle had a kind of bird nest center and then going clockwise outside of there and laying over itself. The lay from the curved pathway attached to it flowed clockwise nicely from the pathway and looped around to form the circle.
I did find a number of the typical swollen and ruptured nodes in the Weyburn crop grown for bird seed. I noticed the nodes were swollen on one side of the stalk, or puffed out on one side of the stalk. Other ones appeared to be blown open as typical ruptured ones are, torn and jagged. Other ones were split smoothly which is something I've only seen a couple of times before. The node is split cleanly into two halves.
DID YOU FIND THE NODE ANOMALIES THROUGHOUT THE WEYBURN FORMATION?
Yes, throughout it, but sporadic, maybe 10 to 20 percent of the plants were affected. I was on my hands and knees looking. None of the plants I looked at outside the formation had any of those anomalies.
JUST THE FACT YOU WOULD HAVE THAT MANY NODE EXPULSIONS IN THE WEYBURN FORMATION WOULD SUGGEST THAT SOME KIND OF UNUSUAL ENERGY INTERACTED WITH THOSE CROPS?
It looked like that. And going back to the way the crop was laid down flowing from the short path into the circle. That part of the formation was the most impressive. It looked like a smooth, continuous flow and continued around into itself.
THAT IS THE WATERY FLOW WE HAVE ALL SEEN IN ENGLAND FOR SO MANY YEARS.
Yes, it's a good description. I took a lot of photographs in daytime and in late evening. I did get a number of anomalies in the evening photos.
TRANSLUCENT SPHERES?
Not translucent. I had an ordinary 35mm camera with flash, but in a few of the evening photos on the ground, there are a number of these bright white 'lights,' or whatever you want to call them. There are one or two photos that have none, and then the next two or three photos are filled with these things, from almost pinpoint up to about 3/4 of an inch across. Just bright white with fuzzy edges, like bright globs.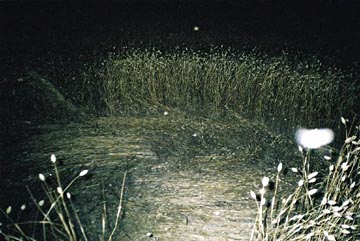 Midale, Saskatchewan – August 17, 2002: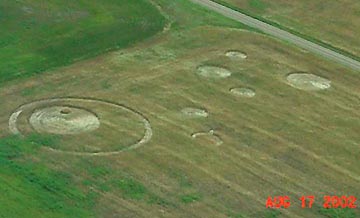 What happened with this one is that it had an addition to it a couple of weeks after we had been there and I had gotten back home. Local assistants went back on September 4th to do a ground and aerial survey and discovered that a 6th circle had been added. That happens often in England and has happened in a fair number of cases in Canada, where you'll get formations added on to over time.
The Midale one was in fairly rough condition. Could have been from people going in and out and, according to the farmer, there were many people. There were six circles, a large ring and partial ring in mature wheat, 200 feet in length.
Atwater, Saskatchewan – August 20, 2002:


On August 20, we received a report of a formation a few miles north of Weyburn and Midale. This was a large circle quintuplet in mature wheat, 80 feet in diameter. Inside the large central circle, there was a smaller ring about 27 feet across that appeared to be burned.
WHEN YOU SAY BURNED, WHAT DO YOU MEAN?
The plants were burned or darkened in a ring pattern. So, this one was like a landing trace case, but was also a regular geometric type crop formation. It was almost like you had the two combined which I find quite interesting. We did soil and plant sampling from this one for Nancy Talbott's BLT organization.
WAS THE PART THAT WAS BURNED A STANDING RING IN THE FLATTENED CIRCLE?
No, not standing, just burned.
SO WAS ALL OF THE CROP IN THAT CENTER CIRCLE LAID DOWN?
Yes, it was all laid down. It's like you had your regular flattened circle and then something landed on it and burned a section of it.
East Garafraxa, Ontario – August 28, 2002: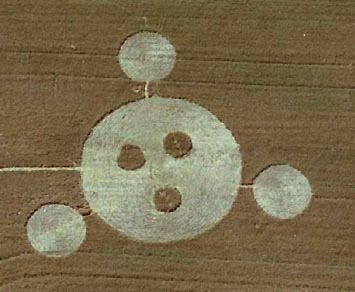 Back in the Georgetown and Limehouse area, we received a report on August 20 from a farmer in East Garafraxa, Ontario who found a 100-foot-diameter formation in his barley field. It was a pattern we hadn't seen in Canada before where you have a large center circle, surrounded by three smaller ones in a triangular pattern. But within the large circle again, there were three circles of standing barley in a triangular pattern, sort of a mirror opposite of the outside circles.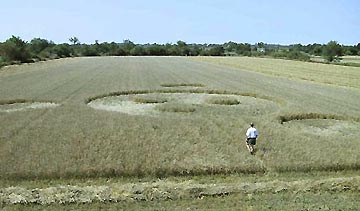 DR. LEVENGOOD ASSOCIATES THOSE PHOTOGRAPH ORBS WITH THE PRESENCE OF AN ELECTROSTATIC FIELD.
Yes, but what causes the electrostatic field in the cereal crops?"
---
Websites:
For a more complete list with more details in diagrams, photographs and field reports, please see Paul Anderson's website:
http://www.geocities.com/cropcirclecanada/circlescanada02.html  (Canada)
http://www.geocities.com/cropcirclecanada

© 1998 - 2019 by Linda Moulton Howe.
All Rights Reserved.