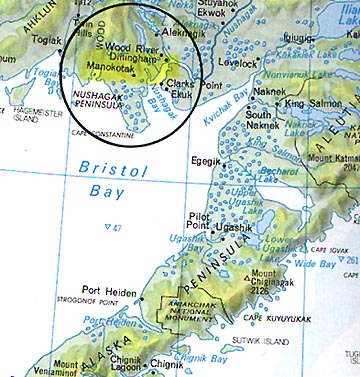 October 21, 2002 Manokotak and Dillingham, Alaska – Several dozen Manokotak and Dillingham residents and local pilots have seen a "huge, dark feathered bird" with wing span some have estimated up to 14 feet, soaring in the sky since the end of September 2002. Pilot John Bouker, Owner of the Bristol Bay Air Service in Dillingham, Alaska, has flown for 22 years in everything from C-130s to the Cessna 208 he was flying the weekend of October 5. It was late afternoon, around 4 p.m., partly cloudy, but nice flying weather. John had seven passengers with him in his commuter plane when he thought he saw another plane coming toward him.
---
Interviews:
John Bouker, Pilot and Owner, Bristol Bay Air Service, Dillingham, Alaska: "
"I looked out the window there ­ there are no roads here, so we get around by air.
There has been numerous mid-airs in Alaska that you don't ever hear about in the United States, the lower 48.
MEANING MID-AIR COLLISIONS?
So we're always having to look around. Instead of cars, we have airplanes up here. And so, it looked like another airplane, small airplane of some kind. I kept looking at it and then said, 'Oh, my God, it's a bird!' I told the other people, 'Hey, check this out.'
We looked over there and everybody is looking out the left side of the plane. And there is this gigantic eagle type bird. It wasn't an albatross. It wasn't a seagull. It wasn't a parrot. It was some kind of eagle.
WHAT WAS THE COLORING LIKE?
It was a dark color, but he wasn't black. The best I could describe it is a bronze color. That's what it looked like to me.
WERE THE WINGS FLAPPING THE WAY WE THINK OF BIRDS FLAPPING, OR WAS IT SOARING OR WHAT?
It was soaring when I saw him. He moved his wings a few times. But you know, this guy had a rabbit in his mouth. It looked like a rabbit, big tundra jack rabbit and it was dangling from his mouth. We could tell that. These big jack rabbits they have up here are pretty big, more like a small dog to medium dog. It looked like a jack rabbit to me. He had something white in his mouth, big and white.
WHAT WOULD YOU ESTIMATE THE WING SPAN WAS?
I would say it was 14 to 15 feet.
FOURTEEN TO FIFTEEN FEET ­ THAT IS REALLY HUGE.
Yeah. Because I know what a regular bald eagle looks like. This was probably three times bigger than a bald eagle, or regular eagle. It could be compared to how they have those motorized hang gliders. It definitely had the wingspan of something like that. It was big, you know? You wouldn't want to have little children running around. Eagles are predators. They'll get cats out of your yard and stuff like that.
COULD YOU SEE TALONS AS IT HELD ON TO THE RABBIT?
No, it wasn't holding on ­ whatever feet he had were tucked up in him. I didn't see any talons or anything.
We landed at the airport. We saw him about 4 miles from the airport and we landed at the airport and this thing flew over the airport and circled the airport twice. Then there were probably 20 people on the ground at the airport watching this.
On the ground, I got a better look. In the air we were going fast. We zoomed by this thing and looked back. I thought, 'Well, that's the last we'll see of that.' Everybody was gaping and shouting. We landed. He flew over the ramp there at the airport, these little village airports. He circled twice with this thing in his mouth and then he moseyed on his way. He wasn't afraid of us by any means.
COULD YOU SEE ANY COLORATION ANY PLACE ON THE WING TIPS OR ANY OTHER PART?
No. No. I saw his tail feathers were spread out, they were huge. You know how tail feathers in a bird, they kind of feather out. That's one thing that impressed me. I was looking at the size of his tail feathers, how they were spread out in a fan.
THEY WERE ALL DARK AS WELL?
They weren't dark and they weren't white, but they were bronze.
BUT NONE OF YOU HAVE EVER SEEN THAT BIRD BEFORE?
Not me. No, I've seen 200,000 eagles in my life, at least! (laughs) I have never seen anything like that!"
---
Margot MacKenzie, High School Teacher, Manokotak Nunaniq School, Manokotak, Alaska:
"It was about probably 800 to 1000 feet in the air and it was an absolutely huge, huge bird! No white on it anywhere. I've looked up the Steller's Sea Eagle which has white on the tail and shoulders. Maybe the shoulders you wouldn't be able to see, but I imagine you could see the tail and there was no white visible at all. And the Steller's seems to have a really bright orange claw and beak and that was not obvious either.
So, the color of the bird is like a dark brown with maybe a dark grey head. And the wings were so clear, even at that height, that you could see kind of a cross pattern on the wings where the feathers were and you could also see the fingers at the end of the wings. It wasn't just ­ sometimes you'll see an eagle up over the mountains and you can't see, you can't determine the end of the wings. You can just kind of see the edge of it.
YOU DON'T SEE DETAILS.
On this one ­ no, you could see detail. It was extraordinarily large.
THERE HAVE BEEN TWO PILOTS AND A TRACTOR DRIVER WHO COMPARED THE WING SPAN TO APPROXIMATELY. 14 FEET.
Probably 12 to 14 feet, yeah. It was big. I used to live on Prince of Wales Island near Craig where there are many eagles in the spring of all different sizes. And this was not an eagle. And Moses John, when he saw it a couple of days later, and an eagle was flying in close proximity to this bird, and it was way bigger than an eagle.
YOU COULD NOT SEE WHITE ON ANY OF THE TAIL FEATHERS?
There was absolutely no white anywhere on that bird. No. I watched it for a long time. I watched it for probably 10 minutes and then it flew on the other side of the mountain. It was huge, absolutely huge! It would quite take your breath away to see it. It's been seen by not just one or two people. It's been seen by probably close to half the village.
HOW MANY PEOPLE?
Maybe a hundred.
A HUNDRED PEOPLE HAVE SEEN THIS NOW?
At least a hundred, yeah.
DID YOU OR ANYBODY THAT YOU KNOW GET A PHOTOGRAPH OF THIS BIRD?
No, but everyone's got their cameras out now!
Most people when they saw it were unprepared, because as you see it and tell people, they absolutely don't believe it. Well, then suddenly when they see it, they wish they had their camera with them because then they begin to believe it once they've seen it."
---
Douglas Causey, Ph.D., Senior Vertebrate Biologist, Museum of Comparative Zoology, Harvard University, Cambridge, Massachusetts:
"How big did they say the wings were?
THEY ESTIMATED 14 FOOT WING SPAN.
No, no, no, no. (laughs) You would have to go back to the age of the dinosaurs to get something flying that had a wing span that big. I have no doubt that what they saw was a Steller's Sea Eagle. It just sounds like the only bird that would be as large as that, not counting a 14 foot wing span. Their wing span is about 4 to 6 feet or 5 feet. But that is a measurement taken on a bird with a ruler. In flight, it's awfully hard to gauge lengths. So, I have no doubt that without getting out there with a ruler, that it must have looked enormous. They are very large birds.
There is a sub-species called Niger which by its name you would guess is almost entirely black. So, this is – I wish he had taken a picture. I take it, he didn't.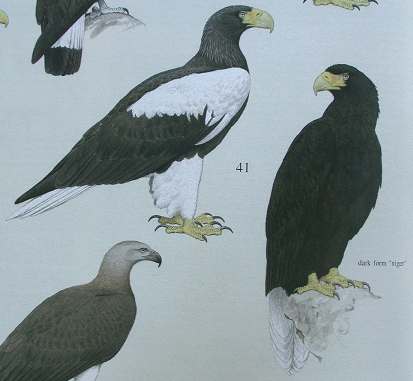 I'VE BEEN TRYING TO FIND SOMEONE WHO HAD TAKEN PHOTOS.
Well, let me tell you that what is very intriguing about this is that race Niger is known from Korea. But there hasn't been one seen in the wild in probably ­ I'm guessing ­ but probably four or five decades.
It could also have been an immature or funny lighting, all these things play a role. But whatever ­ whether it's a sub-adult or this very rare sub-species, Niger, these very dark forms are known.
WHY HAS IT NOT BEEN SEEN FOR 50 YEARS?
There could be several reasons for that. I don't know specifically, but I can guess. First of all, it might have been rare to begin with.
WHAT IS THE SIZE OF THE NIGER SUPPOSED TO BE?
It's about the same size as the Steller's Sea Eagle. What we're talking about is the plumage variant. It's darker.
IS IT POSSIBLE IF THE NIGER HASN'T BEEN SEEN FOR HALF A CENTURY, THAT SOME THING MIGHT HAVE HAPPENED IN THE ENVIRONMENT THAT THE NIGER IS GROWING LARGER?
No. That's something that doesn't happen. They get to a size and stop. Again, the Niger is known as a form of Steller's Sea Eagle. It wouldn't be a different species. It's only been described as a 'morph,' which means a different color type.
So, Steller's Sea Eagle are seen rarely, but they are recorded from other parts of the Bering Sea like the St. Lawrence Island. They've been reported. But they are not common by any means. Where this pilot was was very close to the Alaska Peninsula. This is a bird that was very far out of its regular area. It's going to look nothing at all like the bald eagle, which are common in the Aleutian Islands and Alaska Peninsula.
So, this would have been a very different, very big looking bird.
But I wish they had a picture of it and would love to have a specimen because you have described a bird that is probably 4 times larger than anything known in this group. Knowing no more than what you've told me, I think people are over-estimating the wing size. I think if you check and talk with people who work with birds like condors, that have very large wing spans, you get people saying they have 15 foot wing span, when in fact they have about six.
IF THIS IS AN ANOMALY AND ALL THESE EYEWITNESSES ARE DESCRIBING SOMETHING THAT DOES HAVE A WING SPAN OF ABOUT 14 FEET. IF I UNDERSTAND CORRECTLY, THERE HAS NOT BEEN ANYTHING FLYING WITH WINGS IN THE AIR OF THE EARTH WITH A 14 FOOT WING SPAN SINCE AT LEAST THE DINOSAURS?
Well (laughs) now I'm going to have ­
What I'm thinking about in 14 feet is a Pterodactyl.
So, I would have to say that everything except the wing span matches almost precisely with a Steller's Sea Eagle. For people who haven't seen them, it's going to be startling and different and they could easily pick up a rabbit, even a larger animal. I myself am fooled about lengths and distances all the time. So, I don't know about them, but I'm saying that 14 feet is beyond anything we know right now in birds. And certainly, it's beyond 2 or 3 times anything we know for eagles.
AND REAFFIRMING TO SOME EXTENT WHAT YOU SAID ABOUT THE NIGER STELLER'S SEA EAGLE, THE PILOT, JOHN BOUKER, STRESSED WITH ME THAT WHAT REALLY CAUGHT HIS EYE WAS THE ENORMOUS SIZE OF THE TAIL FEATHERS AND HOW THEY SPANNED OUT.
Let me ask you, did he say they were all dark? Or any white on the tail.
HE SAW NOTHING BUT THE DARK COLOR. I ASKED HIM SPECIFICALLY ABOUT COLORATION AND HE SAID THERE WASN'T ANY.
The adult forms of Niger have a white tail band at the terminal tip. So, all dark is certainly Niger, the Niger form of Steller's Sea Eagle. White bands on tails are hard to see sometimes, particularly if they are up against a white background. But this could have been an immature as well, and the white hadn't developed. But again, we're talking about a bird that hasn't been studied very well.
This is really neat. This is a bird that we know hardly anything about and large or small, or white morph or dark morph. And so when you're talking about a bird with a total population that is roughly 7,000 birds, they are extremely sensitive to habitat and by shooting. People love to shoot big birds. They breed in old growth forests that have been cut down. This is good news. this is a good news story. We have a record of a rare bird way out of its distribution which implies that there is something positive going on, I think."
---

© 1998 - 2019 by Linda Moulton Howe.
All Rights Reserved.