"U.S. satellites detected the impact of a bolide near Bodiabo (Bodajbo) in Siberia at 16:48:56 UTC (12:48:56 EDT) on 24 September 2002. The object was simultaneously detected by both visible wavelength and IR (infrared) sensors. The object was first detected at 57.91 North Latitude, 112.90 East Longitude at an altitude of approximately 62 kilometers (38.5 miles). It was tracked to 58.21 N, 113.46 E at an altitude of approximately 30 kilometers (18.6 miles). The observed visible wavelength peak intensity was 2.4 x 10^11 Watts/ster. The total radiated energy was 8.6 x 10^11 Joules (6000K black body)."
– Peter Brown, Ph.D., Physicist, Univ. of Western Ontario, Canada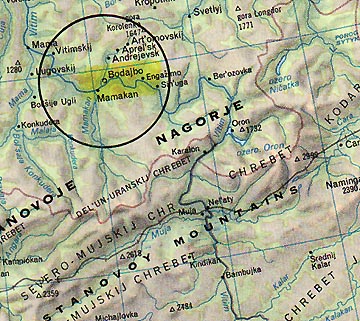 October 21, 2002  London, Ontario, Canada – On September 24, 2002 at 12:48:56 EDT and 16:48:56 UTC, night time in Russia, American Department of Defense satellites detected the explosion of a presumed bolide approximately 18.6 miles above Bodajbo, Siberia, Russia (58.21 N, 113.46E). The explosion was equivalent to 100,000 tons of TNT, or a meteorite about three meters in diameter burning up in the earth's atmosphere.
A Canadian scientist who receives notification from American DOD satellite operations about meteor and bolide (large and bright) events is Dr. Peter Brown, Physicist and Assistant Professor in the Department of Physics and Astronomy at the University of Western Ontario in London, Ontario, Canada. Today, I asked him to explain what happened.
---
Interview:
Peter Brown, Ph.D., Physicist and Assistant Professor, Canada Research Chair in Meteor Science, Department of Physics and Astronomy, University of Western Ontario, London, Ontario, Canada: "It's a satellite system that detects looking at the hemisphere of the earth. Basically what happens is whenever there is a bright flash, the satellite detects or produces a signal that can be seen on the ground. Obviously, it's used for other purposes, for military purposes, and does detect any bright flashes. It can detect lightning, it can detect fireballs, that sort of thing.
WE HAVE BEEN USING THE SATELLITES TO TRY TO KEEP TRACK OF WHETHER OR NOT THERE IS ANY NUCLEAR TESTING OR EXPLOSIONS ON THE PLANET, CORRECT?
Yes, that is certainly one of the missions that this uses, looking for any kind of military explosion or activity of interest that generates optical radiation in the atmosphere. So, in this particular case, the satellites detected this object both in visible wavelengths and infrared sensors at 16:48:56 on September 24th.
WHICH IS?
16:48:56 is Greenwich time. So, it's the time in Greenwich in England, also known as Greenwich Mean Time (GMT). So for an East Coast audience, that would be the equivalent of 12:48:56 p.m. EDT.
RIGHT AFTER NOON TIME HERE.
Right, and it was deep night time in Siberia.
WHAT WAS THE AMOUNT OF ENERGY RELEASED ON THIS SATELLITE IMAGE COMPARED TO NUCLEAR DETONATIONS?
The satellite data suggests the total radiated energy of 8.6 times 10 to the 11th Joules. That's the equivalent of 200 metric tons of TNT explosive that was radiated optically. That is not the total energy of the object. That is the amount of energy that the actual satellites' sensors detected. That is somewhere between 1/5th or more likely 1/10th of the total energy. So, the estimate of the total actual kinetic energy of the object would be about 2,000 tons TNT equivalent, or two kilotons, and that equates to something of the order of 1/10th the size of the Hiroshima nuclear explosion.
THAT SUGGESTS WHAT SIZE BODY WOULD HAVE MADE THIS EXPLOSION?
Without additional data, we can't say definitively, but if you were to use some averages, like for example, assuming an average velocity near 20 kilometers/second which is typical for a near earth object population, taking that kind of average and taking a 1 to 10 conversion for the optical total energy. So, we're assuming the total energy is about 2 kilotons of TNT. Taking those two assumptions, we can then make some estimates of where that would put us. For a 2 kiloton object, we would be looking at something in the neighborhood – oh, an object about 10 feet across, 3 meters across, something like that.
DID THE DEFENSE DEPARTMENT IMAGE CONFIRM THAT THIS OBJECT EXPLODED IN THE AIR? AND IF SO, HOW HIGH?
The DOD satellite data don't specifically say anything about an explosion or not. It simply says that the object was tracked down to an altitude of 30 kilometers. One can presume there was an extended period of fragmentation, but the data release isn't specific. it doesn't talk about it broke up at such and such an altitude or exploded at any altitude. But 30 kilometers is a very typical altitude for an object to deposit much of its energy at in this size range. So it wouldn't surprise me if that close to its end height or close to where most of the energy was deposited. But we don't know for sure.
THE RUSSIAN MEDIA HAS REPORTED SEVERAL PEOPLE WHO EITHER LIVED IN THAT AREA OR WERE THERE SAYING THERE WERE TREMBLES IN THE AIR LIKE AN EARTHQUAKE.
One can imagine there are a couple of modes that operate when you get an air burst. One is you get a ballistic blast wave, you know, a sonic boom in essence, but a very powerful one. And that sound wave itself can couple to the earth and create shaking visible on seismographs.
WITHOUT EVEN IMPACTING ON THE SOIL?
That's correct. We've actually documented quite a few cases where just very strong blast waves, coupled with the soil, people can feel the shaking. Seismographs can detect that kind of an air blast and that air wave can actually couple into the ground producing P-type waves which are push/pull, longitudinal waves, set up by earthquakes in the earth itself. So, there are several seismic modes that can be generated or catalyzed as the result of an air burst. So you don't necessarily need to have cratering. But clearly, a cratering event would also generate seismic waves. But seismic waves don't generally mean, in fact, most of the time they don't mean cratering. Cratering is a very rare event.
IN THIS CASE, THE COMBINATION OF PEOPLE SAYING THEY SAW TREMENDOUSLY BRIGHT FLASHES OF LIGHT AND FELT THE TREMBLING, AM I UNDERSTANDING CORRECTLY THAT BECAUSE THE DOD SATELLITE WAS ABLE TO IMAGE THIS EXPLOSION THAT YOU HAVE A DEFINITE IDEA OF THE ENERGY RELEASED, AND THEREFORE, IT COULD NOT HAVE BEEN A LARGE OBJECT THAT REACHED THE GROUND?
The data released tells us what the radiated energy seen by the satellite sensors are and that places it in context with other events that we recovered meteorites from and which have also been seen by DOD sensors. And while this is certainly a sizable event, it is not among the largest in that category. There was an object that occurred January 18, 2000 in the Yukon that dropped the Tagish Lake Meteorite and it actually generated more radiated energy and it was estimated from a lot of detailed investigation that it was probably an object about 60 metric tons in size. So this one (over Siberia) is probably very comparable to that, somewhere in the tens of metric tons, maybe 100 metric tons the most. And objects of that size typically detonate and deposit most of their energy in the upper atmosphere simply because they are not strong enough to withstand the high pressures of atmospheric entry at lower altitudes, with the possible exception of iron meteorites which can in some cases get down intact with almost cosmic velocity.
Had this occurred over the southern U. S. or Australia, there would probably be more people out working on it. But it's a very rugged area and very inaccessible. Winter is coming. I would assume based on other events that there is indeed material on the surface. I think that's quite reasonable. But the material is probably in the form of hundreds or thousands of fragments, smaller meteorites. Perhaps some of them many kilos in size, but probably most of them much smaller. And to find that in a heavily wooded area with snows coming on is a huge task and it would be a huge amount of expense, huge amount of effort and a very low probability that you would come away with anything."
---
Websites:
http://phobos.astro.uwo.ca/~pbrown/usaf/dod221.txt
http://phobos.astro.uwo.ca/~pbrown/



© 1998 - 2019 by Linda Moulton Howe.
All Rights Reserved.