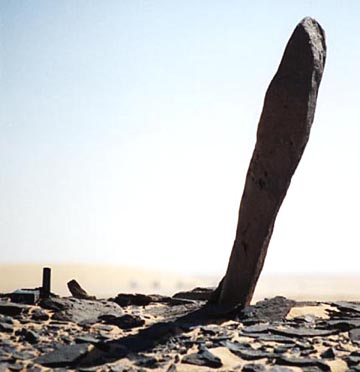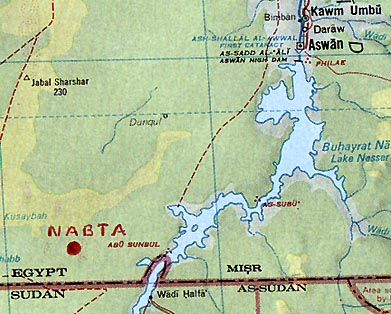 November 2, 2002  Albany, N.Y. – Four years ago in 1998, a team of scientists lead by Fred Wendorf, Ph.D., Anthropology Professor at Southern Methodist University, reported in the science journal, Nature, about the oldest known astronomical stone circle on earth. The stone circle is associated with a series of flat, carved stone structures, six lines of standing and toppled megaliths and two buried megalithic sculptures in southern Egypt's Nabta Playa 100 kilometers (62 miles) west of Abu Simbel. Radiocarbon dating indicated the structures were in 4,500 B. C. sedimentary layers, at least a thousand years older than Stonehenge in England. Nabta Playa is rich in prehistoric remains of the early Holocene age when there was rain and a lake, but no skeletal human remains have ever been found.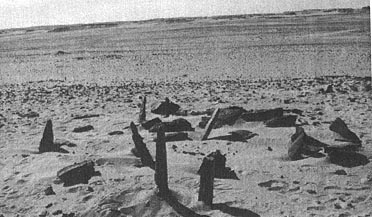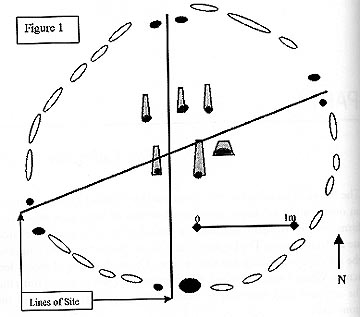 Professor Wendorf and his astronomer colleague, Professor J. McKim Malville, reported that. "Five megalithic alignments at Nabta radiate outward from a central collection of megalithic structures. Beneath one structure was a sculptured rock" several feet down in the sand. Their speculation was that the Nabta site was used for astronomical alignments.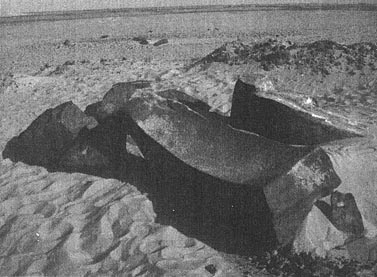 The Nabta discoverers also reported. "The vertical sighting stones in the stone circle correspond to the zenith sun during the summer solstice. An east-west alignment also is present between one megalithic structure and two stone megaliths about a mile distant. There also are two other geometric lines involving about a dozen additional stone monuments that lead both northeast and southeast from the same megalith. We still don't understand the significance of these lines," Dr. Malville said.
The megalith alignments radiate out from one central point of at least thirty megaliths that the scientists called a "complex structure." The central megalith was dubbed, "Complex Structure A." To everyone's surprise, the surface Complex Structure megaliths marked a sculpture carved below at bedrock about 12 feet below the surface sand.
A California physicist now thinks he has some answers about the purposes of the Nabta lines and megaliths and has written a new book entitled: "The Origin Map: Discovery of a Prehistoric, Megalithic, Astrophysical Map and Sculpture of the Universe." As the title implies, Dr. Brophy hypothesizes after extensive measuring and calculations of star alignments that existed 6,500 to 8,500 years ago, that the surface Nabta stones are a detailed calendar and astrophysical map that tracked the constellation Orion and its belt stars with astonishing accuracy. Further, Dr. Brophy thinks the Nabta megaliths could mark the apparent motion of our Milky Way's galactic center every 25,900 years.
Even more astounding, Dr. Brophy hypothesizes that the carved bedrock buried beneath the Nabta sand is an image of the Milky Way Galaxy as seen from a galactic pole position about 19,000 years ago.
Essentially, that would be the outside of the galaxy away from earth, a cosmic perspective that humans have never had, except for modern astronomical calculations. If Dr. Brophy's conclusions are correct, the implication is that an intelligence sophisticated in astronomy was operating on earth long before the earliest known Mesopotamian civilizations.
---
Interview:
Thomas Brophy, Ph.D., Physicist, Educational Management Consulting Services (EMCS), and Author, The Origin Map: Discovery of a Prehistoric, Megalithic, Astrophysical Map and Sculpture of the Universe, Encinitas, California: "The calendar circle which models the Orion Stars is north of the central point from which the megaliths radiate, but it is essentially in the same complex of structures. So, the calendar circle is up there in the north and about 1000 meters south is the central complex structure. From there are the 1000 meter alignments to other megaliths which point to the stars.
It's the calendar circle that I analyzed first and found the diagram of Orion's belt stars and head and shoulder stars.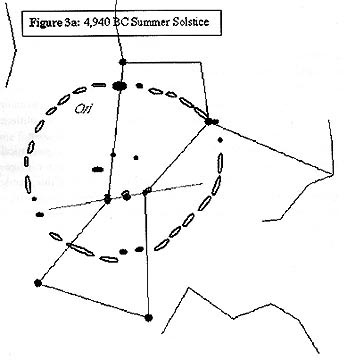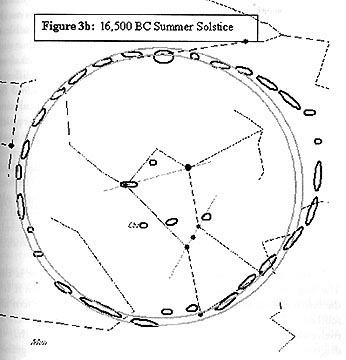 WOULD THAT TIE THE NABTA CALENDAR CIRCLE TO THE KHUFU PYRAMID WHICH ALSO ORIENTS TO THE ORION BELT STARS?
It's logical to think that if there was such an importance to diagram the Orion belt stars and if the Giza also monumentalized the Orion belt stars, it would make sense there was some link, even though the Nabta site is much older.
WHY IS IT THAT THE EGYPTIAN CIVILIZATION ­ WHOEVER WAS THERE ­ IN A PERIOD 13,000 YEARS AGO UP TO SAY 2 OR 3 THOUSAND YEARS AGO ­ WHY WERE THEY SO OBSESSED WITH THE ORION BELT STARS?
Yes, that's a good question. I don't really know. My approach is to really hit hard and try to understand the astronomy first. Do that in an unbiased way and not be thinking along the way, 'Well, this site is so old they couldn't have known astronomy so well.' Just to see astronomically what these structures might mean. That's where I'm at. So, I don't have the answers to WHY they held Orion's belt so prominent.
You can speculate on a few things: if they monumentalized the galactic center, Orion's belt happens to be in such a place in the sky that when it's at its southern culmination due to the precession of the equinox, the galactic center is at its northern galactic culmination. So, that could be one reason why they had this coherent meaning for our situation in the galaxy and the apparent motion of the center of the galaxy in the sky.
IT COULD ALSO IMPLY THAT THERE WAS SOMETHING ABOUT THE ORION CONSTELLATION AND THOSE BELT STARS THAT MIGHT RELATE TO THE INTELLIGENCE THAT WAS RESPONSIBLE FOR ALL THIS MATHEMATICAL ORIENTATION IN STONE ON THE EARTH IN THE FIRST PLACE.
That's another possibility yes. Especially because the same stars seem more extensively marked at the Nabta Playa site by the long baseline megaliths as well in a very astoundingly sophisticated way.
IN AS SIMPLE LANGUAGE AS YOU CAN DESCRIBE TO A LAY PERSON, WHAT IS IT THAT IS SO ASTOUNDING TO YOU?
The same fixed stars that are diagramed in the calendar circle seem to be marked precisely by the long baseline large stone markers nearby that radiate out from that central complex structure. They seem to be marked in a way that can mark them very accurately by doing it specifically when they had their vernal equinox helical rising, when they rose geometrically with the sun on the first day of spring, which only happens once during the precession of the 25,900 year equinox cycle.
So, they did that for all six of the stars and that's a way of marking them precisely because it marks them in two dimensions, not just the declination but also the right ascension.
YOU ARE TALKING ABOUT SOMEBODY HAVING THE SOPHISTICATION AND ASTRONOMICAL ELEGANCE TO DO THAT ON THE NABTA PLAYA AT LEAST 7,000 YEARS AGO?
Yes, that's what I am finding.
IN ADDITION TO THIS VERY PRECISE AND EXTRAORDINARY ALIGNMENT IN THAT STONE CALENDAR WITH ORION AND THE BELT STARS, IN THAT OTHER LOCATION BURIED UNDERNEATH THE GROUND, THERE WAS THE FINDING BY THE ARCHAEOLOGISTS OF A CARVED STONE THAT YOU RELATE DIRECTLY TO THE GALACTIC CENTER.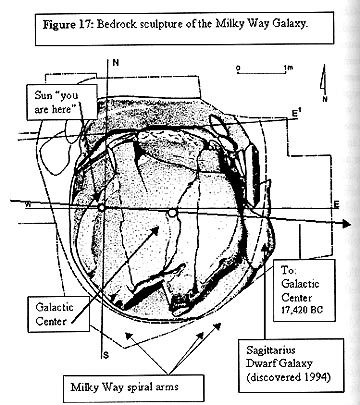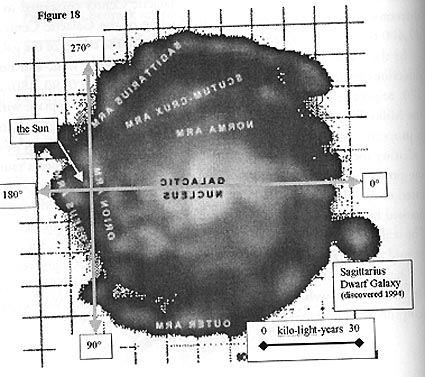 Dr. Brophy: "Yes. There seems to be a coherent complex of meanings that go through the whole Nabta Playa site. The bottom sculpture on the bedrock seems astoundingly similar to a map of our Milky Way Galaxy and the stone that marked the central radiating point for all the other alignments was situated in such a place above this sculpture that it would be consistent with marking where our sun is known to be in our Milky Way galaxy.
IF I UNDERSTAND, IT ALSO SEEMS TO BE FROM A POINT OF VIEW AS IF YOU WERE LOOKING AT OUR ENTIRE GALAXY FROM THE POSITION OUT IN THE HUGE COSMOS.
Yes, the orientation would be if you are looking down on the sculpture what astronomers call looking from the galactic pole.
NO HUMAN HAS EVER HAD SUCH A PERSPECTIVE. NOT ON THIS PLANET.
No, that's correct. That's correct. But we modern astronomers know what it would look like from our study of the Milky Way and the star distributions and star densities and all that.
BUT THIS IS THE YEAR 2002, ABOUT TO GO INTO 2003 AND WE'RE TALKING ABOUT SOMETHING 7,000 TO 19,000 YEARS AGO AND IT COULD NOT HAVE BEEN A NEANDERTHAL OR PREHISTORIC BEING. IT HAD TO BE INTELLIGENCE BY SOMETHING ELSE THAT WAS HIGHLY SOPHISTICATED.
Yes. This sculpture on the bedrock at Nabta Playa is quite mysterious. The archaeologists who excavated it, they hypothesized in their book that came out recently that the way it was constructed was that Neolithic humans somewhere around 5,000 B. C. were at the site. Now, at that time there is this 10 feet of sediments and they somehow they knew there was a lumpy stone on the bedrock 10 feet down and they dug down. This is a large, more than 2 meter diameter rock ­ they dug down, according to the archaeologists, and then uncovered this lumpy stone and sculpted it more, shaped it. Then filled the sand back in, and in the process, also sculpted this other geometric form and set that in there and filled it all back in and covered the top with these megaliths. That's their hypothesis as to how this was constructed.
IF IT MATCHES WHAT YOU HAVE DRAWN IN YOUR BOOK, HOW COULD THAT KNOWLEDGE POSSIBLY HAVE BEEN ACCESSIBLE TO MINDS OF THE EGYPTIANS 7,000 YEARS AGO?
Yes. My hypothesis of the meaning of that sculpture as being a model of the Milky Way galaxy is a new finding that I set forth based on the astronomical study I did. It's not considered yet by the archaeologists who discovered the site. They note that it might have astronomical meaning, but so far had not considered or found what the astronomical meaning of that sculpture could be.
HAVE YOU RUN YOUR HYPOTHESIS BY OTHER ASTRONOMERS AND HAD THEM LOOK AT PHOTOGRAPHS OF THIS SCULPTED GALACTIC CENTER THAT YOU HYPOTHESIZE TO SEE IF THEY INTERPRET THE SAME MATHEMATICAL RELATIONSHIPS THAT YOU HAVE?
Yes, a couple. The response tends to be astonishment. I haven't had anybody take the time yet to reproduce all the calculations. It's a little bit complicated to calculate the exact locations of stars at that time because our standard programs only go back to 4,700 B. C. because of the Julian dating method. It's just an artifact of the way astronomers count years. So, you have to reproduce the formula for calculating star locations.
Yes, it needs more people to try to reproduce the calculations to make sure.
IF IT IS. IF THAT ROCK THAT IS SEVERAL FEET DOWN BELOW THE SURFACE OF THE NABTA PLAYA DESERT IS TRULY A SCULPTURE OF OUR GALACTIC CENTER SEEN FROM A SOUTHERN POINT OF VIEW, I WOULD THINK THAT WOULD BE REVOLUTIONARY BOTH ARCHAEOLOGICALLY AND ASTRONOMICALLY.
Yes. It's really quite astounding. It still astounds me. I just report what I see when I see that sculpture and calculate where the galactic center was at the time. It follows the same system as the surface megalithic alignments, the vernal equinox helical rising, or the orientation of the galactic center at its own vernal equinox helical rising. So, it fits in several ways into this system of the way the Nabta Playa alignments were designed.
WHY IS KEEPING TRACK OF THE GALACTIC CENTER SO IMPORTANT?
Well, I think that's the $64 million question. And we can hypothesize on various possibilities, but I think it could be an important question. That's why I published this before taking the time that might have taken years to get other astronomers to reproduce all the calculations and go through all the review processes and all that.
I think it could be well an important question.
The Nabta Playa site seems to be very old. Like I said, the archaeologists hypothesized it was Neolithics who dug down and then refilled it back in. But if these bedrock sculptures ­ Occam's razor might not go with the archaeologist description. It might go with that the bedrock sculptures might even be older. They might have been sculpted BEFORE the sediments were laid down and therefore, older than 10,000 to 12,000 B. C. If that is the case, these structures are older than the other key megalithic structures that we know about like Stonehenge. They are much, much older.
JOHN ANTHONY WEST THINKS THAT THE SPHINX MIGHT BE ACTUALLY 36,000 YEARS OLD.
Yes. That is another ­ the Sphinx might be another very old distant prehistoric object. It might be a similar time frame of the oldest part of the Nabta Playa.
IN FACT, THE FIRST ESTIMATE FROM DR. SCHOCH WAS THAT THE WATER EROSION ON THE SPHINX, HE THINKS, IS GOING BACK TO ABOUT 11,000 YEARS AGO WHICH WOULD BE IN THAT SAME PERIOD YOU HAVE TALKED ABOUT IN NABTA BETWEEN 7,000 AND 13,000 YEARS AGO.
SOMETHING MIGHT HAVE HAPPENED IN THAT PERIOD WHEN THE EARTH WAS COMING OUT OF THE ICE AGE?
Certainly that period would have had a large impact on human societies and what they were doing. Robert Schoch wrote a foreword to my book and John West wrote an afterword. So, we are certainly thinking along these lines that this may be another sculpture, megalithic construction, that is very ancient like the Sphinx.
AND PERHAPS RELATED MATHEMATICALLY AND ASTRONOMICALLY TO THE SPHINX AND WHERE THE PYRAMIDS WERE BUILT ON GIZA?
Yes. If these galactic center meanings hold up in both sites, then that would indicate a common cultural source of whoever designed them."
---
More Information:
Book: The Origin Map: Discovery of A Prehistoric, Megalithic, Astrophysical Map and Sculpture of the Universe © 2002 by Thomas G. Brophy, Ph.D., Physicist, with Foreword by Robert M. Schoch, Ph.D., Geologist, and Afterword by John Anthony West, Independent Egyptologist.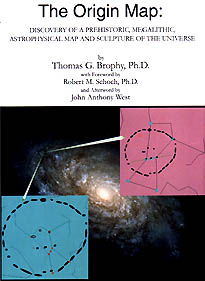 North and South Culminations of Milky Way Galaxy's Galactic Center

In astronomy, culmination means to cross the meridian of the observer
which is to reach the highest point above an observer's horizon.
The next southern culmination of the galactic center will be in about 200 years, on or about 2222 A.D.
The next northern culmination of the galactic center will be in about 12,750 years, or 14,950 A.D.
The last northern culmination of the galactic center was about 12,950 years ago = 10,950 B. C.
The last southern culmination of the galactic center was about 25,900 years ago = 23,900 B. C.
Vernal Equinox Heliacal Rising:
An object or objects and the sun rise together on the first day of spring.
---
Website:
http://www.colorado.edu/PublicRelations/NewsReleases/1998/Oldest_Astronomical_Megalith_A.html
http://emuseum.mnsu.edu/archaeology/sites/africa/nabtaplaya.html
http://www.comp-archaeology.org/WendorfSAA98.html



© 1998 - 2019 by Linda Moulton Howe.
All Rights Reserved.