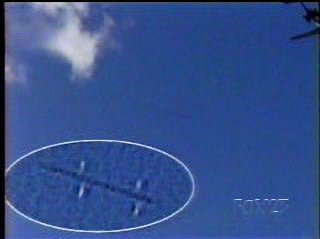 October 29, 2002  Albany, N.Y. – On Sunday, October 20, 2002, at 4:20 p.m. EDT, FOX 23 News videographer, Brandon Mowry, was filming a weather segment for WXXA-TV in Albany, New York. While the camera was still running, he lifted the camera 180 degrees to get another shot of an airliner taking off. He did not know at the time that he caught ten frames (1/3rd second) of digital videotape of the jet airliner passing out of the upper right corner and a strange, missile-like, unidentified aerial object rapidly passing through sky and seemingly through a cloud estimated to be at 5,000 feet. He discovered the rapid object in the editing room and showed it to his colleagues. Someone called the police who went to the edit room, saw the tape, and promptly called the FBI. Here now is Brandon Mowry, the cameraman, with his story about what happened that day and with the FBI.
---
Interview:
Brandon Mowry, Videographer, Fox 23 News WXXA, Albany, New York: "Last Sunday, nine days ago (Oct. 20, 2002), I was shooting a weather shot for the news that evening. I was at the Albany International Airport at the end of a runway. It was 4:30 p.m. EDT and I was filming a plane taking off towards me and eventually heading directly over my head. As I was following the plane, it came directly above me, I had to adjust the camera 180 degrees and catch the plane taking off away. It was during that adjustment when I wasn't looking through the viewfinder that this UFO, or ?, flew by.
Like I said, I didn't notice it until I got back to the station. I drove directly back to the station, threw it into the edit machine and was checking the stillness of the shots, seeing which one would be best to use and saw this thing fly by. It was very, very fast. I saw it. I rewound it and paused it to see what it was. I saw something very, very strange. And very, very interesting.
Then I grabbed the person closest to me who was an editor and showed him. He couldn't believe it. Then I began showing everybody else at the station. At that time, I decided that I needed to go out and shoot an accident. So, I left immediately and went and shot an accident. A half an hour later when I got back to the station, there were police there checking out the footage. They were in the process of calling their Captain to come in to check it out. Also, when the Captain got there, he took one look at it and called the FBI and the FBI was at the station within the hour.
WHAT IS ON YOUR VIDEOTAPE?
It's very distinct, even when you don't blow it up. We zoomed in on it and kind of cleaned it up to take a closer look at it. It's a very thin rod or cylinder-shaped, round cylinder rod, dark, with two sets of wings. One set in the front and one set in the back. And the wings were white. Small little appendages. It looks a lot like a missile.
I SAW A FRAME SOMEBODY E-MAILED ME AND I THOUGHT IT WAS EXTREMELY STRANGE IN STRUCTURE. BUT WHAT REALLY IMPRESSED ME WAS HOW ALMOST TRANSPARENT IT SEEMED.
Right. I don't know. We talked with some ex-military personnel because a lot of people are saying this thing looks like a missile. A lot of people think it is some kind of secret military craft. He looked at it and said that it doesn't look like any missile he's ever seen before. But still, a lot of people are saying it looks like a missile. It resembles more of a missile than anything else. But it could be anything, you know.
The SR-17 Blackbird, I understand, and the B-2 bombers ­ the technology was there and we had those, the military had those 20 years before the public knew about them. Maybe this is something the military has that no one knows about. But it's just as possible that it could be a UFO.
WHAT HAPPENED WHEN THE FBI GOT THERE? WHAT KIND OF QUESTIONS DID THEY ASK AND WHAT HAPPENED?
OK. The FBI got to the station. Talked to me about half an hour in the break room and had me meet three other FBI agents up at the airport to show them exactly where I shot this thing, where it came from, what direction, where the plane was and everything like that. Then they confiscated my tape. It was the original tape. I said, 'I would like to keep this. I shot it.' They said, 'Well, it's evidence. You have to give it to us.'
I didn't throw any punches or anything. I was a little upset, but I just did it. They took it and that tape is in Washington right now being analyzed, from what I can understand.
AT THE FBI.
Right. Then two days later, the FBI called me up in the morning and asked me to come down. They needed to ask me a couple of questions that they forgot to ask me. So, I went down and they talked to me in a little room for about an hour.
THIS IS IN ALBANY?
Right, in FBI headquarters here. And after they were done talking to me, then they said, 'You know what's next.' I said, 'What's that?' They said, 'We're going to ask you if you will take a polygraph test.' And I didn't have anything to hide so I said, 'Sure, I'll take one.'
They took me to the New York State Police Department where there was a polygraph examiner and I went upstairs with him into a room. He told me how it worked, everything like that.
They ran a couple of pre-tests on me to see if I was able to be polygraphed. I guess one out of ten people aren't. I was, though, according to them. Then they told me the questions that I was going to be asked. I was really nervous, but then they asked me and we ran through a kind of pre-test of everything they were going to ask me and then we did the actual test. And that took about three hours in this room with this guy.
WHAT KIND OF QUESTIONS DID THEY ASK YOU?
The first and last questions were: 'Do you live in the United States?' That was the first question. The last question was: 'Do you live in Canada?' And all the questions in between were like, 'Have you ever lied to the FBI? Have you ever committed a felony? Did you tamper with that tape?' And one strange question was, 'Did you receive $500 from a Clifford somebody that used to work at Fox that wanted revenge on FOX because he got fired from there?'
I checked that out at the station and nobody has ever worked there named Clifford. So, I don't know what that was about.
Then another, I went through with everything. Granted, I was nervous and my heart was pumping even through those questions like, 'Do you live in the United States?' My heart just started racing even though I had nothing to hide. Then they told me that after the test, they came and sat down in front of me and told me I didn't do too well. I said, 'What do you mean I didn't do too well?' They go, 'Well, you failed.' I said, 'What? I failed? That can't be!' He said, 'You're lying. You're not telling us something. It just doesn't add up, Brandon. There's too many coincidences here.' I just couldn't believe it. He kept pushing me and pushing me and saying, 'You're going to lose your job. This is going to be on the front page of the paper. You were on the radio show this morning. People are going to think you are insane. You are going to give FOX a bad name and you're going to lose your job. So, you better tell us what is going on.'
And I just kept telling them. And he goes, 'What do you think is going to happen when that tape comes back and it says you tampered with it?' I said, 'That's impossible! I guarantee 100% when that tape comes back, it will not ­ it will say I did not tamper with it.'
I just looked at him and he drove me to tears. He was just pushing me and pushing me and I did not know what was going on. He drove me to tears and then got up and grabbed the polygraph papers and left the room. I was in there for fifteen minutes by myself and all I could say over and over was, 'What's going on?' I couldn't believe it. What's going to happen? I'm not lying, you know?
Then, a few minutes later, he comes back in and tells me, 'I'm sorry. I apologize. I re-examined the polygraph and it turns out you were telling the truth and I can't say I'm sorry enough.'
WHEN DID THIS OCCUR?
This was last Tuesday, a week ago today. I think it was a whole game. I think that was their whole plan to do exactly what they did to intimidate me and try to make me admit to something I didn't do and maybe it would go away.
COULD YOU GO BACK TO THE EDITING ROOM WHEN THE FBI FIRST SHOWED UP ­ BECAUSE YOU WERE THERE, RIGHT?
Right.
WHAT WAS THE DEMEANOR WHEN THEY CAME INTO THE EDITING ROOM AND WHAT WERE THE FIRST THINGS THEY DID AND SAID AND ASKED THEN?
They came in. There was only one guy at first and he came in and it was ­ he just kind of looked at it. You could tell, he was like, 'Wow!' look on his face. But it wasn't like anyone else who had seen it before who were like 'Wow, what is that?' He just kind of kept to himself. He had a notebook and he looked at it over and over and over. It was business after that. You could tell that this was something that is a problem or needs attention. And he went right at it and interviewed me and wrote down everything he asked me. He asked a bunch of questions about my past, stuff like that.
HOW OLD ARE YOU?
24.
AND YOU'VE BEEN WORKING IN TELEVISION FOR ABOUT 2.5 YEARS.
Right.
SO, YOU'VE REALLY GONE FROM HIGH SCHOOL TO WORK WITH A COUPLE OF YEARS IN COLLEGE.
Right.
SO, FOR THEM TO QUESTION EVEN YOUR BACKGROUND, THERE REALLY ISN'T MUCH FOR THEM TO QUESTION BECAUSE YOU HAVE BEEN WORKING AS A VIDEOGRAPHER FOR 2.5 YEARS RIGHT OUT OF SCHOOL?
Right, yeah. They were asking people around at work when I wasn't around what kind of a person is Brandon? Would he ever do something like this? Does he seem like a person who would make up something like this? I don't see how ­ maybe they are doing their job. And that's good that they are covering all the bases. I hope they would do that. But this is on tape and the time line is documented. 4:20 I told them I shot that plane. The plane that was in the shot, they checked the airport and found out that that plane took off at 4:20. I was back at the station at 5 or before discovering this thing and showing it to everybody. So, that's 40 minutes I had to supposedly doctor this tape. Thirty of those minutes were spent in the news car on the way to the station. All I have in that news car is a scanner and a cell phone.
YOU ARE SAYING WITHOUT QUESTION THAT YOU DIDN'T EVEN KNOW THAT THIS WAS ON THE TAPE UNTIL YOU SCREENED IT IN THE STATION?
Exactly. I wasn't even looking through the viewfinder when this thing flew by.
It's been 9 days now and we haven't heard anything. This tape has been in Washington for a week now and we haven't had any explanation as to what this thing is.
YOU HAVE A GOOD DUB OF IT?
Yeah. It's a 2nd generation dub, but this is digital video. I think the big thing about this is that we shot it on really good equipment, a $20,000 camera, whereas most, a lot of, UFOs are shot on home videos. And this thing ­ what saved me here ­ people have said this is an insect. 'It's an insect close to the screen.' Or, 'It's an error in the tape.'
But that's all discredited because if you see the whole video, there is one cloud in the upper left hand corner and this thing goes behind that cloud. It's so easy to see. That's not an insect, you know!
IT'S SOMETHING AS FAR AWAY AS THE CLOUD AND GOES BEHIND IT AND HAS THIS VERY STRANGE, LONG, MISSILE-LIKE STRUCTURE WITH THESE APPENDAGES AT THE FRONT AND BACK AND HAS WHAT SEEMS TO BE ALMOST AN EFFORT TO CLOAK ITSELF IN A KIND OF INVISIBILITY THAT REFLECTS THE BLUE SKY.
I never thought of it like that but I guess you could say that. Yeah. I guess you could say that.
I'M ALSO CURIOUS IF IN THAT FIRST ARRIVAL OF THE FBI IN THE EDITING ROOM, DID THE FELLOW WHO WAS TAKING NOTES ASK TO YOU OR ANYONE ELSE AT THE STATION ABOUT THIS BEING AN UNIDENTIFIED FLYING OBJECT IN THE CONTEXT OF SOMETHING EXTRATERRESTRIAL?
No, no, they never said anything like that. There was a lot of talk around the station like that. But, no ­ the FBI never said anything like that. But I would like to add that this thing that is flying through the screen ­ it's only ­ we checked what the cloud ceiling was that day. And the cloud ceiling was 5000 feet. This thing was at least 5,000 feet in the air and it was almost as long as that plane, which is about 300 feet in the air, from that (longer) distance. And it's only on the screen for about 7 frames. We shoot, those cameras shoot 30 frames a second. So this thing was in the screen for a third of a second. And it's that far away. When you see like a jet up there flying, it looks like it's a snail because it's so far away because of our perception, it looks like it's going slow.
But this thing is just ­ a third of a second through that frame and it's gone at least 5,000 feet in the air. I mean, I don't know of anything that can go that fast that's on earth.
HOW BIG IS IT REALLY?
Exactly. It looks huge and it's so far away. It's got to be hundreds of feet in length and going thousands of miles an hour.
WHEN YOU WERE LAST TUESDAY SUBJECTED TO THAT LIE DETECTOR TEST FOR THE THREE HOURS AND ALL OF THE QUESTIONS THAT WERE ASKED, DID ANYONE IN THAT PROCESS EVER EVEN BRING UP THE LETTERS 'UFO' OR 'EXTRATERRESTRIAL?'
No. No. Not at all.
DID THEY BRING UP ANY WORDS AT ALL THAT WOULD SUGGEST THEY EVEN HAD AN IDEA WHAT IT MIGHT BE?
No. What was weird was at the end. I had tears in my eyes when I came back down. The agent who brought me to the New York State Police Dept. He was downstairs and the other guy who administered the test looked at the agent and he said, 'Brandon is a little upset with me.' Tears are rolling down my face. He's like, 'I told him that I misread the polygraph test and I told him that he didn't pass and he got a little upset with me, but he did OK.' And then the guy just looked at me, the FBI agent, and smiled and goes, 'I knew you would pass. I knew you would do it. I just knew you were telling the truth." And he was shaking my hand. But he said, 'We still don't know what this thing is and I'm going to need your help to find out what this thing is.'
And I just looked at him. In the heat of the moment, I was so upset. It was close to one of, on the top of the list, of one of the worst days in my life emotionally. He looks at me and says, 'I'm going to need your help. I'm going to give you a call. You still need to help us figure out what this is.'"
---
Website:

© 1998 - 2019 by Linda Moulton Howe.
All Rights Reserved.