"When the object got closer, I saw a flashing light. As I was trying to figure  out what it might be, I saw several steady lights. Then the light which I  previously presumed as headlight started to change and get smaller. As I was trying to find a plausible reason for that, the object approached and got into the position of 12 o'clock. Ten or fifteen small objects about the size of a Boeing 747 were flying at 1-2 kilometers between them. This lasted for about 1.5 minutes. As they were getting out of sight, we reported these UFOs to air control at 5:44 a.m. local time."
– Captain Ercan Eken, Pilot, Sun Express Air, Turkey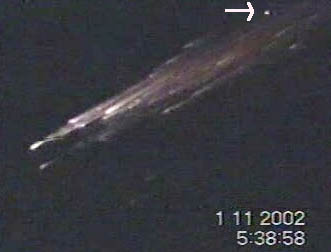 November 18, 2002  Istanbul, Turkey – On November 1, 2002 around 5:30 to 5:45 a.m. local time, four airline crews in the air and two on the ground reported an unusual armada of glowing objects moving together past a yellow pulsing light. The pilots' reports went to Turkey's Flight Safety Department and were headlined on television, radio and newspapers as a "fleet of UFOs flying over Turkey." The airline crews in the air estimated the altitude of the pulsing light and armada of glowing objects was between 22,000 and 36,000 feet.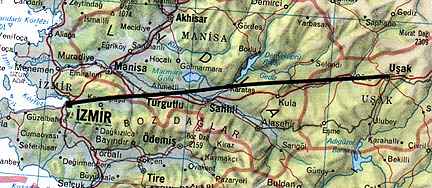 Not long after the international press picked up the story, NASA and Russia's Soyuz officials announced that what happened over Turkey was the orbital decay and break up from an October 30th Soyuz launch. But the six airline crews disagreed and several contacted Haktan Akdogan, Founder and Chairman of the Sirius UFO Space Sciences Research Center and International UFO Museum in Istanbul, Turkey. On top of the pilots' written testimonies, a man named Halil Yalcin managed to videotape 22 seconds of the explosion, or break-up, of the bright, white light near the still-pulsing yellow light.
Haktan now speculates that the yellow-pulsing object, which all the airline crews called a "UFO" in their written reports, was an advanced technology of extraterrestrial origin that destroyed a large meteorite before it could hit the earth and do damage. I talked with him today at his office in Istanbul.
Interview:
Haktan Akdogan, Founder and Chairman, Sirius UFO Space Sciences Research Center and International UFO Museum, Istanbul, Turkey: "When they witnessed the bright light, they say it looked like an aircraft with its headlights on, they thought at first. After that, when the object got closer, they saw a flashing light. As they were trying to figure out what it might be, they saw several steady lights. Then the light they presumed to be headlights started to change and get smaller. As they were trying to find a possible reason for that, the object approached and got into the position right in front of them.
HAKTAN, WAS THERE ANY COLOR TO THESE OBJECTS?
They say they were yellowish object. But after that, the big bright light split into like 15 smaller bright light objects, each estimated to be about the size of a Boeing 747, each a smaller object. They say about 30 to 40 meters in diameter. So they were flying horizontally…
JUST SO I'M CLEAR, THE PULSING YELLOW LIGHT AND THE BRIGHT LIGHT…
The one in the back is pulsing, the yellowish was flashing light. The other was a steady light, very bright.
AND WHAT BROKE UP INTO ALL THESE LARGE PIECES?
At the time, they had no idea. They didn't see any kind of energy or anything. They had no idea. It was one bright light first and then another one right behind it that was flashing, pulsating yellowish light. The light comes right in front of them and splits into 15 pieces.
THE LIGHT SEEMS TO SPLIT INTO 15 PIECES?
Right. But they fly horizontally, so they thought it was a fleet of UFO because it was flying horizontally, it was flying at high speed, and they were 100% sure that there was no aircraft there, as far as they know. They checked with radar and everything. So, with this kind of technology, at first they thought it could be meteor. But when they see them flying horizontally in those kind of big pieces like big lights 30 or 40 meters in diameter, that went out of their mind, the meteor idea.
So, after that: this is what they reported in written testimonies to the Flight Safety Department and to us, as well. But this sighting was also witnessed by four different airliners up in the air and also two airliners from the ground, from different cities and airports at the same time. And also by four or five people on the ground. One of them was Imam, the head of the prayer was going to his morning prayer. He witnessed this same exact thing.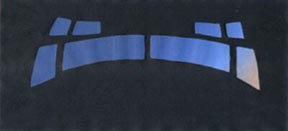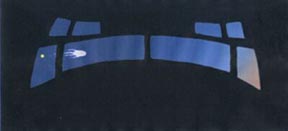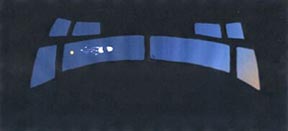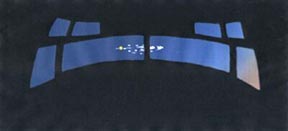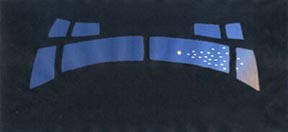 And the most important thing here is that one guy driving the same time from another city with his wife, he had a camera with him. He witnessed the whole sighting and he pulls over and he gets out of his car and managed to film it for 22 seconds. In the video footage, you see very clearly ­ especially from the meteors ­ you see pulsating light behind it. It pulsates like two times every one second. So, as far as we know, as far as everybody knows! ­ meteors cannot fly horizontally. But, also logically, meteors never have lights pulsating in a regular way like those observed in this case.
One of the claims that has been put forward by some circles is that the object was decay that broke up from Soyus rocket launch from October 30, 2002. When I asked for the full report from the International Space Station, they sent us a report of the Soyus re-entering the atmosphere at the same time, but in the report, it says this rocket fragment is 2.7 meters in diameter. It's so small! That small piece would have burned up in the atmosphere between 700 and 800 kilometers altitude.
Let's suppose that it had kept its original size by until it reached 40,000 feet. How can we explain it splitting into 15 or 20 pieces and each one is 30 to 40 meters in size and they were still so bright and how did all these pieces fly horizontally violating the laws of gravity?
Finally, this is the most important thing: how come another flashing object appears behind the meteor? So, this is not a Soyuz rocket. It's not a regular meteor.
WHAT HAVE THE SOYUZ OFFICIALS THEMSELVES SAID ABOUT THIS SINCE IT'S BEEN ON VIDEOTAPE AND SINCE 6 DIFFERENT AIRLINE CREWS SAW THIS? WHAT ARE THE OFFICIALS SAYING?
Officials from where?
IN TURKEY?
The government of Turkey don't talk about it! This is the same cover-up policy they follow in Turkey as well. The officials don't talk about it. But all the reports, there are testimonies from pilots ­ when they went to the Safety Department of Aviation and sent to us. We held a press conference and it was all over the papers because those are very reliable people, very credible people, these witnesses. Imagine, six airliners: two on the ground and four in the air. And their testimonies are all the same. And these guys, they know their aerial objects in the atmosphere more than the astronauts. The astronauts are usually focused on objects outside the atmosphere. These guys know what they are talking about. And it was captured on the media (videotape). The meteor footage is amazing. You see the pulsating, the flashing object. It's unbelievable! So, it's out of question that this is Soyuz rocket. It's out of question that it's a regular meteor shower.
And how can you explain such organizations as NASA and all that ­ either they covered it up because they didn't want to spark a panic among people ­ or we think extraterrestrial technology made it invisible (from radar) using some kind of energy field. This might possibly explain the fact that the objects were not picked up by any radar because the pilots, when they witnessed the sightings, they checked with radar ­ military radar and civilian radar ­ and the radar scopes did not detect it.
AND THAT METEOR SPLIT UP BY SOME KIND OF INTERACTION WITH THE PULSING LIGHT PRODUCING ALL OF THOSE FRAGMENTS…
Exactly.
INSTEAD OF A STONY METEORITE, COULD THE VERY BRIGHT LIGHT THAT BROKE UP, HAVE BEEN ANOTHER PIECE OF TECHNOLOGY THAT THE PULSING LIGHT DESTROYED?
Uh… it could be. But when you see the video, when it smashes it in the final stage, you see like fireworks. You see like a regular meteor shower. To us, it looked like meteors. But the flashing pulsing light is always behind it and it's flashing. And it's unbelievable.
DO YOU SEE THE BRIGHT, WHITE LIGHT EXPLODE ON THE VIDEOTAPE?
It's already exploded in the video, like fireworks. You see all the lights beside the pulsating yellow one and they are huge. But there are so many of them, maybe 30 pieces.
DOES THE VIDEOTAPE SHOW THE 15 OR 20 PIECES FALLING DOWN?
No. It's not falling down. It's still flying horizontally, because they need more time to make the final smash probably.
WHY DID THE MAN STOP VIDEOTAPING AFTER 22 SECONDS?
Because there is a hill. It (lights) get out of his view.
WHAT PUZZLES ME, HAKTAN, IS THAT THE UNITED STATES IS ON THE POSSIBLE VERGE OF A WAR WITH IRAQ. IN THAT PART OF THE WORLD, ANYTHING UNUSUAL THAT WOULD HAPPEN IN THE SKY THAT WOULD BE SEEN AND REPORTED BY SIX AIRLINE CAPTAINS AND CREWS AND VIDEOTAPED ON THE GROUND, YOU WOULD THINK IT WOULD BE NORMAL FOR POLICE AND FOR GOVERNMENT AUTHORITIES TO BE ON TOP OF THIS IMMEDIATELY TO FIND OUT WHAT HAD HAPPENED.
Yes. But they may have more evidence than we do about this case. They don't need to contact with us. They already have the written testimonies of pilots perhaps. They may have more video footage or whatever. I don't know, because this video footage was also shown on prime time news on one of the channels.
Those pieces ­ they should have hit the ground and caused a big disaster. Imagine fifteen or twenty 747s hitting the ground, but nothing happened whatsoever.
THAT'S ALSO A MYSTERY TO ME. YOU HAD NO REPORTS OF ANY IMPACTS ON THE GROUND FROM THAT REGION?
Nothing. Nothing at all.
WHERE DO THE PILOTS THINK ALL THOSE LARGE PIECES WENT?
They all became ineffective by this technology. There were large pieces at the time, but in the video footage you can see they are splashing into more pieces. That's why they were, this pulsating light was making them flying horizontally to save more time in order to make all these pieces ineffective before they hit the ground. Maybe they went into the sea. We have no idea.
SO, NOBODY HAS REPORTED A SINGLE IMPACT OF ANYTHING?
No, nothing.
DID ANYONE HEAR ANY SOUND?
No. No. They didn't hear any sound at all."
---
Websites:
http://www.siriusufo.org/engnews/haber.htm  (videotape sequence)

© 1998 - 2019 by Linda Moulton Howe.
All Rights Reserved.