"When the object got closer, I saw a flashing light. As I was trying to figure  out what it might be, I saw several steady lights. Then the light which I  previously presumed as headlight started to change and get smaller. As I was trying to find a plausible reason for that, the object approached and got into the position of 12 o'clock. Ten or fifteen small objects about the size of a Boeing 747 were flying at 1-2 kilometers between them. This lasted for about 1.5 minutes. As they were getting out of sight, we reported these UFOs to air control at 5:44 a.m. local time."
- Captain Ercan Eken, Pilot, Sun Express Air, Turkey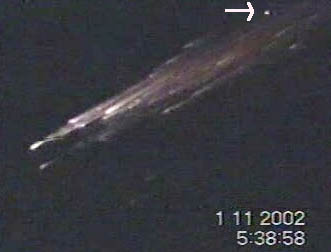 November 18, 2002  Istanbul, Turkey - On November 1, 2002 around 5:30 to 5:45 a.m. local time, four airline crews in the air and two on the ground reported an unusual armada of glowing objects moving together past a yellow pulsing light. The pilots' reports went to Turkey's Flight Safety Department and were headlined on television, radio and newspapers as a "fleet of UFOs flying over Turkey." The airline crews in the air estimated the altitude of the pulsing light and armada of glowing objects was between 22,000 and 36,000 feet.
Click here to subscribe and get instant access to read this report.
Click here to check your existing subscription status.
Existing members, login below:

© 1998 - 2023 by Linda Moulton Howe.
All Rights Reserved.