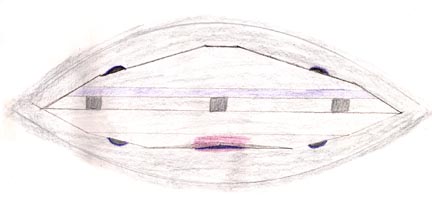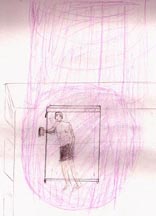 February 24, 2003  Corguinho, Mato Grosso do Sul, Brazil – Urandir Oliveira telepathically understood from the tall, blond being who met him in the craft that he was to enter the cold "bubble" for microbe decontamination, energy balancing and materialization of a glowing leotard-like suit on his body that replaced his underpants.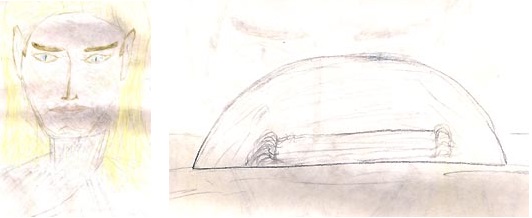 The blond being extended his index finger and with a quick sliding motion touched Urandir's index finger. Urandir understands this interaction to be both a greeting and a measurement of his energy level which the blond beings must always assess and accommodate. Otherwise, according to Urandir, their naturally high energy frequencies would overwhelm him and most human beings. After the index finger touch, the blond being quickly slid his index finger up his forehead and Urandir touched his own forehead the same way. That is the signal, he says, that communication is to begin telepathically – or sometimes verbally if he requests verbal sound.
The tall blond male directed Urandir toward stairs and they climbed to the next floor where Urandir was to remain for the next three Earth days watching wall screens of images about the Earth, this solar system and the galaxy. (See Part 3 for comments about food, toilet and his surprising early return.) Watching with Urandir were representatives of other non-human species who Urandir understands are allied with the blond beings in a mission to help humans transform and evolve. The tall blond beings are trying to transform the mind frequencies of as many people as possible, raising them in an effort to neutralize large numbers of low frequencies and help block catastrophes they see in Earth's future. Urandir considers himself one of their students and his goal is to share publicly what he has learned about mind energy over matter from the beings. His ideas are similar to the Brian Scott case described in Earthfiles 12/28/02, 01/11/03, 02/03/03.
The following excerpts about Urandir's memory of what he was shown and told are taken from a five hour conversation that was tape recorded in Corghinho, Brazil on February 10, 2003, with Portuguese to English translation help. Urandir said that various dates connected with earth changes – both positive and dangerous – were shown to him, but not in chronological order.
At the end of this report under More Information, I discuss other human abductee descriptions from the past thirty years about Blond, Grey and Reptilian image technologies and face-to-face encounters in which earth disasters are described such as sky fires, pole shifts, water contaminations and inundations which radically change Earth geography. Possible non-human intervention to help has also been implied.
Past predicted events have not occurred, so many researchers wonder if all the catastrophic images are tests or manipulations of human minds for unknown alien agendas. However, 2012 has not yet been reached and that year is considered pivotal by not only people in the human abduction syndrome such as Urandir Oliveira and Brian Scott, but by the Mayan civilization whose Grand Calendar ends then. Urandir says the blond beings have shown him December 22, 2012, as the date of a Milky Way galactic event which will affect the Earth, its solar system and many other suns and solar systems.
Interview: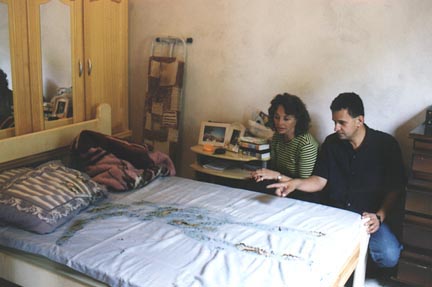 Urandir Oliveira, Farmer, Ecovila Fezenda, Corguinho, Mato Grosso do Sul, Brazil. Portuguese translation by Luciano Didier, Brazilian Fiesta Tours, Rio de Janeiro, Brazil; and Felipe Branco, Fazenda Castelo, Campo Grande, MS:
"(After walking up stairs with the blond being to a second floor), the wall of the craft there transforms into a monitor and they start showing scenes.
WHAT WAS THE FIRST SCENE?
The worldwide events that are going to happen.
DID THEY SHOW A PICTURE?
Scene 1 – 2014, Outer Space Chunks of Ice
The solar system traveling and meeting a curtain of ice pieces approaching.
HOW DID THEY DEPICT THE SOLAR SYSTEM APPROACHING IT?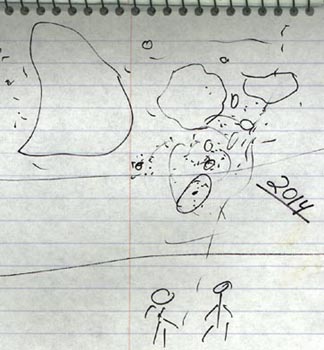 It was a big wide screen like this. The solar system would be like this and the ice is this big in relationship to the solar system. He said the solar system travels in a big galactic cycle through the ice.

IS THIS A CYCLE THAT HE REMEMBERS THAT THE BLONDS TALKED TO HIM ABOUT IN YEARS? HAS THIS OCCURRED MORE THAN ONCE?
This is the second time the earth has passed through these huge clumps of ice. It's very close this and it will take maybe 15 years to go through the big pieces, but a few pieces of ice could already be coming toward Earth today. The blond beings said that we cannot see this yet because there is another body that reflects with a very strong electromagnetic field all the light of this ice curtain approaching the solar system.
DID THEY SHOW HIM A TIME LINE WITH NUMBERS WHEN THIS WOULD OCCUR?
2014 we are going to have really big negative news.
THEY SHOWED THIS FIRST, RIGHT? WHAT DID THEY SHOW NEXT?
Scene 2 – December 22, 2012, Galactic Pulse
A giant galaxy was the next image. The solar system down there. On December 22, 2012, this galaxy is going to emanate a big flash of light that will affect all the suns. Every sun reflects to all the planets surrounding them and will cause a 'reversal' ­ not only the earth, but all the planets.
DECEMBER 22, 2012 IS WHEN THIS FLASH WILL HAPPEN. AND DID THEY SHOW HIM LINES CONNECTING OTHER STARS AND OUR SOLAR SYSTEM THE WAY HE HAS DRAWN IT ON THE WALL SCREEN?
Yes, but many other stars and a few nebulas.
THEY SHOWED LINES?
Yes, they showed lines that included a connection to the Pleiades.
AND HE UNDERSTOOD THAT THEY ARE SAYING THEY ARE ALL CONNECTED TO AN EVENT THAT IS GOING TO BE A PULSE FROM OUR GALAXY?
Yes.
WHAT IS THE PULSE FROM THE GALAXY?
It's like God synchronizing the whole universe, like a synchronization ray or beam that would come from God, the creator. He said it will be seen by any creature on the planet that has eyes to see it.
THAT PULSE IS GOING TO AFFECT SUNS?
Yes, and the suns will reflect on every planet that are surrounding them.
WILL THE SUNS BE AFFECTED BY INCREASING TEMPERATURES OR COOLING TEMPERATURES?
For our planet, there will be lots of solar storms. The suns will get hotter with more solar storms.
ON DECEMBER 22, 2012, DID THEY SHOW HIM ANY OTHER PICTURES OF THE EARTH?
Scene 3 – December 22, 2012, Sun and Stars Moving in the Sky
They showed how the human beings would see the sky from the earth.
WHAT DID HE SEE?
Moving, like what children play on when they go up and down.
A TEETER TOTTER?
Yes, if you are looking at the sky, it will swing like that. You will see the moon and the stars moving.
LIKE REVELATIONS IN THE BIBLE SAYS THE STARS WILL MOVE IN THE SKY?
Yes, exactly.
IS HE SEEING ONLY NIGHT?
And also during the day, both night and day.
IS IT THE SUN HE SEES MOVING?
Yes.
WHAT DID THEY SHOW HIM AS SCENE 4?
Scene 4 – 2014 and 2023, 'Plasma Ships' Evacuate Some Humans from Earth
The next scene are lights in the sky which are the blond beings' plasma ships picking up humans from hilltops in their beam transport technology.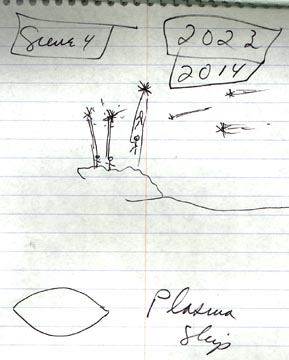 This is roughly around 2023. But something similar in evacuating human beings starts in 2014. These are like stars representing the plasma ships. People are on the hills and the ships are rescuing them.
THESE ARE PHYSICAL CRAFT OR LIGHTS?
Plasma craft. He is trying to reproduce what he saw on the screens in the craft, but it's not going to be so accurate, he says.
ARE THERE COLORS TO THESE PLASMA CRAFT?
All silver light.
SHAPE?
Like a dish to a dish.
ARE THEY SOLID SILVER?
Yes.
WE'RE AT 2003 AND TO GET TO 2014, DID THEY SHOW ANYTHING OF THESE YEARS NOW?
Yes, they do show. (NOTE: Earlier Urandir told me that the blond beings are very concerned about the potential for nuclear war activity on Earth now around the tension between the U. S. and Iraq and the Middle East. The beings told Urandir they would interfere to prevent nuclear catastrophes, but no timelines were given.)
Scene 5 – 2004, Cosmic Body Travels Close to Earth
At end of 2004, there is a shock due to a body that travels close to our planet and interferes with the climate and atmosphere. Urandir also noticed symbols carved into the wall that included the number 2004. But he still does not know why the number, or year, is physically carved into the craft.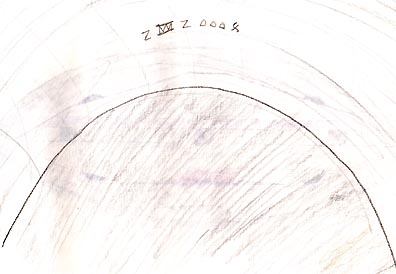 DID THE BLOND BEINGS COMMUNICATE TELEPATHICALLY IN HIS MIND WHILE SHOWING THESE PICTURES?
They spoke verbally at Urandir's request because he wanted to make sure he could clearly understand what they were explaining to him.
YOU HEARD WITH YOUR EARS?
Yes.
YESTERDAY URANDIR SAID THE BLOND VERBAL VOICES SOUND MECHANICAL?
It's as if they were talking this way: (Urandir puts his hands around his neck and demonstrates with a loud, low, more mechanical voice without inflection.)
Scene 6 – 2007, Cosmic Body Disturbs Earth's Electromagnetic Fields; Scientists Discover Life-Extending Water
WHAT ABOUT 2007, 2008, 2009?
2007, there will be both bad news and good news for human beings. There will be a cosmic body that moves toward or into the solar system that will affect the earth's electromagnetic fields.
THAT SOUNDS DESTRUCTIVE?
This electromagnetic wave will affect some places locally, different, but not the whole earth. A good example is the Etna volcano in Italy. It could erupt and kill thousands of people. The rest of the world will carry on with their normal lives.
WHAT IS THE GOOD NEWS?
The beings said that science has already got the knowledge, but nothing has been published yet. In the ice caps of the Antarctic, scientists will study the water and find it is more pure, free of heavy water, deuterium?
He is saying they are going to find this water with less heaviness. Scientists will discover this new purer water will retard the aging process by about 80 times. People could live 300 or 400 years. The technology to extract this new water in 2007 will be available.
WHO IS PLANNING THIS CRUEL JOKE OF OUR FINDING LIFE-EXTENDING WATER JUST BEFORE HUMANS ARE WIPED OUT BY ICE BLOCKS ONLY SEVEN YEARS LATER?
But there will be many survivors who can use the new discovery. The Earth has more than 6 billion inhabitants. Around 3 billion will die with all the catastrophes, but nearly as many will survive.
Scene 7 – 2028, Blond Beings Return Some Humans to Earth
And by 2028, it's like as if they are helping the population trying to help fix the planet. They start bringing back those people they evacuated before. And it starts a new era on the Earth. It's like everyone is part of a cooperative effort.
DID THEY SHOW ANY PICTURES OF PUTTING PEOPLE BACK ON THE PLANET?
Yes, they did.
WERE THEY HUMANS OR HYBRIDS?
They were advanced humans.
HOW DID THEY MAKE BETTER HUMANS?
After the evacuation, the people are returned years later but younger than when they were first beamed up into the plasma craft.
ARE THEY USING TIME LINES TO STORE THE PEOPLE THAT THEY TAKE SO THAT'S HOW THEY CAN RETURN THEM YOUNGER?
They are taken into a different dimension that was adapted for the human beings to be preserved."
---
More Information:
1963, Porterville, California
When Linda Porter was seventeen in 1963, she was taken from her Porterville, California home into a craft with grey-skinned beings that had large yellow eyes with dark vertical pupils.   From: Glimpses of Other Realities, Vol. II: High Strangeness, Pages 262-279
"I was told by the grey alien scientist who was with me in the room that there is a chemical 'poison' spreading in our land (that we are totally unaware of.) It is the result of some kind of secret testing done by our government in outer space. A dangerous by-product of that testing was created and is now falling back into our atmosphere. I was told that it is concentrating in our water supplies. People living near large bodies of water are in the greatest danger. He said the safest place is inland, away from water.
"I was told this chemical is one of three factors that will eventually cause sky fire. I was originally told nuclear waste in the atmosphere would start it by reacting with something else. That 'something else' is the chemical and particles from a beam-type weapon our government already has. So chemical poison plus nuclear waste particles equals a deadly chemical chain reaction leading to ignition (according to the grey aliens).
"It was impressed on me that however deadly this reaction will be to us, it will create even worse destruction throughout other worlds and other dimensions. …As bad as all this is for us humans, it seems far worse for them (non-humans). I sensed terrible, terrible frustration coming off of him.
"I can see the (non-human) ships coming in over the fields and they're tremendous things. …The people are taken off. Just as the ships go by, the people are taken off. Just gone. It's just like it sweeps over the entire planet, all these huge ships, and they lift some people off."
1972, Houston, Texas
In May 1973 outside Houston, Texas, Judy Doraty and her daughter, Cindy, along with three other family members, stopped their car to argue about what a light might be that was following along as they drove. The five people suffered missing time, but only Judy and Cindy later remembered being in a round room where grey beings with yellow eyes and vertical pupils cut tissue from a calf's body.
From: An Alien Harvest, Pages 324-330
"It's like they can very quickly project something. It's like a movie screen, but it's not a movie screen. But they can project something there if they want to see it.
"It's like if we continue like we are now, it's going to involve not only us but possibly other … and they're trying to stop something that could cause a chain reaction. And maybe involving them.
"…that human beings are being poisoned. And it will be proven. We will see it. A doctor will, it will show up in a laboratory. And there will be like another sickness break out and it will be related to some kind of chemical that's in our water. …That this would be a warning and when this happens there needs to be a cleansing process. …and they were very emphatic about it, that the testing even though it's in outer space has an effect on things here. …I didn't know humans tested in outer space. Evidently they do.
"That testing under water also will have a great effect. If it's continued, it will cause some chemical reaction when it comes in contact with another compound."
March 1995, Fort Myers Beach, Florida
In 1988, real estate salesman Jim Sparks began a decade-long series of encounters with first grey non-humans and then in March 1995, he was physically taken in a beam of light with full consciousness much like Urandir Oliveira's September 15, 2002 experience. He found himself surrounded by 8-foot-tall reptilian humanoids who telepathically communicated the following:
From: Glimpses of Other Realities, Vol. II: High Strangeness, Pages 228-229
"We contacted your leaders because your planet is in grave trouble. Your leaders said the vast majority of your population was not ready for anything like us yet, so we made time agreements with your leaders as to when your people would be made aware of our presence. This part of the agreement has not at all been kept.
"It was also agreed that in the meantime, steps would be taken to correct the environmental condition of your planet with our advice and technology. We say advice because we respect the fact that this is your planet, not ours. Your government also broke this agreement.
"We are now concentrating our energy on the average person. Your air, your water, are contaminated. Your forests, jungles, trees and plant life are dying. There are several breaks in your food chain. You have an overwhelming amount of nuclear and biological weapons which include nuclear and biological contamination. Your planet is over-populated. Warning: It is almost to the point of being too late unless your people act now. There are better ways of deriving your energy and food needs without causing your planet any damage.
"We are aware of the small groups that are forming around the world. These are people who are prepared to learn and we consider them the core."
November 27, 1983, Harrisburg, Pennsylvania
Wanna Lawson was 46 years old, had been married and divorced twice, and was traveling with family from Louisville, Kentucky to Atlantic City during the Thanksgiving holiday to have some gambling fun. There caravan was two cars for five people and luggage. After gassing up at a Pennsylvania Turnpike station near Harrisburg, Pennsylvania, they all found themselves inside a large, round room filled with violet light. Greeting them were tall, blond humanoids and small, grey-skinned androids. Wanna came to understand that the beings' advanced technology can transfer life force in and out of various cloned containers, a process she experienced herself. I asked her why it was necessary.
From: Glimpses of Other Realities, Vol. II: High Strangeness, Pages 295-296
"To make a difference. To teach love, unity, oneness, to anyone who will listen. Sort of like Christ."
"How many of you are on this planet?"
"Thousands."
"But not the entire five and a half billion population?"
"No, not at all. There are humans that are positive. If it's a good human being, then we will try to pick them up before the earth is destroyed."
"How will the earth be destroyed?"
"It will be nuclear."
"From whom?"
"From humans."
"Provoked by you non-humans?"
"No. We just won't interfere."
"Self-destruction in the purest sense."
"When it happens, the chain reaction will cause explosions to continue around almost the world."
"Is the chain reaction going to be in the upper atmosphere?"
"That's what we don't want. That's what we have been trying to contain, to make sure that does not happen. I don't think we (tall humanoids) can control it. …It can have a devastating effect on other dimensions, the entire galaxy. And the only thing we can try to do is to get as many humans that are positive and all of our people out before it happens. So, right now what the Tall ones are doing is contacting all of their own people, the ones with our essence, making us aware through dreams, through subconscious memory of abduction. A lot of times people don't have any idea they had an experience with us, but the thought is put there and we just have to try to reach as many of our beings as possible, letting them know that it is time."
"Do you think the devastation is preventable?"
"Could be. But it would take massive interference on the part of the tall humanoids. They would have to really get involved."
In Part 3 of this series from my research in Corguinho, Brazil, Urandir Oliveira is returned by the blond beings to his bed and a locked bedroom on September 18, 2002.
Continued in Part 3.

© 1998 - 2023 by Linda Moulton Howe.
All Rights Reserved.